The week at a glance
This week's inarguable highlight (and what may well prove one of the birds of the year) illustrated once again that it is never safe to rest on your laurels in autumn, and that expecting the unexpected is certainly applicable in October.
Britain's second Wilson's Warbler was a staggering discovery at Port Nis, at the north-eastern corner of the Outer Hebridean island of Lewis, in mid-afternoon on 13th. Thirty years to the day since Britain's only other record (Rame Head, Cornwall, 13 October 1985), to say that this record came out the blue would be an understatement. With Hurricane Joaquin turning out to be something of a damp, slow-moving squib that produced the most meagre scattering of Nearctic waifs before it fizzled out into nothingness somewhere off Spain, and an exciting easterly airflow wafting Siberian vagrants to British and Irish shores throughout the week, a hyper-rare Nearctic warbler was probably not on anyone's radar. Yet that's what we got — after September's Acadian Flycatcher, another reminder that Britain and Ireland are perfectly positioned for vagrants from all points of the compass.
The warbler's route to Lewis is both speculative and puzzling. A small, long-tailed species with a largely western distribution in the U.S. was hardly a prime candidate to become caught up in a tropical depression that didn't get anywhere near the Eastern Seaboard, and one wonders whether this bird has been loitering somewhere further north, such as Iceland, for some time before dropping down to this most north-westerly point of Britain. Whatever its means of arrival, it's a massive record and one no-one saw coming so soon after the Dursey Island bird of September 2013.
With the consistent form of Shetland having given the Isles of Scilly a battering in recent autumns, it was nice to see the south-western archipelago enjoy a fruitful week, with several rarities and sub-rarities discovered. Arguably the highlight of these was an Isabelline Wheatear found on St Mary's airfield at last knockings on 8th. Found not long before dusk, it was twitched by few and, following a clear night, had departed by dawn the following day. This will represent the fifth for the Isles when accepted, the most recent of which was distinctly similar in its occurrence — a fleeting visitor to Peninnis Head on 3 October 2007.
If the wheatear was a highlight then the Blyth's Pipit found on Peninnis Head late on 13th certainly runs it close — slightly rarer than the former in terms of past records, it's also been the rarer of the two over the past decade and were it not for the well-twitched bird in West Yorkshire last winter would no doubt be attracting significant attention. Incidentally a possible was also reported in flight on St Mary's on 10th, and one wonders whether it's the same bird moving around the island.
It was a great week for Red-flanked Bluetails, with no fewer than eight found. Fair Isle scored two, individuals arriving on 7th and 11th; elsewhere in the Northern Isles, Orkney claimed a single bird at Sandside Bay on 12th. It was refreshing to see the Isles of Scilly get in on the action with a showy bird on St Agnes from 11th, while Norfolk also chipped in with two: one trapped and ringed at Weybourne on 11th and another at Holkham Pines on 12–13th. East Yorkshire also bagged two on 12th, the first trapped and ringed at Kilnsea early morning (and still present on 13th) and another found on private land at Flamborough Head later in the day.

Red-flanked Bluetail, Holkham Pines, Norfolk (Photo: Richard Gannon)

Red-flanked Bluetail, St. Agnes, Isles of Scilly (Photo: Richard Stonier)

Red-flanked Bluetail, Kilnsea, East Yorkshire (Photo: Dave Tucker)
One of the stars of the week was an Isabelline Shrike found at Beeston Common, Norfolk, during the afternoon of 11th. Fortunately this handsome first-winter — which appears to be of the race isabellinus ('Daurian Shrike') — decided to linger and was still there on 13th, showing extremely well at times. This will represent Norfolk's eighth record. Another likely isabellinus was identified at South Huish Marsh, Devon, on 13th.

Isabelline Shrike, Sheringham, Norfolk (Photo: Brendan Doe)

Isabelline Shrike, Sheringham, Norfolk (Video: Penny Clarke)
Though regular enough not to warrant a mass twitch, the occurrence of a Little Crake in Britain always attracts attention — and the juvenile found at Slimbridge WWT, Glos, on 8th did just that. This is the third county record; both previous Gloucestershire records have also come from the reserve, the most recent being in September–October 2005. Unlike that bird, which stayed for almost three weeks, this latest individual wasn't seen again after it wandered off up a ditch just a few hours after its discovery. It looks as though it showed well in that time, though.

Little Crake, Slimbridge WWT, Gloucestershire (Photo: Vern Wright)
The wildfowl highlight was the apparent return of the drake Black Scoter to Rossbeigh, Co Kerry, on 10th; it was last noted here on 3 April. A Surf Scoter was also seen at that site, and a drake continued at Lunan Bay, Angus.
The only Ring-necked Duck this week was the continuing adult drake at Startop's End Reservoir, Herts, though American Wigeon increased to three, with two new drakes found on Orkney: at Holm from 11th and Widewall, South Ronaldsay, on 12th, in addition to the continuing male in in Co Wexford. Now that drakes are moulting into their readily identifiable breeding plumage, more Green-winged Teal can be expected from now on, and a drake at Martin Mere, Lancs, on 11th was right on cue. The drake Ferruginous Duck was also seen again at Blashford Lakes, Hants, on 13th.

Ferruginous Duck, Blashford Lakes HWT, Hampshire (Photo: Jon Worthington)
The white-morph Snow Goose continued at Caerlaverock, Dumfries & Galloway, to 11th, while in Moray & Nairn a blue morph was among Pink-footed Geese at various sites in the Forres area from 7th. The Ridgway's Cackling Goose continued on Devon's Exe Estuary throughout the week, with a Black Brant also there intermittently and another at Frampton Marsh, Lincs, on 8th.

Ridgway's Cackling Goose, Exmouth, Devon (Photo: David Boult)
At least three Glossy Ibises continued on Fair Isle throughout the week and a small arrival also took place further south. Two were around Seaton, Devon, from 10–12th and one at Swillington Ings, W Yorks, on 11th was relocated at Adwick Washlands, S Yorks, the following day. Another was at Slimbridge, Glos, briefly on 7th, while birds continued in Somerset and Essex. In Ireland, new arrivals were at Castlehaven, Co Cork, and Carrahane Strand, Co Kerry, on 10th in addition to the long-staying bird in Co Waterford.
Three Cattle Egrets were on Jersey on 12th and the Somerset bird again roosted at Shapwick Heath on 10th. An impressive ten Great White Egrets were noted at Dungeness, Kent, on two dates this week and birds were seen widely elsewhere, perhaps numbering around 60 in total.
In West Sussex the juvenile Pallid Harrier remained near Burpham to at least 10th and another was at Loch of Stenness, Orkney, from 9–11th. A juvenile flew north over Isle of May, Fife, on 10th, what was perhaps the same bird then seen heading back south on 12th; a juvenile seen flying through at Holy Island, Northumberland, later that day could also have been the same individual. A Red-footed Falcon flew south over Spurn, E Yorks, on 7th and another was at Minsmere, Suffolk, on 8th. A Black Kite was reported at Kirby-le-Soken, Essex, on 8th. Following a bird at Breydon Water, Norfolk, on 7th, further Rough-legged Buzzards were seen on Yell, Shetland, on 8th, Cardurnock, Cumbria, on 9th and Clayhanger Marsh, W Mids, on 12th.

Pallid Harrier, Burpham, West Sussex (Photo: Jon Worthington)

Northern Harrier, North Ronaldsay, Orkney (Photo: George Gay)
The juvenile Semipalmated Sandpiper was seen again at Slimbridge, Glos, daily from 10th, and a White-rumped Sandpiper at Weybourne, Norfolk, on 7th was presumably that relocated at nearby Cley Marshes from 10th. A Temminck's Stint was on North Ronaldsay, Orkney, on 10–11th and another was at Swillington Ings, W Yorks, on 13th, while eleven Pectoral Sandpipers seen nationwide included two at Carrahane Strand, Co Kerry, on 13th.
On the Isle of Wight the Greater Yellowlegs was seen again at Whippingham on 13th, and the Lesser Yellowlegs was still at White's Marsh, Co Cork, on 8th. A Marsh Sandpiper was a surprise occurrence at Nanjizal Valley, Cornwall, on 9th. After a spate of sightings during September, the only Long-billed Dowitcher seen was the juvenile still at Pennington Marshes, Hants, throughout the week. A total of eight American Golden Plovers included two together at Kilnsea Wetlands, E Yorks, on 10th with one in the area thereafter; other new birds were at Aberlady Bay in Lothian, Bornish on South Uist and Loop Head in Co Clare on 10th, and at Lurgan Green, Co Louth, on 11th.

American Golden Plover, Kilnsea, East Yorkshire (Photo: Matthew Bruce)
A second-winter Ring-billed Gull was at Blennerville, Co Kerry, on 8th and the long-stayer of the same age was still on the Hayle Estuary, Cornwall, on 12th. In Moray & Nairn, the adult Bonaparte's Gull continued to perform around the Lossie Estuary all week, while an early second-winter Kumlien's Gull was at Mizen Head, Co Cork. A juvenile White-winged Black Tern showed well at Cantley Beet Factory, Norfolk, on 7–8th, and it or another was at The Mere, Shropshire, on 12–13th.

White-winged Black Tern, Ellesmere, Shropshire (Photo: Paul Burgess)
Wrynecks just about made it into double figures, mostly in the far south-west. Just four Hoopoes were seen this week, so it was some surprise that two of these were in land-locked Herefordshire: one was at Stretton Sugwas Pits from 8–13th and the other frequented a pub garden in Whitney-on-Wye from 10–12th. One was still on the Isle of May to 12th at least, with a fourth at Sandside Bay, Orkney, on 10–11th.

Hoopoe, Whitney-on-Wye, Herefordshire (Photo: Kev Joynes)
Conwy's Alpine Swift was last seen over Little Orme in mid-afternoon on 7th. Two more were then found on 10th: one was seen from a boat some 8km south of Plymouth, Devon, but the other was a little more twitchable after it was discovered at Land's End. Seemingly roosting there, it was still present the next morning before slowly moving down the coast and proving gettable at both Porthgwarra and St Levan. It returned to Land's End that evening where its life met an abrupt end in the talons of an opportunistic Merlin.
The first Shore Lark of the autumn turned up at Blyth, Northumberland, on 12th, and another was at Gunton, Suffolk, the following day. A Short-toed Lark was discovered at the entirely predictable location of St Mary's airfield, Scilly, on 8th and lingered to the week's end.

Short-toed Lark, St. Mary's, Isles of Scilly (Photo: Richard Stonier)
A Pechora Pipit was discovered on Foula, Shetland, on 10th, with another on North Ronaldsay on 13th. A bird at Melby, Shetland, on 13th could feasibly be the long-staying bird seen in the area in recent weeks. A Red-throated Pipit was seen and heard flying over Carrahane Strand, Co Kerry, on 8th and again on 9th, another flew in off the sea at St Abb's Head, Borders, on 11th and a third was on St Mary's, Scilly, on 13th. Olive-backed Pipits included up to two on Fair Isle, three on Mainland Shetland and three on Unst, plus a single on North Ronaldsay on 12th. In East Yorkshire, singles were at Flamborough Head on 9th and Spurn on 10th, while Fife's Isle of May scored two on 12th, following on the previous day. One was trapped and ringed at Portland Bill, Dorset, on 13th and another was belatedly reported from Nanjizal Valley, Cornwall; it had been seen on 9th. Finally, one was identified flying over Ballard Down, Dorset, on 12th thanks to a sonogram!

Olive-backed Pipit, Norwick, Unst, Shetland (Photo: Gavin Thomas)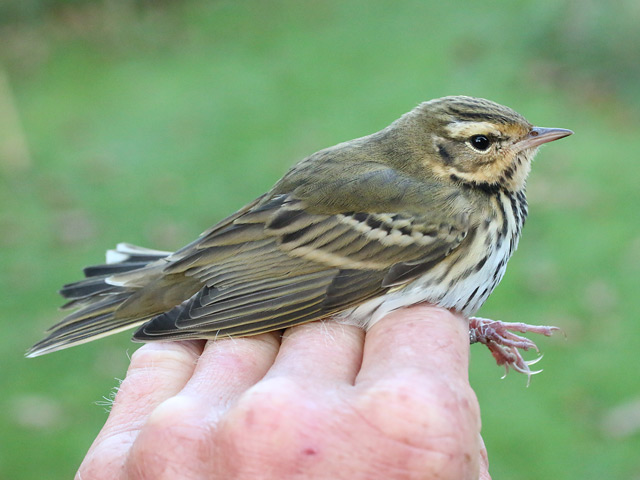 Olive-backed Pipit, Portland, Dorset (Photo: Martin Cade)
Upwards of 50 Richard's Pipits included peak single-site counts of three on Unst and Fair Isle. Spurn's confiding Citrine Wagtail was last seen on 7th.

Richard's Pipit, Kilnsea, East Yorkshire (Photo: Martin Standley)
A modest smattering of Bluethroats included Yorkshire records from Flamborough and Spurn on 11th and 12th respectively plus at least four scattered around Shetland and another on North Ronaldsay. A Siberian Stonechat trapped and ringed at Orford Ness, Suffolk, on 10th is thought likely to have been a Stejneger's Stonechat. After the bird at Portland a couple of autumns back, many have anticipated a repeat occurrence of stejnegeri and it's a shame this one wasn't more widely available (it had gone by the following morning). Another Siberian Stonechat was at Quendale, Shetland, on 12–13th.
Though there were no rare thrushes seen this week, the strong passage of Ring Ouzels is well worth a mention. Birds were seen widely across Britain, particularly on the east and south coasts, with a peak count of 90+ at Dungeness, Kent, on 12th. Other notable counts from the same county on 12th included 42+ at Abbot's Cliff and 20+ at Langdon Cliffs.
Fair Isle scored its second Lanceolated Warbler of the autumn on 12th when a bird was trapped and ringed at Kenaby. Fair Isle also boasted a Paddyfield Warbler on 8th (with another probable at Ollaberry, Shetland, on 10th). A Blyth's Reed Warbler was still at Exnaboe, Shetland, on 12th and another was nearby at Quendale on 13th. One was belatedly identified after it was seen at Kelling water meadows, Norfolk, on 11th; the county's second of the week was then found in Wells Woods on 13th. The long-staying Eastern Subalpine Warbler was still at Mossbank, Shetland, in the latter part of the week.

Lanceolated Warbler, Fair Isle, Shetland (Photo: David Parnaby)

Paddyfield Warbler, Fair Isle, Shetland (Photo: Chris Griffin)
Following hot on the heels of its first just a few weeks back, Galway's second Arctic Warbler was discovered on Inishmore on 11th. Another was at this autumn's hot-spot of Quendale on 8th, and an elusive individual was on St Mary's, Scilly, on 11–12th. At least nine Pallas's Warblers arrived following one in St Osyth, Essex, on 8th; birds were seen in Cornwall, Kent, Suffolk, Norfolk, Lincolnshire and East Yorkshire. The tide of Yellow-browed Warblers continued to flood southwards, with several birds discovered inland and a bird ringed at Gibraltar Point, Lincs, last week controlled in west Cornwall on 11th (more here). There was also a large influx of Siberian Chiffchaffs across our isles this week.

Pallas's Warbler, Sheringham, Norfolk (Photo: Jake Gearty)

Yellow-browed Warbler, Hillwell, Mainland, Shetland (Photo: David H Hatton)

Siberian Chiffchaff, Titchwell RSPB, Norfolk (Photo: Neil Rendall)
A Dusky Warbler was typically elusive at Sandwick, Shetland, from 11th and another was on Fair Isle that day, while at the other end of the country one was on St Mary's, Scilly, on 11–12th. In Norfolk one was at East Hills, Wells, on 11th, with a second at nearby Holkham Pines, on 12–13th, frequenting the same patch of scrub as one of the week's five Radde's Warblers. A second Norfolk bird was at Great Yarmouth cemetery on 12th, while East Yorkshire also registered, with a bird trapped and ringed at Kilnsea that day. One was trapped and ringed at Porth Hellick on St Mary's, Scilly, on 13th and earlier in the week a bird was on Holy Island, Northumberland, on 8th.

Radde's Warbler, Spurn YWT, East Yorkshire (Photo: Zac Hinchcliffe)

Radde's Warbler, Great Yarmouth, Norfolk (Photo: T Corcoran)

Dusky Warbler, Sandwick, Mainland, Shetland (Photo: David H Hatton)
A juvenile Rose-coloured Starling continued to perform extremely well at the Land's End complex in Cornwall throughout the week; a second was still nearby at Porthgwarra to 7th and the Gloucestershire bird was still showing well in Tewkesbury to 11th at least. Another on Mizen Head, Co Cork, on 11th topped a fine day's birding there that also included Red-backed Shrike, Wryneck, Barred Warbler and 9 Yellow-browed Warblers.
Scarce migrants included around 25 Barred Warblers, at least 15 Red-breasted Flycatchers, eight Red-backed Shrikes and five Common Rosefinches. A Serin was briefly at Landguard, Suffolk, on 9th, with another in off the sea at Winterton Dunes, Norfolk, on 11th and at least one on St Mary's, Scilly. Great Grey Shrikes continued to arrive, with up to 25 recorded across Britain.

Red-breasted Flycatcher, Flamborough Head, East Yorkshire (Photo: Mike Robinson)

Great Grey Shrike, Gibraltar Point NNR, Lincolnshire (Photo: Paul Neale)
It's been a good week for Little Buntings. On the Isles of Scilly three, possibly more, were on St Mary's on 11th, and singles were on Tresco and St Agnes. Fair Isle also boasted three, with Norwick, Unst, also scoring a hat-trick from 12th and at least six others dotted around the archipelago. There were two records from Orkney, two from East Yorkshire (Spurn and Kilnsea), two (involving three birds) in Cornwall, and single records from Northumberland, Lincolnshire and Dorset, the latter at Portland Bill on 13th. In Co Cork, one was at Mizen Head on 10th. Two Rustic Buntings were seen this week: at Sandside Bay, Orkney, on 10th and at Gibraltar Point, Lincs, on 11th.

Rustic Bunting, Gibraltar Point NNR, Lincolnshire (Photo: Martin Swannell)

Little Bunting, Toab, Mainland, Shetland (Photo: Rob Fray)
Western Palearctic news
A productive week around the region saw the continued presence of the Pink-backed Pelican at Kfar Baruch Reservoir, Israel, and a second Pintail Snipe in as many weeks, this latest individual trapped and ringed at Kfar Ruppin on 11th and still present the following day. In Norway the stunning first-winter male Baltimore Oriole continued to show well at times at Værøy to 11th, while a Brown Shrike was in Sogn og Fjordane county from 11th.

Baltimore Oriole, Norway (Photo: Christian Tiller)
The remnants of Hurricane Joaquin failed to produce much in the Azores; Corvo produced American Redstart and Indigo Bunting but little more. Two Wood Warblers (the first and second for the archipelago) were also on the island, while a Brown Booby was photographed off Santa Maria on 7th.

Wood Warbler, Azores (Photo: Peter Alfrey)
Other notable records included a White's Thrush near Bremen, Germany, on 8th and a Blyth's Pipit on Friesland, Netherlands — the ninth Dutch record. In France a Red-eyed Vireo was on Molène Island, Finistère, on 9–10th. Lingering rarities in Italy included the Black-winged Kite in Novara and the Western Reef Heron in Sicily, and two Royal Terns were at Tarifa, Spain, on 12th.