Birdwatch - June 2023
---
Issue Media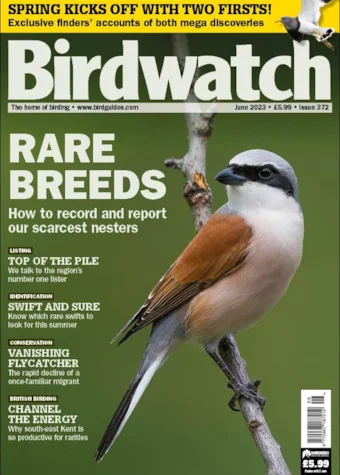 Issue Meta Data
Issue Number:

222

On Sale:

25/05/2023

Digital Edition:

£5.99

Print Edition:

£5.99 (plus postage)
Issue Summary
Britain's rarest breeding birds, the decline of Spotted Flycatcher and vagrant swifts are all covered in this issue!
On Sale: 25/05/2023
---
Purchase Options
Print Edition: (plus postage) £5.99
Select Postage
---
Why Not Subscribe?
Ensure you never miss an issue of your favourite birding magazine by taking out a great value subscription.
---
What's in this Issue?
Scarcely spotted flycatcher
Why is a once-common summer migrant becoming so hard to find? Catrin Eden looks at the decline of Spotted Flycatcher.
Monitoring our rarest breeders
The Rare Breeding Birds Panel is responsible for tracking the fortunes of some of the UK's most sensitive species. Dr Mark Eaton profiles the organisation.
Field ID notes: vagrant swifts
Large midsummer gatherings of Common Swift can hold exciting rarities. Jacob Spinks looks at the possibilities.
Gateway to Europe
The south-east Kent coast is ideally positioned to pick up migrants journeying to and from the Continent. Jamie Partridge introduces the area.
Becoming number one
Having reached the 900-species mark, Pierre-André Crochet is a trailblazer of Western Palearctic birding. Josh Jones had a chat with the region's top lister.
Turkeys and temples
The Yucatán Peninsula in Mexico offers an astounding wealth of birding riches. Ed Stubbs reports on a visit.