Birdwatch
---
Issue Media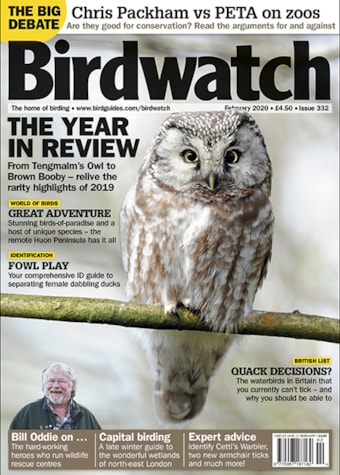 Issue Meta Data
Issue Number:

182

On Sale:

23/01/2020

Digital Edition:

£3.99

Print Edition:

£4.50 (plus postage)
Issue Summary
February 2020
On Sale: 23/01/2020
---
Purchase Options
Print Edition: (plus postage) £4.50
Select Postage
---
Why Not Subscribe?
Ensure you never miss an issue of your favourite birding magazine by taking out a great value subscription.
---
What's in this Issue?
The year in review
From Shetland to Scilly, Brown Booby to Paddyfield Pipit, relive the rarity highlights of 2019
The big debate: Are zoos good for conservation?
Chris Packham, Charlotte Corney and Elisa Allen argue the case for and against
Exclusive
The full finders' accounts for Black-throated Thrush, Eastern Yellow Wagtail and White-breasted Waterhen
Time to reconsider, part 2
Our second instalment of our analysis of Category D and E birds, take a look at which waterbirds deserve a rethink
Birders' paradise
Discover unique birds-of-paradise and a host of avian treasures on the remote Huon Peninsula in Papua New Guinea
Identification: female dabbling ducks
Learn to separate Northern Pintail, Eurasian Teal, Mallard, Gadwall, Eurasian Wigeon and Northern Shoveler
Comment
Mary Colwell on teaching natural history in schools, Mark Avery on the Werrity report on grouse moor management and Dominic Mitchell takes a trip down memory lane to a childhood patch
Winter birding in the capital
Our county guide to Greater London takes you to the best routes around the wetlands north-east of the capital
Bill Oddie on ...
The hard-working heroes who run wildlife rescue centres