The week at a glance
As we slipped into the second week of November there was an inevitable sense that the pace of migration was gradually easing off — which is to be expected at this time of year, after all. But November can still produce great birds that, no doubt due to the declining quantity of notable birds nationwide in comparison to the bustling months of September and October, tend to attract greater attention — particularly if present in accessible locations.
And so it proved in the case of the three Desert Wheatears to turn up this week. Norfolk, Suffolk and Kent hosted one apiece, the first a female at Gorleston from 7th until the week's end and the second and third rather dapper males at Lowestoft and Reculver respectively on 6–9th. These charming birds always tend to be well received when they turn up in late autumn: they're good-looking and invariably show stupidly well as they exhibit their fearless (if a tad naïve) attitude to humans.

Desert Wheatear, Lowestoft, Suffolk (Photo: Ashley Gooding)
Content continues after advertisements

Desert Wheatear, Reculver, Kent (Photo: Mike Gould)

Desert Wheatear, Gorleston-on-Sea, Norfolk (Photo: James Lowen)
But the headline bird this week, at least in terms of number of records (or rather lack of), was the American Coot discovered at Lough Gill, Kerry, on 5th. Though just the fourth for Ireland, this is the third since 2010 of what appears to be an increasingly regular vagrant on the European side of the Atlantic — particularly when you consider last year's wintering bird in Highland Scotland. A November arrival just like the recent two Irish birds, this latest individual is a first for County Kerry and will no doubt end up spending the winter there.

American Coot, Lough Gill, Kerry (Photo: Davey Farrar)
Sharing Lough Gill with the coot was the returning Lesser Scaup, one of four lingering drakes noted this week, the others still at Wraysbury Gravel Pits, Berks; Cardiff Bay, Glamorgan; and Llangorse Lake, Powys. Three drakes were at the traditional site of Lough Gara, Sligo, on 8th, with a fourth cock in the county at Lough Skean. A young female was at Wicksteed Park, Northants, from 9th and the young drake was still on Tiree on 11th. The drake Ferruginous Duck returned to Blashford Lakes, Hants, on 10th while a female was a new discovery among the gathered Aythya at Brogborough Lake, Beds, on 11th.

Ring-necked Duck, Wicksteed Park, Northants (Video: Mike Alibone)
Drake American Wigeon were new at Loch of Collaster, Shetland, and Shapinsay, Orkney, on 10th, with others remaining at Tullaghan (Leitrim) and Bornish (South Uist). Green-winged Teal numbers continued to build with eleven drakes seen this week, including new birds in Dorset, Gloucestershire, Cambridgeshire, Ceredigion, Conwy, Cheshire, Aberdeenshire and Shetland. The Blue-winged Teal also remains near Ashington, Northumberland.

Green-winged Teal, Caerlaverock WWT, Dumfries & Galloway (Photo: Peter Garrity)
Black Brant numbers were also on the up, with nine reported this week. Seven were at regular sites along the south and east coasts between Dorset and East Yorkshire, with a further two seen in Kerry on 8th: at Blennerville and Barrow Harbour. Richardson's Cackling Geese remained in Sligo and on Islay, while the parvipes Canada Goose was still at Wexford Wildfowl Reserve. A Red-breasted Goose was among Greylags near Tormiston, Orkney, on 10–11th while a white Snow Goose in Lancashire favoured Formby then Downholland Moss to at least 9th; two were also seen at Cuil Bay, Highand, on 6th.

Richardson's Cackling Goose, Islay, Argyll (Photo: Ian Hodkinson)

Black Brant, Kilnsea, East Yorkshire (Photo: Wenyu Huang)
Looking seaward produced the drake King Eider again off Burghead, Moray/Nairn, on 8–9th. A drake Surf Scoter in Colwyn Bay, Conwy, on 6th rapidly increased to six birds, including a first-winter, on 9th which seemingly reconfirms this as the best site in Britain to see the species currently. A juvenile alternated between the Suffolk and Essex sides of the Stour Estuary from 5th, most regularly seen at Stutton Mill. Two remained in Lunan Bay, Angus, as did drakes off Holkham, Norfolk, and Musselburgh, Lothian. A young male was new off Abbotsbury, Dorset, on 9–10th. The White-billed Diver off Kirkabister, Shetland, on 10th was presumably a returning bird.

Surf Scoter, Stutton, Suffolk (Photo: John Richardson)
One of the highlights of the week, for east-coast birders at least, was the strongest Little Auk passage witnessed in a few years. It was the North-East that, as always, prospered best: 2,921 flew past the Farne Islands, Northumberland, on 5th, with 1,376 and 1,162 flying north past Whitburn, Durham, on 5th and 6th respectively; 1,200+ past North Blyth, Northumberland, on 6th was also a great count. Further south, Flamborough Head, E Yorks, did well with approximately 1,000 past on 5th and 720+ the following day; 334 also passed Spurn on 5th but numbers were markedly less in Lincolnshire and Norfolk. As always with large Little Auk movements, plenty of bizarre behaviour was witnessed, inexplicable to anyone but presumably the auks themselves. This included many birds soldiering around with Starling flocks, plenty heading inland, some resting on coastal pools, a bird flying into a building at Salthouse, Norfolk, with four others there perched in a field, another sitting in someone's garden in Holbeach St Marks, Lincs, and, most strikingly, one well inland at Angler's Country Park, W Yorks, which spent periods hauled out on the bank of the main lake between bouts of swimming, before it was eventually taken into care in the late afternoon. Similarly there were many casualties, and we received several reports of the hapless auks being despatched by Peregrines as well as gulls, the predators making the most of this short-lived bounty.

Little Auk, Titchwell RSPB, Norfolk (Photo: Neil Rendall)
A Cattle Egret was fresh in at Rutland Water on 11th, with one remaining at Burton Mere Wetlands, Cheshire, and two still knocking about at Dungeness, Kent; the latter site also hosted at least six Great White Egrets and there were several strewn across the Somerset Levels. Glossy Ibis were at a new ebb, with just a single bird reported: the long-stayer at Frampton Marsh, Lincs.
Somerset's Pallid Harrier was last noted at Steart WWT on 7th, with a possible Northern Harrier reported from Altcar Moss, Lancs, on 9th. Rough-legged Buzzards continued to feature heavily on our news page, with birds reaching as far south as Jevington, E Sussex. Popular individuals included those still at Braughing, Herts, and in particular the incredibly tame bird near Grindale, E Yorks. Peak count was of three still at Breydon Water, Norfolk, on 6th and twos were at Faseny Bridge, Lothian; Sleddale, Cleveland; and Burnham Overy, Norfolk. In Highland, the male Snowy Owl was seen again near Camster on 6th.

Rough-legged Buzzard, Grindale, East Yorkshire (Photo: Mark Johnson)

Rough-legged Buzzard, Braughing, Hertfordshire (Photo: Andrew Moon)
Lesser Yellowlegs looked settled at Poulnasherry Bay, Clare; Rogerstown Estuary, Dublin; and Hayle Estuary, Cornwall, as did the Spotted Sandpiper at Inverallochy, Aberdeenshire. The adult Bonaparte's Gull was back at Dawlish Warren, Devon, on 9–10th while the Franklin's Gull was still roosting nightly at Blashford Lakes, Hants, to 10th, though its day feeding area remains undetected. The Laughing Gull was still at Ballycotton, Cork, as were Ring-billed Gulls at Portrush, Antrim, and Gosport, Hants; two adult Ringers were at Cruisetown Strand, Louth, on 8th with a third at Carrahane Strand, Kerry, on 5th. A first-winter was a nice find on St Mary's, Scilly, from 9th.

Franklin's Gull, Blashford Lakes HWT, Hampshire (Photo: Paul Winter)
The continuing mild conditions seem to be encouraging a number of Hoopoes to linger, with new birds at Barton-upon-Humber, Lincs, on 6–7th and Exmouth, Devon, on 7th; belated news was also received of a bird in Lerwick, Shetland, on 3–6th and it seems likely this is the Bressay bird of late October. The Somerset bird remained at Dunster Beach to 5th only; a Wryneck was rather late at Porthgwarra, Cornwall, on 9th.

Hoopoe, Dunster Beach, Somerset & Bristol (Photo: Gary Thoburn)
North Ronaldsay's Short-toed Lark was still there on 11th and a Red-rumped Swallow was at Dungeness, Kent, on 6th. Similarly late was a Citrine Wagtail at Flamborough Head, E Yorks, on 5–9th, but November records of Olive-backed Pipit are less unusual: one was at Buckland, Devon, on 9th. A Red-throated Pipit flew over Sennen Cove, Cornwall, the same day.

Citrine Wagtail, Flamborough Head, East Yorkshire (Photo: David Aitken)
Yet another Grey-cheeked Thrush turned up on Shetland on Saturday — the archipelago's third (and Britain's fifth) of the autumn. This week's bird was discovered in gardens at Rerwick and, judging from the photos we've received, was evidently showing well! It was still present on Tuesday.

Gray-cheeked Thrush, Rerwick, Mainland, Shetland (Photo: Hugh Harrop)
Also in Shetland, the Pied Wheatear was still at Haroldswick, Unst, until 9th and another Red-flanked Bluetail was found at Voe, Mainland, on 8–9th, joining the Geosetter bird which remained until 10th. A Siberian Stonechat was near Newbiggin-by-the-Sea, Northumberland, on 8th, and another was at Seaview, IoW, on 6–9th.

Pied Wheatear, Haroldswick, Unst, Shetland (Photo: Roger Riddington)
A Subalpine Warbler was near Carne, Wexford, on 11th, with a Barred Warbler in the county at Seafield on 7–9th; other Barreds were at West Kirby, Cheshire, and Houbie, Fetlar, Shetland, on 9th. A Dusky Warbler was at Sandgarth, Shetland, on 9th, Pallas's Warblers were in East Sussex and Norfolk (2), and Yellow-browed Warbler numbers were noticeably reduced this time out.
A first-winter Isabelline Shrike was at Pendeen, Cornwall, on 9th and 11th; the long-staying Red-backed Shrike at Lowestoft, Suffolk, appeared to have finally departed on 10th but was replaced by birds at Portesham, Dorset, on 10–11th and Tregeseal, Cornwall, on 11th.

Isabelline Shrike, Pendeen, Cornwall (Photo: Tony Mills)
A male Red-breasted Flycatcher was at Rendall, Orkney, on 8th and another was at Hallsands, Devon, the following day. The Rose-coloured Starling was still at St Buryan, Cornwall, on 11th; a Penduline Tit flew along the canal at Frampton-upon-Severn, Glos, on 7th and a Little Bunting was at Whitburn, Durham, on 5th.
News from the wider Western Palearctic included an American Purple Gallinule on Santiago, Cape Verde, on 5th; Sweden's fourth Black Duck was a surprise discovery in Skåne on 9th, and a japonicus Buff-bellied Pipit was reported from Rogaland, Norway, on 8th, the same day that a Great Knot was photographed on the Oued Souss, Morocco — could this be the Breydon bird from the summer? The first Lesser White-fronted Goose in Israel for 21 years was found on 11th and the long-staying White-crowned Black Wheatear remained in South Holland. Spain's second Solitary Sandpiper was in Galicia on 7th.
Photo of the Week

Desert Wheatear, Reculver, Kent (Photo: Steve Ashton)
There were so many excellent photos submitted this week that I really was struggling to select a winner, says Steve Young. A wide range of species were on view, including many Rough-legged Buzzards. Predictably, with a small influx of Desert Wheatears, it was to be expected that photographers would be out in force to capture these little beauties.
I wasn't disappointed with the almost 100 images of the three individuals seen in Kent, Norfolk and Suffolk. One in particular, however, stood out from the rest and is awarded Photo of the Week. I have to admit I said "Wow!"" out loud when I saw this stunning shot by Steve Ashton, who has managed to not only capture the bird at Reculver, Kent, in flight, but has also managed the perfect flight shot!
With wings and tail spread, rump on show and the head at a perfect angle with a highlight in the eye, it is just about the best pose you could get. Congratulations to Steve on his winning shot.
Other notable images

Ring Ouzel, Claerwen Reservoir, Powys (Photo: Kev Joynes)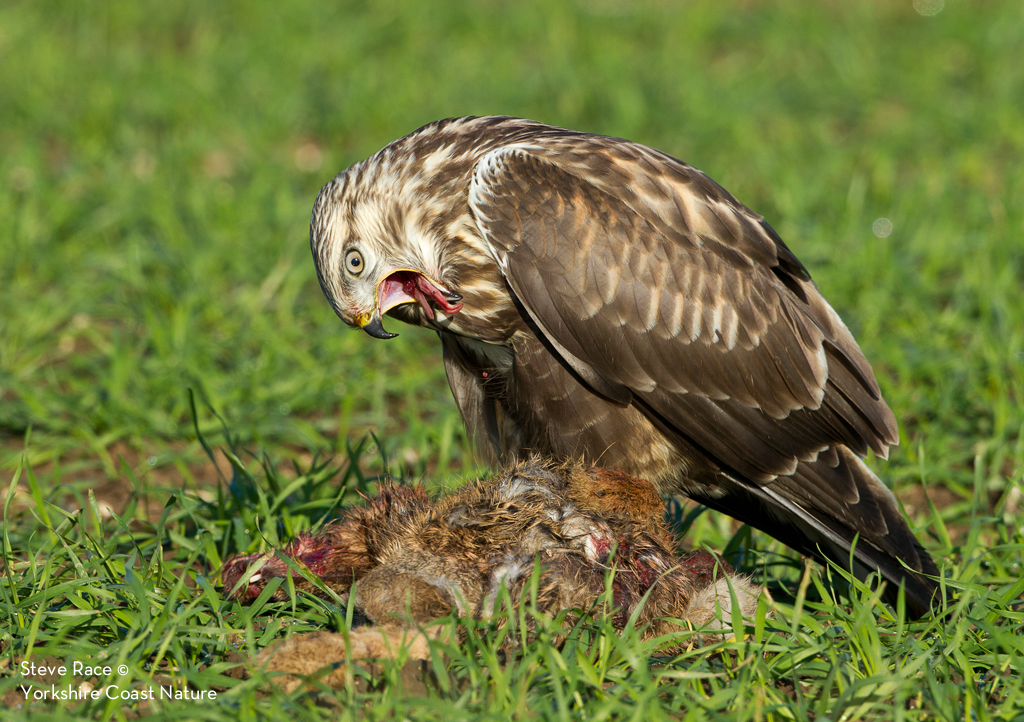 Rough-legged Buzzard, Grindale, East Yorkshire (Photo: Steve Race)

Spotted Pardalote, Australia (Photo: Chris Darby)

Kingfisher, Aberford, West Yorkshire (Photo: Mark Hughes)

Bittern, Shapwick Heath NNR, Somerset & Bristol (Photo: James Gibbs)

Little Auk, Flamborough Head, East Yorkshire (Photo: Chris Downes)

Hawfinch, Malta (Photo: Natalino Fenech)

Common Scoter, Amble, Northumberland (Photo: Heiko Peters)

Jackdaw, Richmond Park, Greater London (Photo: Mr Clive Daelman)

Blue Rock Thrush, Malta (Photo: Natalino Fenech)

Grey Phalarope, Langness, Isle of Man (Photo: Sean Gray)

Grey Heron, Rainham Marshes RSPB, Greater London (Photo: Edward Hutchings)