The fortnight at a glance
Except for a couple of superb rarity finds, the Christmas week turned out to be mainly quiet. However, the further Atlantic weather systems that coincided with the arrival of 2012 provided an exciting influx of white-winged gulls to create a much more dynamic following week.
The possible highlight of the period was the reappearance of the adult Lesser White-fronted Goose in east Norfolk, returning with the regular Taiga Bean Goose flock to Buckenham Marshes on 27th. Although the provenance of this bird has caused a lot of controversy (with rumours rife about its origin and choice of carrier species), last winter's record has now been accepted by the BBRC. One only has to look at the number of past records of Lesser White-fronts from the Yare Valley to realise that the area has a long history with the species. The bird proved popular throughout, and was still present to 4th.

Lesser White-fronted and Taiga Bean Geese, Buckenham Marshes RSPB, Norfolk (Photo: Josh Jones)
Just to ensure the county dominated the week's headlines, the first-winter Western Sandpiper was still at Cley to 4th, where it could usually be found on either Simmonds' Scrape or Pat's Pool.

Western Sandpiper and Dunlin, Cley Marshes NWT, Norfolk (Photo: Rob Wilson)
Running the goose a close second was the discovery of a Dark-eyed Junco at Hawkhill Inclosure (Hants) on 24th. Initially seen by a non-birder, news filtered out on New Year's Eve but it was not until 2nd that the bird was pinned down in an area to the northwest of the car park, remaining to 4th. News also surfaced this week that the Old Winchester Hill White-throated Sparrow of spring 2009 had actually been present on and off to July 2011!

Dark-eyed Junco, Hawkhill Inclosure, Hampshire (Photo: Richard Ford)
Down in the southwest, a probable Pacific Diver off Charlestown then Porthpean (Cornwall) during the morning of 26th proved, somewhat tantalizingly, too distant to confirm identification. Given that Pacific Diver has been recorded in Cornwall in each of the past five winters (including in St. Austell Bay), it seems logical to assume this is a regularly returning bird. Also in Cornwall, the female/1st-winter Bufflehead was still at Helston Loe Pool to 4th after making a brief day trip to Drift Reservoir on 3rd. Across on Scilly, the Wilson's Snipe was seen again at Lower Moors, St. Mary's on 22nd–24th.
At the opposite end of the country, the Greater Yellowlegs was still performing well in flooded fields around Loch Fleet (Highland) to 4th.

Greater Yellowlegs and Greenshank, Loch Fleet, Highland (Photo: Willie)
Apart from on Islay (where a Richardson's was still present on 30th), vagrant Canada Goose reports were restricted to the Todd's still in the Cleveleys (Lancs) area to 1st, and the Richardson's still at Torr Reservoir (Somerset) to 2nd. Black Brants were typically more numerous: thirteen included new birds at Snettisham (Norfolk) on 23rd, Hayling Island (Hants) on 24th and Frampton Marsh (Lincs) on 1st. Three Red-breasted Geese were all regulars: the Exe Estuary (Devon) bird was still commuting between Exminster Marshes and Bowling Green Marsh to 2nd, the Essex individual was relocated at Tollesbury Wick on 27th–2nd, and the 1st-winter of unknown origin was still at Harwood Dale (N Yorks) on 30th.

Red-breasted with Dark-bellied Brent Geese, Old Hall Marshes RSPB, Essex (Photo: John A Davis)
Cumbria's adult Ross's Goose was again with Barnacle Geese at Rockcliffe Marsh on 28th–2nd, while the adult that has been touring northwest Norfolk with Pink-footed Geese was seen again at Sedgeford on 26th. Another at Cley to 24th, again with feral Barnacle Geese, is one of two resident birds that have been around for a few years now. In addition to the usual white-morph Snow Goose still at Big Isle (Donegal) on 23rd–1st, another was with Pinkfeet in the Braco (Perth/Kinross) area on 22nd–29th, and a blue morph was found at Abbey Town (Cumbria) from 3rd. An intermediate morph was reported with Barnacles near Blackrock, Islay (Argyll) on 26th and 29th.

Snow Goose, Abbey Town, Cumbria (Photo: Craig Shaw)
In addition to a new drake American Wigeon at Hesketh Out Marsh (Lancs) on 28th, last week's four were still present and correct: the female was still at Bodenham Lake (Herefordshire) to 2nd, and drakes were still at Kirk Loch (Dumf & Gall), Anglers Country Park (W Yorks) and Dawlish Warren (Devon) all to 4th. A decent turnout of thirteen drake Green-winged Teal included new birds at Loch Ardvule, South Uist (Outer Hebrides) on 22nd, Mersehead (Dumf & Gall) on 31st–1st, Alton Water (Suffolk) on 1st and Sandwich Bay (Kent) on 4th. The female/juvenile Blue-winged Teal was again at Longham Lakes (Dorset) on 25th–4h, while others were still at Bull Island (Dublin) to 1st and Porthellick Pool, St. Mary's (Scilly) to 4th.

Green-winged and Common Teal, Sandwich Bay, Kent (Photo: Steve Ray)
An improved showing of five Lesser Scaup included a new drake at Lough Gill (Kerry) on 31st–2nd, and the drake again in the Cardiff (Glamorgan) area from 28th. Possibly the same drake was still at Wimbleball Lake (Somerset) to 26th only, while females were at Slimbridge (Glos) and Marden Quarry (Northumberland) throughout.

Lesser Scaup, Cardiff Bay, Glamorgan (Photo: Josh Jones)

Lesser Scaup, Slimbridge WWT, Gloucestershire (Photo: Chris Cook)
Three drake Ring-necked Ducks at Lough Owel (Westmeath) on 24th were new, as were females on Grimsay (Outer Hebrides) on 27th and Potteric Carr (S Yorks) on 3rd, and a drake at Par Beach Pool then College Reservoir (Cornwall) from 31st. Somerset's duo relocated to Forde Abbey (Dorset) from 24th–3rd, two drakes were again at Carrowmore Lake (Mayo) on 2nd, and others were still at Gwithian (Cornwall), Ranworth Broad (Norfolk) and Cowpen Bewley (Cleveland). A drake Ferruginous Duck was found at Blashford Lakes (Hants) on 30th–2nd, and the female was still in the Ranworth and Cockshoot Broad area (Norfolk) on 22nd–30th.

Ring-necked Duck, Par Beach, Cornwall (Photo: Iain Stewart)

Ring-necked Duck, Ranworth Broad, Norfolk (Photo: Kevin Du Rose)
Kerry's young female King Eider was again at Ballinskelligs on 31st, while the usual adult drake was still at Burghead harbour (Moray) to 30th. A new drake Surf Scoter off Cloghane (Kerry) on 3rd was the first record in Brandon Bay for a few years. Lingering birds consisted of females at Turbot Island (Galway) on 23rd and Dawlish Warren (Devon) to 4th, and the young drake still off Penzance to 1st.
A freshly arrived Glossy Ibis sought sanctuary on Tresco then St. Mary's (Scilly) on 27th, lingering to 4th. Another new bird was at Exminster Marshes (Devon) from 28th, and two were still at Stodmarsh (Kent) to 1st with singletons hanging on at Fingringhoe Wick (Essex) to 27th and Leighton Moss (Lancs) to 4th. A Cattle Egret at Sidlesham (W Sussex) on 27th was a typical mid-winter arrival; other south-coast individuals were still at East Holme (Dorset) on 23rd and Warblington (Hants) to 4th with two also still on Jersey at Grouville Marsh on 22nd–1st. One at Hempholme (E Yorks) on 29th was an isolated record away from the south. Thirty-three Great White Egrets were reported, including five still at Ham Wall (Somerset) on 31st, three at Dungeness (Kent) on 28th, and twos at Burgh Marsh (Cumbria) and Harty Ferry, Sheppey (Kent). An Irish record from Ballycolla (Laois) on 3rd was notable.

Glossy Ibis, St. Mary's, Isles of Scilly (Photo: Martin Goodey)
An intriguing report of a juvenile Northern Harrier surfaced from Ouse Fen (Cambs) on 27th. Observer descriptions of this peachy-breasted predator sound promising, although this latest claim once again opens the can of worms as to why apparent hudsonicus have suddenly become so regular on this side of the Atlantic. Whatever it is, this individual sounds most striking.
Another Orkney Gyr Falcon report came from Hoy on 30th. Thirteen Rough-legged Buzzards included twos at Ouse Fen on 26th and in the Holkham area throughout. Nottinghamshire's popular juvenile at Gedling Pit Top was last seen on 22nd, although equally showy was one in the Withern (Lincs) area for much of the period. Others were still scattered between Shetland and Kent.
Content continues after advertisements

Rough-legged Buzzard, Withern, Lincolnshire (Photo: Russell Hayes)
Ayrshire held on to its Pectoral Sandpiper at Dundonald Camp on 24th–2nd, although Kerry's Least Sandpiper failed to make it into the Christmas week: there was negative news from Black Rock Strand on Boxing Day. Somewhat out of the blue was the surprising occurrence of a Temminck's Stint at Swithland Reservoir (Leics) on 24th with presumably the same bird then on the Ouse Washes (Cambs) on 1st–4th; could this be the Cotswold Water Park bird relocating? Spotted Sandpipers remained well settled at Lyme Regis (Dorset) to 2nd, on the Plym Estuary (Devon) and at Chew Valley Lake (Somerset) to 4th.

Spotted Sandpiper, Lyme Regis, Dorset (Photo: Peter Moore)
A Lesser Yellowlegs new at Burnham-on-Sea (Somerset) from New Year's Eve was a handy arrival for the 2012 listers. Two Long-billed Dowitchers were found at Wexford Wildfowl Reserve on 1st, with one lingering to the following day. Another brace arrived at Lodmoor (Dorset) on 3rd; these must be the Somerset birds relocating, but where they have been in the meantime is a mystery. In addition, last week's bird was again at Kidwelly Quay (Carmarthenshire) on 27th–2nd

Lesser Yellowlegs, Burnham-on-Sea, Somerset & Bristol (Photo: James Packer)

Long-billed Dowitcher, Kidwelly, Carmarthen (Photo: Derek Moore)
Despite the weather, just four Grey Phalaropes were reported: an unconventional inland bird was at Rutland Water on 22nd, whereas more expected were those off Bangor (Down) on 27th, Beadnell Bay (Northumberland) on 1st, and Brandon Point (Kerry) on 3rd. Unseasonable was a Great Shearwater past Galley Head (Cork) on Boxing Day, and a Sooty Shearwater cruised past Point of Buckquoy (Orkney) on 27th. A light drizzling of Balearic Shearwater records evolved into something of a flood as stormy conditions dominated the first few days of 2012. Most records typically came from the southwest, with an impressive 52 past Pendeen (Cornwall) on 28th being eclipsed by a superb 94 past St. Ives on 3rd. A spontaneous movement of 221 Little Auks past Fair Isle (Shetland) occurred during an hour on the afternoon of 22nd, although very few were seen elsewhere. Otherwise, seawatching was relatively unremarkable: the first few days of 2012 saw a light scattering of skuas and Blue Fulmars, but little else.
It was an excellent week for white-winged gulls, with weather conditions no doubt responsible for the large numbers reported. An increase to over ten Kumlien's Gulls included two at Killybegs on 28th. Others, at Beddington Sewage Farm (London) on 27th–4th and again at Dunbeg (Argyll) on 22nd–3rd, ranged from the palest to the darkest ends of the spectrum respectively. A total of over 145 Iceland Gulls was outrageously good for the end of December: most were reported in northern and western areas, with peak counts of eight at Killybegs (Donegal) on 31st and seven in Galway on 4th. Many more sites recorded up to five birds, including four on St. Mary's (Scilly) and three at Carbis Bay (Cornwall), both on 4th. Slightly fewer Glaucous Gulls were reported, although around 95 included several counts of four from Scottish and Irish sites, with plenty of east-coast harbours also attracting birds. With unsettled weather set to continue, it promises to be an excellent winter for these charismatic larids.

Iceland Gull, Killybegs, Donegal (Photo: Gavin Thomas)

Glaucous Gull, Burghead, Moray & Nairn (Photo: Mark Ranner)
An adult Bonaparte's Gull was found around the outfall at Balleygalley (Antrim) on 24th, lingering to 4th. Sixteen Ring-billed Gulls were split equally between Britain and Ireland; new adults were at Newgale (Pembrokeshire) and Tolcarne Beach (Cornwall) on 26th, with another at Seaforth (Lancs) on 31st. In Galway, the Forster's Tern was again at Kinvarra on 2nd.

Bonaparte's Gull, Ballygalley, Antrim (Photo: Derek Charles)

Ring-billed Gull, Cuskinny Marsh, Cork (Photo: Ronan McLaughlin)
A Hoopoe was a surprise in Lowestoft (Suffolk) on 31st–3rd, as was a new Richard's Pipit at Killard NR (Down) on 2nd. The Wyke Regis (Dorset) bird lingered throughout, and one was also seen again at Gibraltar Point (Lincs) on 23rd.

Richard's Pipit, Killard NR, Down (Photo: Craig Nash)
The two male Desert Wheatears remained at Newbiggin-by-the-Sea (Northumberland) to 4th — both no doubt encouraged in to their continued stay by the unusually mild conditions. The same could be said for Waterford's male Bluethroat, which was still at Clonea Strand to 4th.

Bluethroat, Clonea, Waterford (Photo: Polina Kasapova)
Another quiet period for Waxwings included 70 around Ipswich Hospital (Suffolk), and up to 60 in Jarrow (Durham), Edinburgh (Lothian) and Martlesham (Suffolk). Small numbers were reported from other sites, mostly in the north and east although one penetrated as far as Cardiff Bay (Glamorgan) on 27th.

Waxwing, Ipswich, Suffolk (Photo: Steve)
Phylloscopus action was predominately in the southwest, although a surge of new Yellow-browed Warblers included New Year's Day finds at Ness Point, Lowestoft (Suffolk), Marais Nord (Guernsey) and Ham Wall and Chew Valley Lake (Somerset), the latter trapped and ringed. One was at Swanpool (Cornwall) from 29th, while others were still at Clennon Valley Lakes (Devon) to 2nd and on St. Mary's (Scilly) to 3rd. In Cornwall, a Pallas's Warbler near Trevose Head (Cornwall) was a very pleasant Christmas Day find for one observer. The Hume's Leaf Warbler was still at Wyke Regis (Dorset) to 4th. Lower Moors, St. Mary's (Scilly) still clung on to at least one Dusky Warbler to 1st, while a Willow Warbler was amongst good numbers of Chiffchaffs at Helston sewage works (Cornwall) on 24th. As many as ten Siberian Chiffchaffs included twos at Lower Moors on 22nd, Clennon Valley Lakes on 24th and Broadsands (Devon) on 4th, as well as one at Netherfield Lagoons (Notts) on 28th. Not a Phyllosc, but a Lesser Whitethroat at Berry Hill Fields (Staffs) from 23rd–2nd was perhaps (or perhaps not) of an eastern form.

Possible Central Asian Lesser Whitethroat, Berry Hill Fields, Staffordshire (Photo: Richard Powell)
A solid showing of thirty Great Grey Shrikes across England and Wales included a new bird trapped and ringed at Boughton Fen (Norfolk) on 22nd. Other new individuals were at Haceby then Folkingham (Lincs), Beachamwell (Norfolk), Matlock Moor (Derbys), High Hoyland (S Yorks), Mynydd Penbydd (Glamorgan), Wentwood Forest (Gwent), Norton Green (Herts) and Layham Pits (Suffolk). The long-staying Scottish bird was still in the Guardbridge (Fife) area all week, with another in the county at Kilmany on 1st.

Great Grey Shrike, Cannock, Staffordshire (Photo: Tom Melton)
The Dungeness (Kent) Penduline Tit was seen again on 28th. In Norfolk, the Coues's Arctic Redpoll continued to provide entertainment around the visitor centre at Titchwell throughout. The House Crow saw out the year at Cobh (Cork), while another probable was heard and seen distantly in Belfast (Antrim) on 24th, although not again.

Coues' Arctic Redpoll, Titchwell RSPB, Norfolk (Photo: Andy Thompson)
And so another year passes. Already, many birders' minds are wondering what the first 'mega' of the year will be (answers on a postcard please) — the hoped-for Christmas Allen's Gallinule still hasn't made an appearance, so how about it?! Or perhaps, after all these transatlantic storms, the gallinule we should really be thinking about is American Purple. Happy New Year, and all the best for birding in 2012.
Photo of the Week: 29th December–4th January

Desert Wheatear, Newbiggin-by-the-Sea, Northumberland (Photo: Keith Reeder)
A long-staying Desert Wheatear within easy reach of one of the UK's largest population centres would be expected to be well visited and well photographed. The first-winter male bird at Newbiggin-by-the-Sea, just north of Newcastle-upon-Tyne, further ensured this by being tame enough to approach within six feet of its visiting photographers. Sometimes, though, despite receiving so much attention, a rare bird such as this one spawns a stream of record shots, rather than images with great photographic merit. This week, Keith Reeder finally submitted the first exceptional shot of this bird as he froze it in flight in a well-lit sandy setting. Although he modestly passed this off as a lucky shot, there was no more luck involved in this capture than there is for any rarity flight shot, so Keith can enjoy a well-deserved first Photo of the Week.
Other notable photos

Greater Yellowlegs, Loch Fleet, Highland (Photo: Marcus Conway — ebirder)

Short-eared Owl, Worlaby Carrs, Lincolnshire (Photo: Jamie MacArthur)

Kestrel and Common Snipe, Cley Marshes NWT, Norfolk (Photo: Richard Brown)

Pheasant, East Walton, Norfolk (Photo: Stephen Durrant)

Sparrowhawk, Minsmere RSPB, Suffolk (Photo: Carl Wright)

Jay, Wigan, Greater Manchester (Photo: Roy)

Black-throated Diver, Lake Lothing, Suffolk (Photo: Kevin Du Rose)

Goosander, Forest of Dean, Gloucestershire (Photo: Lewis Thomson)

Barn Owl, undisclosed site, Lancashire (Photo: Tom Charles)

Crested Tit, undisclosed site, Highland (Photo: James Wood)

White-faced Heron, Australia (Photo: John Dickenson)

Eider, Amble, Northumberland (Photo: Dave Barnes)

Bluethroat, Clonea, Waterford (Photo: Ronan McLaughlin)

Jack Snipe, Llyn Hir, Powys (Photo: Paul_Leafe)

Great Spotted Woodpecker, Llandrindod Wells, Powys (Photo: Kev Joynes)

Turnstone, Amble, Northumberland (Photo: Morgan)
Photo of the Week: 22nd–28th December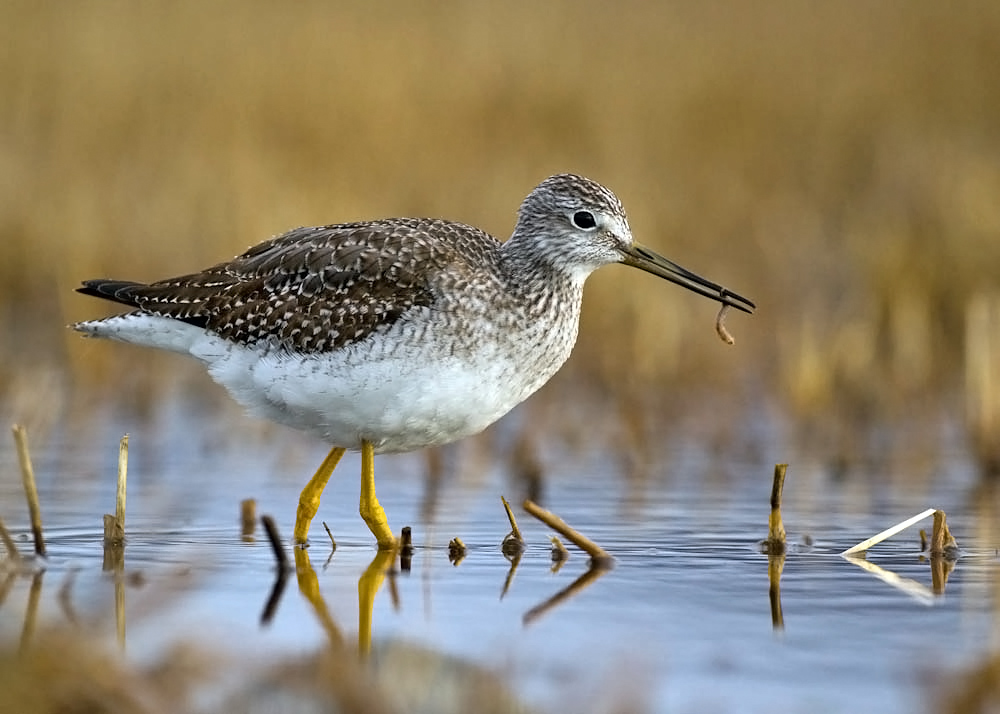 Greater Yellowlegs, Loch Fleet, Highland (Photo: Marcus Conway — ebirder)
Scotland-based bird photographer Marcus Conway has half a dozen Photos of the Week and three dozen Notables to his name and now spends much of his time running workshops to teach bird photography to others. Marcus has obviously put in all the groundwork needed to be able to make the most of a close encounter with a 'mega' rarity, in this case the long-staying Greater Yellowlegs at Loch Fleet, Highland. This bird has been surprisingly under-photographed, no doubt due to its remote location, and Marcus even managed to spend time with it while no other birders/photographers were present. Marcus was able to choose his spot and just lie down and wait for the bird come to him, which it did to within three or four feet! Marcus' low angle allowed him to capture an engaging eye-level shot as the delightful wader went about its business of catching worms in a small puddle. Great setting, lighting, pose and composition give Marcus his seventh PotW.
Other notable photos

Short-eared Owl, undisclosed site, Leicestershire and Rutland (Photo: Graham Munton)

Red Grouse, undisclosed site, Angus & Dundee (Photo: Gordon Linton)

Common Kestrel, Worlaby Carrs, Lincolnshire (Photo: David Newby)

Common Treecreeper, undisclosed site, Clyde (Photo: Jim Duncan)

Grey Heron, Oman (Photo: Andrew Adams)

Southern Grey Shrike, Spain (Photo: Steve Fletcher)

Starling, North Wirral, Cheshire (Photo: Richard Steel)

Coot, Wyken Slough LNR, West Midlands (Photo: John Spraggett)

Herring Gull, Lowestoft, Suffolk (Photo: Jon Evans)

Common Buzzard, Spital, Cheshire (Photo: Steve Round)

Goosander, Killingworth, Northumberland (Photo: Morgan)