The week at a glance
In early May, you wouldn't expect the week's two biggest finds to comprise two Nearctic passerines normally seen this side of the Atlantic in October, particularly when the weather has been, well, pretty settled! But that's exactly the path that this week took and, added to some of last week's lingering highlights, it made for actually quite a colourful seven days.
First up was the first summer-plumaged American Buff-bellied Pipit to be recorded in Britain (and perhaps the Western Palearctic), found at Cockersand Abbey (Lancs) on 4th but only identified conclusively after dark. Unfortunately for local birders, a clear night meant the bird had moved on by the following morning. A nice selection of photos of the bird can be seen here. Next up was a female-type Yellow-rumped Warbler on North Ronaldsay on 6th — a superb second for the island following a bird in October 1985, and only the fourth spring record for the British Isles (previous records coming from Fair Isle (2) and the Isle of Man). In fact, it was a good week for the island, with a summer-plumaged Spotted Sandpiper also there on 2nd and a Little Bunting on 3rd.

Yellow-rumped Warbler, North Ronaldsay, Orkney (Photo: Mark Warren)

Yellow-rumped Warbler, North Ronaldsay, Orkney (Photo: Mark Warren)
Not far away, the stunning male Cretzschmar's Bunting on Fair Isle was last seen on 2nd, though the Caspian Stonechat stayed put throughout the week and the Eastern Subalpine Warbler reappeared on 2nd. The Collared Flycatcher at Mire Loch (Borders) was last seen on 30th.

Cretzschmar's Bunting, Fair Isle, Shetland (Photo: Steve Minton)

Caspian Stonechat, Fair Isle, Shetland (Photo: Steve Minton)

Collared Flycatcher, St. Abbs Head NNR, Borders (Photo: Chris Upson)
A pulse of new rarities over the Bank Holiday weekend was arguably highlighted by a singing male Western Bonelli's Warbler at Newbiggin (Northumberland) early on 3rd, but this soon went quiet and presumably moved on. Also brief was a Great Reed Warbler singing at Lackford Lakes (Suffolk) on 5th, while male Eastern Subalpine Warblers showed at Portland (Dorset) on 1st and 3rd and on Out Skerries (Shetland) on 2nd. A young male Western Subalpine Warbler was at Holme NOA (Norfolk) on 5–6th, being trapped on the latter date, and Cork's Sardinian Warbler stayed another week on Dursey Island. A Yellow-browed Warbler at Kilnsea (E Yorks) was found dead shortly after its arrival on 30th; others were at Northdale, Unst (Shetland) on 2nd, Dungeness (Kent) on 6th and Holme NOA (Norfolk) on 5–6th — the latter was also heard singing regularly.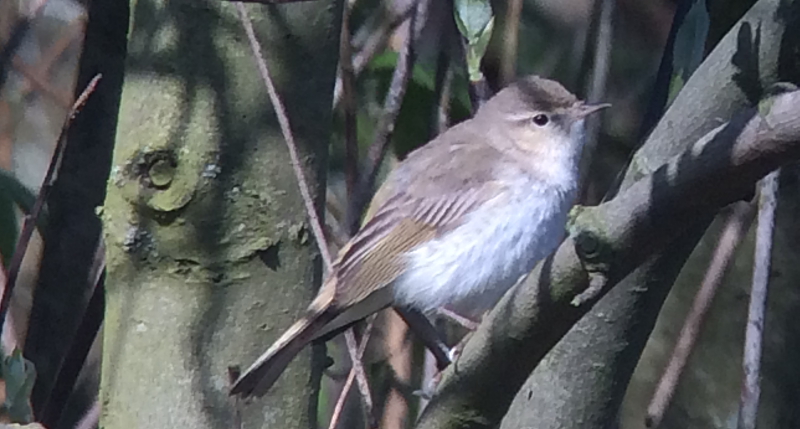 Western Bonelli's Warbler, Newbiggin-by-the-Sea, Northumberland (Photo: Alan Tilmouth)

Western Bonelli's Warbler, Newbiggin-by-the-Sea, Northumberland (Recording: Alan Tilmouth)

Eastern Subalpine Warbler, Out Skerries, Shetland (Photo: Roger Riddington)

Subalpine Warbler, Holme NOA, Norfolk (Photo: Penny Clarke)

Sardinian Warbler, Dursey Island, Cork (Photo: Fionn Moore)
In addition to the long-staying Gramborough Hill bird which was still present on 30th, Richard's Pipits were at Winterton (Norfolk) on 1st, St Abbs Head (Borders) on 3rd, Flamborough Head (E Yorks) from 3–5th and Northwick Warth (Glos) on 5th. A Tawny Pipit was reported on 30th from Red Rocks (Cheshire), where there was also a male Citrine Wagtail briefly on 5th. An altogether showier female was at Pool of Virkie (Shetland) on 1st. An Olive-backed Pipit was at Hermaness, Unst, on 2nd.

Citrine Wagtail, Pool of Virkie, Mainland, Shetland (Photo: anon)
Just three Red-rumped Swallows were noted: at Tice's Meadow (Surrey) on 1st, Lade Gravel Pits (Kent) on 2nd and south over Spurn (E Yorks) on 5th. Short-toed Larks were new on North Ronaldsay on 5th and St Mary's (Scilly) on 6th, with at least one still on Fair Isle, where there was also a male Red-spotted Bluethroat on 30th–1st as well as Great Grey Shrike and Red-breasted Flycatcher. With conditions turning less optimal, Wryneck records dropped off quickly, numbers struggling to make it into double figures along the east coast between Essex and Shetland.
From southern climes came a first-summer Woodchat Shrike to Hemscott Hill (Northumberland) on 5–6th, with another reported near Tarbert, Harris (Outer Hebrides) on 6th. A dozen Hoopoes were in Jersey, Scilly, Cornwall, Devon, Dorset, Norfolk (four), East and West Yorkshire and Cumbria, while a Bee-eater was heard flying over Landguard (Suffolk) on 6th. Brief Serins were in Dorset (two), Norfolk, East Yorkshire and Fife (Isle of May on 4th). Somewhat surprisingly, the Great Spotted Cuckoo also reappeared at Kynance Cove (Cornwall) on 3rd, remaining until 5th. Meanwhile, at least one Two-barred Crossbill lingered at Lynford Arboretum (Norfolk) and three were at Broomhead Reservoir (S Yorks) on 4th.

Woodchat Shrike, Hemscott Hill, Northumberland (Photo: Frank Golding)

Two-barred Crossbill, Lynford Arboretum, Norfolk (Photo: Andy Thompson)
In Cambridgeshire, the Baikal Teal continued to linger on the Ouse Washes like a bad smell — it was still near Pymoor on 3rd. Scarce wildfowl were exactly that this week, with other highlights limited to the Ring-necked Duck still at White Mere (Shropshire) on 6th and a drake Green-winged Teal at Castle Espie WWT (Down) on 5th (the Lancashire bird also still residing at Stocks Reservoir on 1st). Surf Scoters were in the Sound of Harris (Outer Hebrides) on 2nd and still off Musselburgh (Lothian) on 6th; the drake King Eider remained on the Ythan Estuary (Aberdeenshire) this week with it (or probably another) flying past Burghead (Moray/Nairn) on 1st.

Ring-necked Duck, The Mere, Shropshire (Photo: Jim Almond)

Green-winged Teal, Castle Espie WWT, Down (Photo: Derek Charles)

King Eider, Ythan Estuary, Aberdeenshire (Photo: Joe Graham)
Another pulse in White-billed Diver numbers in the Moray Firth saw 14 — most in summer plumage — from a boat trip off Portsoy (Aberdeenshire) on 3rd, with at least seven the following day and four seen from land during the week. Three were also seen off Portknockie (Moray/Nairn) on 5th, but perhaps relate to some of the same birds. Orkney claimed two, with records from Cara, South Ronaldsay, on 5th and Burray from 3rd.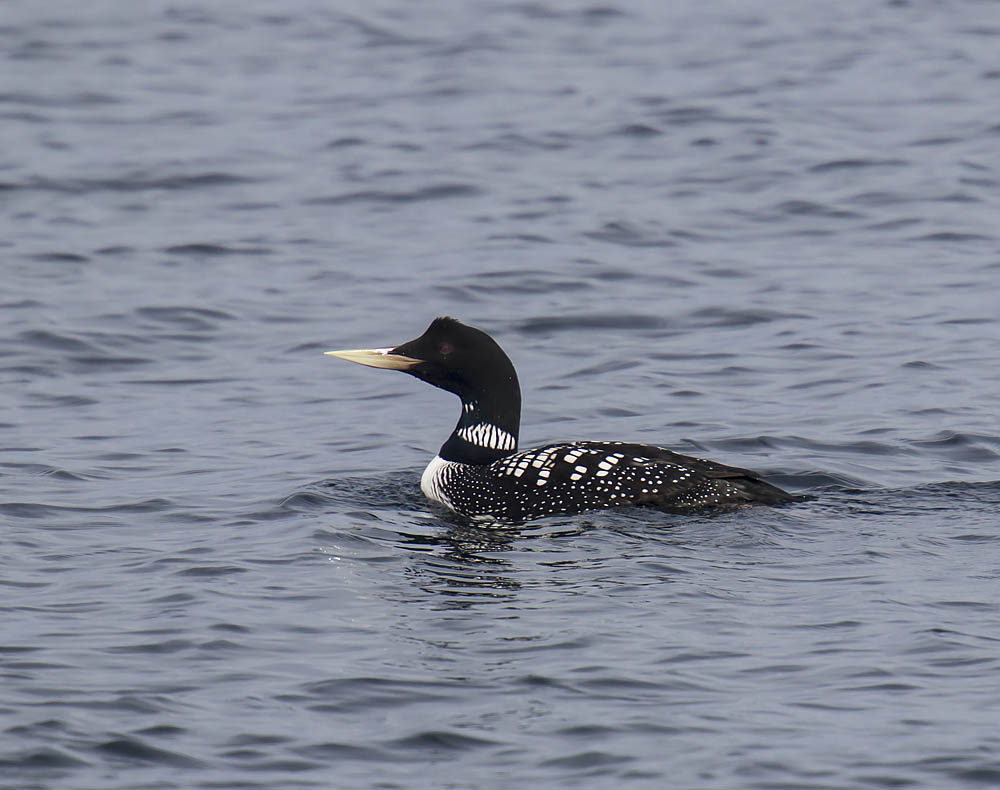 White-billed Diver, Portsoy, Aberdeenshire (Photo: John Anderson)

White-billed Diver, Portsoy, Aberdeenshire (Photo: John Nadin)
The long-staying Night Heron was last reported from Spiggie (Shetland) on 30th; the same day a Purple Heron arrived at Kenfig NNR (Glamorgan), while Dungeness' second of the spring visited the RSPB reserve briefly on 2nd. Two Cattle Egrets remained at Tacumshin (Wexford) all week, as did the birds in Cambridgeshire and Buckinghamshire. The White Stork was again near Spencers Wood (Berks) on 1st–2nd, with another over Otmoor (Oxon) on the latter date. One flew over Waltham Brooks (W Sussex) on 2nd before pitching down at nearby Pulborough briefly; other records included three over Taunton (Somerset) and a single over Woodbridge (Suffolk), both on 4th, while reports from East Norfolk probably relate to wandering captive birds.

Cattle Egret, Oxlode, Cambridgeshire (Photo: Tim James)
Female Red-footed Falcons were reported from Portland (Dorset) on 3rd and Summerleaze Gravel Pits (Berks) on 6th. At least one Black Kite toured the Isles of Scilly from 4th (two were on Tresco on 5th), while there were also reports from Land's End and Nanquidno (both Cornwall) on 4th and 5th respectively, as well as presumably the same bird tracked between West Runton (Norfolk) and Carlton Marshes (Suffolk) on 4th.
A female Kentish Plover was at Dawlish Warren (Devon) on 2nd–3rd, while the county's Collared Pratincole was last seen at Northam Burrows on 30th — could the probable over Skokholm (Pembrokeshire) on 1st have been the same bird? A fine Lesser Yellowlegs was inland at College Lake (Bucks) on 5th, and a breeding-plumaged Long-billed Dowitcher was at Dungeness (Kent) on 1st; Pectoral Sandpipers were at Lough Beg (Londonderry) on 2nd and Loch of Kinnordy (Angus & Dundee) on 5th–6th, while Temminck's Stints were in Suffolk, Cambridgeshire and Herefordshire. One of the escaped Black-winged Stilts from Bedfordshire appeared at Fen Drayton Lakes (Cambs), while genuine birds were briefly at Sandwich Bay (Kent) on 2nd, Chard Junction then Lodmoor (both Dorset) on 4th and 5th, and at Titchfield Haven (Hants) on 6th.

Lesser Yellowlegs, College Lake, Buckinghamshire (Photo: Ephraim Perfect)

Lesser Yellowlegs, College Lake, Buckinghamshire (Photo: Tom Hines)

Black-winged Stilt, Sandwich Bay, Kent (Photo: Steve Ray)
A good showing of Dotterel included up to four showing to a matter of inches on Pendle Hill (Lancs). Other trips included up to five in the Choseley Drying Barns area of north Norfolk throughout the week, four at Dounby (Orkney) and two at Carnethy Hill (Lothian) on 30th, four at Ingleborough Beacon (N Yorks) on 3rd, seven at Foel Fras (Gwynedd) on 4th, one at The Range (Anglesey) on 4th–5th and four at The Cheviot (Northumberland) on 6th. Up to 10 were in the traditional fields around Tetney Lock (Lincs) throughout the week.

Dotterel, Pendle Hill, Lancashire (Photo: Richard Pittam)

Dotterel, Pendle Hill, Lancashire (Photo: anon)
A stunning adult Bonaparte's Gull spent the day at Marsh Lane (W Mids) on 1st, with perhaps the same bird then at Slimbridge (Glos) on 5th. An adult Ring-billed Gull at St Mary's Island (Northumberland) on 2nd was unusually late for a mature bird; more typical were first-summers at Blennerville (Kerry) and Swords (Dublin) on 1st and 5th respectively, and a second-summer at Loch Sandary, North Uist, on 6th. A Whiskered Tern near Skibbereen (Cork) on 1st may well be the bird which later lingered at Lough Aderra from 4th; another was at Walberswick (Suffolk) for a matter of minutes on 3rd.

Bonaparte's Gull, Marsh Lane NR (PERMIT ONLY), West Midlands (Photo: Dave Hutton)

Bonaparte's Gull, Marsh Lane NR (PERMIT ONLY), West Midlands (Photo: Max Silverman)
Further afield, the Sandhill Crane remained in Västmanland, Sweden all week; the country's purple patch continued with a drake Stejneger's Scoter seen migrating past Utlängan, Blekinge. Poland's fourth Slender-billed Gull in the Biebrza National Park on 4th was a stark reminder that another British bird is long overdue. Meanwhile, the Netherlands continued to hold on to both Steppe Grey and Brown Shrikes early in the week.
Photo of the Week

Honey Buzzard, Israel (Photo: Steve Arlow)
Many birders who have visited Israel know full well what a fantastic place it is for birdwatching, not least the spectacular bird of prey passage that characterises the country's skies each spring and autumn. While earlier is excellent for eagles, Steppe Buzzards and Black Kites, late April is the peak time for Honey Buzzard migration in the country, as birds pour northwards towards Eurasian breeding grounds. Steve Arlow has been visiting Israel in spring for a number of years now and, on his latest trip just last week, came across the country's second Dark Chanting Goshawk — fine reward for his continued efforts. However, Steve also obtained some fantastic images on his trip, and it was this beautifully framed Honey Buzzard that really caught our attention. Depth of field and exposure are perfect, and the dynamic in-flight pose only adds to the image. The bird's feather detail is also illustrated finely in this portrait — the upperparts are so much more than just the uniform brown as they might appear on a more typical, distant view — and, just to cap it all off, the species' yellow eye contrasts beautifully to leave us with a genuinely charismatic and intricate photograph that will no doubt prove the envy of all photographers.
Other notable images

Cuckoo, Gatehouse of Fleet, Dumfries & Galloway (Photo: Suphansa Inwan)

Grasshopper Warbler, Minsmere RSPB, Suffolk (Photo: Nick Brown)

Wood Warbler, Yarner Wood, Devon (Photo: Gray Clements)

Collared Pratincole, Northam Burrows CP, Devon (Photo: Steve Hatch)

Dotterel, Pendle Hill, Lancashire (Photo: John Barlow)

Dipper, undisclosed site, Angus & Dundee (Photo: Marek Szczepanek)

Common Sandpiper, Upton Warren NR (Permit Only), Worcestershire (Photo: Vern Wright)

Long-tailed Tit, Highgate Common, Staffordshire (Photo: Andy Payne)

Crane, Slimbridge WWT, Gloucestershire (Photo: Derek Lees)

Citrine Wagtail, Pool of Virkie, Mainland, Shetland (Photo: James Wood)

Corn Bunting, Lakenheath, Suffolk (Photo: Neil Rolph)