The week at a glance
Summer 2013 has been unusual: although deathly quiet as a whole, each and every week has been dominated by news of new and/or lingering mega-rarities. That all changed this week, as the autumn kicked off with a monumental bang. Last week, we'd seen hints that songbird migration was beginning to flow but, by the Bank Holiday weekend, the flow had rapidly developed into a full-on deluge.
By midweek last week, birders were already well attuned to the weather forecast, and the classic 'fall' conditions predicted — an easterly airflow right out of Scandinavia coupled with a slow-moving band of heavy rain across the eastern half of the UK — held true. Those out from Saturday morning received an inevitable soaking but the quality of birding seemed to make it worthwhile as the weekend progressed. Three species in particular provided very healthy showings: Citrine Wagtail, Booted Warbler and Greenish Warbler.
In total, a minimum of sixteen Citrine Wagtails were seen across Britain and Ireland. Birds began to arrive on 22nd, when two were at Tacumshin (remaining to 26th), one was at Black Rock Strand (Kerry) to 24th and a fourth pitched down at Conwy RSPB. The Farnes (Northumberland) struck on 23rd (another there on 27th–28th) as did Marazion (Cornwall), the latter bird lingering to 25th. On 24th, one arrived at Quendale (Shetland), and one on St. Mary's (Scilly) on 25th perhaps accounted for one of at least two, possibly three, first-winters on nearby Tresco from 26th–28th. North Ronaldsay (Orkney) got in on the action on 26th–27th, with Norfolk claiming two on 28th, the same day that an adult — the only 'yellow' bird of the week — arrived on St. Mary's.

Citrine Wagtail, St. Mary's, Isles of Scilly (Photo: Nigel Hudson)

Citrine Wagtail, Marazion, Cornwall (Photo: Tony Mills)

Citrine Wagtail, Tacumshin, Wexford (Photo: Paul Kelly)
Booted Warbler certainly contended for 'species of the week' status, with at least 11 recorded nationwide. The first was on Fair Isle on 22nd, and went on to stay throughout the week. One was at Hadston Carrs (Northumberland) on 23rd–24th though only reported on its second day; another was on Blakeney Point (Norfolk) on 24th and, not too far away, Burnham Overy Dunes hosted two on 26th. Another was found at Drums (Aberdeenshire) on 26th and lingered to the following day. Norfolk claimed a fourth on 27th at Stiffkey, while birds were also found at Pegwell Bay (Kent) and Climping (W Sussex) that day — the latter, a particularly long-billed bird, was initially suspected to be a Sykes's Warbler. Finally, Shetland grabbed two on 28th, at Symbister (Whalsay) and on the Out Skerries.

Booted Warbler, Burnham Overy, Norfolk (Photo: Anthony Griffiths)

Booted Warbler, Climping, West Sussex (Photo: Mick Davis)
Fronting up the scarcities were Greenish Warblers, with 88 reports on Bird News Extra during the week and the total number of birds pushing 40 by the end of 28th. Birds started to arrive late on Friday 23rd and into Saturday across a front between Aberdeenshire and Scotland. Throughout 25th, birds began to appear further south as the coastlines of Northumberland, Yorkshire, Norfolk and Suffolk all scored. A handful of new birds appeared across each of 26th, 27th and 28th, with the week's haul concluding with two in Scarborough (N Yorks) on Wednesday afternoon.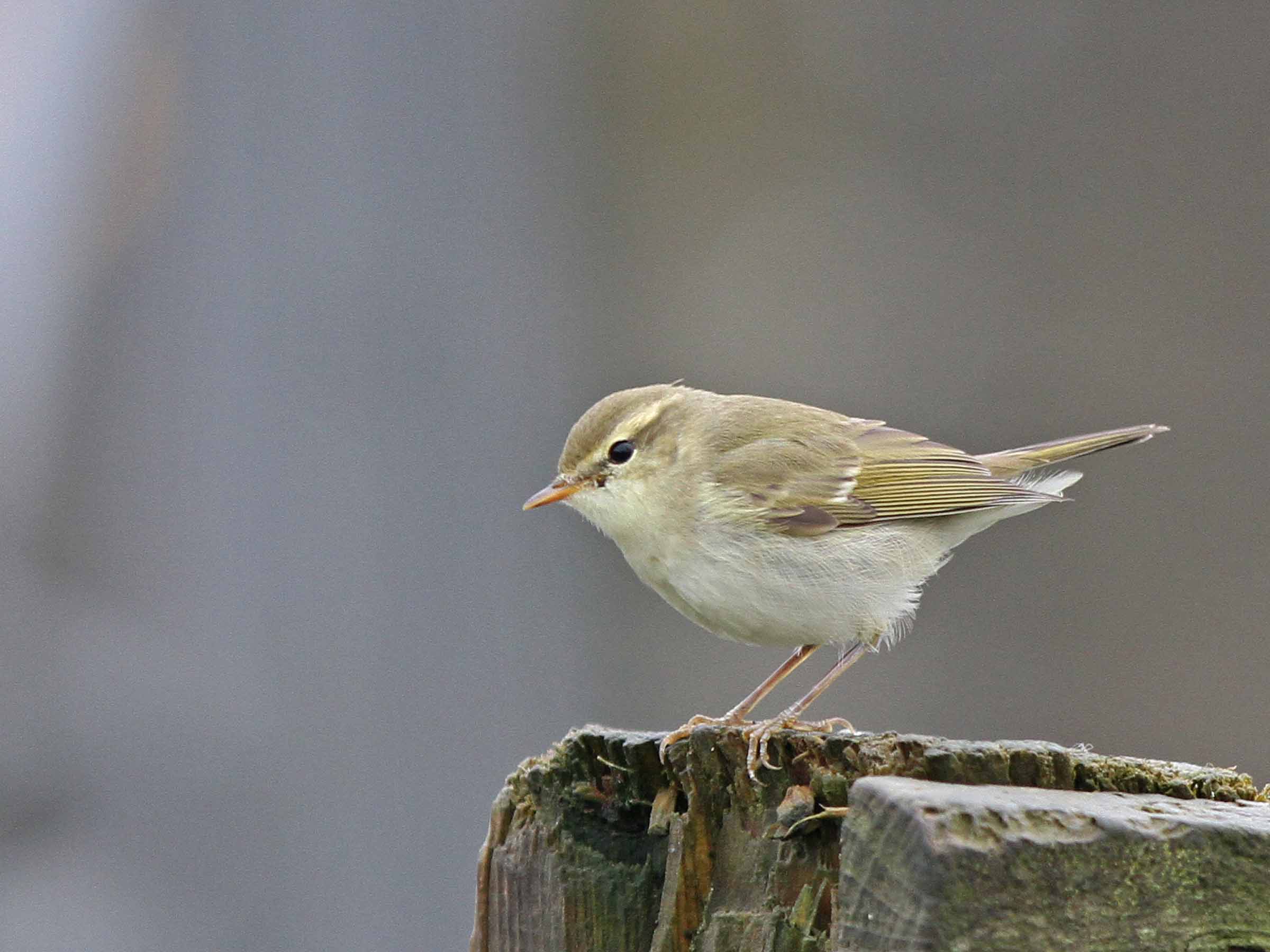 Greenish Warbler, Sumburgh, Mainland, Shetland (Photo: G Petrie)

Greenish Warbler, Whitburn Coastal Park, Durham (Photo: Mark Newsome)

Greenish Warbler, Flamborough Head, East Yorkshire (Photo: David Aitken)

Greenish Warbler, Burnham Overy, Norfolk (Photo: David H Hatton)
Though the weekend's action was really all about appreciating the sheer numbers of common and scarce migrants arriving along the east coast, one or two rarities were found. Of these, perhaps the most significant was a Black-headed Bunting at Girdle Ness (Aberdeenshire) on 25th, though it proved frustratingly brief. The sole Arctic Warbler was an extremely elusive bird at Whitburn (Durham) on 26th–28th, with Western Bonelli's Warblers seen at Happisburgh (Norfolk) on 25th and Hope Point (Kent) on 26th. An elusive Subalpine Warbler was at Sammy's Point (E Yorks) on 26th and the Fair Isle bird remained throughout. Thrush Nightingales were on Fair Isle and at Graemeshall Loch (Orkney) on 26th and, bucking the trend of east-coast dominance, a singing Iberian Chiffchaff was found near Looe (Cornwall) on 25th.

Arctic Warbler, Whitburn Coastal Park, Durham (Photo: D Johnson)

Thrush Nightingale, Fair Isle, Shetland (Photo: Alex Rhodes)
A fine week for Icterine Warblers saw well over 50 birds arrive during the week; again, the prime arrival dates were across the Bank Holiday weekend as a range of typical east-coast sites bagged birds, the Spurn area boasting no fewer than seven birds on the Monday and Flamborough claiming at least four. Several more in Norfolk included a popular bird in the dunes at Burnham Overy on 26th–28th, while Portland (Dorset) hosted birds on 25th and 28th. Contrastingly, just one Melodious Warbler record was received: on St. Mary's (Scilly) on 22nd.

Icterine Warbler, Burnham Overy, Norfolk (Photo: Ian Curran)

Icterine Warbler, Blakeney Point, Norfolk (Photo: Penny Clarke)

Icterine Warbler, Sumburgh, Mainland, Shetland (Photo: G Petrie)
Some forty or more Red-backed Shrikes were mainly spread from the East Anglian coastline northwards, though a couple were seen in Kent and a juvenile was inland at Paxton Pits (Cambs) on 27th. Once again, Spurn hosted multiple individuals; day counts never exceeded three although there was a clear turnover in birds. Barred Warbler numbers were, surprisingly, considerably lower, with 20 or so birds noted throughout the week, while the Northern Isles characteristically claimed the lion's share of up to 15 Common Rosefinches. It's still on the early side for the species, so it was no great surprise that only a few Red-breasted Flycatchers were noted: at Kilnsea (E Yorks) on 22nd, Spurn on 26th–28th, and both Flamborough Head and Skinningrove (Cleveland) on 26th.

Red-backed Shrike, Lowestoft, Suffolk (Photo: Ian Clarke)

Red-backed Shrike, Wells-next-the-Sea, Norfolk (Photo: Dave Andrews)

Red-breasted Flycatcher, Spurn YWT, East Yorkshire (Photo: Martin Standley)
But it was Wrynecks that really stole the show of the 'standard scarce'. A fine showing of over 125 birds throughout the week included some genuinely impressive totals from coastal sites. Spurn, for example, eclipsed its previous best day total with a mind-boggling 27 seen on 25th, 13 remaining the following day! Blakeney Point — generally Norfolk's Wryneck hotspot — chipped in with a not-too-shabby count of ten on 25th, while fours were at Landguard (Suffolk) on 24th and Gibraltar Point (Lincs) on 25th. A handful of inland birds included at least one at King George V Reservoir (London) on 28th and another trapped and ringed on private land on Salisbury Plain (Wilts).

Wryneck, Frampton Marsh RSPB, Lincolnshire (Photo: Russell Hayes)

Wryneck, Salthouse, Norfolk (Photo: John Miller)

Wryneck, Landguard NR, Suffolk (Photo: John Richardson)

Wryneck, Kilnsea, East Yorkshire (Photo: Diogo Batista)

Wryneck, Salisbury Plain, Wiltshire (Photo: Phil Deacon)

Wryneck, Kilnsea, East Yorkshire (Photo: Martin Standley)

Wryneck, Portland, Dorset (Video: Joe Stockwell)
Commoner migrant totals were impressive too, although, as is often the case these days, some of the supposedly scarcer species seemed almost as numerous at many sites. That said, Spurn's tallies were well worth writing home about on 25th: 92 Pied Flycatchers, 105 Whinchats and 52 Redstarts gave a feel for the sheer numbers of birds that crossed the North Sea over the weekend. Blakeney Point didn't do too badly that day, either, with 50 Pied Flies and 45 Redstarts.
Other bits and bobs included an adult Rose-coloured Starling in the St. David's area of Pembrokeshire on 22nd–26th and a juvenile at Horsey (Norfolk) on 28th. A Hoopoe at Shirley Holms (Hants) on 23rd–26th had apparently also been present several days earlier, while an Alpine Swift was reported over Lisburn (Antrim) on 22nd. Short-toed Larks consisted of birds at Rumney Great Wharf (Glamorgan) on 23rd, and at Gibraltar Point (Lincs), Foula and Sumburgh (both Shetland) all on 25th. The Gibraltar Point and Sumburgh birds lingered to 28th and 27th respectively. A Bluethroat was at Burnham Overy Dunes (Norfolk) on 25th–27th. Ortolans were divided between East Yorkshire and Dorset: the former claimed birds at Buckton on 25th and Flamborough Head on 26th–27th, while daily sightings at Portland on 26th–28th were complemented by further records from Durlston Country Park on 27th and Langton Herring on 28th.

Rose-coloured Starling, Horsey, Norfolk (Photo: Dave)
Six new Two-barred Crossbills appeared briefly in trees near Weybourne station (Norfolk) on 22nd, while the juvenile lingered in the same county at Lynford Arboretum and at least eight remained at Broomhead Reservoir (S Yorks).

Two-barred Crossbill, Broomhead Reservoir, South Yorkshire (Photo: Alan Shaw)

Two-barred Crossbill, Broomhead Reservoir, South Yorkshire (Photo: Ian Curran)
Seawatching gradually grew quieter as all eyes focussed eastwards, though Fea's-type Petrels off Mizen Head (Cork) on 22nd and at sea c.185km south of Fastnet Rock the following day were noted, along with a Wilson's Storm-petrel and 'thousands' of both Cory's and Great Shearwaters. Another Wilson's flew past the Bridges of Ross (Clare) on 23rd, though land sightings of large shearwaters dried up somewhat. In the North Sea, only the odd Cory's Shearwater, Sabine's Gull and Long-tailed Skua were noted, so it was somewhat something of a surprise when at least three, possibly four, Sabine's were noted along the River Thames between Rainham Marshes and Barking Bay on 25th.

Sabine's Gull, At sea, Highland (Photo: Nick Davies)

Great Shearwater, at sea, Cork (Photo: Andrew Malcolm)
Exciting news from County Mayo concerned the reappearance of May's Pied-billed Grebe on the densely vegetated Sruhillbeg Lough on Achill Island from 27th though, in reality, it has probably been here all summer. In Somerset, Chew Valley Lake's drake Ferruginous Duck was joined by a juvenile female there on 28th; Ring-necked Ducks were again in North Yorkshire and Lothian and the Blue-winged Teal remained on the Ouse Washes (Cambs) to at least 26th. Surf Scoters comprised the drake again in Lunan Bay (Angus & Dundee) and a female off Blackdog (Aberdeenshire) on 28th.
The long-staying Night Heron was still at Old Moor (S Yorks) on 27th, while an array of Great White Egrets included nine still on the Somerset Levels. A Cattle Egret spent a day at Frodsham Marsh (Cheshire) on 23rd, while the Pembrokeshire Glossy Ibis — last seen at Marloes Mere on 22nd — appeared to transfer to Somerset, where it was seen at Ham Wall from 25th. A Black Stork flew west over Rutland Water on 22nd (that would no doubt have been popular at Birdfair!) and late news was received of another near Deal (Kent) on 9th August.

Glossy Ibis, Meare Heath, Somerset & Bristol (Photo: Jeff Hazell)

Great White Egret, Shapwick Heath NNR, Somerset & Bristol (Photo: James Gibbs)
A female Red-footed Falcon flew south over Felixstowe Ferry (Suffolk) on 27th. The Snowy Owl was still present on Arranmore Island (Donegal) throughout the week. A smattering of Spotted Crakes included the Northumberland bird again at East Chevington from 22nd, one at Grove Ferry (Kent) from 24th with two on 28th, one at Netherfield Lagoons (Notts) on 27th–28th and one still at Chew Valley Lake on 24th.
Despite the easterly airflow, the first juvenile Nearctic waders did manage to squeeze themselves into the far west. Baird's Sandpipers were at Blanket Nook (Donegal) on 25th and Owenahincha (Cork) the following day, while a juvenile Buff-breasted Sandpiper was at the traditional location of Davidstow Airfield (Cornwall) on 26th–27th, in addition to further birds on Burray (Orkney) on 22nd–26th and up to three still at Tacumshin. A Wilson's Phalarope was at Belfast Lough (Antrim) on 28th.

Buff-breasted Sandpiper, Davidstow Airfield, Cornwall (Photo: Adrian Langdon)

Wilson's Phalarope, Belfast Lough RSPB, Antrim (Photo: Ian Dickey)

Wilson's Phalarope, Belfast Lough RSPB, Antrim (Photo: Ian Dickey)
Adult American Golden Plovers were at Erris Head (Mayo) on 22nd and Loch Bee, South Uist (Outer Hebrides) on 26th. The Hampshire Long-billed Dowitcher again appeared at Pennington on 23rd, with another reported briefly on the Amble Marshes (Cornwall) on 25th. Adult White-rumped Sandpipers graced Snettisham (Norfolk) on 22nd and St. Agnes (Scilly) on 25th–27th, while eight Pectoral Sandpipers were scattered around. Lesser Yellowlegs remained at Tacumshin and the National Wetlands Centre (Carmarthen). From the east, Temminck's Stints were in Kent and South and West Yorkshire, a Red-necked Phalarope was at King George V Reservoir (London) on 23rd–25th in addition to two Norfolk records, and a Kentish Plover was at Shell Ness (Kent) on 27th.

White-rumped Sandpiper, Snettisham RSPB, Norfolk (Photo: Nick Moran)

Pectoral Sandpiper, Saltholme RSPB, Cleveland (Photo: Derek Bilton)

Temminck's Stint, Fairburn Ings RSPB, West Yorkshire (Photo: Jonathan Dean)
It seems that we say it every week, but Tacumshin's rich vein of form continued as the lake attracted a fine adult Caspian Tern on 23rd. A White-winged Black Tern dropped in at Hanningfield Reservoir (Essex) on 25th, and a notable Irish juvenile was in the Cruisetown Strand (Louth) area from 24th. Ring-billed Gulls included immatures in Counties Cork and Kerry, an adult on Tiree (Argyll) on 27th–28th and the Dingwall (Highland) bird returning on 26th — we first reported it, as an adult, back in January 2004! Elsewhere, the Bonaparte's Gull remained at Heysham (Lancs) throughout and there was an unconfirmed report of a Franklin's Gull in south Lincolnshire.

Caspian Tern, Tacumshin, Wexford (Photo: Paul Kelly)

Ring-billed Gull, Tiree, Argyll (Photo: John Bowler)
Photo of the Week

White-tailed Eagle, Loch na Keal, Mull, Argyll (Photo: Jim Almond)
The 'Shropshire Birder' Jim Almond started posting to BirdGuides in 2006 and has had over 30 Notable images from his 650 uploads, plus four previous Photos of the Week (all of which were in 2008). Although we chose a White-tailed Eagle image as our PotW only two weeks ago, we couldn't resist choosing another this week after seeing Jim's superb flight shots. We particularly liked Jim's pair of photos taken as a male bird "suddenly banked to dive and the sun literally set it alight", as he described on his blog. The first image of this pair was a frame-filling shot of the whole bird aligned diagonally across the frame. A large print of this image would allow the detail to be enjoyed to the full. For web presentation, though, we prefer his tight crop showing facial and feather detail at the expense of the cut-off wingtips. This is a stripped-down, graphic image with only four elements: a slab of chocolate-brown feathers bisecting a rich blue sky, against which the glowing tail and fearsome head provide focal points. A real 'impact shot' that works well at any size from thumbnail to full screen.
Other Notable Photos

Kingfisher, private site, Devon (Photo: Rob Cross)

Goshawk, Hungary (Photo: Uwe Schäfer)

Sand Martin, Wigan, Greater Manchester (Photo: Roy)

Dotterel, Bryher, Isles of Scilly (Photo: Peter Moore)

Golden Plover, Landguard NR, Suffolk (Photo: Ian Clarke)

Hen Harrier, Point of Ayre, Isle of Man (Photo: CJWormwell)

Great Crested Grebe, Killingworth, Northumberland (Photo: Bill Doherty)

Caspian Gull, Dungeness NNR, Kent (Photo: Mick Southcott)

Spotted Crake, Poland (Photo: Artur Stankiewicz)

Wheatear, Shingle Street, Suffolk (Photo: John Richardson)

Wryneck, Kilnsea, East Yorkshire (Photo: Mandy West)

Spotted Redshank, Titchwell RSPB, Norfolk (Photo: Garth Peacock)

Willow Warbler, Salthouse, Norfolk (Photo: Ian Curran)