The week at a glance
A wet week for many parts of the British Isles saw autumn migration begin to take shape. Probably the most notable new rarity of the week was a Sharp-tailed Sandpiper that was found around Patrington Haven on the northern bank of the Humber on Sunday 22nd. It disappeared early the next morning only to be relocated closer to Spurn later in the day, but it was not reported after the 23rd. This is the first record of this species this year, and the first confirmed record since a bumper year in 2007 when there were birds at Ballycotton (Co. Cork) in October, at (coincidentally) Sammy's Point in September, and on the Oare Marshes (Kent) in August.

Sharp-tailed Sandpiper, Kilnsea, East Yorkshire (Photo: Roy Harvey)
An inland Chimney Swift was reported over Castletownroche (Co. Cork), also on Sunday 22nd. If accepted this will be the first in the British Isles since a bird at Farranfore Airport (Co. Kerry) in November 2005; a dead specimen was found on a naval vessel in Plymouth Sound in the same month.
Rounding up the week's new megas, a Little Shearwater was reported from the Bay of Bomasty, Stronsay (Orkney) during the afternoon of Saturday 21st, though details are sketchy. Another was seen in the Bay of Biscay from a Portsmouth to Bilbao Minicruise over the same weekend.
The House Finch was still around East Prawle (Devon) on 26th. A grey-headed Purple Gallinule at Buckley (Clwyd) was widely dismissed as an escapee: Buckley is only a few miles from Saltney in the same county, where an escaped bird matching a similar description was reportedly recaptured by its owner on 1st August (but, rather confusingly, was reported still in the area on 5th) — this is surely the same bird still at large?
Turning to wildfowl, the family party of 5 Snow Geese on the Orkney mainland had relocated a few miles from Stromness to Loch of Stenness by Sunday 22nd. Ruddy Shelducks were reported from the eastern counties of East Yorkshire, Lincolnshire and Norfolk. An adult drake Ring-necked Duck was new on a roadside loch on Achill Island (Co. Mayo) on 25th, with the Black Duck still present nearby to the same date at least (and at least two hybrid Black Duck &times Mallards also in the area to confuse the unwary). The two Scottish Ring-necked Ducks from previous weeks remained at Vane Farm (Perth & Kinross) to Friday 20th and Angle Park GPs (Fife) to Sunday 22nd. The adult drake Ferruginous Duck was still on Chew Valley Lake (Somerset) to Wednesday 25th at least and a presumed escaped drake flew down the River Yare at Cantley Beet Factory in the company of a female Red-crested Pochard a day earlier. The two drake Surf Scoters were still being seen off Blackdog (Aberdeenshire), as were the drakes in Lunan Bay (Angus & Dundee) and around East and West Burra (Shetland).
Seawatchers were out in force, and the pick of their collective haul included a possible Yelkouan Shearwater on the sea below Brownstown Head (Co. Waterford) on 20th and a Fea's Petrel past Bridges of Ross (Co. Clare) on 24th. A dark-rumped petrel that flew past Southwold (Suffolk) on 23rd evaded confident identification. Cory's Shearwater reports from the early part of the review period came exclusively from points west — one past Bridges of Ross (Co. Clare) on Thursday 19th, another past Galley Head (Co. Cork) on 21st and a "large shearwater" thought to be this species or Great Shearwater from the Scillonian crossing on 20th — whereas from 22nd–24th the 6 records received were all from the east coast of England (mainly off the coast of Suffolk, with just one record from Spurn in East Yorkshire). Other Great Shearwater reports showed a bias towards the early part of the review period, and the western side of the British Isles, with Cornwall, Devon and Counties Cork and Clare claiming all but one of the week's records; the exception was a bird flying south past Fife Ness on 21st. Wilson's Petrel records showed a similar pattern: Scilly pelagic passengers struck lucky on 20th, 21st and 23rd, with other sightings from Galley Head (Co. Cork) and Bridges of Ross (Co. Clare) and a possible from Bass Point (Cornwall). The Lancashire Leach's Petrel season began, with one past Formby Point on 24th. Going clockwise, Long-tailed Skuas were picked up off the coasts of Co. Clare, Co. Mayo, Fife, Lothian, Suffolk, Essex, Devon, Cornwall, Glamorgan and Pembrokeshire, and similarly Pomarine Skuas were seen off Co. Cork, Co. Clare, Co. Mayo, Highland, Orkney, Aberdeenshire, Fife, Cleveland, East Yorkshire, Suffolk, Hampshire, Dorset, Devon, Glamorgan, Pembrokeshire, Gwynedd and Lancashire.

Pomarine Skua, Skye, Highland (Photo: Tim Stenton)
The Tacumshin (Co. Wexford) Glossy Ibis was last recorded just before lunchtime on 23rd; perhaps it then joined [it appears not: the Tacumshin bird was still present on 1st September] the ten birds reported from the Rogerstown Estuary (Co. Dublin) that evening, dwindling to two on 25th and 26th. Three Black Storks appeared over Guernsey on 19th and 20th, and a juvenile with a damaged wing was taken into care on Jersey on 23rd, only the second for the island. The only White Stork of the week was on the Isle of Man on 22nd and 24th. Dungeness (Kent) continued to host Purple Heron, Great White Egret and Cattle Egret (all to 23rd at least); other Great White Egrets were a single at Quoile Pondage (Co. Down) and two on the Somerset Levels to 24th at least. A Cattle Egret roosted at Wat Tyler CP (Essex) on 20th and 23rd and another (or the same?) appeared on the Aveley Pools at Rainham Marshes (London) on 25th, but the bird at Needingworth Quarry Lakes (Cambs) appears to have departed. Away from Norfolk, Common Cranes were limited to the long-staying bird around the Montrose Basin (Angus & Dundee) and one in the Hornsea Mere (E. Yorks) area on 21st and 22nd.

Glossy Ibis, Rogerstown Estuary, Dublin (Photo: Paul & Andrea Kelly)

Great White Egret, Quoile Pondage, Down (Photo: Craig Nash)
The popular Spotted Crakes at Grove Ferry (Kent) and Shibdon Pond (Durham) were reported to 24th and 26th respectively. In Norfolk birds were reported from Hardley Staithe on 20th and South Creake (two) on 21st. Another was at Marston Sewage Works (Lincs) on the evening of 22nd (but was not to be seen the following evening), and a final bird was seen briefly at Potteric Carr (S. Yorks) on 24th.

Spotted Crake, Grove Ferry NNR, Kent (Photo: Stephen Allen)
And so to waders. A Broad-billed Sandpiper was on the Pyefleet Channel north of Mersea Island (Essex) from 22nd to the morning of the 25th. An American Golden Plover was at the north end of Poulnasherry Bay (Co. Clare) on 24th and 25th, and the same county produced the bulk of week's records of Grey Phalarope (with others from seawatches off Cornwall, Mayo and Scilly). A Long-billed Dowitcher pitched up on Neumann's Flash (Cheshire) on the morning of 25th but was seen to fly off that evening. The adult Semipalmated Sandpiper at Alkborough Flats (Lincs) was last seen on 24th, and a "new" bird, a juvenile, turned up at Dawlish Warren (Devon) on 22nd but apparently departed three days later. The Temminck's Stint at Grove Ferry (Kent) was reported to 23rd. A total of up to four Pectoral Sandpipers was an improvement on last week: a possible was reported from Welney (Norfolk) on the afternoon of 19th, last week's juvenile remained at Vane Farm (Perth & Kinross) to 21st, and two were present on and off at Low Newton-by-the-Sea (Northumberland) from 20th to 25th at least. Buff-breasted Sandpipers were to be found on the beach at The Wig near Kirkcolm (Dumfries & Galloway) from 22nd–25th and on Lough Cullin (Mayo) on 25th. Two Dotterel at the summit of Scald Law (Lothian) from 21st-24th would have rewarded those prepared to climb to 1900 feet to see them, while much closer to sea level, but less long-staying, was a bird seen with Golden Plovers near Barton-on-Humber (Lincs) on 22nd. A Stone Curlew stopped off from its southward migration on the Beach Reserve at Rye Harbour (E. Sussex) on 24th.

Semipalmated Sandpiper, Alkborough Flats, Lincolnshire (Photo: Roy Harvey)
Content continues after advertisements

Buff-breasted Sandpiper, The Wig, Dumfries & Galloway (Photo: Gavin Chambers)

Dotterel, Scald Law, Lothian (Photo: Mike Thrower)
The Laughing Gull at Ballycastle (Co. Antrim) continued its stay to 25th August at least, as did the American Herring Gull at Blennerville (Kerry). A 1st-summer Ring-billed Gull, said to have been present since 6th August, was newly reported from Stanpit Marsh (Dorset). The adult at Alston Reservoirs (Lancs) was last reported on 24th; it seems likely that an adult that appeared briefly at Stocks Reservoir on 25th was the same individual. The third new bird of the week was an adult in Dunstaffnage Bay, Dunbeg (Argyll). Sabine's Gulls were seen in Counties Kerry, Clare, Mayo and Sligo in Ireland, and in East Yorkshire, Cornwall, Scilly, Somerset and Pembrokeshire.

Laughing Gull, Ballycastle, Antrim (Photo: Derek Charles)
The Whiskered Tern at Saltholme (Cleveland) was still present to 25th and has been on site for almost a month now. A Caspian Tern was reported flying past Cley (Norfolk) on the evening of 25th but has yet to be relocated. Last week's White-winged Black Tern at Hornsea Mere (E. Yorks) was last seen there on 19th; that evening one turned up at Hickling Broad (Norfolk), staying only until the following afternoon, and another was briefly at Vane Farm (Perth & Kinross) on 22nd.

White-winged Black Tern, Vane Farm RSPB, Perth & Kinross (Photo: Graham Sparshott)
Migrating Honey Buzzards were reported over Northumberland, South Yorkshire, Bedfordshire, London, Hampshire and Somerset, with birds still being seen from the watchpoints at Great Ryburgh (Norfolk) and Wykeham Forest (N. Yorks). The female Snowy Owl continued to haunt Termon Hill near Blacksod (Co. Mayo).
Last week's Lesser Grey Shrike hung around just long enough to appear in another review, but was not seen after the evening of Thursday 19th. Five Red-backed Shrikes were reported, from Saltburn (Cleveland), Bridlington and Flamborough Head (E. Yorks), Vange Marshes (Essex) and Dungeness (Kent).

Lesser Grey Shrike, Kelling, Norfolk (Photo: Chris Cook)

Red-backed Shrike, Vange Marshes, Essex (Photo: Steve Arlow)
A possible Aquatic Warbler was glimpsed a couple of times at Radipole Lake (Dorset) on 19th and 22nd, and the only other individual was in a private garden at Thurlestone (Devon), also on the 22nd. A Paddyfield Warbler was seen and photographed on Unst (Shetland) on 23rd. A Marsh Warbler was on Blakeney Point on 23rd, but could not be relocated the following day. Icterine Warblers outnumbered Melodious Warblers by 3 to 1: there were representatives of the former species at South Shields (Durham) and on the Farne Islands (Northumberland) on 23rd and Fair Isle on 25th, while the latter could only muster a reported bird at Durlston CP (Dorset). Similarly unconfirmed was a Greenish Warbler heard around Hoveton Great Broad (Norfolk) from a boat trip at the Bewilderwood Adventure Park. The week's Barred Warbler reports were concentrated on Orkney and Shetland, but stretched down the east coast via Rattray Head (Aberdeenshire), the Farnes (Northumberland) and Flamborough Head (E. Yorks) to the southernmost record at Spurn.

Paddyfield Warbler, Halligarth, Unst, Shetland (Photo: Robbie Brookes)

Barred Warbler, Flamborough Head, East Yorkshire (Photo: Andy Hood)
An unconfirmed sighting of a Hoopoe came from a private garden at Whitwell (IoW). Coastal Wrynecks during the week were at Spurn (E. Yorks), Plumpton (E. Sussex) and Fareham (Hants), and on Papa Westray (Orkney) and Whalsay (Shetland); the only inland bird was one near the summit of Titterstone Clee Hill (Shropshire) on 22nd. A Richard's Pipit was reported at Shingle Street (Suffolk) on 21st, and a Red-rumped Swallow flying over a builder's merchants in Rushden (Northants) must have made the observer's day on 25th.
The Ortolan Bunting last reported on 14th put in another appearance at Flamborough Head (E. Yorks) on 24th. Common Rosefinches were confined to Shetland, with birds on the Out Skerries, Unst and Yell on 18th and 19th. Finally, a juvenile Rose-coloured Starling, the first of the autumn, was on Papa Westray (Orkney) on 21st.

Common Rosefinch, Aywick, Yell, Shetland (Photo: Dougie Preston)
Photo of the Week 12th-18th August

Cuckoo, undisclosed site, Lancashire (Photo: David Cookson)
Bird photographer David Cookson is well known to BirdGuides regulars as a contributor of consistently strong bird images (reflected by the fact that he has the third highest tally of Notable Images). David's photo collection is a great source of inspiration for photographers who are keen to develop an eye for a good image: it contains excellent illustrations of how lighting, pose and composition can be used to go beyond the standard 'grab shots' of your subjects. Perhaps the most impressive thing is the way David manages to do this even in rapid-action situations, such as his flying Cuckoo shot uploaded this week. Just when we'd become accustomed to seeing sharp, well-posed, well-lit photos of Cuckoos when perched, David has raised the bar on flight shots of this species. Even if this had been an easily photographed species, the great detail, colours, shape and head angle would have made this a first-rate flight shot.

Swallow, East Walton, Norfolk (Photo: Stephen Durrant)

Lesser Grey Shrike, Kelling, Norfolk (Photo: Jon Evans)

Common Kingfisher, Feckenham Wylde Moor, Worcestershire (Photo: Stuart Andrews)

Sooty Shearwater, at sea, Kerry (Photo: Seamus Enright)

Sparrowhawk, Chebsey, Staffordshire (Photo: Richard Stonier)

Montezuma Oropendola, Costa Rica (Photo: Siegbert Werner)

Marsh Harrier, Summer Leys LNR, Northamptonshire (Photo: Douglas McFarlane)

Common Kestrel, undisclosed site, Shropshire (Photo: Karen Summers)

Black Redstart, undisclosed site, Powys (Photo: Mike Warburton)

Garden Warbler, Cathedine, Powys (Photo: Steve Wilce)

Linnet, Fen Drayton Lakes RSPB, Cambridgeshire (Photo: Garth Peacock)

Greenshank, Oare Marshes NR, Kent (Photo: Ian Curran)

Spotted Redshank, Sandwich Bay, Kent (Photo: Steve Ashton)

Northern Wheatear, Malvern Hills, Worcestershire (Photo: Carl Day)

Striated Heron, Qatar (Photo: John A Thompson)

White-winged Black Tern, Poland (Photo: Morten Scheller Jensen)

Wood Sandpiper, Pennington Flash CP, Greater Manchester (Photo: Pauline Greenhalgh)
Photo of the Week 19th-25th August

Ruff, Colin Best NR, Guernsey (Photo: Chris Bale)
Best known for the flamboyant spring plumage of the adult males, Ruffs are relatively dull birds in their other plumage variations, requiring strong photographic technique to create stand-out images. Bird photographer Chris Bale, who blogs under the name of the 'Guernsey Bird Nerd', shows how this can be done. Soft low-altitude sunshine front-lighting the bird brings out the warm tones of the plumage and illuminates the bird's head and body evenly. The calm, shallow water reflects light up on to the underside of the bird and also provides a natural, uniform backdrop with good colour contrast that helps outline the bird. The timing of the shot is critical to capture the bird at its most attractive: Chris has achieved this by waiting for an elegant pose with a pleasing head angle and good eye contact. The remaining elements are the use of an off-centre composition and strong colour saturation. With shots like this one, success comes from combining all available techniques to create a whole that is greater than the sum of its parts.

White-tailed Eagle, Loch na Keal, Mull, Argyll (Photo: Betty McNair)

Magpie, Big Waters NR, Northumberland (Photo: Keith Cochrane.)

Lesser Grey Shrike, Kelling, Norfolk (Photo: Kevin Du Rose)

Tawny Owl, Redmire, North Yorkshire (Photo: Roy)

Sand Martin, Minsmere RSPB, Suffolk (Photo: Ian Clarke)

Turnstone, Minsmere RSPB, Suffolk (Photo: Jon Evans)

Little Stint, Snettisham RSPB, Norfolk (Photo: Chris Cook)

Common Kingfisher, Feckenham Wylde Moor, Worcestershire (Photo: Stuart Andrews)

Reed Warbler, Hauxley NR, Northumberland (Photo: Tim Mason)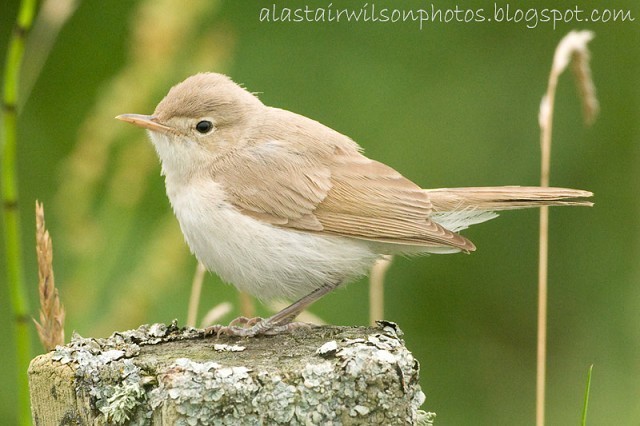 Sykes's Warbler, Burrafirth, Unst, Shetland (Photo: Alastair Wilson)

Western Reef-egret, Qatar (Photo: John A Thompson)

Goldcrest, Hellidon, Northamptonshire (Photo: Mr Temple)

Whinchat, undisclosed site, Shropshire (Photo: Karen Summers)

Yellow Wagtail, Covenham Reservoir, Lincolnshire (Photo: Mark Ranner)