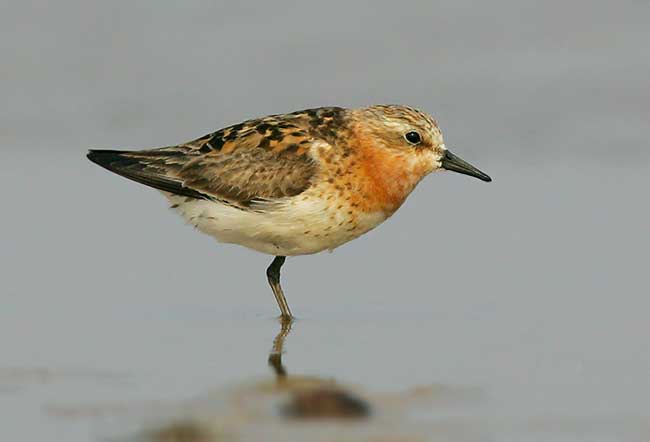 Red-necked Stint: China, August Twenty years ago, even adults were considered an identification challenge. Times have changed, though the intensity of the rufous varies. Variable, or out of context, Sanderling should always be eliminated first. Note that Sanderling has: pale centres to the scapulars and greater coverts; patterned tertials unlike the plain tertials of Red-necked; the ear coverts and throat on Sanderling are streaked and the area below the eye is pale and Sanderling is larger and bulky-looking and lacks a hind toe! (photo: Juanli Sun).
Background
With approaching 30 European records, Red-necked Stint remains a highly sought-after rarity. Sweden, Britain and Ireland and The Netherlands account for the majority of records. Of the eight accepted British and Irish records, one was a juvenile found dead on Fair Isle (Shetland) on 31st August 1994. This remains the only juvenile to have been found in Europe.
This long-distance vagrant breeds in eastern Siberia and winters from India eastwards through southeast Asia and Indonesia to Australasia. As with several other rare Siberian waders, the preponderance of adults is the norm, though it is highly likely that juveniles are escaping detection. Bird identification has progressed markedly in the last couple of decades. The first Red-necked Stint in Britain, an adult at Blacktoft Sands in East Yorkshire in 1986, sparked debate before it was pronounced a British first. Nowadays it is unlikely that an adult would cause too many problems, though the occasional rogue Sanderling has presented an identification pitfall, and no doubt will continue to do so.
The next challenge for European birders is to start teasing out those trickier juveniles in the field. This identification challenge is better understood nowadays, as birders are better travelled and have a wealth of information at their fingertips both on the internet and, in print, in field guides. However, close and prolonged views will be required to clinch the prize. Given that the Fair Isle bird proves that juveniles can occur in western Europe, then the race is on to claim the first live one!
Identification
If you're ever lucky (some might say unlucky!) enough to be faced with this identification dilemma, then the key is not only to remember the salient features of Red-necked, but also to eliminate the alternatives. Assuming a good enough knowledge of stints, then there are two alternatives to consider. The first is to assess, feather-by-feather, whether the bird in front of you is a Red-necked Stint or a Little Stint. The second is to eliminate Semipalmated Sandpiper.
Juvenile Red-necked Stint and Little Stint

Little Stint: UK, September Classic Little Stints, such as this juvenile, should pose no identification problems. Bright mantle Vs, black-centred lower scapulars and greater coverts and nice buffy sides to the breast. Additionally, the dark central crown and split supercilium are further pointers to the identification. Beware of some Little Stints that are greyer and largely lack the upperpart Vs; such birds pose a potential trap and careful attention to feather tracts is essential, plus a careful assessment of all other pro-Red-necked features (photo: Stuart Elsom).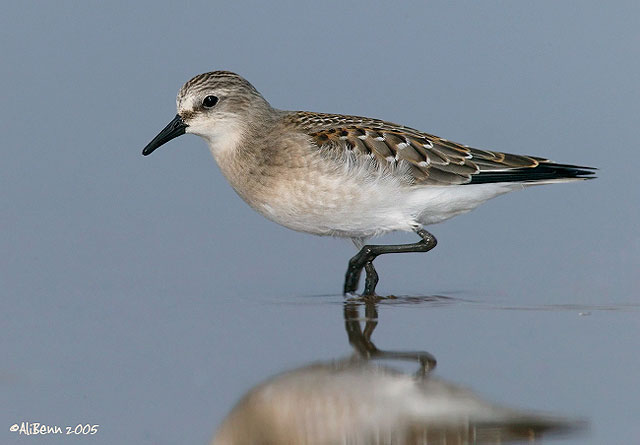 Red-necked Stint: China, September A classic juvenile. Compare the patterning of the lower scapulars with Little Stint, plus the greyish centres to the tertials compared with the black centres of Little Stint. Unlike on Little Stint, the breast sides are a nice greyish-pink wash with rather nondescript streaking. Also apparent is the plainer head and attenuated rear (photo: Juanli Sun).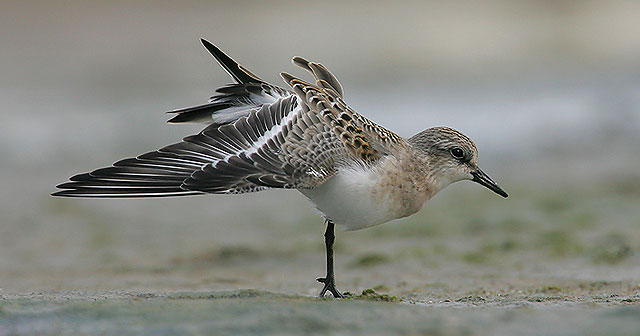 Red-necked Stint: China, September A stretched wing allows an appreciation of the feather tracts and the differences between the two species. Here, the lower scapulars and wing-coverts are quite uniform and the contrast with the rufous fringes of the upper scapulars is quite apparent. A number of in-the-hand features can be used for separation, but are unlikely to be of much use under field conditions in the absence of exceptionally close and prolonged views (photo: Juanli Sun).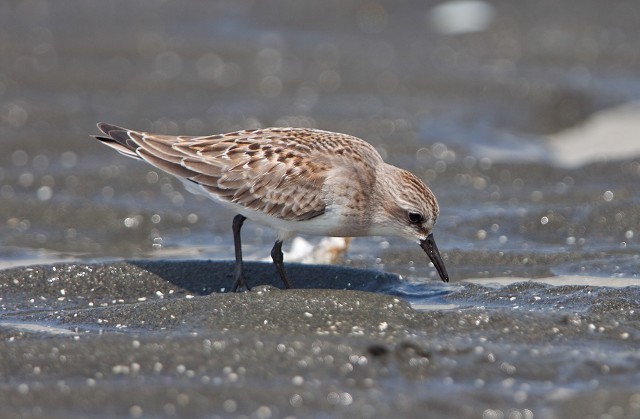 Red-necked Stint, Japan, September (Photo: Mark Curley)
Typical birds should be readily separated; key features include:
Red-necked is very long-winged, thus making them look rather attenuated.
Red-necked has a very short tarsus, giving them a 'low-slung' look.
Red-necked has less 'frantic' actions than Little, with more deliberate feeding action.
Red-necked appears plainer, with a greyer crown, unlike the contrasting dark central crown on Little.
Red-necked lacks the 'split-effect' of the supercilium shown by Little.
Red-necked has evenly marked ear-coverts.
Red-necked has inner wing coverts and lower scapulars plain grey, dark-centred with a distinctive shape at the tip, unlike the black centres of Little.
Unlike Little, the mantle and scapular Vs are indistinct on Red-necked.
Red-necked has tertials greyish with darker shaft streaks and whitish fringes, unlike the black-centres and rufous fringes on Little.
Red-necked exhibits indistinct streaking on the breast sides, unlike the few obvious streaks on Little. Little has a peachy wash to the breast sides, whilst Red-necked has a distinct greyish wash, sometimes reaching across the breast.
Juvenile Red-necked Stint and Semipalmated Sandpiper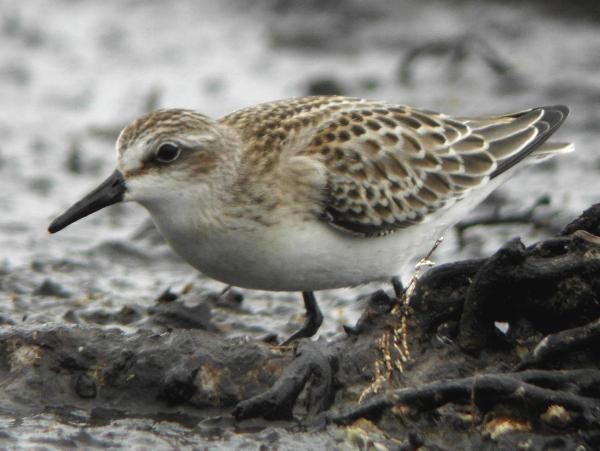 Semipalmated Sandpiper: Ireland, September Superficially similar to Red-necked, but plumage-wise note the capped crown, dark ear-coverts and broad shaft streaks on the lower scapulars. The bill is thick and blunt-tipped, whilst, if seen, the webbing between the toes quickly eliminates Red-necked from the equation (photo: Michael O'Keefe).
Assuming that you've eliminated all other confusion possibilities and are sure you've got yourself a true mega in the shape of a juvenile Red-necked Stint, are there any other potential confusion species to eliminate? Well, assuming that you've got this far, then one last potential trap remains to be eliminated, but it is perhaps one that does not immediately spring to mind — Semipalmated Sandpiper
Some features for separation include:
Absence of webbing between the toes of Red-necked.
Semipalmated exhibits a uniformly streaked crown, often appearing 'capped'.
Red-necked has more obvious rufous fringes to the upper scapulars than Semipalmated.
Semipalmated has dark lores and dark ear-coverts.
On Semipalmated, the lower scapulars have a broad shaft streak and anchor mark.
Semipalmated has different structure, lacking the attenuation of Red-necked, and has a deep-based bill with a distinctly blunt tip.

Red-necked Stint: China, September A delightful stint, though at least some juveniles are probably overlooked in western Europe. A cold-coloured 'little stint' would be the first clue to a juvenile's presence amongst its western counterpart (photo: Juanli Sun).
References
Cramp and Simmons. 2004 Birds of the Western Palearctic interactive. Published by BirdGuides, Sheffield.
Svensson, L., Grant, P.J., Mullarney, K., Zetterstrom, D. 1999. Collins Bird Guide. HarperCollins, London.
Harris, A., Shirihai, H., Christie, D. 1996. The Macmillan Birder's Guide to European and Middle Eastern Birds. Macmillan, London.
Riddington R. The Red-necked Stint on Fair Isle – the first juvenile in Europe. Birding World 7:355-358.
Acknowledgements
To see more pictures from Alister Benn and Juanli, go to http://www.pbase.com/alibenn/.