The week at a glance
The second week of May came to pass, and once again it was the Northern Isles that prospered with the week's biggest birds. More specifically, it was Fair Isle that (yet again) became the subject of many birders' attentions late on, with a Hermit Thrush found on the island during the afternoon of 13th. Were it not for the widely twitched bird at Porthgwarra late last autumn, no doubt charter flights would be filling up fast. This will be the 10th Hermit Thrush for Britain (with two more in Ireland), and the third in spring following Shetland records from Fair Isle in early June 1975 and Fetlar in April–May 1998.

Hermit Thrush, Fair Isle, Shetland (Photo: Deryk Shaw)
Fair Isle also held on to the male Caspian Stonechat throughout the week, and both Western and Eastern Subalpine Warblers, Wryneck, Red-spotted Bluethroat and Short-toed Lark were among other migrants providing a fine supporting cast to the thrush. It's already been an incredible spring on the island and we're only just approaching peak spring migration time — what's next?

Western Subalpine Warbler, Fair Isle, Shetland (Photo: Deryk Shaw)
At the other end of the Shetland archipelago, Robbie Brookes discovered a Yellow-rumped Warbler at Haroldswick, Unst, on 7th. Analysis of photos shows this — not surprisingly — to be the bird seen on North Ronaldsay the previous day; all the details are to be found in an article on the BirdGuides webzine. It lingered at Haroldswick until 8th but had headed off again by 9th; a male Western Subalpine Warbler was also there on 7th.

Yellow-rumped Warbler, Haroldswick, Unst, Shetland (Photo: Roger Riddington)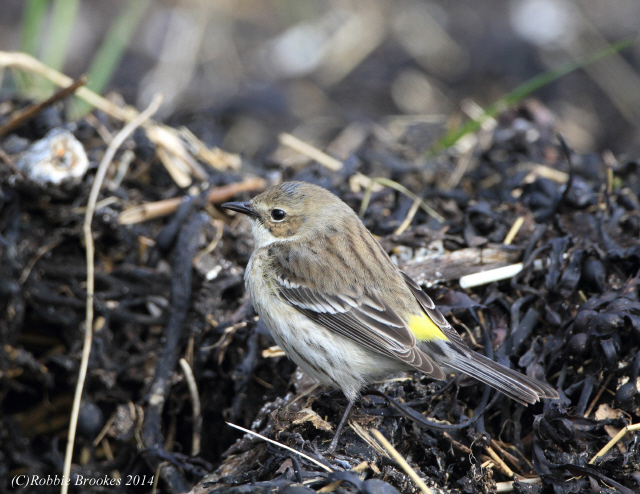 Yellow-rumped Warbler, Haroldswick, Unst, Shetland (Photo: Robbie Brookes)
Meanwhile, last week's Bonelli's warbler in Northumberland on 3rd was reidentified, with the help of sound recordings and sonograms, as Britain's sixth Eastern Bonelli's Warbler ... more details to follow imminently in an article on the BirdGuides webzine. Other rarities from southern climes included a fly-through Roller at Worth Marshes (Kent) on 12th and the Great Spotted Cuckoo still at Kynance Cove (Cornwall) on 9th, with another — the first for County Galway since 1842 — seen near Barna on 9th.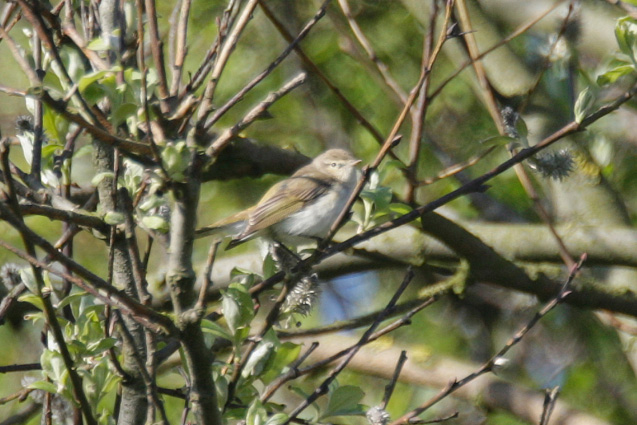 Eastern Bonelli's Warbler, Newbiggin-by-the-Sea, Northumberland (Photo: Stef McElwee)
As is typical for mid-May, the number of Hoopoes again fell, although five birds included the most co-operative (and well-twitched) individual of the spring, a stunningly confiding bird at Beverley (E Yorks) on 9th–11th. Two images of this bird are featured below, but with so many great shots coming in, it's well worth checking out the relevant Iris gallery page for many more. Others were at Kirby Grindalythe (E Yorks) on 8th, Corscombe (Dorset) on 8th–9th, Skaw (Whalsay) on 12th and still on St Agnes throughout the week. Wrynecks included a few on Shetland, a couple on Orkney and a brief bird at Ketteringham (Norfolk) on 9th. An Alpine Swift reported at Ouse Fen (Cambs) on 10th is significant in that it is the first this year. By contrast, Red-rumped Swallows were more widespread, with nine recorded. Twos were brief at Gibraltar Point (Lincs) and the Teifi Estuary (Ceredigion) on 7th, Kent records came from Pegwell Bay on 8th and Reculver on 13th, others were at Rye Harbour (E Sussex) on 8th and Hollesley (Suffolk) on 12th but the only bird to linger was one at Thamesmead (London) for a few hours on 11th.

Hoopoe, Beverley, East Yorkshire (Photo: Mark Bowen)

Hoopoe, Beverley, East Yorkshire (Photo: Steve Mulligan)

Wryneck, Rousay, Orkney (Photo: Craig Hollingsworth)

Red-rumped Swallow, Thamesmead, Greater London (Photo: Richard Bonser)
A scattering of Golden Orioles and Grey-headed Wagtails were noted, with a Short-toed Lark still on St Mary's (Scilly) to 11th, a flyover Red-throated Pipit at Berry Head (Devon) on 11th and a Richard's Pipit at Horsey (Norfolk) on 9th. A stunning female Citrine Wagtail was a very brief visitor to the bizarre location of Portland Bird Observatory garden early on 11th.

Short-toed Lark, St. Mary's, Isles of Scilly (Photo: Robin Mawer)
A female Subalpine Warbler was on Ramsey Island (Pembrokeshire) on 8th, the male Sardinian Warbler was still on Dursey Island (Cork) on 11th and the year's first Great Reed Warbler was singing raucously at Slimbridge (Glos) on 13th. A male Woodchat was a fine Lancashire record at Aldcliffe Marshes on 8–9th, while another was a little more expected on St Martin's (Scilly) from 12th. A Red-backed Shrike was also on the island on 9th, with others on Unst at Norwick on 8th and Haroldswick on 9th. Also on Shetland, a Rustic Bunting was at Funzie, Fetlar, on 9th and Little Buntings were on Fair Isle on 9th and Hillwell, Mainland, on 12th. At the opposite end of the country, a smart male Ortolan brightened up St Mary's (Scilly) on 7th.
Content continues after advertisements

Great Reed Warbler, Slimbridge WWT, Gloucestershire (Photo: Terry Fenton)

Ortolan Bunting, St. Mary's, Isles of Scilly (Photo: Robin Mawer)
A female Serin gave great views at times around the feeding station at Gibraltar Point (Lincs) from 7th onwards; another was on St Martin's (Scilly) on 10th. A couple of Two-barred Crossbills were still at Broomhead Reservoir (S Yorks) on 7th, with two also at Lynford Arboretum (Norfolk) on 8th.

Serin, Gibraltar Point NNR, Lincolnshire (Photo: Russell Hayes)
Two Black Kites were still on Tresco (Scilly) on 8th, with one still the following day; there were also reports from Kent on Nonington and Langdon Cliffs on 11th. A male Snowy Owl was at the traditional location of Greinetobht and Solas, North Uist (Outer Hebrides) on 10th–12th.

Snowy Owl, North Uist (Video: Anthony Capuano).
White-billed Diver records tailed off this week, with one off Banff (Aberdeenshire) on 8th and others past Falmouth (Cornwall) and off Burray (Orkney) that day. Another was in Bluemull Sound (Shetland) on 11th. The King Eider was still on the Ythan Estuary (Aberdeenshire) on 10th and the Surf Scoter was still off Musselburgh (Lothian) that day. Drake American Wigeon were at Spey Bay (Highland) on 11th and again on Tiree (Argyll) on 8th–13th, with drake Green-winged Teal at Howmore (South Uist) and Castle Espie (Down). A drake Lesser Scaup was present for the evening only at Ingbirchworth Reservoir (S Yorks) on 8th; Ring-necked Ducks were at Loch of Clickimin (Shetland) on 7th, Lough Leane (Kerry) on 8th and Lough Beg (Derry) on 11th. Two Black Brants remained at Levington Creek (Suffolk) on 10th.

White-billed Diver, Cara, S.Ronaldsay, Orkney (Photo: Ian Cunningham)

American Wigeon, Tiree, Argyll (Photo: John Bowler)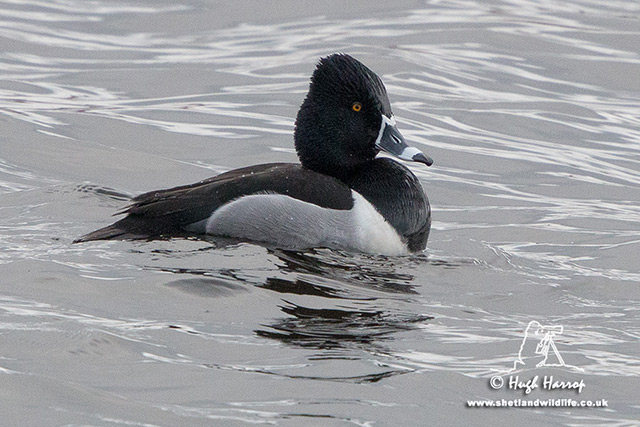 Ring-necked Duck, Lerwick, Mainland, Shetland (Photo: Hugh Harrop)
A Purple Heron on St Martin's (Scilly) from 9–11th was presumably the bird seen later on St Mary's on 13th; another was reported over Bowling Green Marsh (Devon) also on 13th. New Cattle Egrets were at Splatt Bridge (Glos) on 10th (presumably the Somerset bird last seen at Wall Common on 10th) and Little Marlow Gravel Pits (Bucks) on 12th, while two remained at Tacumshin (Wexford) and singles were at Steeple Claydon (Bucks) and Oxlode (Cambs). Four White Storks over Breydon Water (Norfolk) on 7th preceded one perched on a lamp-post by the A47 on 13th; others were at Croft Pascoe Pool (Cornwall) and Cottesbrooke then Brixworth (Northants) on 10th.

Cattle Egret, Oxlode, Cambridgeshire (Photo: Kevin Wooby)
Two breeding-plumaged Spotted Sandpipers were seen this week, and couldn't have been any more different in their behaviour. One at Farmoor Reservoir (Oxon) on 7th ended up lingering there to 12th, but was generally extremely elusive and flighty, usually being seen only during the early mornings. Another was at Draycote Water (Warks) on 7th and showed extremely well, but had gone by the following morning. Lesser Yellowlegs were at Beadnell (Northumberland) on 8th–10th, Windmill Farm (Cornwall) on 10th–13th and Loch Fada, Benbecula, on 11th, while a Pectoral Sandpiper was at Hoppen Kiln Flash (Northumberland) for four days from 7th, and 10 Temminck's Stints were mostly in East Anglia. A single Black-winged Stilt was back at Dungeness (Kent) from 8th.

Spotted Sandpiper, Draycote Water, Warwickshire (Photo: Bob Hazell)

Lesser Yellowlegs, Windmill Farm NR, Cornwall (Photo: Tony Mills)

Lesser Yellowlegs, Beadnell Bay, Northumberland (Photo: Frank Golding)

Temminck's Stint, Cley Marshes NWT, Norfolk (Photo: Paul Ward)
An adult Bonaparte's Gull was at Tacumshin (Wexford) from 8–13th, with two there on 11th; Ring-billed Gulls were at Sandymount (Dublin) on 11th and still at Balranald, North Uist, to 12th. A Gull-billed Tern was reported from Aberdovey (Ceredigion) on 11th, while County Cork's long-staying Whiskered Tern moved from Lough Aderra to Ballybutler Lough before finally settling at Ballyhonock Lough at the end of the week.
Photo of the Week

Starling, Hastings, East Sussex (Photo: Toby Houlton)
Steve Young comments: "Choosing my first-ever Photo of the Week for BirdGuides was a difficult task. There must have been flocks of photographers at the Hoopoe in Yorkshire and the Pendle Hill Dotterels, judging from the number of excellent images of these birds uploaded recently. But after careful consideration my choice for this week is of something much more familiar, albeit rarely photographed so well. Toby Houlton's image of Starlings fighting in his garden is a great behavioural shot, nicely composed and with an attractive background; in fact, all that is missing is the sound of the Starlings as they squabbled. Toby used a shutter speed of 1/4,000th second to freeze the action, and his 70-200mm zoom has locked on to the action perfectly, making it a worthy winner."
Other notable images

Cuckoo, undisclosed site, Dumfries & Galloway (Photo: Mike McKenzie)

Stonechat, Bardsey Island, Gwynedd (Photo: Ben Porter)

Hoopoe, Beverley, East Yorkshire (Photo: Andrew Garnett)

Wood Warbler, Portland, Dorset (Photo: Peter Moore)

Gentoo Penguin, Falkland Islands (Photo: Lee Johnson)

Slender-billed Gull, Spain (Photo: Mick Southcott)

Grey Heron, Leighton Moss RSPB, Lancashire (Photo: John Clark)

Spoonbill, Slimbridge WWT, Gloucestershire (Photo: Chris Cook)

Golden Plover, undisclosed site, North Yorkshire (Photo: Richard Steel)

Dotterel, Pendle Hill, Lancashire (Photo: Marc Read)