The week at a glance
The drake Black Scoter was again off Murcar Golf Course (Aberdeenshire) to 9th, with perhaps as many as five drake Surf Scoters also still present. Those training 'scopes out to sea were also rewarded with a probable Scopoli's Shearwater off Flamborough Head (East Yorks) on 12th. This is perhaps surprising given the exceptional numbers of Cory's Shearwaters recently in the southwest, but then a lone bird on the east coast is more likely to receive closer scrutiny than one of hundreds in the west. This remains a difficult race to prove conclusively, though it must be a more frequent visitor to our waters than the paucity of records would suggest.
The real highlights of the week were in the sky, though, if both rather brief. Just seven lucky birders at Spurn (East Yorks) watched a Pacific Swift head south along the peninsula on 9th before being lost to view. What was almost certainly the same bird was then reported to the visitor centre at Gibraltar Point (Lincs) later in the day. Looking at the timings — the Spurn record was at 13:42 with the Gib report at 14:30 — this bird covered the straight-line distance of 60km (37 miles in old money) between the two sites in just 50 minutes, which is a very impressive average of 44mph. This is actually the third record for Spurn: previous birds were in July 2005 and June 2008, with other records from Northamptonshire in July 1995 and the only vaguely twitchable bird, at Cley (Norfolk) in May 1993.
The swift was then followed by a Eurasian Crag Martin that circled Stanpit Marsh (Dorset) for just five minutes on 10th before heading off up the valley, never to be seen again. This is a county first; there are nine previous records coming from various sites along the south coast, in the Midlands, in North Wales and on Orkney.
Lastly, the House Crow remained in Cobh (Cork). As a footnote, a flurry of activity late in the week centred around Daventry Reservoir (Northants), where news broke of a Greater Yellowlegs on 13th. As the day progressed, with many having gone away happy, the bird in question came closer, eventually proving itself to be a Greenshank, albeit it one with rather yellow legs.
Wildfowl were once again predictably scarce this week. The two Ruddy Shelducks remained at Rutland Water to at least 12th, and the Marbled Duck also remained at Arlington Reservoir (East Sussex) to 9th, its origins remaining unclear. The female Ferruginous Duck remained at Minsmere (Suffolk) to 10th, with a male at Blagdon Lake (Somerset) on 13th, and there were drake American Wigeon at Freiston Shore (Lincs) and Stilligarry, South Uist (Outer Hebrides) on 13th. There was also a notable count of 21 Common Scoter at Ringstone Edge Reservoir (West Yorks) on 9th.
Last week's rush of Cory's Shearwaters just about held out into this week, with 60 past Porthgwarra (Cornwall) on 7th and 117 past on 8th being the peak counts. Small numbers were also seen later in the week off Cornwall and Scilly, with eight past Galley Head (Cork), two past Old Head of Kinsale (Cork) and one past Thurlestone (Devon) on 7th, and two past Helvick Head (Waterford) on 12th. There were also two Great Shearwaters past Porthgwarra on 8th and singletons off Galley Head (Cork) on 7th and 13th. Accompanying these birds were double-figure counts of Balearic Shearwaters from several southern sites; the only bird further north passed Bardsey Island (Gwynedd) on 7th. There were also small numbers of Sooty Shearwaters, including birds past Girdle Ness (Aberdeenshire) on 7th and off Buckie (Moray & Nairn) on 11th. The Scilly pelagic again produced Wilson's Storm-petrels on 7th and 9th; others were noted lingering off Porthgwarra on 8th and seen from a whale-watching ship off Galley Head on 13th.
There are still good numbers of singing Quail being reported, most seemingly being in Yorkshire, including eight at Weaverthorpe (North Yorks) and seven near Buckton (East Yorks).

Quail, Ryhall, Leicestershire and Rutland (Photo: Josh Jones)
Both juvenile Night Herons were seen on and off at Stodmarsh (Kent) to at least 11th and there was a first-summer over Toome (Londonderry) on 8th. There were then a single possible Purple Heron, over Ely (Cambs) on 9th, and a single White Stork, near the Minack Theatre, Porthcurno (Cornwall) on 10th. There were rather more Great White Egrets, including one still at Dungeness (Kent) and others at Blashford Lakes (Hants) on 7th and Barmston (East Yorks) on 9th. There was also a report of a Cattle Egret from Wisley (Surrey), but this was never confirmed. Up to 17 Spoonbills continued to grace the pools at Cley Marshes (Norfolk), including several colour-ringed birds, some of which were still feeding juveniles. Other smaller groups were widespread across the country, including three still at Montrose Basin (Angus & Dundee) and one again at Killongford (Waterford).

Spoonbill, Gibraltar Point NNR, Lincolnshire (Photo: Paul Neale)
The juvenile White-tailed Eagle remained around Ruckland (Lincs) all week and there was a probable Black Kite over Stodmarsh (Kent) on 9th.
The two Pacific Golden Plovers remained at Myroe Levels (Londonderry) all week, and another adult was then at Tacumshin (Wexford) briefly on 8th. Perhaps not surprisingly, Tacumshin has now seen five of the six records for Wexford. Myroe Levels also saw an adult Semipalmated Sandpiper on 10th. The first Marsh Sandpiper of the year was an adult that dropped in to Alkborough Flats (Lincs) on 11th, before moving on to Blacktoft Sands (East Yorks) from 12th–13th. Almost overshadowed by its greater relative, a Lesser Yellowlegs was a welcome find at Chew Valley Lake (Somerset) on 8th. Also from the west, an adult Spotted Sandpiper at Rutland Water on 13th is presumably the same individual as has toured the Midlands over the last few weeks. This is just the second record for the county, following one at Eyebrook Reservoir in May 1998.

Pacific Golden Plover, Myroe Levels, Londonderry (Photo: Derek Charles)

Marsh Sandpiper, Blacktoft Sands RSPB, East Yorkshire (Photo: Mark Coates)
Other waders of note included a late report of a distant White-rumped Sandpiper at Orford Ness (Suffolk) on 6th, just the second record of the year. There were also a couple of Pectoral Sandpipers, at Cramond (Lothian) on 9th and Holland Haven (Essex) on 12th–13th. The only Temminck's Stint reported was the bird at The Shunan (Orkney), though numbers of other passage waders were on the up. Up to 13 Spotted Redshanks were at Blacktoft Sands (East Yorks), along with up to eight Green Sandpipers, and there were also up to 14 Green Sandpipers at Upton Warren (Worcs).
Aside from the usual Dungeness bird, which remained all week, the only Glaucous Gull was a second-summer at Budleigh Salterton (Devon) on 10th–13th. There was also just one Iceland Gull — a first-summer at Kirkwall (Orkney) on 11th — and the long-staying first-summer Bonaparte's Gull was on the Exe estuary all week. Sabine's Gulls included a first-summer past Cape Clear (Cork) and an adult from the Isles of Scilly pelagic, both on 7th, and a first-summer past Bridges of Ross (Clare) on 9th. The gull highlight of the week, though, was a massive count of 2,000 Little Gulls off Barmston (East Yorks) on the morning of 9th, most of which were summer-plumaged adults. Over 1,300 of these headed off inland during the day, and additional new birds continually arrived in off the sea. Interestingly, there were also up to 1,000 remaining to 11th.

Sabine's Gull, at sea, Isles of Scilly (Photo: Joe Pender)

Little Gull, Bridlington, East Yorkshire (Photo: Chrys)
Long-tailed Skuas were reported from Cogden Beach (Dorset), Flamborough Head (East Yorks), Girdle Ness (Aberdeenshire) and East Burra (Shetland), and an adult was also in fields at Abbotsbury (Dorset) on 7th.
Another adult White-winged Black Tern turned up this week, one on North Ronaldsay (Orkney) on 9th being only the second for the island, following one seen flying down the main road in August 1997.
After an absence of 11 days, there was a report of a Bee-eater heard over Porth Hellick, St Mary's (Scilly) on 13th, with just one other, that headed south over Woolpit (Suffolk) on 12th. There was also an unconfirmed report of an early Wryneck, at Clara Vale (Durham) on 12th. Perhaps we are now seeing the start of the autumn: single Red-rumped Swallows were reported from Unstead Sewage Works (Surrey) on 8th–9th and Sandy Point (Hants) briefly on 10th and there was also a late report of one at Ballygown, Mull (Argyll) on 5th. There was also a new male Red-backed Shrike, at Thrapston Gravel Pits (Northants) on 11th, possibly also seen on 12th. The year's first Lesser Grey Shrike also lingered at St Justinian (Pembrokeshire), seen to 9th.

Lesser Grey Shrike, St. Justinian, Pembrokeshire (Photo: Richard Stonier)
The run of early-returning Marsh Warblers continued, with one on Unst (Shetland) on 7th and a ringed bird at Hauxley (Northumberland) on 11th–13th, also occasionally heard in song. The Western Bonelli's Warbler also continued to sing at Arnfield Reservoir (Derbys) to at least 13th, and a possible was also reported from Arlington Reservoir (East Sussex) on 7th.

Marsh Warbler, Hauxley NR, Northumberland (Photo: John Forbes)

Western Bonelli's Warbler, Arnfield Reservoir, Derbyshire (Photo: Jim Almond)
An adult Rose-coloured Starling at Ardnave, Islay (Argyll) on 9th–11th may have been the same as in a Laphroaig garden last week, and there was also an adult on Handa Island (Highland) on 8th. There was just one Serin reported, at Easton, Portland (Dorset) on 13th. Truly inland Common Rosefinches are a rare sight, so a singing first-summer at Melbourn (Cambs) on 10th–13th was a very welcome first for the county. There was also another on Ramsey Island (Pembrokeshire) on 13th. Last but not least, the male Black-headed Bunting remained on Fair Isle to 12th.

Common Rosefinch, Melbourn, Cambridgeshire (Photo: David H Hatton)

(Film: IAmMadScientist)
Photo of the Week: 7th–13th July

Osprey, Rothiemurchus, Highland (Photo: Rob Smith)
Judging from his photo uploads to BirdGuides, Rob Smith has had quite a year, with trips to Lesvos, Finland and Costa Rica. Despite the mouth-watering opportunities for bird photography provided by these excursions, though, a trip much closer to home has landed Rob his second Photo of the Week. Visiting the Osprey photography hotspot of Rothiemurchus in Scotland, Rob bagged the classic shot that one fellow photographer described as "the one we all want". In Rob's image, a well-lit Osprey is frozen at the exact moment it plucked a trout from the surface of the lake, water splashes adding to the sense of action. Set against a dream backdrop, the bird is perfectly posed to convey the power and drama typical of top-of-the-foodchain predation.

Cuckoo, Blashford Lakes HWT, Hampshire (Photo: Steve Carey)

Grey Heron, Leighton Moss RSPB, Lancashire (Photo: Steve Dolan)

Puffin, Skokholm, Pembrokeshire (Photo: Matt Morgan)

Guillemot, undisclosed site, Aberdeenshire (Photo: Alan Sinclair)

Marsh Harrier, Minsmere RSPB, Suffolk (Photo: Jon Evans)

Black Guillemot, Portpatrick, Dumfries & Galloway (Photo: Morgan)

Red-necked Grebe, Slovakia (Photo: Honza)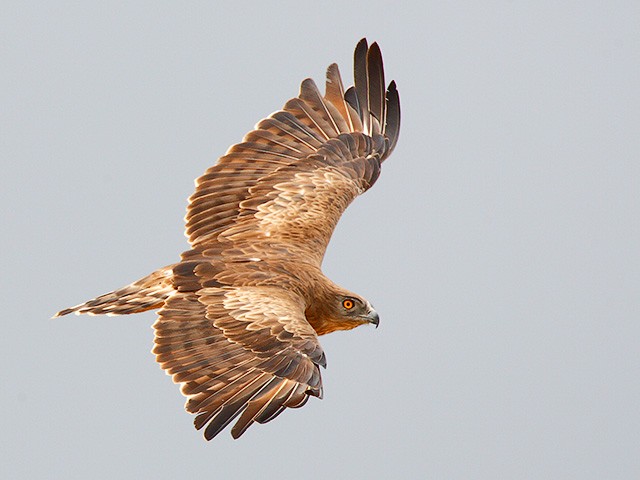 Short-toed Eagle, Spain (Photo: Steve Fletcher)

Chough, South Stack RSPB, Anglesey (Photo: Jon Taverner)

Common Rosefinch, Poland (Photo: Rudi Debruyne)

Spotted Flycatcher, undisclosed site, Herefordshire (Photo: Carl Day)

Lesser Grey Shrike, St. Justinian, Pembrokeshire (Photo: Richard Crossen)

Sardinian Warbler, Spain (Photo: Steve Round)

Great Reed Warbler, Poland (Photo: Artur Stankiewicz)

Mute Swan, undisclosed site, Ceredigion (Photo: Maxwell)

Common Tern, undisclosed site, Lancashire (Photo: Jackie Moreton)

Long-eared Owl, undisclosed site, Lancashire (Photo: Kev)

Herring Gull, Farne Islands, Northumberland (Photo: Chris Upson)

House Martin, Ballyclare, Antrim (Photo: Ian Dickey)