The week at a glance
In what proved a slightly steadier week, headline birds were limited to continuing megas — not least Scilly's Cliff Swallow, which remained on St Mary's until the evening of Saturday 10th. The welcome five-day stay of this North American hirundine allowed the majority of keen listers to travel south-west and connect with what had become something of a blocker. News on the Red-footed Booby was initially promising earlier this week, although not so good by Monday as an RSPCA spokesman explained to The Guardian: "Sadly over the weekend his condition deteriorated and he has gone off his food. Our staff are now tube-feeding him and trying a variety of fish to see if they can spark his interest in food again."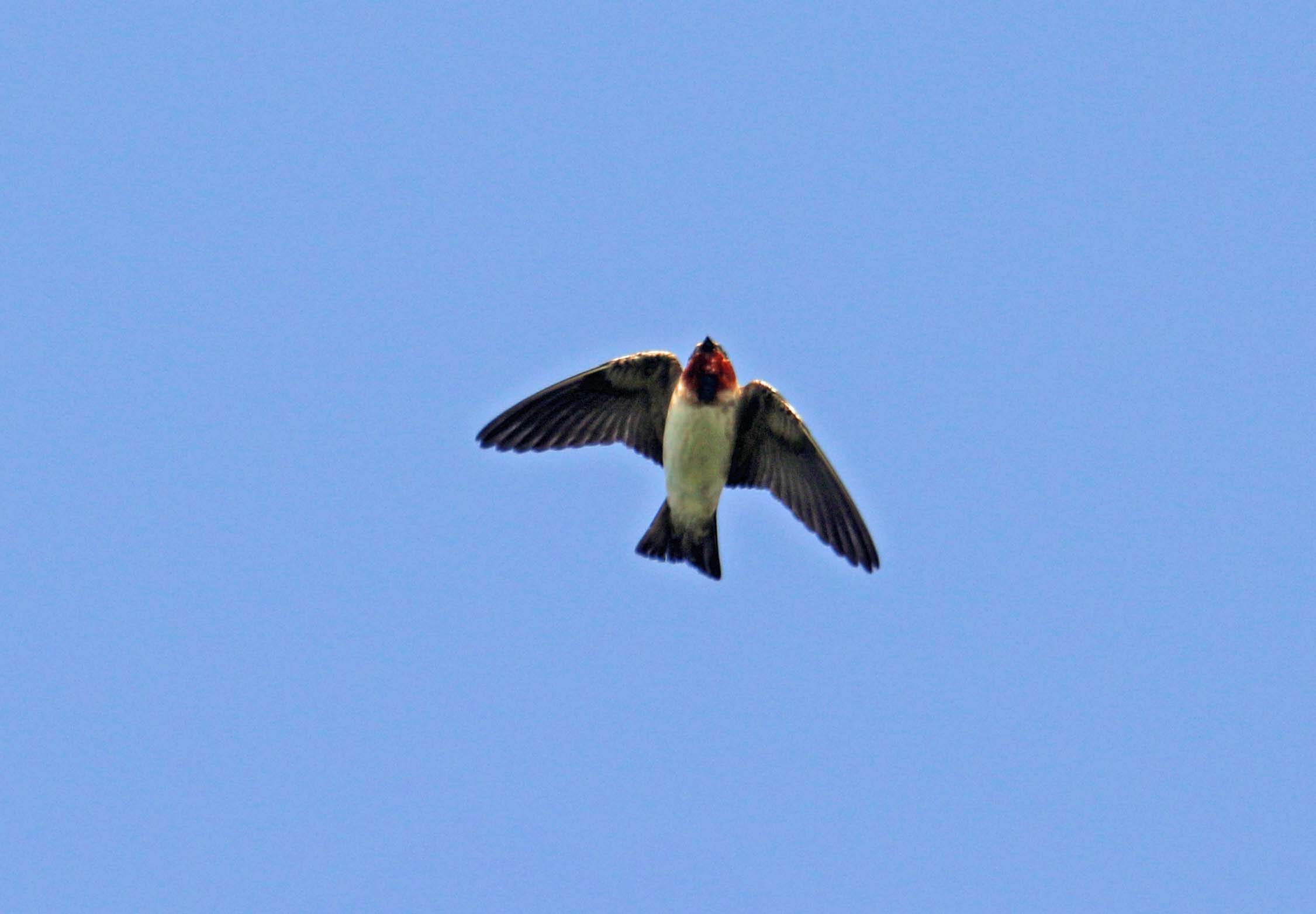 Cliff Swallow, St Mary's, Isles of Scilly (Photo: Mark Leitch)
The other major rarity was the Western Swamphen at Alkborough Flats. It lingered all week and attracted a steady stream of admirers throughout, including those on their way to (or way back from) the fifth annual Spurn Migration Festival, which took place over the weekend. In what was a westerly-dominated week, it goes without saying that conditions were far from vintage for birding at Spurn, though in September it's hard to keep the area quiet even in the least promising of weather — as a Kentish Plover at Kilnsea Wetlands proved on 10th.

Kentish Plover, Kilnsea, East Yorkshire (Photo: Dean Nicholson)
A westerly airflow at this time of year inevitably results in a scattering of Nearctic shorebirds, and birds of all the regular species continued to spring up this week, prolonging the already fruitful early autumn for transatlantic vagrants. It's been a few years since we've enjoyed species such as Baird's and Semipalmated Sandpipers arriving in good numbers — 13 of the former across Britain and Ireland was an excellent showing and included no fewer than four in Co Kerry. Three British records included last week's bird at Hatfield Moors, S Yorks, still present to 11th and a new arrival on South Uist on 7th but, most significantly, a cracking juvenile at Upton Warren, Worcs, from 9th. Ireland also hosted the majority of the week's four Sempalmated Sands, including singletons in Counties Cork, Kerry and Wexford, though a confiding juvenile at Titchfield Haven, Hants, on 10–11th happily bucked the trend and gave British birders a great chance to enjoy fine views of this sometimes tricky stint.

Baird's Sandpiper, Upton Warren NR (Permit Only), Worcestershire (Photo: Dave Hutton)

Semipalmated Sandpiper, Titchfield Haven NNR, Hampshire (Photo: Lee Fuller)
Fifteen Buff-breasted Sandpipers across Britain and Ireland may be a long way off the record numbers enjoyed five years ago, but it still represents a welcome upward turn on the past two or three Septembers, when they've been at an absolute premium. Best counts were twos at Tacumshin, Co Wexford, and Deerness, Orkney. Birds in eastern localities are always notable, so those at Dungeness, Kent, on 9–10th and Landguard, Suffolk, briefly on 12th are well worth a mention. The week's Pectoral Sandpiper total finished in excess of 20 birds but White-rumped Sandpipers were limited to one — an extremely confiding adult at Filey Brigg, N Yorks, on 8–9th.

Buff-breasted Sandpiper, Marazion, Cornwall (Photo: Tony Duckett)

Buff-breasted Sandpiper, Colin Best NR, Guernsey (Photo: Andy Marquis)

Pectoral Sandpiper, Salthouse, Norfolk (Photo: Keith Pickering)

White-rumped Sandpiper, Filey, North Yorkshire (Photo: Mark Pearson)
One or two Lesser Yellowlegs were logged on Lewis, Outer Hebrides, this week, while a new juvenile dropped in at Steart, Somerset, on 10–11th. Last week's Anglesey bird was reported to 8th, and the St Mary's, Scilly, individual was joined by a second in the archipelago on St Agnes, popping up on Big Pool on 12th. Further birds were unearthed in Counties Cork and Wexford on 13th. The week's only Long-billed Dowitcher was reported from Carrahane Strand, Co Kerry, on 10th, but a dowitcher species was noted flying past Gibraltar Point, Lincs, earlier in the week. Cornwall's Hudsonian Whimbrel notched up another seven days around Perranuthnoe — it's now only a few weeks away from completing a full year on British soil.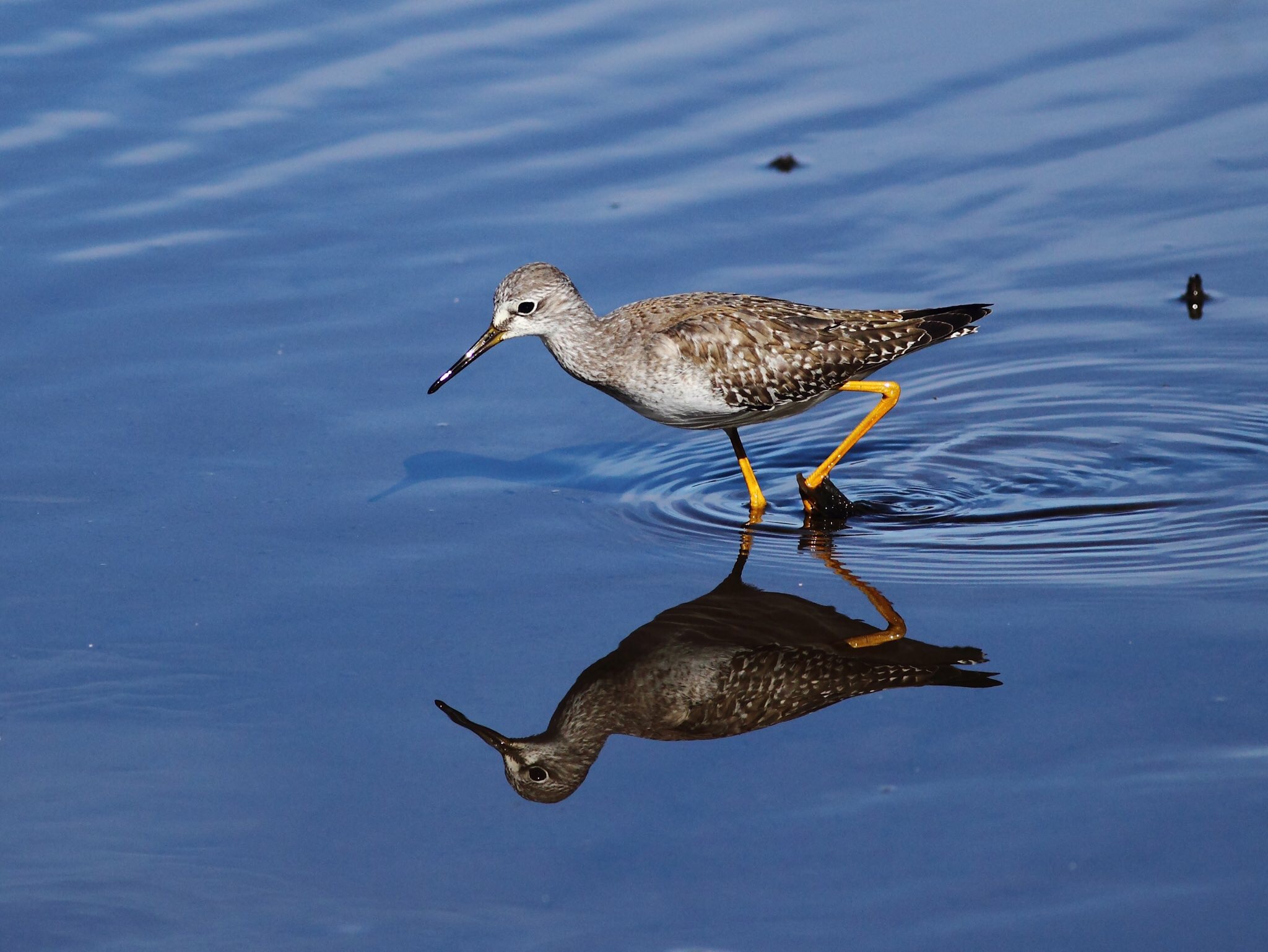 Lesser Yellowlegs, St Mary's, Isles of Scilly (Photo: Mark Rayment)

Lesser Yellowlegs, Steart WWT, Somerset & Bristol (Photo: Andy Brown)
The juvenile Red-necked Phalarope also stayed put at Thorney Island, W Sussex, all week, while up to four Temminck's Stints arrived at Frampton Marsh, Lincs, on 7th; one remained there until 11th and another graced the reserve at Bestthorpe, Notts, on 8–9th. A Pacific Golden Plover flew out to sea over the Farne Islands, Northumberland, on 13th, while American Golden Plovers totalled four: an adult on Lewis, a juvenile on North Uist and further records from Cornwall and Co Galway.

Red-necked Phalarope, Thorney Island, West Sussex (Photo: Leigh Prevost)

American Golden Plover, Omey Strand, Galway (Photo: Dermot Breen)
After last week's monumental numbers of large shearwaters past Cape Clear, seabird news quietened down a little this time out, but regular sightings of Cory's Shearwaters at least kept seawatchers interested — in Co Cork a count of 273 (and 57 Great Shearwaters) past Galley Head on 8th followed by 104 past Old Head of Kinsale and 247 past Galley on 9th suggested that there are still plenty in our waters, as did the 33 Cory's and 10 Greats past Porthgwarra, Cornwall, on the latter date. Leach's Storm-petrel numbers remain fairly low, so a bird at Queen Mother Reservoir, Berks, on 10th was very notable. Sabine's Gulls were a little more numerous, with ones and twos past regular seawatching points in western Britain and across Ireland. It was a similar story with Grey Phalaropes, with just a couple of exhausted storm-driven birds cropping up in western locations (in Pembrokehire and the Isle of Lewis) in addition to a handful of seawatching records.
The first Lanceolated Warbler of the autumn popped up on Fair Isle on 13th, as did two Citrine Wagtails and one of the week's two Little Buntings (the other was at Sumburgh on 8th). Tuesday also produced a ringed Lesser Grey Shrike at Long Nanny, Northumberland — the record sweetened by a fly-over European Bee-eater there during the afternoon. Remarkably, the shrike was found to have been reared in captivity and released as a fledgling on the Lleida Steppes in north-east Spain as part of a reintroduction scheme. It was last seen there on 24 August, after which it effectively reverse-migrated 970 miles NNW to north-east England.

Lanceolated Warbler, Fair Isle, Shetland (Photo: Lee Gregory)

Little Bunting, Sumburgh, Mainland, Shetland (Photo: Roger Riddington)

Lesser Grey Shrike, Beadnell Bay, Northumberland (Photo: Frank Golding)
Other passerine highlights included a brief Rustic Bunting on Papa Westray, Orkney, on 9th and a Paddyfield Warbler trapped and ringed at Nanjizal, Cornwall, on 7th. Nearby, an early Isabelline Shrike was reported at Nanquidno on 10th.
A champagne moment arrived on 12th with the first Yellow-browed Warbler of the autumn — unusually in Cornwall, near the Hudsonian Whimbrel site at Perranuthnoe. A little more typical were arrivals on North Ronaldsay and at Rerwick, Shetland, both on 13th.
Tawny Pipits tend to be few and far between these days, so a glut of five this week was welcome, though only one of these — at Dungeness throughout the afternoon of 11th — proved twitchable. Fly-overs were logged in Essex, Norfolk and East Yorkshire, while one flushed at Portland, Dorset, on 14th wasn't seen again.
Two Booted Warblers were noted this week, both on Shetland: one on Noss for four days to 10th and another on Fetlar the same day. The only Blyth's Reed Warbler concerned one reported at Leg of Mutton NR, London, on 10–11th.
Scarce migrants included Icterine Warblers just about scraping into double figures and a single Melodious Warbler continuing on Bardsey Island to 10th. Barred Warblers and Red-backed Shrikes were also sparse, with just seven and eight sites logging the species respectively. Wrynecks are usually a little more dependable in early September and the 50 or so reported this week illustrated that perfectly.

Red-backed Shrike, Winterton Dunes NNR, Norfolk (Photo: David Rounce)

Wryneck, Westing, Unst, Shetland (Photo: Robbie Brookes)
A male Red-breasted Flycatcher was at Wester Quarff, Shetland, on 7th and a handful of Common Rosefinches were seen. The decent autumn for Ortolan records continued with three at Portland, Dorset, on 13th and a fourth at nearby Wyke Regis from 11th. Others were logged in Dorset, Pembrokeshire and on Fair Isle but most significant was a bird inland at Wanstead Flats, London, on 7th. A Woodchat Shrike was also at Wyke Regis on 11th.

Common Rosefinch, Tiree, Argyll (Photo: John Bowler)

Woodchat Shrike, Wyke Regis, Dorset (Photo: Joe Stockwell)
Three formidably long stayers are the Highland American Black Duck, still at Strontian on 10th, the Forster's Tern on the Co Louth coast and the Bonaparte's Gull again at Teignmouth, Devon, on 10th. Conversely a smart juvenile Whiskered Tern at Argal Reservoir, Cornwall, was new-in on the evening of 13th. No fewer than five White-winged Black Terns were noted this week: adults in Staffordshire and Derbyshire and juveniles in Essex, Cleveland and Greater Manchester.
A Black Stork over Portland on 7th was presumably that seen at Roadford Reservoir, Devon, the following morning and then near Lockengate, Cornwall, later on 8th. A juvenile Purple Heron was again at Elmley, Kent, on 12th and the Oxfordshire bird was still on Otmoor all week. The Cattle Egret at Burton Mere Wetlands, Cheshire, on 13th could well be the Marshside bird, which was last noted on 11th. Another remained at Dungeness, Kent, to 13th. Glossy Ibises were reported from seven sites.

Purple Heron, Elmley NNR, Kent (Photo: Moi Hicks)
After being reported as a Hen, a juvenile Pallid Harrier was identified from photographs sent to the RSPB's Hen Harrier Hotline. Seen on Big Moor, Derbyshire, on 9th, it was fortunately seen on several further occasions over the following three days but proved mobile and elusive. Another juvenile was photographed at The Burgh, W Sussex, on 13th, while a male was seen at Inchkinloch, Highland, on 9th.

Pallid Harrier, Big Moor, Derbyshire (Photo: Peter Garrity)
A drake American Wigeon entertained visitors to Cossington Meadows, Leics, from 8th, and at least one was at Loch Leven, Perth/Kinross, on 9th. The Ring-billed Gull was again in Enniskillen, Co Fermanagh.

Ring-billed Gull, Enniskillen, Fermanagh (Photo: Brad Robson)
Western Palearctic news
France's second Long-toed Stint, a fine juvenile, was on the coast near Ile de Ré, Charente-Maritime, on 12–13th, while the long-staying Pied-billed Grebe continued near Saint-Martin-de-Crau and a third-calendar-year Dalmatian Pelican at Lac du Der on 12th may well be the bird seen in Hainaut, Belgium, the following day. Another Dalmatian Pelican was in Freisland, Netherlands, on 11–12th.

Long-toed Stint, France (Photo: Thibaut Michel)
Israel did well, with Swinhoe's and Wilson's Storm-petrels photographed together at sea off Eilat on 12th, both birds then being impressively relocated the following day. The Wilson's is just the second national record, while the Swinhoe's is the sixth or seventh.
A Black-browed Albatross was seen off Oslo, Norway, on 9th and presumably the same bird was in Västergötland, Sweden, the same day. Sweden also logged its sixth Black-winged Kite at Falsterbo on 12th. The Faroe Islands' first Semipalmated Plover was found on Sandoy on 12th, while the isles' second Paddyfield Warbler was on Nolsoy.
Late news concerned a potential Kamchatka Leaf Warbler trapped on Traena, Norway, on 6th; if confirmed (and samples have been taken for DNA testing), it will represent a first for the Western Palearctic. A little more information on this bird can be found here.