The week at a glance
Though weather conditions remained largely unsettled, the promising start to 2015 continued into the second week of January, with a couple of excellent finds — one in Britain, one in Ireland — and a host of lingering headline birds that ensured there was plenty on offer for birders nationwide.
The arguable highlight of the week was Ireland's first confirmed Black Scoter: a drake was found off Rossbeigh, Co Kerry, on 8th and was still there to 12th, often showing well close inshore with the small Common Scoter flock. This is a surprising first for Ireland, given that there have been several British records as well as numerous individuals in the likes of Denmark, Sweden, Poland and so on. You can read Michael O'Clery's report on the discovery in the BirdGuides webzine. Incidentally the bird was discovered by Davey Farrar, who also initially discovered Ireland's first Stejneger's Scoter some four years ago now.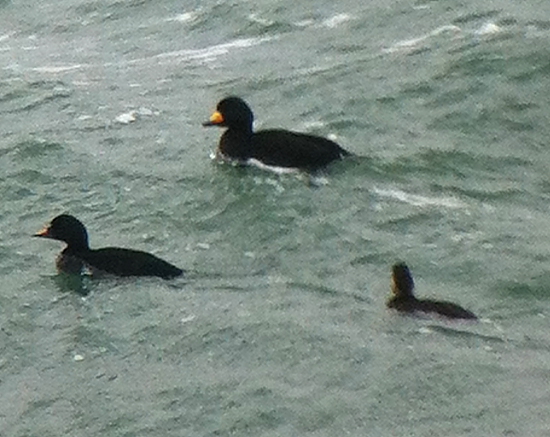 Black Scoter, Rossbeigh, Kerry (Photo: Aidan G. Kelly)
Content continues after advertisements
The young drake Harlequin on the River Don just north of Aberdeen continued to perform all week, showing exceptionally well at times as it displayed characteristically fearless behaviour. What's more, the bird seems very much settled here and a prolonged stay seems on the cards — will it linger well into the spring like the North Uist bird of 2013? Read Rob Leslie's account of his spectacular discovery here.

Harlequin Duck, Aberdeen, Aberdeenshire (Photo: Darren Ward)
>
Harlequin Duck, Aberdeen, Aberdeenshire (Video: Alex Shepherd)
Down on the south coast, a surprise mid-winter discovery concerned a first-winter Greater Yellowlegs among Black-tailed Godwits at Titchfield Haven, Hants, on 11th. The second for Hampshire following a relatively brief bird at nearby Farlington Marshes in September 2007, it lingered throughout the afternoon and was thus available to all local listers, though it had disappeared as suddenly as it had appeared by the following morning. This bird surely hasn't just arrived, and there must be a fair chance of a relocation somewhere in Hampshire (or along the south coast) in the coming days and weeks.

Greater Yellowlegs, Titchfield Haven NNR, Hampshire (Photo: Jason Ward)

Greater Yellowlegs, Titchfield Haven NNR, Hampshire (Video: Sean Foote)
In Cornwall the Pacific Diver remained in Mount's Bay until at least 12th while, over in Co Kerry, the American Coot remained at Lough Gill alongside a female Lesser Scaup, the identification of the latter confirmed on 12th. Drake Lesser Scaup remained in Ayrshire, Glamorgan and Cornwall. Meanwhile three Ring-necked Ducks continued at Lough Leane, Co Kerry, and two hung on at Carlingwark Loch, Dumfries & Galloway. A female was new at Ballyalia Lake, Co Clare, from 8th and an immature was identified at Calvert Lakes, Bucks, from 7th. Others remained in Northamptonshure (Billing to 10th then at Stanwick on 11th), on North Uist and Tiree, and in Counties Waterford and Mayo. The drake Ferruginous Duck remained settled at Blashford Lakes, Hants, and the female continued to cavort with captive wildfowl in the Asian pen at Slimbridge, Glos.

Lesser Scaup, Trabboch, Ayrshire (Photo: Angus Hogg)
Caerlaverock's Green-winged Teal was joined by a second drake on 13th, and the Kent bird was again at Cliffe Pools on 9th. Others remained at Ballycarry, Co Antrim; Druridge Pools, Northumberland; and on North Uist. A drake American Wigeon was at Kingsmill Lake, Cornwall, from 13th, while other several other drakes remained: at Yelland, Devon; Shapinsay, Orkney; Loch of Collaster, Shetland; and Harper's Island, Co Cork. Two females were also still on the Gannel Estuary in Cornwall.
Four drake Surf Scoter remained off Old Colwyn, Conwy, on 10th, a single bird was still off Musselburgh, Lothian, and the youngster was still on the Stour Estuary between Suffolk and Essex. The female King Eider also lingered at Ruddon's Point, Fife, and a White-billed Diver was noted in the traditional location of Bluemull Sound, Shetland, on 11th.
A Richardson's Cackling Goose remained at Baleshare, North Uist, on 11th and Orkney's Snow Goose was at Newark Bay on 12th; six Black Brants were shared between East Yorkshire, Norfolk, Suffolk, Kent, Hampshire and Devon.

Black Brant, Darts Farm RSPB, Devon (Photo: Jaz)
A juvenile Night Heron at Youghal, Co Cork, on 8th could well have been the bird seen at Crosshaven in late November. Two Cattle Egrets continued to occupy muddy fields near Lydd, Kent, throughout and a third was still on Jersey. Glossy Ibis remained at Fen Drayton Lakes, Cambs, near Aveton Gifford, Devon, and at Clohernagh, Co Waterford.

Cattle Egret, Dungeness RSPB, Kent (Photo: Bob Eade)
A white-morph Gyr Falcon seen at Carrowmore Beach near Louisburgh, Co Mayo, on 12th had apparently also been seen fleetingly in December but, as is so often with these wide-ranging falcons, pinning it down has proved all too difficult.
The only Lesser Yellowlegs seen this week was the bird at Pett Level, E Sussex, while the Spotted Sandpiper also continued to frequent the shoreline at Inverallochy, Aberdeenshre.

Lesser Yellowlegs, Pett Level, East Sussex (Photo: Neil Hughes)
What appears to be the recent juvenile Ivory Gull from Skye reappeared at the fish farm at Ardmair, not far from Ullapool, Highland, on 13th where it was typically photographed at point-blank range. Long-stayers included the Laughing Gull at Ballycotton, Co Cork, the Bonaparte's Gull at Dawlish Warren, Devon, and the Forster's Tern on the Co Clare/Galway border. Seven British Ring-billed Gulls included a new first-winter on North Uist on 10th and the continuing adult at two Hampshire sites in addition to birds in Highland, Clyde, Pembrokeshire and Cornwall. Eleven Irish records included two at Blackrock, Co Cork, and the returning adult again in the county at Castletown Bearhaven.

Laughing Gull, Ballycotton, Cork (Photo: Ronan McLaughlin)

Ring-billed Gull, Loch na Reivil, N.Uist, Outer Hebrides (Photo: Steve Duffield)
A Hoopoe was a surprise January find as it flew over a pub garden at Piddle Hinton, Dorset, on 8th. The Richard's Pipit was again at Breydon Water, Norfolk, from 7th and two remained near Stolford, Somerset, on 9th. Others were still at Redcliff Point, Dorset, and Cloughton Wyke, N Yorks, on 11th. In the Isles of Scilly, the Eastern Black Redstart was still on St Mary's on 12th.
The Dusky Warbler found last week at Chichester Gravel Pits, W Sussex, showed on and off throughout the week while a 'new' Yellow-browed Warbler was at the traditional wintering location of Gwennap sewage works, Cornwall, on 11th. Others remained at Penryn, Cornwall, and adjacent to the Plym Estuary and at Broadsands, both in Devon.
Something of a surprise for Northumberland birders was a Rose-coloured Starling at Prudhoe on 11th and 13th. The three Penduline Tits continued to show well at times at Darts Farm, Devon, throughout the week, while a female Serin was discovered in the county at Prawle Point on 11th.

Penduline Tit, Darts Farm RSPB, Devon (Photo: Jaz)
Western Palearctic news
Cyprus' second-ever Crimson-winged Finch on the beach at Mandria, Paphos, on 13th was probably the most significant discovery in a quiet week across the Western Palearctic. Lingering highlights included the Oriental Turtle Dove near Rotterdam, Netherlands, and the Wallcreeper still giving birders the run-around in Dinant, Belgium. Both the Azure Tit and Black-throated Accentor continued at their respective Finnish residencies and the Black Duck was again seen at Båtstad, Skåne, Sweden. The latter country also held on to just its second Middle Spotted Woodpecker since the species was extirpated there in 1982. Incidentally the bird was on the island of Gotland — evidence that the species does make sea crossings! In Spain the Pygmy Cormorant also remained in Catalonia.
Photo of the Week, 7–13 January

Kestrel, Widewater Lagoon, West Sussex (Photo: Dorian Mason)
It's not often that you can get close enough to a Kestrel to take this type of portrait shot says Steve Young, and this is a beautiful image by Dorian Mason that is our first POTW of 2015.

Using a 500mm lens with a 1.4× converter attached, Dorian has thrown any distracting background out of focus leaving just the pin-sharp close-up Kestrel to concentrate on. The lighting couldn't have been any better for the photographer and full advantage has been taken of a close bird on a perfect winter's day to take a perfect shot.

Congratulations to Dorian and here's to many more stunning images in the coming year; Happy New Year to all.
Other notable images

Buzzard, undisclosed site, Somerset & Bristol (Photo: Chris Jones)

Penduline Tit, Darts Farm RSPB, Devon (Photo: Charlie Fleming)

Whooper Swan, Caerlaverock WWT, Dumfries & Galloway (Photo: Emma Grant)

Golden Eagle, undisclosed site, Moray & Nairn (Photo: Tom Melton)

Red-breasted Merganser, Mistley, Essex (Photo: Nick Brown)

Ptarmigan, undisclosed site, Moray & Nairn (Photo: Tom Melton)

Goosander, Widewater Lagoon, West Sussex (Photo: Howard Kearley)

Harlequin Duck, Aberdeen, Aberdeenshire (Photo: Joe Graham)

Green Woodpecker, Fressingfield, Suffolk (Photo: Jon Evans)

British Bullfinch, Studley, Warwickshire (Photo: anon)

Slavonian Grebe, Wanstead, Greater London (Photo: Tom Hines)