The week at a glance
Another week dominated by a westerly airflow could only mean one thing for early September: checking local wader flocks for Nearctic delights. And, sure enough, those delights came thick and fast, particularly for those in the far north and west. In the south and east, high pressure and the associated warm (often hot) sunshine made it a comparatively quiet week for birds, although there were nevertheless still a couple of exciting surprises to postpone an unseasonable lull.
As if the first British Short-billed Dowitcher for 13 years wasn't enough, remarkably a second juvenile was located on Tresco (Scilly) on 9th. It lingered there until the week's end and seemingly showed considerably better than its Dorset counterpart, which coincidentally stayed put all week. A fine first for the archipelago, it makes a strong case for an apparent influx of the species to Europe, following a third juvenile in Sweden on 6th. No doubt the unusually inclement conditions of the past fortnight have had a significant part to play in the arrival of these gorgeous waders.

Short-billed Dowitcher, Lodmoor RSPB, Dorset (Photo: Dave Perrett)

Short-billed Dowitcher, Tresco, Isles of Scilly (Photo: Robin Mawer)
BOU-only birders also got a chance to connect with another extremely rare Nearctic species that last appeared over here in the late 90s. Britain's third Semipalmated Plover — a juvenile — was expertly identified on the beach at South Glendale, South Uist (Outer Hebrides) on 7th, having first been seen the day before. It was still present on 11th, although no sign on 12th suggests it may have already moved on. Following the Kerry bird of autumn 2011, this is the second individual to become available in less than a year and, given how regular the species is on the Azores, it seems logical that more records of this subtle species will follow in the coming years as identification awareness improves.

Semipalmated Plover, South Glendale, S.Uist, Outer Hebrides (Photo: Steve Duffield)
Much less problematic to identify was the juvenile Baillon's Crake at Rainham Marshes (London) from 7th. Although elusive at times, the bird appears to be easy enough to see with a little patience, although early mornings and late evenings appear most productive for prolonged views as it bathes and preens. Given the remarkable news of several singing males across southern Britain this summer, an autumn juvenile was always on the cards — it would be fascinating to know whether or not this was a home-grown individual.

Baillon's Crake, Rainham Marshes RSPB, Greater London (Photo: John Stanton)
Other highlights of the week included Suffolk's male Spanish Sparrow, which continued to tease would-be observers with sporadic and spontaneous visits to the common at Landguard (Suffolk), the last of which came on 10th.

Spanish Sparrow, Landguard NR, Suffolk (Photo: Jonathan Theobald)
Elsewhere, the first Red-eyed Vireo of the autumn was a new arrival at Valyie, Unst (Shetland) on 12th — rather remarkably, a long overdue first for the archipelago. With one eye on the remnants of Hurricane Leslie set to arrive before the weekend, will this be the first of several?

Red-eyed Vireo, Valyie, Unst, Shetland (Photo: Robbie Brookes)
But, as alluded to previously, it was the Nearctic waders that again dominated the headlines. At least ten (probably more) American Golden Plovers were widely scattered, all but one of them adults. Last week's Lancashire individual was last seen at Cockersand Abbey on 6th, and others that day were a probable at Kilnsea (E Yorks) and a brief individual at Cley (Norfolk). Up to two adults were on North Ronaldsay (Orkney) throughout the week, with two adults also at Tacumshin (Wexford) on 8th and two — an adult and the week's only juvenile — on South Uist on 9th. Others were at the Bridges of Ross (Clare) briefly on 10th and at The Curragh (Kildare) on 11th, and a probable was at Loch of Tankerness (Orkney) on 8th.
In Cornwall, last week's Lesser Yellowlegs was still at Kingsmill Lake throughout; a yellowlegs sp. was seen flying around North Ronaldsay (Orkney) on 11th; and a Greater Yellowlegs was reported from the Montrose Basin (Angus & Dundee) on 9th. A juvenile Spotted Sandpiper was new in at Rubha Ardvule, South Uist (Outer Hebrides) on 6th–7th, and the Smerwick Harbour (Kerry) bird was again seen on 11th–12th. The Wilson's Phalarope remained at Kinsale Marsh (Cork) to 9th, while the Slimbridge Long-billed Dowitcher looks set for an extended stay.
Up on South Uist, the Semipalmated Sandpiper was still at Baile Gharbhaidh on 6th, and it (or another) was at Carnan on 9th. The Tiree (Argyll) bird also remained to 7th, and new individuals were located on Skye (Highland) on 7th–11th and Loch Ryan (Dumf & Gall) on 8th–12th. In addition to the Seaton Snook (Cleveland) individual, which lingered throughout, juvenile Baird's Sandpipers were found at Birsay (Orkney) on 8th–9th and Titchwell (Norfolk) on 10th–11th. The Emerald Isle scored two adult White-rumped Sandpipers: on the Rogerstown Estuary (Dublin) on 9th and at Tacumshin (Wexford) on 9th–12th. The Ouse Washes (Cambs) continued its rich vein of form as it claimed a White-rump on 8th–12th, with Great White Egret, Glossy Ibis and Purple Heron all noted there during the week.

Semipalmated Sandpiper, Broadford Bay, Skye, Highland (Photo: Martin Benson)

Baird's Sandpiper, Seaton Snook, Cleveland (Photo: Chris Downes)
An excellent total of around 50 Pectoral Sandpipers included an impressive seven at Tacumshin (Wexford) on 8th, once again proving the site as one of the finest to observe Nearctic species within the Western Palearctic. Threes were at Loch a'Phuill, Tiree (Argyll) on 8th–9th and Loch of Tankerness (Orkney) on 9th, and two at Slains Pools (Aberdeenshire) from 7th were joined by a third on 9th. Twos were reported from a couple of sites in the Outer Hebrides and Cornwall as well as still at Lambton Pools (Durham).

Pectoral Sandpiper, Hayle Estuary, Cornwall (Photo: John Rowe)
Although not yet reaching the heady heights of 2011, Buff-breasted Sandpiper numbers also continued to improve. Carrahane Strand (Kerry) once again proved why it is probably the best spot in Europe to look for the species, with one there on 6th increasing to three by 12th. At least 15 others included three at Baleshare, North Uist (Outer Hebrides) on 7th–10th and two still on St. Mary's (Scilly) plus further singles in Shetland, the Outer Hebrides (2), Londonderry, Mayo and Clare. An individual at Goldcliff Pools (Gwent) on 8th–9th was noteworthy.
Apart from a dark-rumped petrel sp. seen and photographed some 60 miles southwest of Fastnet Rock (Cork) on 7th, it proved another distinctly average week for seawatching. Sightings of Leach's Storm-petrels increased, while Grey Phalaropes and Sabine's Gulls also became more numerous in the northwest. A small influx of Cory's Shearwaters to the southwestern approaches included 30 seen from a Scilly pelagic on 10th, with nine past Porthgwarra (Cornwall) that day. Also on 10th, a strong movement of Balearic Shearwaters included 282+ past Start Point (Devon) and 118 past Portland Bill (Dorset) — the first really significant counts from southern England this season.

Cory's Shearwater, Scilly pelagic, Isles of Scilly (Photo: Joe Pender)

Great Shearwater, Scilly pelagic, Isles of Scilly (Photo: Joe Pender)
Content continues after advertisements
Three Snow Geese — two adults and a juvenile — were with Greylags at Mull Head (Orkney) on 8th, while a fourth individual on Lewis (Outer Hebrides) had apparently already been present a few days. Given that the first influx of northwestern geese (Pink-footed, Pale-bellied Brents and Greylags) occurred this week, it seems fair to assume these are wild birds.
At Chew Valley Lake (Somerset), the drake Lesser Scaup remained static in Vilice Bay while, just a stone's throw away, a female Ferruginous Duck was a new arrival on the reservoir from 8th. Elsewhere, an eclipse drake Ring-necked Duck was a surprise arrival at Orgreave Lagoons (S Yorks) from 10th, although that superlative does not apply to a drake Surf Scoter off Blackdog (Aberdeenshire) on 8th. The Blue-winged Teal was still at Carbarns Pool (Clyde) on 8th, while reports of the Black Duck still on Achill Island (Mayo) may or may not refer to one of several hybrids present in the area.

Ring-necked Duck, Orgreave Lagoons, South Yorkshire (Photo: Paul Thomas)
Two Glossy Ibis at Tacumshin on 6th reduced to the usual one for the rest of the week, while the long-staying Pembrokeshire bird was still at Marloes Mere to at least 11th. Another flew over Cambridge (Cambs) on 8th, although this could easily have been the Ouse Washes bird taking a short detour. A juvenile Purple Heron was seen just twice briefly at Parkgate Marsh (Cheshire) on 9th, with a Cattle Egret at Northwick Warth (Glos) that day. Another was at Ravenstone (Leics) on 12th, while eight Great White Egrets included two at Dungeness (Kent) and new arrivals at Llanrhidian Marsh (Glamorgan) on 12th as well as in Suffolk and Essex.

Cattle Egret, Northwick Warth, Gloucestershire (Photo: Allan Chard)
A Spotted Crake performed superbly at Greylake (Somerset) from 9th, and others were at Upton Warren (Worcs), Marazion (Cornwall), and Slimbridge and Coombe Hill Meadows (Glos) in addition to a new individual on Seaton Marshes (Devon) on 8th.

Spotted Crake, Greylake RSPB, Somerset & Bristol (Photo: Dave Perrett)
A first-summer male Red-footed Falcon at Chichester Gravel Pits (W Sussex) on 6th–11th initially attracted Amur-related murmurings, although confirmation of dark, adult-type underwing coverts, as well as the plain face, soon quashed any hopes for a repeat of the famous Tophill Low occurrence of 2008. Over in Donegal, the male Snowy Owl was still on Arranmore Island on 10th, and a second was again on St. Kilda (Outer Hebrides) that day.

Red-footed Falcon, Chichester GPs, West Sussex (Photo: Maxwell Law)
In Durham, the Bonaparte's Gull was seen again at Whitburn on 9th. Cork registered its fifth (and perhaps sixth!) Azorean Yellow-legged Gull of the autumn on 9th: both were near-adults, at Owenahincha and Clonakilty respectively. An adult Ring-billed Gull returned to Portrush (Antrim) on 11th, while others remained at Kinneil Lagoon (Forth) and Groomsport (Down). The adult Forster's Tern continued off Soldier's Point (Louth) to at least 8th.
With a lack of any easterly winds, Wrynecks were considerably less numerous than they have been in recent weeks, with around 15 noted. Two in Cork on 9th were at Mizen Head and Cape Clear, while one was seen in Cardiff (Glamorgan) on 11th. Elsewhere, Dorset claimed three and Cornwall and Scilly two apiece. The only Hoopoe was at Yelland (Devon) on 8th, while a Golden Oriole at Ollaberry (Shetland) on 10th was a good autumn record.

Wryneck, Mullion, Cornwall (Photo: Steve Bury)
A Tawny Pipit overflying Pegwell Bay (Kent) on 9th was unsurprisingly not seen again, but the first-winter Citrine Wagtail on St. Mary's (Scilly) proved much more obliging throughout the week. A second was seen briefly on South Ronaldsay (Orkney) on 8th.

Citrine Wagtail, St. Mary's, Isles of Scilly (Photo: Martin Goodey)
No surprises for the location of a new River Warbler this week: it was of course on Fair Isle, on 11th. In Aberdeenshire, a Paddyfield Warbler was trapped and ringed in the reedbed at Kirkton of Logie Buchan on 8th. A Greenish Warbler was on Skomer (Pembrokeshire) on 8th and 12th. A Melodious Warbler on Bardsey (Gwynedd) was the island's second of the autumn, and an Aquatic Warbler was reported at Rainham Marshes (London) on 10th. A reduction in Barred Warblers this week saw around ten recorded, including two on Fair Isle, where there was also a Marsh Warbler on 12th.

Melodious Warbler, Bardsey Island, Gwynedd (Photo: Ben Porter)
Other migrants included Red-backed Shrikes in Norfolk (2), Kent, East Sussex, Pembrokeshire, Devon and Scilly. At least ten Common Rosefinches included four on Fair Isle on 7th, two on Tiree (Argyll) on 9th and one trapped and ringed on Copeland Island (Down) on 8th. Four Ortolans on Tresco (Scilly) on 11th had reduced to two by the following day, while a first-winter on Inishbofin on 10th–12th was an excellent first for Galway. Others were at St. Justinian (Pembrokeshire) on 8th and Winterton Dunes (Norfolk) on 9th.

Ortolan Bunting, Inishbofin, Galway (Photo: Craig Nash)
A twitchable Monarch butterfly on Portland (Dorset) from 7th proved hugely popular with dowitcher hunters, kindly remaining faithful to a series of buddleia bushes at Easton until the week's end.

Monarch, Portland, Dorset (Photo: James Lowen)
With the arrival of what was Hurricane Leslie to the Northern and Western Isles by Thursday, it could be more of the same next week — could it finally be time for Britain & Ireland's first Willet...?
Photo of the Week

Blackcap, Minsmere RSPB, Suffolk (Photo: Ian Clarke)
When we awarded Ian Clarke his first Photo of the Week one year ago, we commented on his frequent use of environmental detail to provide a sense of place and realism in his images. This week, Ian has uploaded another fine example of this technique with his sumptuous portrait of a female Blackcap enjoying the first crop of autumn blackberries. Front lighting gives even illumination to the scene and brings out the colours in both the bird and the berries. The composition of the image works extremely well, with the off-centre Blackcap balanced by the main berry cluster in the foreground, set against the diffuse greenery of the background. Strong eye contact and the berry in the bill are finishing touches to an evocative seasonal image.
Other notable photos

Red-footed Falcon, Chichester GPs, West Sussex (Photo: John Stanton)

Little Owl, undisclosed site, West Yorkshire (Photo: Mark)

Hobby, undisclosed site, Nottinghamshire (Photo: Simon Richarsdon)

Ringed Plover, Holy Island, Northumberland (Photo: Ron McCombe)

Osprey, Upton Warren NR, Worcestershire (Photo: Dave Barnes)

Jackdaw, Richmond Park, Greater London (Photo: Tom Hines)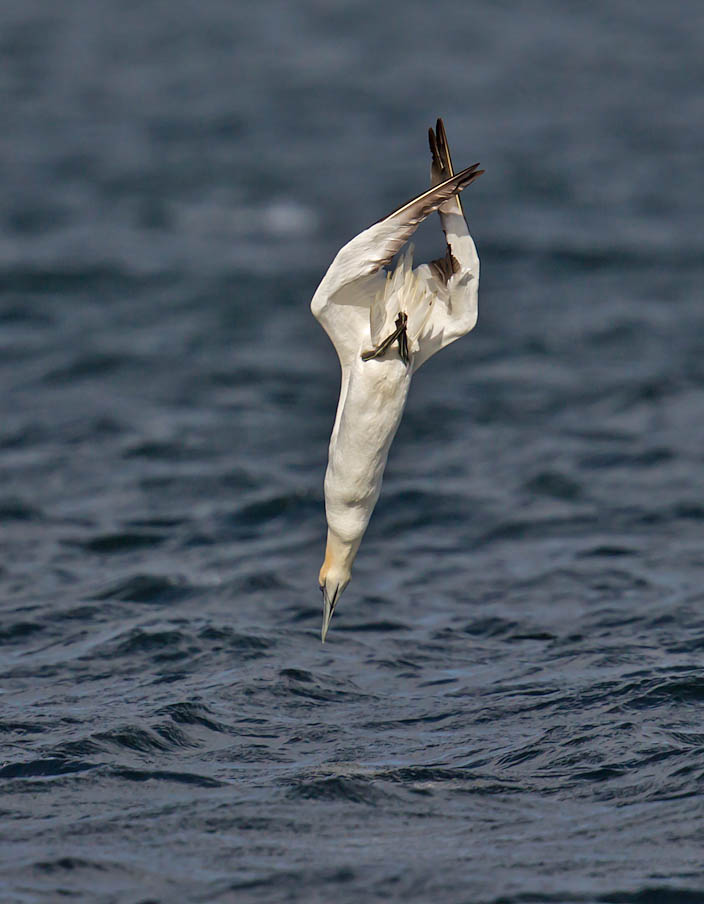 Gannet, Kingsbarns, Fife (Photo: John Anderson)

Ruff, Titchwell RSPB, Norfolk (Photo: Steve)

Spotted Crake, Poland (Photo: Marek Szczepanek)

Black-headed Gull, Upton Warren NR, Worcestershire (Photo: Dave Barnes)

Common Snipe, Frampton Marsh RSPB, Lincolnshire (Photo: Steve Whiteley)