The week at a glance
Another week passes, and with it arrives August — traditionally a time when seawatching climbs towards its peak, further shorebirds arrive and the pace of autumn passerine migration begins to quicken. While there was an inarguable increase in the volume of news output on Bird News Extra during the week (we're quickly leaving behind the mid-summer doldrums for another year), quality remains fairly sparse, the weather continues to be predominately settled and autumn 'proper' still seems some way away. Nevertheless, there are certainly signs of an improving outlook and, with the early forecast suggesting the coming weekend might be a little windy in western areas, the established summery pattern of recent weeks looks set to be broken as we head into next week.
In the meantime, let's look back at the week that passed. Once again, the rarest bird was the Swinhoe's Storm-petrel, which generously made another appearance in the Fair Isle petrel nets in the early hours of 1st — the eighth time it has done so this year. A couple of Fea's-type Petrels were seen in Irish waters: one was from a pelagic off Galley Head (Cork) on 30th and another passed Malin Head (Donegal) during the evening of 3rd, the latter a first site record. Single Wilson's Storm-petrels were seen from Scilly pelagics on 2nd and 4th, the latter trip producing a memorable haul that also included 25+ Cory's and 80+ Great Shearwaters. At least 40 Greats were seen from a Galley Head pelagic on 4th, and smaller numbers of both large shearwater species were seen from land — ones and twos were off Porthgwarra (Cornwall), while further Cory's included one past Skokholm (Pembrokeshire) on 1st and two past Portland Bill (Dorset) the following day. An impressive eight Great Shearwaters passed Berry Head (Devon) on 5th, with similar numbers reported past Start Point, and 5th also produced 21 Greats and two Cory's past the Old Head of Kinsale (Cork) on 5th.

Great Shearwaters, Isles of Scilly pelagic (Video: Bob Flood)
Content continues after advertisements

Wilson's Storm-petrel, Isles of Scilly pelagic (Video: Bob Flood)

Cory's Shearwater, Scilly pelagic, Isles of Scilly (Photo: Joe Pender)
After last week's Norfolk individual, it was West Sussex's turn for a co-operative Long-tailed Skua: this time not a full adult, the bird showed well at times between Selsey Bill and Church Norton on 4–5th, having been present for at least a couple of days previously. Up in The Minch (Highland), three adult Sabine's Gulls were seen on 1st.

Long-tailed Skua, Church Norton, West Sussex (Photo: David Campbell)

Sabine's Gull, at sea, Highland (Photo: Nick Davies)
Back on land, the Stilt Sandpiper continued in Northumberland throughout the week. Present at Cresswell Pond until 30th, it was only relocated on 3rd at Druridge Pools, where it lingered on and off until 5th, making two visits back to Cresswell late on 4th and again on 5th. The Pacific Golden Plover in Staffordshire finally moved on after its week-long stay, and was last seen at Middleton Lakes on 2nd. Meanwhile, the North Ronaldsay (Orkney) bird continued throughout the week.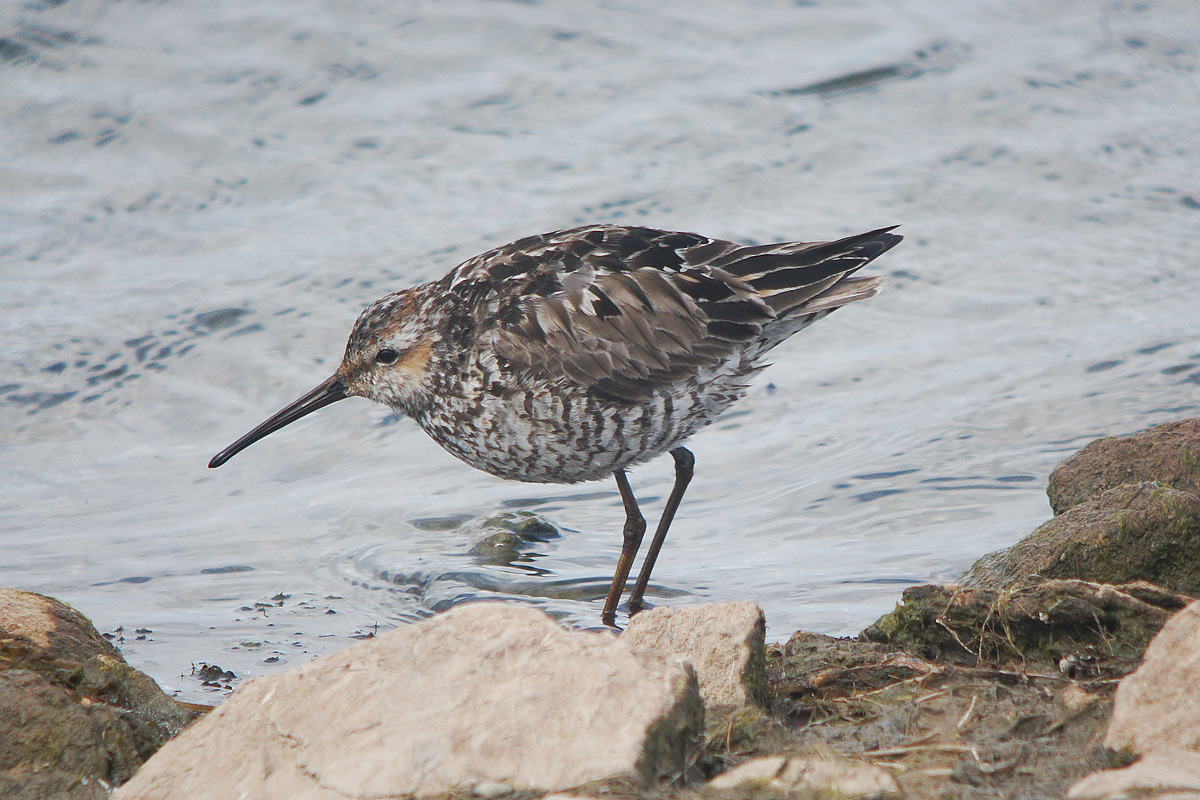 Stilt Sandpiper, Druridge Pools, Northumberland (Photo: Tristan Reid)

Stilt Sandpiper, Druridge Pools, Northumberland (Photo: Tim Mason)

Pacific Golden Plover, Drayton Bassett Pits, Staffordshire (Photo: Dave Hutton)
A Black-winged Pratincole was a great find at Cuckmere Haven (E Sussex) in the early morning on 30th, though it quickly moved on. Interestingly, its discovery came at a time of a mini-influx of the species on the near-Continent, with three birds in the Netherlands (including two juveniles together) and another in Denmark. A pratincole species flew north at Howlands Marsh (Essex) on 1st and then, on 2nd, the Black-winged was back on the Ouse Washes (Cambs) where it lingered to the week's end — had it ever really left?
Pectoral Sandpiper numbers remained modest, with adults at Loch of Strathbeg (Aberdeenshire) on 31–1st, Pennington Marshes (Hants) and Hale (Cheshire) from 1st, and at Haroldswick, Unst (Shetland) on 4–5th — presumably this last is the bird seen here in July? Temminck's Stints numbered just two, birds at Stow Marsh (Essex) on 30th and Cley Marshes (Norfolk) on 2–4th. Last week's White-rumped Sandpipers were still at Pool of Virkie (Shetland) and Gibraltar Point (Lincs) to 30th; new birds were at Snettisham (Norfolk) on 31–1st, Hickling Broad (Norfolk) from 1st and at Frampton Marsh (Lincs) on 2–4th.

Pectoral Sandpiper, Pennington Marshes, Hampshire (Photo: Paul Boult)

Temminck's Stint, Cley Marshes NWT, Norfolk (Photo: Julian Thomas)

White-rumped Sandpiper, Frampton Marsh RSPB, Lincolnshire (Photo: Steve Furber)

White-rumped Sandpiper, Pool of Virkie, Mainland, Shetland (Photo: Roger Riddington)
Both Black-winged Stilt families became increasingly restless this week, the West Sussex birds relocating to Sidlesham Ferry Pool on 31–1st before pitching down at Pulborough Brooks from 3rd. Though three were still at Cavenham Pits (Suffolk) on 30th, an adult was seen at nearby Livermere Lake on 3rd. Seemingly unrelated, another fly-over was in Hampshire — at Blashford Lakes on 2nd.

Black-winged Stilt, Sidlesham Ferry, West Sussex (Photo: Dorian Mason)

Black-winged Stilt, Sidlesham Ferry, West Sussex (Photo: Howard Kearley)
An adult Ring-billed Gull returned to Nimmo's Pier (Galway) right on cue on 2nd, while lingering highlights included the Ross's Gull still at Topsham (Devon) to 2nd (but not since), the Bonaparte's Gull still at Oare Marshes (Kent) on 3rd (no news either way since) and the Laughing Gull still at Ballycotton (Cork) on 4th. Gull highlight, though, was a fine adult Franklin's Gull at Breydon Water for a couple of hours on the morning of Friday 1st — it flew off north and, as yet, has not been seen again. Caspian Gulls are on their way back, with sample counts including four in pig fields around Livermere (Suffolk) on 29th — the first juveniles are certainly worth searching for now, with several reported over the past 10 days. A candidate first-summer Baltic Gull was seen at Candles Landfill site (Shropshire) on 30th. The only significant tern record concerned an adult Caspian Tern, seen a few times on the Exe Estuary off Exmouth (Devon) on 5th.

Ross's Gull, Topsham, Devon (Photo: James Shergold)

The Devon Ross's Gull showed well at times this week... (Photo: James Shergold)
Post-breeding dispersal is particularly apparent among herons and egrets at present, with a small influx of Cattle Egrets including new birds at Susworth (Lincs) from 3rd and Sidlesham (W Sussex) on 31st and then again from 4th; the pair in Gloucestershire were also joined by a third early in the week as they continued to tour around Frampton-upon-Severn, Slimbridge and various places in between. A Purple Heron first found flying west over Salthouse (Norfolk) later spent much of the day around nearby Cley Marshes on 1st; others were at Glynde (E Sussex) on 3rd and Rockland Broad (Norfolk) on 5th. The Night Heron remained at Seeswood Pool (Worcs), while both Great White Egrets and Glossy Ibises remained widespread.

Cattle Egret, Splatt Bridge, Gloucestershire (Photo: Brian Thompson)

Cattle Egret, Frampton-on-Severn, Gloucestershire (Photo: Gordon Hodgson)

Night Heron, Seeswood Pool, Warwickshire (Photo: Max Silverman)

Great White Egret, Foulridge Reservoirs, Lancashire (Photo: Dave Markendale)
Spotted Crakes were recorded from five sites this week, including the popular bird still showing well at Titchwell (Norfolk) throughout the week and another in the county at Strumpshaw Fen on 2nd. Another was at Rye Meads (Herts) on 30th and a fourth was found at Rainham Marshes (London) on 4th, lingering to 5th. In Cheshire, the family also remained at Burton Mere Wetlands.

Spotted Crake, Titchwell RSPB, Norfolk (Photo: Ian Clarke)
Red-footed Falcon reports came from Minsmere (Suffolk) on 31st and Lady's Island Lake (Wexford) on 2nd; a Black Kite over Stiffkey (Norfolk) on 31st evidently wasn't the escaped bird in Suffolk, which was still at Wrentham this week. Another was reported over Colchester (Essex) on 3rd.

Black Kite, Wrentham, Suffolk (Photo: John Richardson)
A Hoopoe was a brief visitor to Lodmoor (Dorset) on 2nd, European Bee-eaters included two on wires by the A127 at Rayleigh (Essex) on 4th, and over Sea Palling (Norfolk) on 3rd and Margate Cemetery (Kent) on 31st. Meanwhile, the three adults continued to frequent the nest site near Niton (IoW) throughout.

European Bee-eater, Niton, Isle of Wight (Photo: Mike Trew)
A male Red-backed Shrike was found at Quainton Hill (Bucks) on 30th and was still there to at least 4th; another was at Baston Fen (Lincs) on 2nd. The first Barred Warbler of the autumn graced none other than Fair Isle on 5th, while an Aquatic Warbler was trapped and ringed on Guernsey on 2nd and a couple of Melodious Warblers arrived — one was trapped and ringed at Portland (Dorset) on 2nd and another was on St Mary's (Scilly) from 2–4th. On 5th, a bizarre August record of Rustic Bunting came from Halligarth, Unst (Shetland); this is the first report of this species in August since the inception of Bird News Extra; the species is much more typical of September onwards.

Red-backed Shrike, Quainton Hill, Buckinghamshire (Photo: John D'Arcy)
Finally, a quick mention of the week's scarce wildfowl: the drake Lesser Scaup was back at Blagdon Lake (Somerset) on 4th, having last been reported in mid-July; the drake Ring-necked Duck remained at Murton Gravel Pits (Angus & Dundee) and three Surf Scoters continued off Blackdog (Aberdeenshire).
Photo of the Week

Kingfisher, Lakenheath (Hockwold) Fen, Suffolk (Photo: Neil Rendall)
It seems to have been a good week for photographing Kingfishers, with a number of impressive images uploaded to our Iris galleries, but none better than this shot by Neil Rendall. It is clearly the freeze-frame action that has made this a winning photo, the bird tossing and turning the fish the right way before eating it, the act of which has been beautifully caught by the photographer, who used a shutter speed of 1/1500th second to capture the action. The bird's spread wings and arched neck and the uncluttered background all add to the overall picture, and the photographer deserves credit for maintaining his concentration and keeping his lens trained on the bird, ready for the perfect moment to press the shutter.
Other notable images

Peregrine, undisclosed site, Derbyshire (Photo: Simon Richardson)

Common Tern, undisclosed site, Buckinghamshire (Photo: Xianwei Liu)

Cory's Shearwater, Scilly pelagic, Isles of Scilly (Photo: Joe Pender)

Swallow, undisclosed site, Norfolk (Photo: Matt Crosby)

Black-winged Stilt, Sidlesham Ferry, West Sussex (Photo: Dorian Mason)

Common Sandpiper, Stover CP, Devon (Photo: Gray Clements)

Cuckoo, Malta (Photo: Natalino Fenech)

Montezuma Quail, United States (Photo: Richard Bonser)

Great Crested Grebe, Paxton Pits NR, Cambridgeshire (Photo: Jamie Wells)

Barn Owl, undisclosed site, West Sussex (Photo: Howard Kearley)