The week at a glance
A largely fine and dry week saw plenty of warm sunshine enjoyed across much of Britain and Ireland over the Bank Holiday weekend. However, by Wednesday the high pressure broke down and many areas experienced a return to cooler temperatures and murky conditions. As such, the first half of the week proved relatively quiet as cloudless skies proved ineffective catalysts for grounding migrants but, in conjunction with the arriving front on 8th, the week's highlight arrived on the Northumberland coast…
Found during the late afternoon, a stunning (aren't they all?) first-summer male Collared Flycatcher showed well at Low Newton-by-the-Sea for the rest of the evening. A first for Northumberland, it was found early enough for quick-moving county listers to arrive on the scene and enjoy fantastic views until dusk fell and, despite a clear night overnight, it was still present and performing well there this morning. And, with a Purple Heron at East Chevington on 4th-5th and a breeding-plumaged Great White Egret at Hauxley from 5th onwards, it was a great week to be out birding in the county.

Collared Flycatcher, Low Newton-by-the-Sea, Northumberland (Photo: Gary Woodburn)

Collared Flycatcher, Low Newton-by-the-Sea, Northumberland (Photo: E Barnes)
Highlight of the Bank Holiday weekend was provided by a species unlikely to be found at the top of anyone's list of likely May rarities: a non-breeding plumaged Brunnich's Guillemot was seen off the north end of Iona (Argyll) during the afternoon of Monday, although no further reports were forthcoming. The finder enjoyed an excellent week, also finding a drake Surf Scoter off Embo (Highland) on 8th — one of two seen over the period, the other still off Musselburgh (Lothian).

Surf Scoter, Embo, Highland (Photo: Colin Bradshaw)
Also in Scottish waters, King Eiders continued at the Ythan Estuary (Aberdeens) and off Symbister, Whalsay (Shetland), a drake Northern Eider was off Tiree (Argyll) on 8th while a minimum of eight White-billed Divers continued in the Moray Firth, off the coastline between Buckie and Portsoy, and the South Ronaldsay individual also hung on. Somerset's Pied-billed Grebe was still at Ham Wall on 6th, although there was negative news during the afternoon of 8th.

Northern Eider (right), Tiree, Argyll (Photo: John Bowler)
It was a productive week for scarce herons: seven Purple Herons involved brief birds in Kent, Norfolk and East Yorkshire in addition the Kenfig (Glamorgan) bird still present on 6th, one at Lakenheath (Suffolk) on 2nd-6th, a two-dayer at Minsmere (Suffolk) and the aforementioned Northumberland individual. A Squacco Heron was belatedly reported from private land near Lanreath (Cornwall) on 8th, a Night Heron flew over Dungarvan (Waterford) on 6th, at least seven Great White Egrets were seen and Kentish Cattle Egrets were at Grove Ferry again on 6th-7th and over Sandwich Bay on 5th, with a further bird reported at Upper Beeding (W Sussex) on 8th. Meanwhile, one of the East Norfolk White Storks was found to be colour-ringed and two flew over Draycott in the Clay (Staffs) on 6th. Late news of a Black Stork over Edlingham (Northumbs) on 1st was received, while reports of flyovers at Monksilver (Somerset) on 4th and Marshwood (Dorset), Hawkchurch and North Molton (Devon) all on 6th may relate to the same wandering individual. It goes without saying that the Glossy Ibis was still in Pembrokeshire.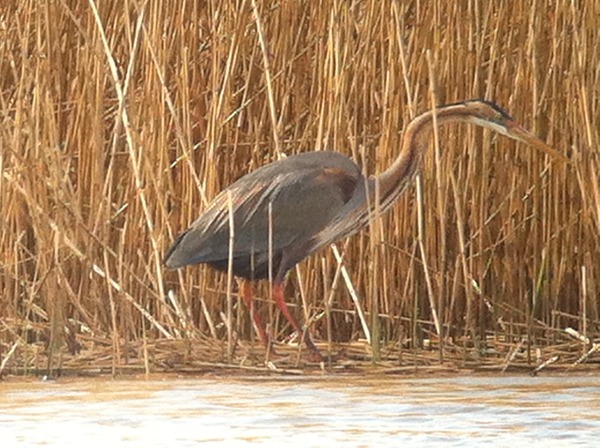 Purple Heron, East Chevington NWT, Northumberland (Photo: Alan Tilmouth)

Great White Egret, Hauxley NR, Northumberland (Photo: Steven Fryer)

Black Stork, Edlingham, Northumberland (Photo: P Tapsell)
Warm sunshine and big blue skies in early May generally equates to Red-footed Falcon records, and three were reported on the Ouse Washes (Cambs) on 2nd, one of which — a male — was photographed and lingered to 4th. A further male showed very well at Lakenheath Fen (Suffolk) from 3rd onwards, while others were briefly near March (Cambs) on 6th and New Buckenham (Norfolk) on 7th. A first-summer female flew over Muckleburgh Hill (Norfolk) on 6th while the Scilly bird was again reported from St. Martin's on 5th. Despite the upturn in falcon records, Black Kites were few and far between with reports from Burnham Overy (Norfolk) on 2nd and then not too far away at Holme on 4th, over the Dublin ring road on 5th and at Loch Duntelchaig (Highland) on 6th.

Red-footed Falcon, Lakenheath (Hockwold) Fen, Suffolk (Photo: Keith Bilverstone)
The arrival of May coincided with a sudden flush of Pectoral Sandpipers: eleven included threes at Cahore Marsh (Wexford) on 4th and Loch of Strathbeg (Aberdeens) from 6th in addition to birds at Colliford Lake (Cornwall), Ham Wall (Somerset), Hale (Cheshire), Seaton Common (Cleveland) and on Fair Isle (Shetland). Temminck's Stints also just about crept in to double figures; all arrived from 5th and were topped by up to four at Cley Marshes (Norfolk) and two at Cresswell Pond (Northumbs). Wood Sandpipers were also on the move, with 86 reports on Bird News Extra during the week. A Black-winged Stilt at Limbourne Creek (Essex) on 6th appeared to be the bird seen at Frampton Marsh (Lincs) the following day. A Kentish Plover was at Ferrybridge (Dorset) on 2nd-3rd, American Golden Plovers were at St. Breock (Cornwall) on 7th and still at Kilcoole (Wicklow) on 4th and four Lesser Yellowlegs involved lingering birds in Counties Wexford and Louth in addition to fine new individuals at Marazion (Cornwall) on 2nd-3rd and on the Inishkea Islands (Mayo) on 7th. Perhaps as many as eighty Dotterel scattered around included an impressive 21 atop Cross Fell (Cumbria) on 7th.

Black-winged Stilt, Frampton Marsh RSPB, Lincolnshire (Photo: Roy Harvey)

Lesser Yellowlegs, Inishkea Islands, Mayo (Photo: Dave Suddaby)

Dotterel, Ynyslas, Ceredigion (Photo: Brendan Sheils)

Dotterel, Pendle Hill, Lancashire (Photo: Gary Waddington)
Continuing the recent run of occurrences, adult Bonaparte's Gulls were located on the Exe Estuary (Devon) from 3rd and at Tacumshin (Wexford) on 2nd-7th, with the latter site also welcoming back the adult Forster's Tern on 3rd. The immature Bonaparte's remained at Elmley Marshes (Kent) to 6th while five Ring-billed Gulls included new first-summers at Annagh Beach (Mayo) and Belfast Lough (Antrim) in addition to those still at Melton Country Park (Leics) and on the Shetland Mainland, and a second-summer was at Kinnegar Shore (Down).

Bonaparte's Gull, Elmley Marshes RSPB, Kent (Photo: John Whitting)

Ring-billed Gull, Melton CP, Leicestershire and Rutland (Photo: Iain H. Leach)
A flock of eight Bee-eaters were seen near Briningham (Norfolk) on 8th, while ten Hoopoes included one at Balranald, North Uist (Outer Hebs) on 8th; the only to linger on the mainland was in Lyme Regis (Dorset) on 7th-8th while a Wryneck was reported from Rockland St. Mary (Norfolk) on 2nd. Further scarcities included Grey-headed Wagtails at Thornton Reservoir (Leics) on 3rd-5th and at two Norfolk sites on 6th, a Tawny Pipit at Paull Holme Strays (E Yorks) on 5th, a Short-toed Lark on St. Mary's (Scilly) on 8th and four Red-rumped Swallows, including the Dungeness bird still there to 4th.

Grey-headed Wagtail, Thornton Reservoir, Leicestershire and Rutland (Photo: Paul Wetton)
Year firsts came in form of Thrush Nightingale and Icterine Warbler (both Fair Isle, 8th), Red-breasted Flycatcher (Grutness, Shetland, 8th) and Ortolan Bunting (Longham Lakes, Dorset, 8th) while an Iberian Chiffchaff was reported singing in a private garden in Llanelli (Camarthens) on 6th. A male Western Subalpine Warbler was found lurking in a vegetable patch at Inch Strand (Cork) on 7th-8th while female Subalps on Bardsey Island (Gwynedd) on 7th and on St. Mary's (Scilly) on 8th were unassigned to race — the former is the twelfth on Bardsey in the past seven years!

Red-breasted Flycatcher, Grutness, Mainland, Shetland (Photo: James Wood)
Eight Woodchat Shrikes included the apparent relocation of the Chew Valley Lake bird for one day only at Brandon Marsh (Warks) on 2nd; others included three in Cornwall, two in County Wexford, one still on Scilly and a notable North Norfolk record from Cromer on 6th. Serin records came from Dungeness on 3rd, 5th and 6th, with another south over Spurn (E Yorks) on 3rd and another in Brighton (E Sussex) on 6th. A Hornemann's Arctic Redpoll took up residence on North Ronaldsay (Orkney) on 4th-7th.

Woodchat Shrike, Land's End, Cornwall (Photo: David Astins)

Woodchat Shrike, North Widcombe, Somerset & Bristol (Photo: Peter Walkden)
Despite the summery weather, plenty of wildfowl persistently hung on across Britain and Ireland. Black Brants remained in Lincolnshire (2) and East Yorkshire while last week's Lesser Scaup in West Yorkshire relocated to Anglers Country Park from 2nd (others still in Lancashire and County Down). The wandering Kent Ring-necked Duck appeared at Dungeness on 2nd with further birds still in Somerset, East Yorkshire and on Islay (Argyll), and the female Ferruginous Duck was still at Minsmere (Suffolk) throughout. The drake Blue-winged Teal returned to Bridgend Farm Pool (Clyde) on 5th after a drake American Wigeon had been reported there earlier in the day, with another American Wigeon at Loch Magillie (Dumf & Gall) on 3rd. Green-winged Teal were at Campfield Marsh (Cumbria) on 5th-6th and at Castle Island (Northumbs) on 6th.

Ferruginous Duck, Minsmere RSPB, Suffolk (Photo: David H Hatton)

Blue-winged Teal, Bridgend Farm Pool, Clyde (Photo: D Abraham)
While still on the wintry theme, we terminate this week's round-up with belated news of a White's Thrush, photographed by a camera trap near Bonar Bridge (Highland) on 31st January. Though there were murmurings of the thrush at the time, it was interesting to finally put a site to the record although the bird was never actually seen by humans (let alone birders!) — is this the first time the BBRC will have to adjudicate on a record not seen by anyone? Remarkable stuff…and testament to the age in which we live!
Photo of the Week

Wheatear, undisclosed site, Cheshire (Photo: Gerhard)
Here at BirdGuides, we receive and review over a thousand images every week, so we appreciate it when photographers make an effort to try something a little different from the norm. Some bird photographers buy the longest telephoto lens they can afford, visit bird-rich locations, get as close to the birds as they can, shoot what they see and publish their shots with minimal image processing. Our 2012 Photo of the Year winner Gerhard Hofmann, though, manages to consistently create images that stand out from the crowd, even though most of his photos are taken in a relatively small area on the Wirral peninsula. Key to Gerhard's success is his combination of pre-visualisation of desired results and his creative use of general photography techniques to the normally staid world of bird photography. This week, he continues his long-term project to depict his local birds within their surroundings by using wide-angle lenses to achieve much greater depth-of-field than can be recorded using telephotos. With a 'widescreen' portrait of a Wheatear warmly illuminated by the setting sun, Gerhard has created a wonderfully atmospheric image. Off-centre placement and rich colours add further impact to an image that's driven more by 'photographic thinking' than an obsession with rare birds or expensive camera equipment.
Other Notable Photos

Little Owl, undisclosed site, Lancashire (Photo: Austin Thomas)

Wood Warbler, Callander, Forth (Photo: John Anderson)

Kestrel, Wigan, Greater Manchester (Photo: Roy)

Greenshank, Poland (Photo: Artur Stankiewicz)

Dotterel, Pendle Hill, Lancashire (Photo: Steve Oakes, AEBS Limited)

King Eider, Norway (Photo: Garth Peacock)

Black Kite, Spain (Photo: Morten Scheller Jensen)

Nuthatch, Exeter, Devon (Photo: Charlie Fleming)

Lapwing, Toft Newton Reservoir, Lincolnshire (Photo: Nick Clayton)

Common Snipe, undisclosed site, North Yorkshire (Photo: Andy Shepherd)

Golden Plover, undisclosed site, Highland (Photo: Marcus Conway - ebirder)

Reed Warbler, Lakenheath, Suffolk (Photo: Tom Melton)

Sand Martin, Ballyclare, Antrim (Photo: Ian Dickey)