The week at a glance
Another fine birding week passes, with the recent run of high-calibre rarities continuing — though, compared to last week's Slender-billed Gull in Norfolk, both of this spell's headline acts were altogether more twitchable. After a changeable start to the week, many areas enjoyed a fine weekend before the weather returned to something of a mixed bag by Tuesday. Coupled with this was a slightly easterly airflow that allowed for a decent scattering (but no great fall) of scarce migrants between the south coast and Shetland early on, although the pace rapidly decelerated by Tuesday, which proved to be our quietest day for news since the beginning of the spring. That said, it was really a week for appreciating the quality of rarities on offer, with plenty to go at nationwide.
The highlight has to be Britain's third Short-toed Eagle, found at Morden Bog (Dorset) by Paul Morton during the morning of Saturday 31st. Though it headed off soon after discovery it was back in its favoured tree from late afternoon, sparking a major twitch as birders rushed to reach the site before darkness fell. There the eagle sat for 17 hours, seemingly oblivious to the rather large crowd it had attracted, until it rose from its perch and thermalled into the skies a short while before 10am on Sunday 1st, never to be conclusively seen again (there were reports from Branksome Chine mid-afternoon and back at the original location early evening, but neither were confirmed due to a lack of good views). Interestingly, we received an email at BirdGuides earlier this morning with photos, taken at nearby Arne RSPB a short while after 10am on Saturday, which clearly depict the bird and provide an interesting twist to the tale — could it yet still be around? You can read Paul's brilliant finder's account at www.birdguides.com/webzine/article.asp?a=4426.

Short-toed Eagle, Morden Bog NNR, Dorset (Photo: Tony Dixon)
Content continues after advertisements
As mentioned already, this is Britain's third Short-toed Eagle and the first twitchable individual since the famous Scilly bird of October 1999. A bird seen at several sites along the south Devon (and later Dorset) coasts in October 2011 was never pinned down, so an accessible mainland bird such as this rooster was always going to be appreciated by large numbers of birders. Interestingly, reports of a large, pale raptor in the Morden Bog earlier suggest that the eagle may have been present since mid-week, which perhaps explains its apparent favoured perch and the large amount of excrement it was expelling throughout Sunday morning (had it been tucking into Purbeck's impressive array of herpetofauna for a few days?).

Short-toed Eagle, Morden Bog NNR, Dorset (Photo: Kevin Du Rose)
The week's other big find was a particularly smart singing male Spectacled Warbler not far from Gun Hill in Burnham Overy Dunes (Norfolk) early in the afternoon on 2nd. Only Britain's eighth ever example of this charismatic Mediterranean species, it continued to sing and show well at times until dusk on Monday, and again throughout Tuesday 3rd. This latest record is set to appease birders after three teasing records, with individuals in Hampshire and Norfolk in 2011 suppressed and a singing bird in Suffolk for one evening only back in May 2008. Given that the last widely accessible bird was as long ago as 2000, one feels that this bird may rival even the eagle for popularity should it linger until the coming weekend.

Spectacled Warbler, Burnham Overy, Norfolk (Photo: Kevin Du Rose)

Spectacled Warbler, Burnham Overy, Norfolk (Photo: Baz Scampion)
The spring's third Collared Flycatcher also merits a mention in the highlights section, despite the recent upturn in the species' regularity, not least because it continues an already magnificent spring on Fair Isle. The flycatcher, a male, was present on 28th–29th and is a sixth for the island. Also on Fair Isle, the male Caspian Stonechat was still around to 31st, but June 1st was its first blank day and it hasn't been seen since — after a stay of 35 days, it appears it might finally have gone.

Collared Flycatcher, Fair Isle, Shetland (Photo: David Parnaby)

Collared Flycatcher, Fair Isle, Shetland (Photo: David Parnaby)
Blyth's Reed Warblers have enjoyed a rapid change in status in recent years. Even so, they remain a rare species in spring and thus the arrival of no fewer than eight birds this week was remarkable — particularly when added to last week's half-dozen, making it a record spring for the species already, with no doubt one or two still to come. Shetland boasted two (Skaw, Whalsay, and Out Skerries) but a good spread of mainland records included birds at Dungeness (Kent) on 28th, Girdle Ness (Aberdeenshire) on 31st–1st, Cemlyn Bay (Anglesey) on 31st, Whitburn (Durham) on 1st and Cley (Norfolk) on 3rd but, most sensationally, London's third, singing at Wanstead Flats on 29th. A Great Reed Warbler was at Swining (Shetland) on 3rd, while a Savi's Warbler 'buzzing' at Loch of Strathbeg (Aberdeenshire) from 29th was a great record so far north — the Gwent bird also remained all week. Unassigned female Subalpine Warblers were at Spurn on 28th and Papa Westray (Orkney) on 1st, with the female Western still on Fair Isle early on and a male Eastern on Blakeney Point (Norfolk) on 28th.

Savi's Warbler, Newport Wetlands, Gwent (Photo: Gary Thoburn)

Savi's Warbler (Video: Lewis Thomson).
Given that the last in the county was as long ago as September 1989, the appearance of a second Black-headed Bunting in Norfolk this week was quite impressive — unlike last week's male in Cromer, this was an altogether more subtle female, present at the disused pig farm at West Runton. Found on 28th, it lingered for four days and provided plenty with a new county tick. Rather like Blyth's Reed Warblers, Rustic Buntings are enjoying a particularly good spring (at least by recent standards), and three more were recorded over the past seven days: stunning males were at Skaw (Unst) on 30th and on Tiree (Argyll) on 2nd–3rd, the latter the island's second this spring, and a female was briefly at Happisburgh (Norfolk) on 30th. An Ortolan was on Out Skerries (Shetland) on 30th–31st.

Black-headed Bunting, West Runton, Norfolk (Photo: David Burns)

Black-headed Bunting, West Runton, Norfolk (Photo: Julian Thomas)

Rustic Bunting, Skaw, Unst, Shetland (Photo: Robbie Brookes)
Classic late May drift migrants were widely available this week, including half-a-dozen Greenish Warblers, at Newbiggin (Northumberland), Whitburn (Durham) and Blakeney Point (Norfolk) on 29th, briefly at Durlston Country Park (Dorset) on 30th, trapped and ringed at Donna Nook (Lincs) on 31st and in song at Sand Point (Somerset) on 2nd. Red-breasted Flycatchers graced Portland (Dorset) on 28th, Fair Isle on 29th, Sammy's Point (E Yorks) on 29th–1st and Holkham Pines (Norfolk) on 30th. Red-backed Shrikes were widely scattered, with a top count of eight on North Ronaldsay on 28th; Marsh Warblers numbered around 15, with most on the east coast although exceptions included birds on Tiree (Argyll) on 28th and at Seaford Head (E Sussex) on 29th and Bardsey Island (Gwynedd) on 29th–30th. Icterine Warblers were slightly more numerous: around 20 recorded included twos at Filey (N Yorks) and on the Isle of May (Fife), with at least three at Spurn throughout the week. Bluethroats were altogether scarcer, with a female at Spurn on 29th–30th and a male trapped on North Ronaldsay on 31st, while there was also a light scattering of Golden Orioles and Grey-headed Wagtails.

Red-backed Shrike, Wester Quarff, Mainland, Shetland (Photo: Gavin Thomas)

Red-backed Shrike, Horsey, Norfolk (Photo: Jake Gearty)

Marsh Warbler, Seaford, East Sussex (Photo: Matthew Eade)

Icterine Warbler, Quendale, Mainland, Shetland (Photo: Roger Riddington)

Golden Oriole, Vidlin, Mainland, Shetland (Photo: Gavin Thomas)

Golden Oriole, Sammy's Point, East Yorkshire (Photo: Martin Standley)

Grey-headed Wagtail, Esha Ness, Mainland, Shetland (Photo: Gavin Thomas)
Cleveland's Woodchat Shrike remained at Skinningrove until at least 1st, while another was briefly at Foreness Point (Kent) early on 2nd and a third was on Lundy (Devon). The spring's first Rose-coloured Starling was in a private garden in Rochester (Kent) on 28th–29th, with a second at West Bexington (Dorset) on 31st. Serins were at Durlston Country Park on 29th and Sheepcote Valley (E Sussex) on 1st. Common Rosefinches reached double figures, with notable records coming from the Saltee Islands (Wexford) on 31st and Cape Clear (Cork) on 3rd; in solitary contrast was a male House Finch in a Methley (W Yorks) garden early on 28th.

House Finch, Methley, West Yorkshire (Photo: Michael Johnson)
A Pallid Swift flying south over Spurn on 31st was the first of the year, while the Alpine Swift was again at Birsay (Orkney) on 29th and another was reported over Aberdeen the following day. A Short-toed Lark remained on Fair Isle on Friday, while Sunday saw a smart Red-throated Pipit grace Hermaness (Unst) and Monday a male Citrine Wagtail at Long Nab (N Yorks). It's getting pretty late for Wrynecks, so the lingering bird at Boddam (Shetland) plus a bird on Blakeney Point were both notable. Hoopoes were at Oldmeldrum (Aberdeenshire) on 1st–3rd and near Crediton (Devon) on 2nd.
Another great week for Bee-eater reports again saw a number of roving parties tracked, with four still on Portland (Dorset) until 31st. A series of records of flocks along the south coast followed, with four at Pig Bush (Hants) on 31st and at Charmouth (Dorset) on 1st presumably the Portland birds, though the five at Axmouth (Devon) on 1st were presumably different. Five were then reported from Lymington (Hants) on 2nd and nearby Havant on 3rd. Twos were reported from Blakeney Point on 30th, Dungeness (Kent) on 1st and Brading (IoW) on 3rd, while up to three loitering in the South Gare area of Cleveland for three days from 29th were also seen at nearby sites such as Seaton Common and Coatham Marsh. Singles were reported elsewhere in the Isle of Wight, Devon, Dorset, West Sussex, Cheshire and Shetland, where a bird was in Lerwick on 29th.

Bee-eater, South Gare, Cleveland (Photo: Martyn Sidwell)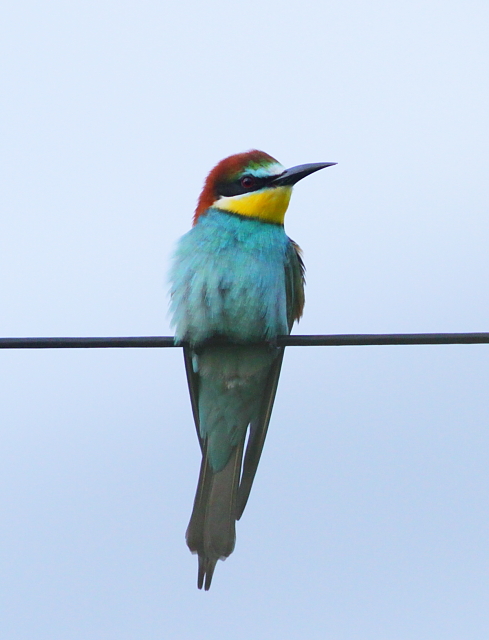 Bee-eater, Portland, Dorset (Photo: Joe Stockwell)
The adult American Golden Plover over Tacumshin (Wexford) on 1st was significant, for it represented the first record of the spring. The Gwent Pectoral Sandpiper was last seen at Newport Wetlands on 28th, with new birds arriving at Haroldswick (Unst) on 29th, Ring Strand (Cork) on 31st, Port Nis (Lewis) on 2nd (two there on 3rd) and Trimley Marshes (Suffolk) on 3rd. A Buff-breasted Sandpiper was a nice find at Cowpen Marsh (Cleveland) and performed well on 2nd–3rd, though the spring's third Broad-billed Sandpiper was a brief affair at Holy Island (Northumberland) early on 30th. The only Temminck's Stint was a bird at Lodmoor (Dorset) on 30th, though there were at least four Red-necked Phalaropes: a (the returning?) female at Slimbridge (Glos) on 29th–30th, at Cotswold Water Park (Wilts) on 29th, a male at March Farmers (Cambs) from 31st and one at Bowers Marsh (Essex) on 1st. In addition to the continuing breeding pairs in Kent and West Sussex, there was a rare Irish Black-winged Stilt record from Lough Boora Parklands (Offaly) on 28th, with perhaps the same then at White's Marsh (Cork) on 30th.

Buff-breasted Sandpiper, Cleveland (Video: JRnaturenorth)
An unseasonable first-summer Ross's Gull was an excellent discovery at Bowling Green Marsh (Devon) on 29th, though it later transpired it had been misidentified as a Little Gull and had been around over a week. It could be found commuting between the reserve and the estuary at nearby Exton until at least Tuesday. A first-summer Bonaparte's Gull was a great find at Staines Reservoirs (Surrey) on 30th, roosting there until 1st. One immature Ring-billed Gull remained around Dublin Bay. In East Yorkshire, a White-winged Black Tern flew past Sammy's Point then Kilnsea on 29th, while back in Devon a Whiskered Tern joined the Ross's Gull at Bowling Green Marsh for a while on 31st — another was reported on Berneray (Outer Hebrides) on 3rd.

Ross's Gull, Bowling Green Marsh RSPB, Devon (Photo: Jason Ward)

Ross's Gull, Bowling Green Marsh RSPB, Devon (Photo: Dr. Steve M.R.Young)

Bonaparte's Gull, Staines Reservoirs, Surrey (Photo: Andrew Moon)
Despite an easterly airflow figuring at times, there were no Red-footed Falcon reports and the bulk of scarce raptor reports involved Black Kites: one over Hildenborough (Kent) on 29th was thought to be that later over Brands Hatch, while other Kentish records also came from Brenchley on 31st and Dungeness on 2nd. Further birds flew over Trimingham then Waxham (both Norfolk) on 3rd and roosted at Mount Caburn (E Sussex) that evening. The Rough-legged Buzzard remained on Guernsey to at least 29th while, intriguingly after reports earlier this spring, a White-tailed Eagle was again claimed in Wykeham Forest (N Yorks) on 1st.

Black Kite, Mount Caburn, East Sussex (Photo: Matthew Eade)
The run of Black Stork records continued, with birds over Leek Wootton (Warks) and Dawlish Warren (Devon) on 31st, and another over Thornham (Norfolk) in the early evening on 3rd later tracked east across Salthouse and Kelling. Three Cattle Egrets were surprise arrivals on the RSPB reserve at Dungeness on 2nd, while the two remained at Tacumshin (Wexford) to at least 28th. The adult Purple Heron remained at Marazion (Cornwall) throughout, and another was seen near Horsey (Norfolk) on 3rd. An immature Night Heron graced Bough Beech Reservoir (Kent) on 30th.

Night Heron, Bough Beech Reservoir, Kent (Photo: Chris Bond)
The White-billed Diver remained in Dunnet Bay (Highland) throughout the week, and wildfowl included drake American Wigeon still at Loch Stiapavat, Lewis to 31st and Loch of Strathbeg (Aberdeenshire) to 1st, Green-winged Teal at Tacumshin (Wexford) and Ynys-Hir (Ceredigion), the drake Lesser Scaup at Frodsham Marsh (Cheshire) all week, a new female King Eider off Musselburgh (Lothian) from 29th onwards in addition to the drake still on the Ythan Estuary (Aberdeenshire), and, last but not least, a drake Surf Scoter still off nearby Blackdog on 28th.
Photo of the Week

Sedge Warbler, Leighton Moss RSPB, Lancashire (Photo: Jackie Moreton)
Steve Young comments: "Song-flighting Sedge Warblers are a familiar sight in the right habitat in spring, and anyone can attempt to photograph the species without needing special hide set-ups or equipment. Pulling it off successfully instead requires good fieldcraft, a steady hand, a correctly set-up camera and, of course, a co-operative songster. In an ideal world, the result will look something like this — to photograph one as well as Jackie Moreton has done with this superb image has certainly been beyond me!"

"This superb shot has it all: the fast 1/2,000th sec shutter speed has frozen the action, with the wings in a perfect position and the bill wide open, there is a highlight in the eye, and the background of blue sky just completes the image. You can almost hear the bird singing (with a little bit of imagination). Congratulations Jackie."
Other notable images

House Martin, Barton-under-Needwood, Staffordshire (Photo: Gordon Speirs)

Cuckoo, undisclosed site, Durham (Photo: Mark Bowen)

Common Tern, Attenborough NR, Nottinghamshire (Photo: Simon Richardson)

Jackdaw, Bempton Cliffs RSPB, East Yorkshire (Photo: Gordon Bowes)

Swift, Broom GPs, Bedfordshire (Photo: Jim P)

Osprey, Lockwood Beck Reservoir, Cleveland (Photo: Martyn Sidwell)

Marsh Tit, undisclosed site, North Yorkshire (Photo: Antony Ward)

Sunbittern, Panama (Photo: Colinsev)

Bee-eater, Bulgaria (Photo: Dave Williams)

Bee-eater, Spain (Photo: Mandy West)

Little Owl, Droitwich, Worcestershire (Photo: David Naylor)