The week at a glance
A much quieter week greeted the arrival of February – in many ways, it was a typical, run-of-the-mill seven days for the final weeks of winter. Headline bird was the drake Black Scoter discovered off Stag Rocks, Bamburgh, Northumberland, on 27th and still present there on 2nd. This is almost certainly a returning bird to this stretch of coastline that last year turned up on 20 January and lingered into March.

Black Scoter, Bamburgh, Northumberland (Photo: Jaz)
The Pacific Diver was again off Perranuthnoe, Cornwall, on 30th, while the Hudsonian Whimbrel continued to be seen regularly in the area until 31st. Last noted on 11 January, the Greater Yellowlegs at Whippingham, Isle of Wight, notably reappeared on 31st and 2nd – though it probably hadn't gone very far in the interim.
The Glaucous-winged Gull remains a reliable feature at Castletownbere, Co Cork, although it's being reported with decreasing regularity now as interest wanes – it was still present on 31st. As you might expect for the end of January, gulls dominated the headlines, and an adult Franklin's Gull discovered in the roost at Fen Drayton Lakes on 30th was a real turn-up for the books. It represents just the second for Cambridgeshire, following an adult in July 2006. What was surely the same bird was then relocated at Amwell Nature Reserve, Herts, the following evening – this time going one better by being a county first. Again it had moved on by the following day and just goes to show how mobile gulls can be around our isles, even at times when we might expect them to be following a more settled winter routine.
Elsewhere, the second-winter Franklin's was still in Co Kerry to 28th. A first-winter Laughing Gull was found on Walney Island, Cumbria, on 30th though it didn't linger long and didn't make the airwaves until the following day – here's hoping it's picked up elsewhere. The returning adult Bonaparte's Gull was again at Castletown, Highland, on 29th, while the Wexford bird was again near Hook Head on 30th. An apparent juvenile American Herring Gull was seen at Whittlesey, Cambs, on 2nd – a county first if accepted – and another good candidate was at Hamister, Whalsay, Shetland, from 29th. The third-winter was still near St Just, Cornwall, on 28th.

Franklin's Gull, Fen Drayton Lakes RSPB, Cambridgeshire (Photo: Mark Hawkes)
At least 22 Ring-billed Gulls included a new second-winter at Porthcawl, Glamorgan, on 31st and, in Ireland, first-winters at Ballyhealy, Co Wexford, and near Kilkee, Co Clare, and a second-winter in the latter county at Seafield. Regular British birds included the first-winter in Cornwall and adults in Hampshire, Pembrokeshire and Clyde. Both Iceland and Glaucous Gull numbers remained fairly steady, perhaps exhibiting a very slight drop on previous weeks. Of the handful of Kumlien's Gulls noted, it appears that the fourth-winter at Barmston, E Yorks, was the most popular.

Kumlien's Gull, Barmston, East Yorkshire (Photo: Martin Standley)

Glaucous Gull, Barry, Glamorgan (Photo: Jeff Slocombe)
The White-billed Diver was still off South Ronaldsay, Orkney, on 31st. After last week's drake off Ballyconnell, two further King Eiders – both immatures – were found in Co Sligo on 30th, favouring the sheltered waters of Ballysadare Bay. A description of what sounded like a drake at Skern, Northam Burrows, Devon, on 30th was received, but it was not seen subsequently. Elsewhere the female continued off Ruddon's Point, Fife. Drake Surf Scoters remained in situ off Filey, N Yorks, and Easting, Unst, Shetland.
A drake American Wigeon was showing well at Scalby Mills, N Yorks, from 30th, and others were found at South Kessock, Highland, on 31st and Steart WWT, Somerset, from 27th – the latter sharing its location with a drake Green-winged Teal. Another American Wigeon was still at Tacumshin, Co Wexford, while a further nine Green-winged Teal included a drake bearing a white nasal saddle at Blythburgh, Suffolk, from 1st – this individual was ringed as a juvenile male on 21 January 2015 at São Jacinto, Portugal, where it spent the rest of that winter, and the Suffolk sighting is the first since then. Many of our readers will remember this drake Lesser Scaup that was tagged by the same scheme and later seen in Powys and West Yorkshire.

American Wigeon, Scalby Mills, North Yorkshire (Photo: Steve Race)

Green-winged Teal, Blythburgh, Suffolk (Photo: Barry Yates)

Green-winged Teal, Seaton Marshes, Devon (Photo: Dave Helliar)
Back to this week and it was the job of two very familiar Lesser Scaup to fly the flag for their species: the Glamorgan bird, still present at Cosmeston Lakes on 30th, was first reported here back in December 2008; in Cornwall, the drake at Dozmary Pool has now been present for a minimum of five winters. Five Ring-necked Ducks including the female in Staffordshire relocating to Tittesworth Reservoir. A female Ferruginous Duck was a nice find on Holkham Park Lake, Norfolk, on 1st, while drakes remained in Hampshire and Durham.
Both Richardson's Cackling Goose and Todd's Canada Goose were with Barnacle Geese at Raghly, Co Sligo, on 31st. A blue-morph Snow Goose was among Pink-feet at Stranraer, Dumfries & Galloway, on 31st, and the white morph was still with Barnacles at Skinburness, Cumbria, on 31st. Essex is often the place for Black Brants, and four at Hamford Water on 30th was evidence of this; others were reported in Jersey and Devon as well as at two further Essex sites.
Glossy Ibis were reported from eight sites this week. Most were long-stayers and included the two still near Murreagh, Co Kerry, but new birds were at near Boston, Lincs, on 28th and at New Bridge, Devon, on 31st. Cattle Egrets were at two sites in Somerset as well as Jersey, Devon, Suffolk and Counties Wexford and Limerick. Great White Egrets were reported from 25 sites across Britain and Ireland.

Cattle Egret, Iken, Suffolk (Photo: Chris Mayne)
The white-morph Gyr Falcon was still terrorising wildfowl at Bornish, S Uist, on 31st. The Pallid Harrier continued to frequent the Flitcham area of Norfolk, and was found arriving to roost at nearby Roydon Common nightly from 30th. Rough-legged Buzzards were reported from just three sites: long-stayers remained around Choseley, Norfolk, and Holland Haven, Essex, and a new bird was at Howick, Northumberland, on 28th. A Snowy Owl was by the N67 near Kinvarra, Co Galway, on 26th.

Pallid Harrier, Flitcham, Norfolk (Photo: Ian Curran)
The Lesser Yellowlegs was still at Breydon Water, Norfolk, on 30th but the only Long-billed Dowitcher seen this week was the continuing bird at Cresswell Pond, Northumberland. A Grey Phalarope was in Bray harbour, Co Wicklow, on 28th and another at Gwithian, Cornwall, on 2nd, but seawatching was otherwise fairly quiet, with just Little Gulls seen in any reasonable numbers. The Forster's Tern was again reported from Doorus, Co Galway, on 2nd.
The Hoopoe battled on at Wall Heath, Staffs, and Shore Larks remained in Norfolk, Cleveland and Kent. The trio of Richard's Pipits was still at Flamborough Head, E Yorks, on 30th. A Swallow flew over Stoke-by-Nayland, Suffolk, on 29th and a House Martin lingered at Tenby, Pembrokeshire, from 29–1st, with others in Cornwall and Counties Dublin and Limerick.

Hoopoe, Hinksford, Staffordshire (Photo: Jamie MacArthur)
The Dusky Warbler was still at Ham Wall, Somerset, on 28th, while three Yellow-browed Warblers were reported – two in Cornwall (Ponsanooth and Lizard) and the long-staying Hampshire bird, which was still at Eastleigh on Tuesday.
The Rose-coloured Starling continued at Lizard village, Cornwall, to 31st. The putative Coues's Arctic Redpoll continued at Birling Carrs, Northumberland, and the European Serin was still at Downham Market, Norfolk. The two male Penduline Tits were reported regularly near Gloucester, while three were again at Titchfield Haven, Hants, on 2nd.

Coues's Arctic Redpoll (right), Birling Carrs, Northumberland (Photo: Jaz)

Penduline Tit, Gloucester, Gloucestershire (Photo: Jeff Slocombe)
Western Palearctic news
Just the sixth or seventh White-winged Snowfinch for Portugal was remarkably found at sea level near Aljezur, on the Atlantic coast of the Algarve, on 31st and was still present on 2nd. The amazing record illustrates that such supposedly short-distance, altitudinal migrants are still prone to exceptional wanderings and perhaps, just perhaps, this is a species that might one day end up in Britain.

White-winged Snowfinch, Portugal (Photo: Nigel Genn)
The Siberian Rubythroat continued to show extremely well at Hoogwoud, Netherlands, throughout the week, and the Pine Bunting also hung around at Wilhelminadorp. A possible drake Redhead (or hybrid), first seen in mid-January, was seen again near Noordhorn, Groningen, on 2nd.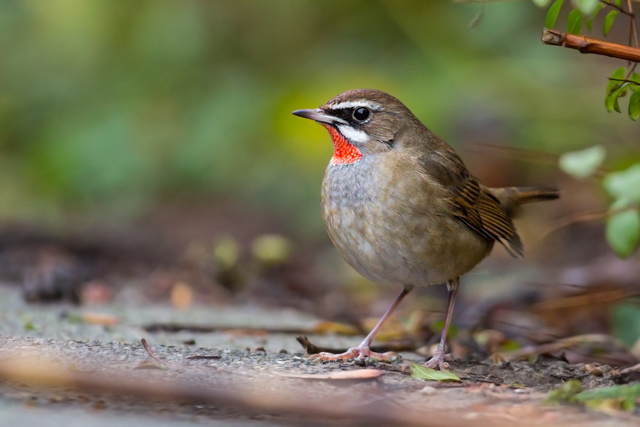 Siberian Rubythroat, Netherlands (Photo: Andy Butler)
Other records included the continuing Bateleur still near Gal'on, Israel, on 28th and a female Steller's Eider on the Baltic coast of Poland, as well as the Black-throated Thrush still in Copenhagen and two Azure Tits still in Finland. A new Great Blue Heron was on Flores, Azores, on 28th, and both Double-crested Cormorant and Wood Duck also remained around the archipelago.