The week at a glance
Another solid week was headlined by an immature Red-billed Tropicbird that flew past Porthgwarra, Cornwall, early on 28th — for the full story of this truly momentous sighting, we recommend you read Martin Birch's fabulously evocative finder's account which captures the event superbly.
Seawatching again proved a worthwhile pastime this week, with Porthgwarra consistently producing respectable numbers of both Cory's and Great Shearwaters, particularly the former. A total of 57 Cory's were logged on 26th, 36 on 27th and a solid 70 on 29th, with 53 also past Kynance Cove on 26th. In terms of numbers Cornwall was typically upstaged by Co Cork, Galley Head logging 383 Cory's and 326 Greats on 26th.
A Barolo Shearwater was reported past Pendeen, Cornwall, during the morning of 31st and another was then seen past Strumble Head, Pembrokeshire, in the late afternoon of the same day. Two Wilson's Storm-petrels were noted from a pelagic off Baltimore, Co Cork, on 29th, with one from a Scilly pelagic on 27th and a possible from the Scillonian III off Porthgwarra on 28th.
Content continues after advertisements

Wilson's Storm-petrel, Scilly pelagic, Isles of Scilly (Photo: Joe Pender)
The presence of a dark falcon off Portland Bill, Dorset, all too briefly on 28th proved a point of frustration for the observers, who were convinced the bird in question was a dark-morph Eleonora's Falcon. Unfortunately, rather than drift inshore it instead decided to power off south-east towards France.
The drake Lesser Scaup was last seen at Blagdon Lake, Somerset, on 26th, moving to Chew Valley Lake on 30th. Chew also boasted a female Ferruginous Duck from 28th, while a drake Surf Scoter remained at Lunan Bay, Angus, to 26th.
The long-staying Night Heron was still being seen sporadically at Swillington Ings, W Yorks, to 1st, and another flew over Arundel, W Sussex, on 27th. A juvenile Purple Heron at Ham Wall, Somerset, from 28–30th raises the question as to whether the species bred in the area, but of course at this time of year it could easily be a migrant from the Continent.
The first substantial number of Cattle Egrets to be seen in the UK for a number of years arrived in Dorset on 30th, when a flock discovered at Coward's Marsh late in the morning was eventually found to contain a British record of 22 individuals. They were last seen flying upriver that evening, but only two returned to Coward's the following day; two were also seen over Normandy Marsh, Hants, on 31st and two overflew Stanpit Marsh, Dorset, on 1st. For anyone living in the vicinity of a south-coast river valley, now may be the time to explore — you could be in for a surprise! Apart from the ever-present flocks on the Somerset Levels, notable Great White Egret reports included five at Leighton Moss, Lancs, on 27th and threes at Burton Marsh, Cheshire, on 31st and Dungeness, Kent, on 1st.

Cattle Egrets, Coward's Marsh, Dorset (Photo: Chris Dresh)
The French-ringed juvenile Black Stork continues to drift around the Humber Estuary, spending much of its time attending a manure heap in the Stone Creek area of East Yorkshire. Elsewhere a bird that flew over Landguard, Suffolk, on 28th was later seen near Clacton-on-Sea, Essex. In East Sussex the juvenile was again over Crowhurst on 29th and Cooden on 30th and 1st. A bird over Cleethorpes, Lincs, on 1st may well have been the Sunk Island juvenile. The first new Glossy Ibis for some time was present at Allasdale, Barra, on 30–31st.

Black Stork, Stone Creek, East Yorkshire (Photo: Jill Wilson)
In Shetland last week's juvenile Pallid Harrier was remarkably joined by a second bird near Hillwell on 30th, with at least one again at Loch of Spiggie the following day. This appears to be the first multi-occurrence at a single site — even in the massive influx of 2011 such a feat was not achieved.

Pallid Harrier, Hillwell, Mainland, Shetland (Photo: Hugh Harrop)

Pallid Harrier, Loch of Hillwell, Mainland, Shetland (Photo: Roger Riddington)
Lincolnshire's delightful Red-footed Falcon continued to put on a fine show at Willow Tree Fen throughout the week, while the elusive juvenile in East Yorkshire was seen flying south at Easington on 27th and then in a hedge at Kilnsea on 29th. There were, however, no others found after last week's mini-arrival, but a probable Black Kite drifted over Longside, Aberdeenshire, on 27th.
The Blacktoft Sands Spotted Crake was last reported on 28th but Devon claimed two new birds this week: one at Seaton Marshes and another at Bowling Green Marsh, both on 31st.
An unidentified 'lesser' golden plover flew north past Spurn's seawatching hut on 31st but was not seen again. The appearance of a Kentish Plover on the Brownsea Island wildlife webcam was a pleasant surprise on 1st. An unidentified dowitcher flew north past Fraisthorpe, E Yorks, on 31st and another was reported near St Martin's, Scilly, for its second day on 27th. The adult Spotted Sandpiper was last seen at Coate Water Country Park, Wilts, on 27th, while the Lesser Yellowlegs at Conder Green, Lancs, disappeared after 26th.
A pristine juvenile Broad-billed Sandpiper was a brilliant find at Scorton Gravel Pits, N Yorks, on 26th but failed to linger for more than a few minutes. A Pectoral Sandpiper was seen briefly at Beddington Farmlands, London, on 29th, with others found at Hickling Broad, Norfolk, on 30th, Tresco, Scilly, on 31st and Bishop Middleham, Durham, on 1st. Others lingered at Holywell Pond, Northumberland, to 26th and Tacumshin, Co Wexford, to 31st, and another was again at Braebuster, Orkney, on 29th. The three Temminck's Stints at Monks House, Northumberland, had reduced to two by 28th. A new bird was at Minsmere, Suffolk, on 26th and others were still in Lincolnshire and Kent. A Red-necked Phalarope touched down at Frampton Marsh, Lincs, on 30th only.

Broad-billed Sandpiper, Scorton, North Yorkshire (Photo: Steve Clifton)
An adult Ring-billed Gull was at Lurgan Green, Co Louth, on 26th, and further new individuals included a second-winter in Padstow harbour, Cornwall, on 27th, one (unaged) at Connah's Quay, Clwyd, on 29th and an adult on the Bann Estuary, Co Londonderry, on 29–30th. Elsewhere, the adult returned to Dingwall, Highland, on 27th for at least its 13th winter and the second-calendar-year bird remained at Preston dock in Lancashire. An adult Baltic Gull was reported at Cley, Norfolk, on 27th with a possible juvenile there the following day, and a possible adult was at Goole, E Yorks, on 31st. The adult Forster's Tern was still at Soldier's Point, Co Louth, on 26th. The previous week's White-winged Black Tern was last seen at Hornsea Mere, E Yorks, on 27th but a juvenile at Dungeness, Kent, on 27th was joined by a second from 31st. Further juveniles were at Abberton Resevoir, Essex, on 30th and past Cliffe, Kent, and at Willington Gravel Pits, Derbys, on 31st.

Forster's Tern, Soldier's Point, Louth (Photo: Gerry O Neill)

White-winged Black Tern, Dungeness RSPB, Kent (Photo: Brian Anderson)
At least two adult European Bee-eaters continued to attend the nest near Brampton, Cumbria — the young must be ready to fledge imminently. Elsewhere an impressive seven turned up at Veensgarth, Shetland, on 26th, with at least four there on 28th. One was briefly at St Fergus, Aberdeenshire, on 27th and was also presumably responsible for fly-over reports at Loch of Strathbeg and Collieston on 29th. One flew over the RSPB's Conwy reserve on 28th, another was over Hengistbury Head, Dorset, on 29th and two more were seen in the county over Harman's Cross on 29th. A Eurasian Hoopoe in a garden at Ardvasar, Skye, from 26–29th was a good record, while another gave birders the run-around in the Sandwich Bay area of Kent throughout the week. Further records came from Cornwall, Dorset and Co Wicklow.

European Bee-eater, Veensgarth, Mainland, Shetland (Photo: Hugh Harrop)

Hoopoe, Sandwich Bay, Kent (Photo: Steve Ashton)
A fine week for Wryneck sightings saw birds reported from at least 70 sites nationwide, including many co-operative inland individuals that left local birders very satisfied. There were no spectacular single-site counts this week, though, with peaks of two at Gibraltar Point, Lincs, and on Fair Isle (though one of the latter died).

Wryneck, Thorpeness, Suffolk (Photo: Nick Brown)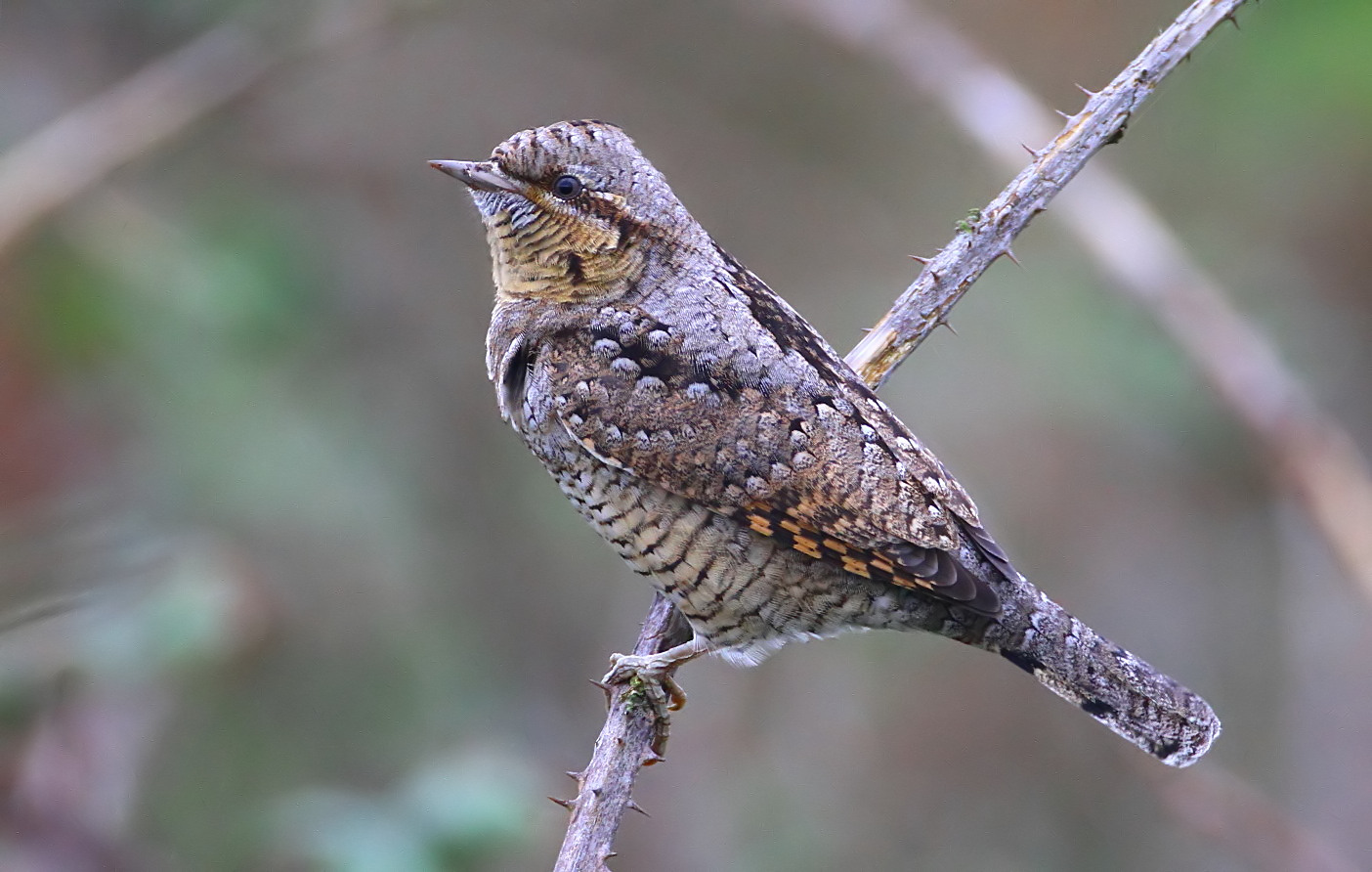 Wryneck, Hook-with-Warsash LNR, Hampshire (Photo: Lee Fuller)
A Red-rumped Swallow was a brief visitor to Dungeness, Kent, on 30th. It's the season for Citrine Wagtails and last week's bird at Quendale, Shetland, still there on 26th, was followed by arrivals at Tacumshin on 29th, North Ronaldsay, Orkney, and Seaton Marshes, Devon, on 30th, and Fair Isle on 1st. A Grey-headed Wagtail touched down briefly at Cley, Norfolk, on 27th.

Citrine Wagtail, Quendale, Mainland, Shetland (Photo: Roger Riddington)
Following a bird trapped and ringed at Lytchett Bay, Dorset, on 29th, a Bluethroat was discovered at Winterton Dunes, Norfolk, on 30th and lingered there until the following day, when a second individual was reported nearby.

Bluethroat, Winterton Dunes NNR, Norfolk (Photo: Neil Hughes)
A Paddyfield Warbler present for its second day in the churchyard at Collieston, Aberdeenshire, on 29th was one of the more significant discoveries of the week, but it was not seen subsequently. A subalpine warbler at Flamborough Head, E Yorks, on 1st appeared to be a probable Eastern but the identification was not clinched.

Subalpine Warbler, Flamborough Head, East Yorkshire (Photo: Tony Dixon)
What appears to be last week's Western Bonelli's Warbler was trapped and ringed at Portland Bird Observatory, Dorset, on 26th but wasn't seen again. A remarkable inland record concerned a Bonelli's warbler species near Billinge, Lancs, in the late morning on 31st but not again; another Bonelli's photographed at East Soar, Devon, on 27th also evaded specific identification. Just the one Arctic Warbler was noted: at Scousburgh, Shetland, on 28th. Similarly, just one Greenish Warbler was confirmed (on North Ronaldsay on 28th) this week, though there was a report of a brief bird near Tabb's Head, Lincs, on 30th.

Bonelli's Warbler sp., Billinge, Lancashire (Photo: Damian Pendlebury)

Greenish Warbler, North Ronaldsay, Orkney (Photo: Sam Northwood)
In Jersey a Zitting Cisticola flew over St Ouen's Pond, calling as it did so, early on 30th but wasn't reported again. The Melodious Warbler continued at Norwick, Unst, to 27th, with further reports from Beachy Head, E Sussex, on 25th and Portland, Dorset, on 29–30th. Marsh Warblers included an individual on the Farne Islands, Northumberland, on 28th (which unfortunately died) and reports from Snettisham, Norfolk, on 28th and St Mary's, Scilly, on 30th.
There was a report of a brief Lesser Grey Shrike at Cromer, Norfolk, on 28th, while a juvenile Woodchat Shrike was a surprise find inland at Blakehill Farm, Wilts, on 28–29th, with another youngster at the more typical location of Kynance Cove, Cornwall, on 30th.

Woodchat Shrike, Blakehill Farm NR, Wiltshire (Photo: Neil Cowley)
An adult Rose-coloured Starling was again seen attending feeders at Gairloch, Highland, on 28th and a smart juvenile was discovered at Portland, Dorset, on 30–31st. Another was in a private garden at Mullion, Cornwall, for its fourth day on 30th, while the juvenile near St Levan on 1st could easily have been last week's Porthgwarra bird.

Rose-coloured Starling, Gairloch, Highland (Photo: Sam Northwood)

Rose-coloured Starling, Portland, Dorset (Photo: Tony Hovell)
Scarce migrants included around 25 Icterine Warblers (with peaks of five on Fair Isle and three on North Ronaldsay, both on 26th), 40 Red-backed Shrikes (including at least three on Fair Isle and several confiding mainland birds), and up to 20 Barred Warblers (the peak counts of three coming from both Fair Isle and North Ronaldsay).

Icterine Warbler, Kilnsea, East Yorkshire (Photo: Martin Standley)

Red-backed Shrike, Sunderland Point, Lancashire (Photo: Dan Haywood.)

Barred Warbler, Lowestoft, Suffolk (Photo: Chris Darby)
The only Common Rosefinch was a bird on Fair Isle on 31–1st. An Ortolan Bunting proved elusive at Spurn on 27th, with another brief bird at Cogden Beach, Dorset, on 30th and a further individual flying over on Jersey on 29th.
Western Palearctic news
Proceedings remained fairly quiet around the region, although a Pacific Swift was seen over Helsingborg, Sweden, on 29th and the first Audouin's Gull for Georgia was seen at Chorokhi Delta on 28th. Nearby at Batumi, a male Oriental Honey Buzzard flew south the same day.
In the Azores a Swinhoe's Storm-petrel was seen at the Bank of Fortune off Graciosa on 27th — the fifth sighting here in four years and further hint that a population might exist somewhere in the archipelago. The presence of a juvenile Sooty Tern off Ilheu da Praia would appear to confirm that the only pair of this species to breed in the region has been successful again this season. Elsewhere on the archipelago the promising early season for Nearctic waders continued with a Solitary Sandpiper at Fajã de Cima, São Miguel, on 26–27th.

Sooty Tern, Azores (Photo: Richard Bonser)