The week at a glance
Heavy snow in the Highlands, torrential rain across parts of the south of England, northeast coasts battered by a day or two of cold, icy blasts — it seemed as though the endless winter showed no sign of any let-up this week, keen not to relinquish her grasp. That said, the post-weekend sunshine and blue skies (and a subtle rise in temperatures) hinted that, as March waltzed in, the first tentative glimpses of spring were to be had.
But before any new season marches in (try telling that to the Sand Martin, Little Ringed Plovers and Garganey that arrived in the past seven days), there were still a number of winter stars to deal with, and none more so than yet another high-class rarity in Ireland. The Irish Republic has dominated the best birds of 2010 so far: the American Eider, the Baikal Teal (who'd ever imagine a hybrid and a pure bird at the same place within days of each other!), the presumed Thayer's Gull and now, the first Pied-billed Grebe anywhere since one in Wexford in 2003. (Britain scored most recently in 2002 and 2001.)

Pied-billed Grebe, Lough Gur, Limerick (Photo: Sean Cronin)
The 2010 bird was identified at Lough Gur (Co. Limerick) on 25th but had first been noted, but not confirmed, six days earlier. Often distant and elusive, the bird was seen until the end of the week, and a few decent images were captured for posterity too. Limerick becomes the fifth Irish county to register the species, joining the aforementioned Wexford (three records there), Donegal (one), Clare (one) and Cork (two). With extra eyes on the Limerick lough, it was perhaps no surprise that a couple of other birds were found by wannabe Grebe watchers: a female Ring-necked Duck and a drake Green-winged Teal were discovered there on 27th.
Up in Donegal, the aforementioned American Eider was seen again in Glassagh Bay, Fanad Head on 3rd, after several days of negative news. Low or falling tide remains the best time of day to see this Western Palearctic first. In North Yorkshire, the female Black-throated Thrush remained at Newholm near Whitby to 28th at least, and in Wales the wintering juvenile Black Kite was still at Gigrin Farm (Powys) to 2nd.

Black Kite, Gigrin Farm, Powys (Photo: Robert Askew)
Single Balearic Shearwaters were noted in Cornwall and Kent and were the only seabirds of any note this week.
The single Glossy Ibis remained at Tacumshin (Co. Wexford) to 3rd, while the three wintering youngsters in Somerset were seen at both Ham Wall and Meare Heath during the week. Two single Great White Egrets lingered in Kent (with perhaps a third dropping in at Dungeness on 2nd), and Wales also hosted two (one still in Glamorgan, with another in Gwent). Further singles were noted at Middleton Lakes (Warwickshire) on 25th and briefly at Thrybergh CP (South Yorkshire) on 27th, with lone birds loitering in Hampshire and Lancashire.
Two Cattle Egrets remained near Sennen (Cornwall) all week and another was at Sharpham Park (Somerset) to 3rd — presumably the same bird seen nearby at New Year. One remained at Cuskinny Marsh (Co. Cork) to 28th, and two also appeared in Kent, at Woolmer, on 2nd. Eight Spoonbills were seen on Poole Harbour during the week, six remained around the marshes of north Devon and five were on the River Lynher (Cornwall). Two Spoonbills were still at Parkgate Marsh (Cheshire) and further singles were noted in Dorset, Suffolk and County Kerry.
In Norfolk, a couple of Common Cranes were drifting around the county on 25th (reaching Sheringham on the north coast). The same day saw single birds noted in Bedfordshire (at Stotfold) and Cork (at Kilcolman NR), the former popping up at two more sites in the county to 27th. Two Cranes were seen at Swineshead (Lincolnshire) on 28th and Beccles and Benacre (Suffolk) on 1st–2nd — having been seen in south Norfolk earlier — and further twos were noted in Buckinghamshire and Cambridgeshire on 3rd. Singles were in Somerset, Gloucestershire, Derbyshire, East Yorkshire, Conwy and Cumbria.
The two blue and single white Snow Geese were still at Dingwall (Highland) to 27th and the regular wintering white bird was near Craobh Haven (Argyll) to 1st. In Norfolk, the Snow Goose seemed to be settled at Holme until the spring-like morning of 3rd when it flew west with (surprisingly) Dark-bellied Brent Geese. Later in the day though it was back with its more familiar host species, some 110 Pink-footed Geese, near Burnham Norton (assuming it was the same bird of course!). In Lancashire, the familiar foursome lingered at Leighton Moss to 1st.

Snow Goose, Leighton Moss RSPB, Lancashire (Photo: Derek Mackie)
A Richardson's Canada Goose was still out on Tiree, at Balephetrish, on 1st and the Red-breasted Goose was still finding Devon's Exe Estuary to its liking, to 28th at least. The hybrid Red-breasted Goose × Brent Goose was still in Kent, at Leysdown, to 1st. The latter site also hosted one of the week's half-dozen Black Brants, with a couple of birds in Dorset and singles in Norfolk, East Yorkshire and Wexford.
In Mayo, the drake Black Duck was still on Sruhill Lough, Achill Island, to 1st, and in Cornwall the drake Black Duck and drake Lesser Scaup were still around the Colliford Lake area to the same date. Further drake Lesser Scaup remained in Glamorgan (still moving between two sites there) and at Hogganfield Loch (Clyde), while females remained at Eglwys Nunydd Reservoir (also in Glamorgan) and two were still at La Grande Mare (Guernsey) to 26th at least.

Lesser Scaup, Hogganfield Loch, Clyde (Photo: Willie McBay)
In Dumfries & Galloway the drake American Wigeon was at Caerlaverock all week, while the female Blue-winged Teal remained around Bull Island (Co. Dublin) to 27th. The week's tally of Green-winged Teal reached nine (four in England, four in Ireland and one in Scotland). Most were birds from recent weeks (either still present or reappearing) but singles at Druridge Bay (Northumberland) from 26th and Cahore (Co. Wexford) on 27th were new.

American Wigeon, Caerlaverock WWT, Dumfries & Galloway (Photo: Brian Henderson)

Green-winged Teal, Druridge Pools, Northumberland (Photo: Andrew Kinghorn)
Talking of new, a drake Ring-necked Duck was a fresh arrival for Drumgay Lough (Co. Fermanagh) on 27th as were the drakes at Roadford Reservoir (Devon) on 1st and Lough Inchiquin (Co. Clare) on 2nd. Also new was the female at Bosherston Lily Ponds (Pembrokeshire) on 28th (although she had actually first been noted on 24th). Elsewhere it was the same old story: drakes were still at Cowpen Bewley (Cleveland), Pugney's CP (West Yorkshire), Marton Mere (Lancashire) and Foxcote Reservoir (Buckinghamshire) while females were still in Gloucestershire, Carmarthenshire and on North Ronaldsay.
Content continues after advertisements

Ring-necked Duck, Cowpen Bewley, Cleveland (Photo: Chris Barlow)
The only Surf Scoter of the week was the female still off Dawlish Warren (Devon), while the two drake King Eiders (the first- and second-winters) remained on the sea off Burghead (Moray) to 28th, with the older bird still there on 1st. The Cleveland Hooded Merganser remained at Saltholme Pools to 1st.
In Norfolk, two Rough-legged Buzzards were still around the Thorpe and Chedgrave marshes to 3rd and another was reported in the north of the county, at Gunthorpe, on 25th. Another Rough-leg was seen at Sandwich Bay (Kent), also on 3rd.
An American Golden Plover spent five minutes in fields at Cranwell (Lincolnshire) on 1st, reappearing at Brant Broughton on 2nd — this was the only shorebird of note this week.
On Anglesey, the adult Bonaparte's Gull was seen again in Lligwy Bay on 1st–2nd (having last been reported there on 30th January). Further American visitors included at least 20 Ring-billed Gulls, 13 or more of them in Ireland, with almost half of those still in Cork. In England notable adults were still at Mirfield (West Yorkshire) from 25th–2nd, at Torpoint (Cornwall) on the publicly inaccessible tip at Pitsea (Essex) "recently", and at Weir Wood Reservoir (East Sussex) on 27th. In Scotland, a "new" adult was at Dunbeg (Argyll) on 3rd.

Ring-billed Gull, Mirfield, West Yorkshire (Photo: Darren Ward)
The dismal winter for white-winged gulls continues, with 17 Iceland Gulls and eight Glaucous Gulls reported this week (two of the "Glaucs" were on Guernsey).

Iceland Gull, Newlyn, Cornwall (Photo: Tony Mills)

Glaucous Gull, Sheringham, Norfolk (Photo: Kevin Du Rose)
Faring slightly better was Caspian Gull: at least 17 were reported over the past week, including five in Kent on 25th, three at Pegwell Bay and two at Dartford (four of them first-winters). Three or more were seen around London in the week, Dix Pit (Oxfordshire) scored two on 1st, and Blackborough End tip (Norfolk) scored two separate birds in the week. At Pitsea tip, at least 11 cachinnans have been seen recently (presumably over a spell of weeks rather than days — at least 17 different individual were noted there in the weeks leading up to Christmas and the New Year).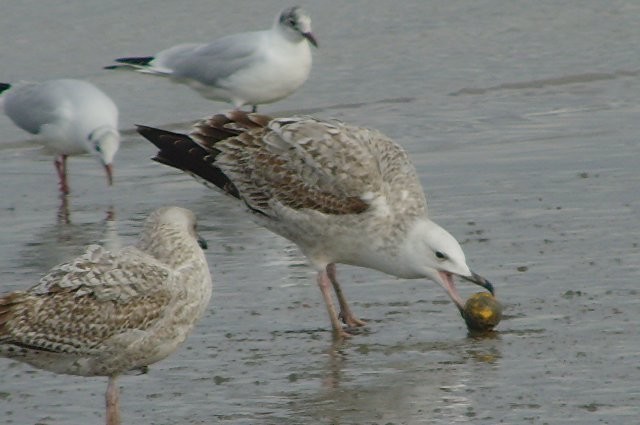 Caspian Gull, Cross Ness, Greater London (Photo: Richard Bonser)
In County Galway, the adult Forster's Tern was still off Mutton Island to 27th at least.
Waxwing numbers were still (relatively) low but they did manage to crack three figures again: around 150 birds were reported countrywide this week. The largest flock noted was 22 in Byker, Newcastle-upon-Tyne (Northumberland) on 27th. The same date saw 20 fly over Auchendinny (Lothian), and 15 were in Ipswich (Suffolk).

Waxwing, West Runton, Norfolk (Photo: Glyn Herrieven)
There were still at least eight Great Grey Shrikes on offer this week, including three still in Wales, at Clocaenog Forest (Clwyd), Usk Reservoir (Powys) and the Welsh Wildlife Centre (Pembrokeshire). In Herefordshire one was present at Bircher Common on 1st, with another in Somerset, at Blackwater, the same day. Elsewhere, singles were in the New Forest (Hampshire), at Grindleton Fell (Lancashire) and Welbourn (Lincolnshire).

Great Grey Shrike, Welbourn, Lincolnshire (Photo: Russell Hayes)
A Pallas's Warbler was reported from a churchyard in Braintree (Essex) on 1st but follow-up searches produced nothing. Late news from last week was of two Serins still at Rainham Marshes (London) on 24th. In Cumbria, the first-winter Rose-coloured Starling was still in Kendal to 1st and the two wintering Little Buntings at Dunnet Bay (Highland) and Sconner (Cornwall) were both present throughout the week. A third bird was a belated report from Lundy Island (Devon) on 24th (when it had been present for three days).

Little Bunting, Sconner, Cornwall (Photo: Phil Stidwill)
Photo of the Week 25th February-3rd March

Short-eared Owl, undisclosed site, Leicestershire and Rutland (Photo: Graham Munton)
Short-eared Owls are such stunning birds that images of them are always popular, especially where a sharp, well-posed bird is featured within a simple composition. To stand out from the masses, though, requires something extra. In this case, Graham Munton has made use of golden, low-altitude sunlight to accomplish this. Bird photographers often talk about making their subject 'pop', meaning to leap off the page at the viewer. One of the best techniques for achieving this is to ensure there is a contrast between the subject and background in terms of tones (brightness values) or hues (colour values) or both. In Graham's image, the main contrast comes from the tonal separation, with an aesthetic boost provided by the warm hues (the image would lose a lot of its appeal if it had a bright background and an overall blue cast). For most images, in addition to subject-background contrast, it's also important to ensure there is good whole-image contrast, so that the bright areas are truly bright and the dark areas are truly dark, without going to the extreme of 'blown highlights' and 'blocked shadows'. Graham uses this to good effect here to create a truly punchy image.

Barn Owl, undisclosed site, Lancashire (Photo: Tom Charles)

Jay, North Wirral, Cheshire (Photo: Richard Steel)

Eider, Fife Ness, Fife (Photo: John Anderson)

Sparrowhawk, Marshside RSPB, Lancashire (Photo: Tom Charles)

Common Redshank, Newtownards, Down (Photo: Ian Dickey)

White-tailed Eagle, Hungary (Photo: Peter Szoke)

Chaffinch, East Linton, Lothian (Photo: James Wood)

Grey Heron, Les Grand Pre, Guernsey (Photo: Steve Levrier)

Spoonbill, Parkgate Marsh/Gayton Sands RSPB, Cheshire (Photo: Steve Round)

Great Spotted Woodpecker, undisclosed site, Derbyshire (Photo: Robert Askew)

Snow Bunting, Salthouse, Norfolk (Photo: Peter Beesley)

Ruff, Cleethorpes, Lincolnshire (Photo: Dean Eades)

Pharaoh Eagle Owl, Qatar (Photo: Jamie Buchan)

Japanese White-eye, Japan (Photo: Peter Edge)
Photo of the Week 18th-24th February

Bittern, Potteric Carr YWT, South Yorkshire (Photo: Rob Mokryj)
To many birders, there is a particular appeal to seeing birds that play hard to get, such as camouflaged birds that skulk within vegetation. Most such birds are, however, somewhat 'Little Brown Job'-ish. Bitterns are certainly an exception to this, and the sight of one emerging from a reedbed never ceases to raise the pulse. Close, unimpeded views of these birds tend only to be had in freezing weather, so the recent cold snap in the UK has been a great opportunity for birders and photographers alike. Rob Mokryj's superb close-up of a Bittern with a fish (Tench) clasped in its bill shows what can be achieved when everything comes together: perfectly-posed subjects with great eye contact in a natural setting. With excellent timing and execution, Rob has bagged a stunning image.

Snow Bunting, Kinmel Bay, Conwy (Photo: Steve Round)

Dartford Warbler, Westleton Heath, Suffolk (Photo: Jon Evans)

Bullfinch, Chasewater, Staffordshire (Photo: Mike Lane)

White Wagtail, Qatar (Photo: John A Thompson)

Golden Plover, Balcomie, Fife (Photo: John Anderson)

Barn Owl, undisclosed site, Norfolk (Photo: John Betts)

Peregrine Falcon, undisclosed site, Powys (Photo: Mike Warburton)

Black-winged Stilt, India (Photo: Mital Patel)

Grey Heron, Les Grand Pre, Guernsey (Photo: Paul Hillion)

Red Kite, Gigrin Farm, Powys (Photo: Colin Crowdey)

Common Buzzard, Echt, Aberdeenshire (Photo: Alan Sinclair)

Hoopoe, Qatar (Photo: Dileep Kumar)

Red-legged Partridge, Nocton Fen, Lincolnshire (Photo: Matt Latham)

Teal, Salthouse, Norfolk (Photo: Kevin Du Rose)

Waxwing, Ashington, Northumberland (Photo: Jack Bucknall (aged 14))

Purple Sandpiper, Grandes Rocques, Guernsey (Photo: Chris Bale)

Pochard, North Cave Wetlands, East Yorkshire (Photo: Harry Bursell)

Brent Goose, Brancaster Staithe, Norfolk (Photo: Steve Seal)

Blue Tit, undisclosed site, North Yorkshire (Photo: Andrew Holmes)

Wallcreeper, France (Photo: Graham Catley)