The week at a glance
Last week: sunny, almost warm, birds aplenty. This week: grey, damp, snow even, but at least birds remained plentiful. All those good-weather vibes of mid-March have given way to late falls of snow which left Scotland and the north of Ireland under significant shrouds of cold, white misery, while rain and chilly winds from the north raced across much of the rest of the country. It all felt as though spring had beaten a hasty retreat, as winter tried one more roll of the dice. Luckily, top billing went to a bird that, harking back to last week's review, not just gave a hefty tap to winter's barriers but, to paraphrase Michael Caine, "blew the bleedin' doors off".
Bird of the year so far (OK it's only late March, but there'll be few better birds this spring and perhaps few better all year) was the splendid adult male Lesser Kestrel found near Minsmere RSPB reserve (Suffolk) on the afternoon of 28th. Seen initially for 40 minutes or so on fenceposts along the approach road to the reserve, the bird then moved to Westleton Heath. There it continued to show to the crowds for the rest of the day and on to 31st (where it was often quite distant). There have been just seven other records of the species during birding's modern era (that's going back to 1968 and one of those was dead); the young male on St. Mary's (Scilly) in May 2002 was, until now, the only twitchable bird, hence the popularity of this week's bird.

Lesser Kestrel, Minsmere RSPB, Suffolk (Photo: Nick Appleton)
Prior to the records from 1968 to 2010 (single birds in Cornwall in 1968, Essex/London in 1974, West Yorkshire in 1979, Shetland in 1987, Kent — the dead one — in 1989, Greater London in 1992 and the aforementioned Scilly bird) you have to go back to a bird shot on Scilly in February 1926 for the next Lesser Kestrel sighting (the earliest ever) with the next earliest appearing, also on Scilly, in March 1891.
With all this excitement it was easy to forget that Kent hosted another photographed Fan-tailed Warbler this week, one spending some early-morning minutes at St. Margaret's-at-Cliffe on 28th before heading off southwest. This now becomes the first British site to have recorded this still incredibly rare vagrant on more than one occasion: one was photographed at the same site in August 2002. Kent has recorded the species four times since 2006, so maybe those long-standing predictions of colonisation are coming closer to being realised. In Wales, a convincing description of a Great Spotted Cuckoo came from a single observer at Kenfig (Glamorgan) on 25th: March records are certainly not uncommon where this delightful species is concerned.
Those two birds and the Lesser Kestrel aside, it was still winter's megas that made the rest of the headlines. In Cornwall the young Pallid Harrier was seen again, this time again near Zennor, on 27th. This individual has been ultra-tricky to pin down; it was last seen on March 10th (again at Zennor) and before that it hadn't been seen since the end of January.
Easier to see was the drake Bufflehead, still present on The Fleet (Dorset) until 28th. In County Clare the Pacific Diver was still off Finvarra Point to 28th (when one was also still on Guernsey, in Perelle Bay). The Pied-billed Grebe at Lough Atedaun lingered to 30th at least, and in Limerick the Pied-billed Grebe at Lough Gur was seen again on 31st, having last been reported on 9th March.
Back in Suffolk, an interesting drake Aythya was the cause of some discussion at the start of the week. Strongly resembling a Canvasback, the bird at Cavenham Heath NNR was, by 26th, dismissed as a Canvasback × Pochard hybrid. Aside from a pale smear near the nail, it's hard to see many other hybrid features from photos. Maybe the head and bill weren't quite right? But that's from photos and not in-the-field study! The accepted Norfolk Canvasback showed a similar (if less extensive) pale bill blob and the Dutch have gone very cold on the species full stop — and they are far more liberal than we are.
The three Glossy Ibises in Somerset were seen again at Ham Wall (Somerset) on 29th along with a Great White Egret. New Great White Egrets were at Dorman's Pool and Saltholme Pools (Cleveland) on 27th–28th and then Blacktoft Sands (East Yorkshire) and Alkborough Flats (Lincolnshire) on 29th–30th. All others this week were remnants from previous days and weeks, with singles still in Hampshire, Gloucestershire (the multi-ringed French bird on the move around the county), Kent and Nottinghamshire.

Great White Egret, Dorman's Pool, Cleveland (Photo: Andy Booth)
The two Cattle Egrets lingered around Sennen (Cornwall) to 28th, and in Dorset a Cattle Egret was seen at Wareham on 27th–29th. Three Spoonbills were hanging around in County Cork during the week, three were at the Walmsley Sanctuary (Cornwall) and two were still in north Devon. Elsewhere, the week's tally was some eight to ten birds, spread from Scilly to Norfolk. The latter county saw half a dozen Common Cranes appear over Burgh Castle on 27th and two were seen near Heacham on 28th. Down in Suffolk, three Cranes were over Minsmere and Aldeburgh on 27th with singles still in Cambridgeshire and Northumberland.
The Purple Heron seen last week near Narbarth (Pembrokeshire) was still present to 27th and the second of the spring made landfall on St. Mary's (Scilly) on 28th with it, or another, reappearing on 30th–31st. A White Stork was a late report from Aberdeenshire on 24th.

Purple Heron, St. Mary's, Isles of Scilly (Photo: Joe Pender)
Three Snow Geese were still at Leighton Moss (Lancashire) and one was again in Cumbria, at Grange-over-Sands on 25th. The white bird at Loch of Strathbeg (Aberdeenshire) remained to 27th.
Both the Richardson's Canada Goose and the presumed Atlantic Canada Goose remained at Ballintemple (Co. Sligo) to 28th. Black Brant records included a new bird at Slaughden (Suffolk) on 27th–28th with others remaining in Lincolnshire, East Yorkshire and Wexford.

Black Brant, South Slob, Wexford (Photo: Paul Kelly)
Female Lesser Scaup this week were still being seen at Eglyws Nunydd Reservoir (Glamorgan) and La Grande Mare (Guernsey) to 26th and 27th respectively. The young drake was at Chew Valley Lake (Somerset) to 28th, along with a drake Ferruginous Duck for much of the week. A female Ferruginous Duck was at Lakenheath Fen (Suffolk) on 28th.
Ireland continued to be a hotbed of Ring-necked Duck action this week: County Clare saw birds at Ardcloony and still at Kilkee, Cavan still hosted a drake at Derrybrick Lough, Sligo hosted a drake at Lough Arrow, Donegal's Inch Island Lake was still temporary home to a drake and further males were on Lough Neagh in Antrim on 28th and at Loughrea (Co. Galway) on 31st. In Wales, a drake Ring-necked Duck was new at Kenfig Pools on 29th and females were seen again on Llyn Pencarreg (Carmarthenshire) from 26th–28th and Cwm Rheidol Reservoir (Ceredigion) on 31st. In Shropshire a drake was at Allscott Sugar factory lagoons on 27th, while long-stayers were still in Buckinghamshire and on North Ronaldsay.

Ring-necked Duck, Kenfig NNR, Glamorgan (Photo: Richard G. Smith)
Drake American Wigeon were still finding Martin Mere (Lancashire) and Caerlaverock (Dumfries & Galloway) very much to their liking this week. Green-winged Teal totalled eight birds (six British, two Irish) with new finds at Wester Sand (Orkney) on 25th and Summer Leys (Northamptonshire) and Rubha Ardvule, South Uist (Outer Hebrides) on 27th.

Green-winged Teal, Ballyvelaghan Lough, Clare (Photo: Tom Cuffe)
Content continues after advertisements
A drake Surf Scoter was still at Loch of Tankerness (Orkney) on 25th and the female was at Dawlish Warren (Devon) all week. The second-winter drake King Eider was still in Burghead Bay (Moray) for much of the week and was joined by a second bird (a younger male) on 29th. In Highland, at Dunnet Bay, a first-winter drake was seen on 27th — well, it makes a change from the Little Bunting, doesn't it?!
A white Gyrfalcon was seen around the Gower peninsula (Glamorgan) on 27th (in the identical spot where one was seen in December last year) with another reported "in recent days" at Stenness (Orkney) prior to 27th. In Norfolk, single Black Kites were noted over Norwich on 26th and Snettisham Coastal Park on 30th, while a Rough-legged Buzzard remained at Chedgrave Marshes to 29th and another Norfolk bird was at Upton Broad on 30th. In Northumberland, a colour-ringed White-tailed Eagle was at Prestwick Carr on 31st and on Lewis (Outer Hebrides) the male Snowy Owl remained at Borve until 27th.

White-tailed Eagle, Prestwick Carr, Northumberland (Photo: Alan Tilmouth)
In Lancashire, a Long-billed Dowitcher spent 28th at Marshside, while single Dotterels appeared at Porthgwarra (Cornwall) on 25th and Greetham (Leicestershire) on 29th. Migrant Stone Curlews were noted at Crossness (Greater London) and St. Saviour's Reservoir (Guernsey).

Stone Curlew, St. Saviour's Reservoir, Guernsey (Photo: Mark Guppy)
A first-winter Bonaparte's Gull was a tremendous find at Rye Harbour (East Sussex) on 27th: only the fourth county record, if accepted, and the first since 1951! The adult remained on the River Taff, Cardiff (Glamorgan) to 29th. After weeks of decent numbers (as birds move around prior to spring's northward passage) just three Ring-billed Gulls were reported this week: a first-winter at Mount Merrion (Co. Dublin) on 28th and single adults at Nimmo's Pier (Co. Galway) and a new bird on the Gann Estuary (Pembrokeshire) on 31st. That said, doubtless further old favourites are still out there.
At least 16 Iceland Gulls were seen this week, with a dozen or so Glaucous Gulls noted, including two youngsters at Spurn (East Yorkshire) on 28th. The week's total of Caspian Gulls nudged past double figures, and included two birds at Blackborough End tip (Norfolk) on 25th and two at Rainham Marshes (London). Two or three birds were seen around Kent through the week. Almost inevitably, the adult Forster's Tern remained at Nimmo's Pier to 27th.

Caspian Gull, Dogsthorpe Tip, Cambridgeshire (Photo: Josh Jones)
A Pallid Swift at Denge Marsh and Dungeness (Kent) on 30th was the second of the week and the third of the month, following one found at Kessingland (Suffolk) on the evening of 26th, which stayed put until 31st. The fifth county record, but the first in Suffolk in spring, the bird was also in the company of an Alpine Swift on 28th (one or two birding snappers even managed a shot of the two, almost together). Further Alpine Swifts in Suffolk included: two together at Lowestoft from 27th–30th (with a third bird flying south on 29th, presumably then appearing over Southwold later the same day); one over Minsmere on 28th; and another at Woodbridge on 30th. Next door in Norfolk, single zoomers were still at Hunstanton and Cromer (and presumably accounted for singles over Titchwell and from Overstrand to Trimingham). One at Burgh Castle on 28th may have been bird three at Lowestoft. The rest of the week's birds ran like this: on 25th, singles were seen in Cornwall, at Marazion and Lands End. The 26th saw a single bird appear over Bar Hill (Cambridgeshire) followed on 27th by singles over Colyford and Musbury (Devon), the RSPB reserves at Lodmoor and Radipole (Dorset), Cross Ness (London) and New Hythe (Kent). The 29th saw another appear at North Foreland (Kent), and on 30th one was seen over Polzeath (Cornwall). The last day of the review period saw Hampshire get in on the act with one seen over Fleet Pond, and one was at Dungeness the same day. Meanwhile, a single Red-rumped Swallow was seen at Sennen Cove (Cornwall) on 25th.

Pallid Swift, Kessingland, Suffolk (Photo: Lee Johnson)

Alpine Swift, Lowestoft, Suffolk (Photo: Chris Darby)

Alpine Swift, Lowestoft, Suffolk (Photo: Scott Mayson)
At least 10 overshooting Hoopoes were present this week, with three each for Cornwall and Dorset. One appeared in Somerset (at Westonzoyland) on 27th, while singles made it to Wales (at Tenby in Pembrokeshire), Scotland (at Carinish on North Uist) and Ireland (at Ballycotton, County Cork) between 26th and 27th. In Norfolk, a female Bluethroat was reported briefly from the "private, keep out" area of Weybourne Camp on 27th and another was on the Farnes (Northumberland) on 31st.

Hoopoe, Langton Herring, Dorset (Photo: Dave Perrett)
Fifteen Waxwings (in three groups) were seen before the weekend (in Norfolk, Suffolk and Clyde) with flocks of 30 at Gosforth (Northumberland) on 29th and 14 at Cottingham (East Yorkshire) on 30th. A baker's dozen of Great Grey Shrikes included new birds at Hopesay (Shropshire) and Harwood Forest (Northumberland), both on 27th, and one for Lesser Kestrel watchers on Westleton Heath on 30th. The remainder were made up of wintering birds spread from Oxfordshire to Aberdeenshire (with three of them in Wales).

Great Grey Shrike, Hopesay, Shropshire (Photo: Jim Almond)
Before the Suffolk superstar, one of the most interesting birds of the week was the cracking female Two-barred Crossbill found at The Lodge, Sandy (Bedfordshire) on 27th and still present on 31st. For local listers, this was their first chance to revel in the species in the county, the only other record being of some 20 individuals seen at Ampthill in early January 1890! In Lincolnshire, an Arctic Redpoll was seen near Gainsborough on 27th (having been reported as a probable on 22nd).

Two-barred Crossbill, The Lodge, Sandy, Bedfordshire (Photo: Mike Lawrence)
Last week's three Penduline Tits were still at Dungeness (Kent) to 30th (with two there on 31st), and at Grove Ferry a Penduline Tit was seen again on 27th–28th. At Minsmere, two Penduline Tits were seen again on 30th. Back at Dungeness, a male Serin was in song on 28th. Also singing still, though only from time to time, was the male Little Bunting at Dunnet Bay (Highland), still present to 31st.
Photo of the Week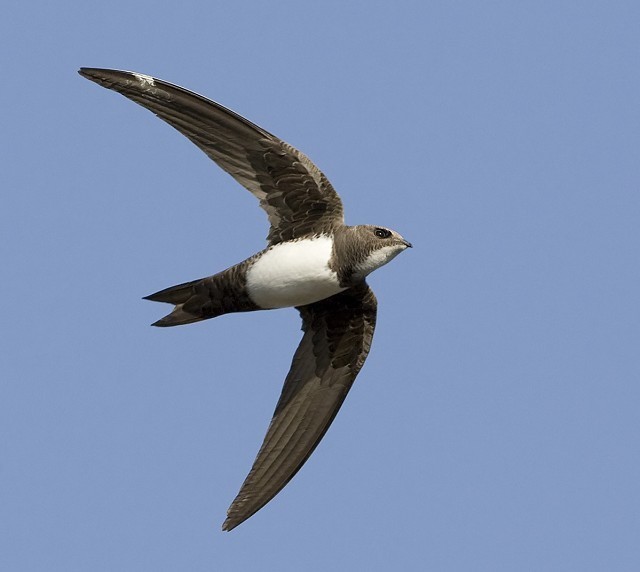 Alpine Swift, Lowestoft, Suffolk (Photo: Kevin Du Rose)
Every Spring, the arrival of martins, swallows and swifts sees a new wave of bird photographers attempting to get flight shots of these aerial masters. In most cases, though, all they get is memory cards full of reject images, a high proportion of which don't even have a bird in the frame. After practicing for a few sessions, the odd sharp shot creeps in, but normally with the bird at an unflattering angle and/or poorly exposed. Only after a lot more practice do most photographers start to appreciate what's needed to get a successful shot: choosing a sunny day with a blue sky to get an appealing setting, working out where the birds are repeatedly flying, positioning yourself with your back to the sun to get a well-lit bird, panning accurately during 'fly-by's to keep the bird in focus, and so on. This week, the arrival of overshooting Alpine and Pallid Swifts in the UK has given photographers even more interesting subjects on which to test their skills. With his textbook shot of an Alpine Swift, Kevin Du Rose shows how it's done. Apart from its technical quality, what really makes Kevin's shot stand out is the angle of the bird, which captures both the shape and the plumage detail of the bird (including a sunlit face and underwing) and creates a great composition with the bird dynamically flying into the frame.

Great Crested Grebe, undisclosed site, Lancashire (Photo: Tom Charles)

Common Treecreeper, undisclosed site, Lancashire (Photo: Tom Charles)

Little Grebe, Minsmere RSPB, Suffolk (Photo: Garth Peacock)

Slavonian Grebe, Holt Fleet, Worcestershire (Photo: Carl)

Dipper, undisclosed site, Derbyshire (Photo: RichardP)

Marsh Harrier, Cley Marshes NWT, Norfolk (Photo: John Betts)

Pheasant, East Walton, Norfolk (Photo: Stephen Durrant)

Black-tailed Godwit, Blacktoft Sands RSPB, East Yorkshire (Photo: Rick Thornton)

Pied Wagtail, Titchwell RSPB, Norfolk (Photo: Ian)

Wren, Spital, Cheshire (Photo: Steve Round)

Brambling, Llandrindod Wells, Powys (Photo: Kev Joynes)

Crested Tit, undisclosed site, Highland (Photo: Pauline Greenhalgh)

Long-tailed Tit, East Tilbury, Essex (Photo: Lea Roberts)

Long-tailed Duck, Fife Ness, Fife (Photo: John Anderson)

Cormorant, undisclosed site, Lancashire (Photo: Adam Jarvis)

Isabelline Shrike, Bahrain (Photo: Adrian Drummond-Hill)

Northern Wheatear, Torness Power Station, Lothian (Photo: James Wood)