The week at a glance
Apart from the first signs of autumn wader passage, it was a relatively quiet week again. What focus there was remained on Scotland, though, with some quality record-breaking seaducks to be found.
The moulting scoter flock in Aberdeenshire remained the focus of a great deal of attention this week, and this close scrutiny certainly paid off. The first-summer drake White-winged Scoter was last seen off Murcar Golf Course on 24th, with the flock there also holding up to five drake Surf Scoters and 90 Velvet Scoters. No sooner had the site dropped off the radar, though, than it came back with a vengeance, with a drake Black Scoter commuting between Murcar and nearby Blackdog on 27th–28th. This flock has now held all five species of scoter in the space of a few days, and must be the only site to have held this honour. The Black Scoter may well be the same bird as first reported as a distant possible at Murcar on 13th June, although the belated report of the possible drake at Bamburgh (Northumberland) on 12th–16th June, having been missing since April, suggests that there may be two birds involved.

White-winged Scoter, Murcar GC, Aberdeenshire (Photo: John Nadin)

Surf Scoter, Murcar GC, Aberdeenshire (Photo: John Nadin)
Also in Scotland, the summer-plumaged Greater Sand Plover was again on the beach at Dornoch (Highland) on 24th, having been last seen on 17th. It was refound by the local SOC group, but didn't stay long. Interestingly, there was also a belated report that possibly refers to this bird, and once again it was in Northumberland. This was a report of a sand plover sp. for just five minutes on 4th June at Cresswell Ponds.
The possible Steppe Buzzard also remained at Tunstall Forest (Suffolk) all week and continued to generate plenty of discussion. The House Crow was reported from Cobh (Cork) on 24th. One last 'possible' of note was a report of a male Baltimore Oriole at Gairloch (Highland) on 27th, though this couldn't be confirmed or relocated.

Possible Steppe Buzzard, Tunstall Forest, Suffolk (Photo: Chris Mayne)
The adult Ross's Goose was back at Loch Leven (Perth & Kinross), reported on 23rd. Small numbers of Ruddy Shelducks also remained, genuine or otherwise, with two birds still at both Slimbridge (Glos) to 26th and Rutland Water to 28th, and a singleton at Blithfield Reservoir (Staffs) on 28th.
Other wildfowl remaining included the female Blue-winged Teal at Chew Valley Lake (Somerset) to 24th and the drake Black Duck at Garbh Eilean (Highland) to 26th. The pair of American Wigeon at Loch Mor, Benbecula (Outer Hebrides) on 26th are presumably the same as those on North Uist in May.
The drake Ring-necked Duck remained at Ham Wall (Somerset) all week, with another again at Vane Farm (Perth & Kinross) on 25th, and the two drakes also remained on Loch of Bosquoy (Orkney) to at least 28th. The female Ferruginous Duck was at Minsmere (Suffolk) to 26th, and a male was again at Chew Valley Lake (Somerset) on 23rd–26th. The drake King Eider was on the Ythan estuary (Aberdeenshire) to at least 26th.

King Eider, Ythan Estuary, Aberdeenshire (Photo: John Nadin)
The Scilly pelagic remains the most reliable early-summer chance to catch up with Wilson's Storm-petrel, and another was logged from the boat on 27th. Apart from early January records in East and North Yorkshire, two Great Shearwaters past Ballycotton (Cork) on 24th were the first of the year. Reports of Balearic Shearwater were few and far between, though: there were singles past Mousehole (Cornwall) and Dungeness (Kent), three past Hengistbury Head (Dorset)on 25th and four past Portland (Dorset) on 23rd. The only Sooty Shearwaters were in Cornish waters: two past Rumps Point on 23rd and another past Land's End on 25th.

Wilson's Storm-petrel, at sea, Isles of Scilly (Photo: Joe Pender)
The excellent spring run of waterbird records slowed somewhat this week, although Stodmarsh (Kent) saw both a juvenile Night Heron on 29th and a Glossy Ibis briefly on 27th. This brief ibis record is in stark contrast to the first record from the site, which involved the first truly twitchable birds, present on and off from 1975 to 1992. There was also just one each of the storks, a White reported at Dingwall (Highland) on 26th and a Black south over Darley Dale (Derbys) on 24th.
Elsewhere, the Great White Egret remained at Dungeness (Kent) all week, and new birds were at Connah's Quay (Clwyd) on 24th, over North Wootton (Norfolk) on 26th and at Pitsford Reservoir (Northants) on 28th. There were still good numbers of Spoonbill across the country; birds ranged as far north as Montrose Basin, Angus & Dundee (one there on 28th–29th), and as far west as Killongford (Waterford). Peak counts were eight at Minsmere (Suffolk), eight at Cley Marshes (Norfolk), six at Elmley Marshes (Kent) and four at Hauxley (Northumberland).
Content continues after advertisements

Spoonbill, Slimbridge WWT, Gloucestershire (Photo: Jon Mercer)
The juvenile White-tailed Eagle remained around Ruckland (Lincs) all week. There were just two Black Kites, both in the southwest: one near Hayle (Cornwall) on 25th was later seen over Sancreed on 26th and possibly also at Drift Reservoir on 28th, and on the Isles of Scilly one was on Bryher and Tresco on 26th–27th, also making it over to St Martin's briefly on 28th. The first-summer male Red-footed Falcon remained at Horsey (Norfolk) to 23rd and was possibly then seen heading east past Cromer on the evening of 26th. The only other was a female over Sandwich Bay Bird Observatory (Kent) on 26th.

Black Kite, St. Mary's, Isles of Scilly (Photo: martin Goodey)

Red-footed Falcon, Breaston, Derbyshire (Photo: Simon Richardson)

Red-footed Falcon, Horsey, Norfolk (Photo: Rob Wilson)
The week's migrant Stone Curlew was one at The Ayres (Isle of Wight) on 29th. The only other scarce waders of note were a Pectoral Sandpiper at Burnham Norton (Norfolk) on 25th–26th and the female Red-necked Phalarope that remained at Slimbridge (Glos) to 25th. Temminck's Stints were reported from Titchwell (Norfolk) on 25th–26th and The Shunan (Orkney) on 26th–27th, and other passage waders were also reported in good numbers. There were up to 15 Spotted Redshanks at Elmley Marshes (Kent) and 10 at Blacktoft Sands (East Yorks), with smaller numbers of Curlew Sandpipers and Wood Sandpipers at several sites and a record reserve count of 706 Black-tailed Godwits at Titchwell (Norfolk) on 24th.

Red-necked Phalarope, Slimbridge WWT, Gloucestershire (Photo: Andy Johnson)

Temminck's Stint, Titchwell RSPB, Norfolk (Photo: Jon Evans)
An adult Laughing Gull was reported in flight at Loanhead (Lothian) on 29th; there are just two previous county records, both at Musselburgh, in 1991 and 1997. The only Glaucous Gull was the first-summer at Dungeness (Kent) all week and the only Iceland Gulls were a first-summer at Scatness (Shetland) on 26th and a possible immature at Rising Sun Country Park (Northumberland) on 26th. The first-summer Ring-billed Gull remained at Ballycastle (Antrim) to at least 26th and the first-summer Bonaparte's Gull remained on the Exe estuary (Devon) all week. The only Sabine's Gull reported was an adult past Hartland Point (Devon) on 23rd. In Ireland, the Forster's Tern was at Tacumshin (Wexford) on 27th.

Ring-billed Gull, Ballycastle, Antrim (Photo: Derek Charles)
An Alpine Swift headed south along Spurn peninsula (East Yorks) on 25th and this unusual mid-summer record was followed by no fewer than three records of southbound birds on 27th. It is of course possible that these records were the same bird u-turning, but considering that Common Swift passage peaked at 8,000 over the day, these could equally be different birds. As if this wasn't enough, Spurn also saw a Bee-eater head south on 29th; other singletons were on St Mary's (Scilly) to 26th, over Hickling Broad (Norfolk) on 25th and at Durlston Country Park (Dorset) on 27th. There was also one photographed by a non-birder at Donaghadee (Down) on 23rd, later identified by a birder friend two days later. Bee-eater remains an incredibly rare vagrant in Northern Ireland, with just three records over the last 10 years, none of which have been twitchable.
There was just one late Red-rumped Swallow, at Talisker (Highland) on 29th, and the only Short-toed Lark was one at Lamba Ness, Unst (Shetland) to 24th.
With the winds firmly in the west for most of the week, the flurry of scarce passerines ended. Just two Red-backed Shrikes were reported: on Fair Isle on 23rd and at Sandwich Bay (Kent) on 28th. There was one Woodchat Shrike, at Solas, North Uist (Outer Hebrides) on 28th. North Ronaldsay (Orkney) continued to produce some good birds, though, notably another Blyth's Reed Warbler ringed on 23rd. This is the fourth on the island in the last nine months, with only seven records prior to this! The only other warblers of note were a singing Marsh Warbler at Belvide Reservoir (Staffs) on 29th and a female Subalpine Warbler on Fetlar (Shetland) on 24th.

Blyth's Reed Warbler, North Ronaldsay, Orkney (Photo: Paul A Brown)
An adult male Common Rosefinch was at Calf of Man Bird Observatory (Isle of Man) on 27th, and another possible flew over Conwy RSPB on 29th. The adult male Rose-coloured Starling remained in a Kingsheanton (Devon) garden to 24th. One encouraging breeding record was a pair of Cirl Buntings holding territory on Jersey, where the species hasn't bred for 10 years.
Photo of the Week: 23rd–29th June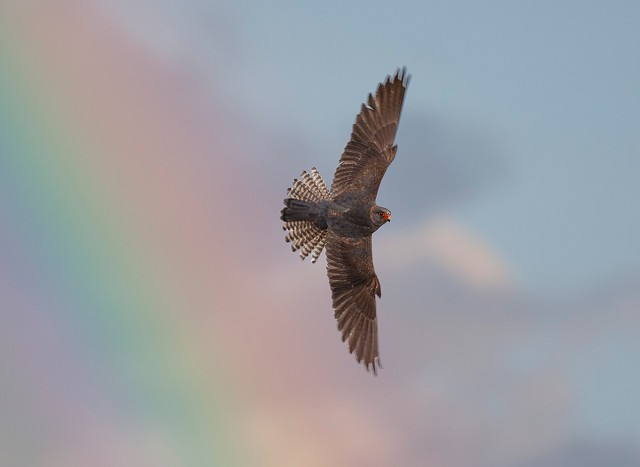 Red-footed Falcon, Horsey, Norfolk (Photo: Kevin Du Rose)
A stunning first-summer male Red-footed Falcon that spent a couple of weeks at Horsey in Norfolk this month gave several photographers the chance to catch up with a species not often encountered in the UK. Although this bird apparently spent much of its time sitting on a fence post, bird photographer Kevin Du Rose managed to bag a varied portfolio of portrait and flight shots. Persevering through what many would regard as 'unfavourable' weather for bird photography, Kevin showed that showery conditions are an opportunity to capture atmospheric images. Our pick of these is a superb banking flight shot of the falcon flying in front of a rainbow. Who would have thought we'd see such a shot of this scarce bird at the point when the first reports and photos started coming in? Kevin shows that a classic 'record shot' situation can be turned into a chance to shine.

Sand Martin, Lough Neagh, Antrim (Photo: Allen Gillespie)

Skylark, Fleetwood, Lancashire (Photo: David Moreton)

Little Owl, undisclosed site, Gloucestershire (Photo: Mike Smith)

Jackdaw, undisclosed site, Greater London (Photo: Richard Steel)

Tufted Duck, Regent's Park, Greater London (Photo: Mike Lane)

Great Black-backed Gull, Skomer, Pembrokeshire (Photo: Richard Stonier)

Grey Heron, St. Albans, Hertfordshire (Photo: Ben Andrew)

European Bee-eater, Greece (Photo: Jamie MacArthur)

Arctic Skua, Levenwick, Mainland, Shetland (Photo: James Wood)

Tawny Owl, Llandudno, Conwy (Photo: Dave Williams)

Pied Flycatcher, undisclosed site, Powys (Photo: Tom Melton)

Common Redshank, Elmley Marshes RSPB, Kent (Photo: Will Rawles)

Swallow, undisclosed site, Highland (Photo: Marcus Conway - ebirder)

Dunnock, Rixton, Cheshire (Photo: Neill Carden)

Spoonbill, Blacktoft Sands RSPB, East Yorkshire (Photo: Mark Ranner)

Short-eared Owl, Benbecula, Outer Hebrides (Photo: Kev Joynes)