The week at a glance
Another warm week saw large swathes of the country basking under uninterrupted blue skies for prolonged periods, though there were inevitably accompanying thunderstorms — indeed, some areas even experienced flash flooding as a result. As if perfectly timed, our article on late summer waders seemed to provide the cue for the floodgates to open this week: it proved an excellent seven days for scarce and rare shorebirds around Britain in particular, while sites such as Frampton Marsh (Lincs) and Titchwell (Norfolk) boasted tallies of up to 23 wader species on their respective reserves. Firstly, though, it's well worth mentioning that the Swinhoe's Storm-petrel was once again trapped a couple of times on Fair Isle, initially at The Skaddan in the early hours of 25th and then again in South Havens overnight on 28th/29th. The latter trapping came amid a magnificent weekend for European Storm-petrel ringing, with over 430 trapped (plus a number of Leach's Storm-petrels heard).
The week's most popular bird was a fine summer-plumaged male Pacific Golden Plover found in the Staffordshire section of Middleton Lakes reserve, the area formerly known as Drayton Bassett Pits before being taken over by the RSPB. Found on Saturday morning, it lingered there until at least the time of writing and has been seen by crowds swelling into the hundreds. Though there was of course a splendid bird at Rutland Water last July (perhaps even the same individual?), inland PGPs are something of a rarity so seeing them presents an opportunity not to be sniffed at. Another, somewhat overshadowed by the Staffordshire bird, was found on North Ronaldsay (Orkney) on 23rd and was still there on 28th — North Ron has a fabulous track record with the species, with nine of Orkney's 10 previous occurrences since the first in 1991, and one wonders whether some of these records relate to a returning bird.

Pacific Golden Plover, Drayton Bassett Pits, Staffordshire (Photo: Dave Hutton)

Pacific Golden Plover, Drayton Bassett Pits, Staffordshire (Photo: Steve Nuttall)

Pacific Golden Plover, Drayton Bassett Pits, Staffordshire (Video: Zac Hinchcliffe)
Content continues after advertisements

Pacific Golden Plover, North Ronaldsay, Orkney (Photo: Mark Warren)
Also new in this week was a moulting Stilt Sandpiper at Cresswell Pond (Northumberland) on 29th, continuing the county's already excellent year. This is the second county record and follows hot on the heels of a bird at Low Newton-by-the-Sea in 2012; again, one has to consider the similarities in occurrence and wonder if this too is a returning bird.

Stilt Sandpiper, Cresswell Pond NWT, Northumberland (Photo: Frank Golding)
Three days before the Stilt Sandpiper, Cresswell had also been treated to a one-day stopover by a White-rumped Sandpiper, which showed extremely well (as waders often seem to do at this site) throughout 26th. Another White-rump that arrived further south at Gibraltar Point (Lincs) on 28th perhaps unsurprisingly turned out to be the same bird, easily identifiable by its distinct, predominately non-breeding, plumage. It was still there on 29th, and was remarkably joined by the first Broad-billed Sandpiper of the autumn, which spent a few hours on Tennyson's Sands before flying out to The Wash. Another White-rumped Sand, in more typical summer dress, graced Pool of Virkie (Shetland) that day, while there was a report of a Baird's Sandpiper down on Pennington Marshes (Hants) on 26th. Despite the excitement generated by the rarer Calidrids, there were surprisingly no Pectoral Sandpipers seen during the week, and only a single Temminck's Stint — on the Ouse Washes (Cambs) from 25–28th.

White-rumped Sandpiper, Cresswell Pond NWT, Northumberland (Photo: Tim Dean)

White-rumped Sandpiper, Gibraltar Point NNR, Lincolnshire (Photo: Russell Hayes)

Broad-billed Sandpiper, Gibraltar Point NNR, Lincolnshire (Photo: Les Davidson)
Two Lesser Yellowlegs were recorded this week: the long-stayer was last seen at Frampton Marsh (Lincs) on 26th and a new bird was found at Loch of Strathbeg (Aberdeenshire) late on 29th. The Black-winged Pratincole surprisingly reappeared with its Lapwing cohorts on the Ouse Washes on 25th, remaining until 27th, while the Collared Pratincole was last seen at Minsmere (Suffolk) on 27th. It (or another) then turned up at Castle Island near Ashington (Northumberland) during the afternoon of 28th — another great Northumberland bird, and the first county record for 31 years! A Red-necked Phalarope was briefly at Snettisham (Norfolk) on 27th, and the families of Black-winged Stilts remained in West Sussex and Suffolk, though the latter were seen flying over fields near Great Livermere on 29th and may well be on their way back to the Continent.

Collared Pratincole, Castle Island, Northumberland (Photo: Jonathan Farooqi (Age 13))

Collared Pratincole, Minsmere RSPB, Suffolk (Photo: Ian Clarke)
With settled conditions still predominating, land-based seawatching once again offered slim pickings, although evidence from various boat trips certainly suggests there are birds out there — five Wilson's Storm-petrels were seen between 10 and 20 miles off Galley Head (Cork) on 24th, and a couple of Cory's and 15 Great Shearwaters were also logged from the same boat. Small numbers of Cory's Shearwaters from Scilly pelagics included three on 24th and four on 28th, the former trip also recording four Great Shearwaters. In Cornwall, single Cory's passed Porthgwarra on 25th and Cape Cornwall on 28th, and two were seen past Kilcummin Head (Mayo) on 27th; two Great Shearwaters were seen from the Scillonian on 29th. In Norfolk, visitors to Titchwell and Thornham were often entertained by a beautiful adult Long-tailed Skua from 26–29th, though its appearances were slightly sporadic.

Cory's Shearwater, Scilly pelagic, Isles of Scilly (Photo: Joe Pender)

Great Shearwater, Scilly pelagic, Isles of Scilly (Photo: Joe Pender)

Long-tailed Skua, Thornham, Norfolk (Photo: Keith Bilverstone)
Last week's Bufflehead at Trimley Marshes (Suffolk) was still there on 26th, though it was confirmed as possessing a green ring and is therefore likely to be the presumed escape seen recently in Lothian and Fife. A Blue-winged Teal at Willington Gravel Pits (Beds) suffered the same fate: initial excitement on 24th was soon quashed when it was confirmed as a ringed bird that had escaped from a nearby wildfowl collection. There were fewer questions about the drake Ring-necked Duck still at Murton Gravel Pits (Angus & Dundee), though, and especially the three Surf Scoters — including two drakes — off Blackdog (Aberdeenshire).
Two Cattle Egrets were a nice find roosting at Frampton-upon-Severn (Glos) on 27–28th; another was reported from Jersey, and it almost goes without saying that the Hillsborough (Down) bird was still in situ. The Night Heron lingered another week at Seeswood Pool (Warks), and another single bird was seen again at Shapwick Heath (Somerset) on 23rd. There were reports of Purple Herons on Guernsey on 22nd and Jersey on 23rd, while records from Claxton Marshes (Norfolk) and Oulton Marshes (Suffolk) on 26th may relate to the same individual. A White Stork was also seen on Jersey, at La Rocque on 25th.

Night Heron, Seeswood Pool, Warwickshire (Photo: Bob Hazell)
Spotted Crakes were at Berry Fen (Cambs) and Burton Mere Wetlands (Cheshire), but the star was a showy individual at Titchwell (Norfolk) on 28–29th.

Spotted Crake, Titchwell RSPB, Norfolk (Photo: Richard Campey)
Devon's Ross's Gull remains around Topsham and Bowling Green Marsh, although it is now so worn that it sports looks only its mother could love — it'll be nice to see how it's looking come the autumn, should it linger. The adult Bonaparte's Gull was also still at Oare Marshes (Kent) on and off all week, as was the Laughing Gull at Ballycotton (Cork) and the Ring-billed Gull at Sandymount (Dublin), though slightly more surprising was a second-summer Sabine's Gull at Paxton Pits (Cambs) briefly in the evening of 26th. An adult White-winged Black Tern, still in summer dress, was at Port Clarence then Saltholme (Cleveland) from 26–28th.

Ross's Gull, Topsham, Devon (Photo: Simon Thurgood)

White-winged Black Tern, Saltholme RSPB, Cleveland (Photo: Martyn Sidwell)
Big news of the week was the announcement that European Bee-eaters are breeding near Niton, on the Isle of Wight. Three adults were still feeding youngsters there on 29th; full details about the occurrence, location and visiting can be found in this article.

Bee-eater, Niton, Isle of Wight (Photo: Derek Hale)
The first Aquatic Warbler of the season was an early adult at Lytchett Bay (Dorset), trapped early in the morning on 25th — hopefully the first of many. Belated news included the Red-backed Shrike seen again at Winterton (Norfolk) on 23rd and, further back, a male Eastern Subalpine Warbler photographed on a vessel off the Cork coastline on 14th June. With only one previous accepted record of albistriata, Eastern Subalpine is a big bird for Ireland and the news that this individual spent at least an hour on board is perhaps slightly galling for Irish listers.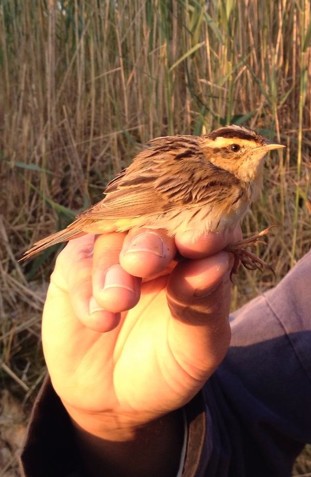 Aquatic Warbler, Lytchett Bay, Dorset (Photo: Paul Morton)

Red-backed Shrike, Winterton Dunes NNR, Norfolk (Photo: Nick Appleton)
On the near Continent, excitement came in the form of a male Red-headed Bunting at Westkapelle (Netherlands) on 24–25th, while what is presumably the British Bridled Tern was photographed flying past the North Sea island of Norderoog (Germany) on 26th. What is probably the recent Demoiselle Crane seen in Sweden was then seen over nearby Hooge island on 29th.
Photo of the Week

Great Shearwater, Scilly pelagic, Isles of Scilly (Photo: Joe Pender)
Wow! This superb image of a Great Shearwater, taken by Joe Pender on one of his Sapphire pelagic trips out of the Isles of Scilly, stopped me in my tracks as I was scanning through this week's photos. Okay, it has probably been cropped to portrait format rather than actually taken this way, but it is still a fantastic shot of one of those species that you are only going to photograph like this while out at sea — you would be extremely lucky even to get views like this from land in a seawatch, never mind photos.

Shooting from a boat throws up additional problems for the bird photographer. A lightweight lens is to be preferred rather than a heavy 500mm f4, so that balance can be maintained more easily — trying to follow a flying bird from a rocking boat is not easy. The perfect lighting, lovely background and sharpness of this image all combine to make it a worthy winner this week: it's hard to imagine a better flying portrait of this species.
Other notable images

Green Sandpiper, Rutland Water, Leicestershire and Rutland (Photo: Garth Peacock)

Great Skua, Hermaness NNR, Unst, Shetland (Photo: Robbie Brookes)

Gannet, Hermaness NNR, Unst, Shetland (Photo: Robbie Brookes)

Sand Martin, Ballygawley, Tyrone (Photo: Ed O'Hara)

Little Owl, undisclosed site, Lancashire (Photo: Austin Thomas)

Common Tern, Preston, Lancashire (Photo: Martin Jump)

Razorbill, Bempton Cliffs RSPB, East Yorkshire (Photo: Howard Kearley)

Hoopoe, Egypt (Photo: Derk)