The week at a glance
November arrived in conjunction with a spell of colder weather, many areas experiencing their first frosts of the season and some parts of the southwest witnessing an unexpected dump of snow. Combined with a relatively lacklustre series of charts for producing lots of new birds, the cooler conditions saw the autumn pace gradually abate as the week progressed, although one or two surprises were still to be found as Waxwing numbers continued to rise exponentially.
First off, some exciting news concerning the recent Siberian Stonechat at Portland (Dorset) on 24th–26th October: mtDNA analysis has confirmed the bird was of the form stejnegeri (or 'Stejneger's Stonechat') after field and in-hand observations strongly suggested it as such. With some authorities already treating stejnegeri as a full species based on clear genetic divergence from the more familiar maurus, it is likely to prove a genuine armchair tick in the future for those who saw it. No doubt the next will be a popular affair...

Stejneger's Stonechat, Portland, Dorset (Photo: Ashley Howe)
Find of the week was the male Spanish Sparrow lurking in gardens and hedgerows in the village of Newchurch (IoW) on 4th, and still there on 6th. The site is only 12 miles SSW of the year's first male at Calshot during the first winter period, so it seems sensible to assume that this is the same bird relocating. However, with ship-filled Southampton Water a stone's throw away, a second individual also seems a distinct possibility.

Spanish Sparrow, Newchurch, Isle of Wight (Photo: Derek Hale)
At the opposite end of the country, Fair Isle's female Siberian Rubythroat prolonged her stay on the island to at least 3rd, equalling last year's record long-staying male on the Shetland mainland — 12 days to be precise. Fife's Eastern Olivaceous Warbler at Kilminning was still there on 6th; 24 days is a record-breaking stay in a British context by some margin. Reports suggested that it looked increasingly weak as the days slipped by; one hopes that it manages to move on soon.
One species stole the headlines, though. After strong signs that a big arrival was on the cards last week, Waxwing numbers shot up throughout the week, making the week a busy one for the Bird News Extra team — an incredible 609 reports of the species were disseminated over the period! Several impressive counts came from the far north and northwest — particularly Highland and Argyll — while birds penetrated as far southwest as the Isles of Scilly. Some of the peak counts from Scotland included 400 at Broadford (Skye), 350+ at Lerwick (Shetland), 250 at Ullapool (Highland) and 200+ at Garve and Castletown (also in Highland). The largest counts in England were 180+ at Stockton-on-Tees (Cleveland), 55+ at Carlisle (Cumbria), 53 at Hexham (Northumberland), 40 at Preston (Lancs) and 30 in Leeds (W Yorks).

Waxwing, Lowestoft, Suffolk (Photo: Jon Evans)

Waxwing, Ashington, Northumberland (Photo: Morgan)

Waxwing, Spurn, East Yorkshire (Photo: Lee Amery)
The selection of geese available on Islay (Argyll) diversified further when a blue-morph Snow Goose was found among the Greenland White-fronts at Loch Gruinart on 1st, with both Red-breasted and Richardson's Canada Geese also still on the island during the week. The two white-morph Snow Geese were also still at Balranald, North Uist (Outer Hebrides) on 5th with a further bird found at Sheskinmore Lough (Donegal) on 7th. A white-morph Ross's Goose in the Waxham area of Norfolk from 4th was suspiciously seen alongside a small flock of Barnacles — could it be the returning bird of suspect origin?

Snow Goose, Loch Gruinart RSPB, Islay, Argyll (Photo: Steve Percival)

Snow Goose, Balranald RSPB, N.Uist, Outer Hebrides (Photo: Steve Duffield)

Richardson's Canada Goose, Rhunahaorine Point, Argyll (Photo: John Nadin)
In Hampshire, the Red-breasted Goose remained at Farlington Marshes all week, and two Richardson's Canada Geese remained in Sligo and a third was found at Rhunahaorine Point (Argyll) on 2nd. Ireland did well for Black Brants with twos at Castlegregory (Kerry) and the Wexford Wildfowl Reserve, while a singleton was in Sligo Bay on 4th. Back in England, at least two remained on The Fleet (Dorset) with another in the county in Poole Harbour and Norfolk's first of the winter at Warham Greens on 3rd.

Red-breasted Goose, Farlington Marshes HWT, Hampshire (Photo: J Dexter)
Depending on your stance, the arguable highlight of the wildfowl week was another female Hooded Merganser, this time at Pagham Harbour (W Sussex). First reported on 6th, it later became apparent that the bird had possibly been present for a week. The usual caveats applied: it was fully winged and unringed, although perhaps not the wariest of individuals. Nevertheless, the time of year is perfect for a genuine arrival, even if southeast England may not seem a likely first port of call for a transatlantic wanderer. For many, the prospect of twitching a second female in the southeast in 2012 will not appeal, but at least this one hasn't arrived among large numbers of Smew and Goosander following a freeze on the near-continent...

Hooded Merganser, Pagham Harbour LNR, West Sussex (Photo: Dave Potter)

Hooded Merganser, Pagham Harbour LNR, West Sussex (Photo: Dave Potter)
As dabbling duck moult continues to progress, it was no surprise that a few drake Green-winged Teal were picked out among their Eurasian brothers — birds were at Hodbarrow (Cumbria) on 1st and Blanket Nook (Donegal) on 3rd, while the WWT struck twice on 5th, at Slimbridge (Glos) and Caerlaverock (Dumf & Gall). A new drake American Wigeon was at St. John's Loch (Highland) on 3rd and birds were still in Aberdeenshire, Dumfries & Galloway, West Yorkshire and Wexford.

American Wigeon, Wintersett Reservoir, West Yorkshire (Photo: Ron Marshall)
Last week's female Lesser Scaup in Cork was reidentified as a female Tufted Duck, although there were no such identification problems with the first-winter drake at Lough Gash (Clare) from 4th — surprisingly, this is a county first. Meanwhile, the drake continued its stay at Chew Valley Lake (Somerset) and was joined by a drake Ring-necked Duck throughout the week. Further new Ring-necks were found at Rutland Water on 2nd and Loch Hosta, North Uist (Outer Hebrides) on 6th, while the triumvirate remained on Scilly to 2nd and the female was also still at Slapton Ley (Devon). The female Ferruginous Duck reported early in the week at Welney (Norfolk) was reidentified as a hybrid (albeit rather Ferruginous-like) from photos.
Up to four Surf Scoters remained off Llanddulas (Conwy) throughout the week. A drake was also still in Largo Bay (Fife) and a juvenile drake found in the harbour at Carnlough (Antrim) on 31st often performed at incredibly close quarters for the duration. Back up in Scotland, the King Eider was still mooching around at Burghead (Moray/Nairn), and last week's Pied-billed Grebe continued its stay over at Lough Baun (Mayo), being seen there on 4th.

Surf Scoter, Carnlough, Antrim (Photo: Ian Dickey)
Dorset's elusive Purple Heron was again noted at Radipole Lake on 5th — it must be starting to get cold feet. Meanwhile, around 20 Great White Egrets scattered across England and Wales included up to four still at Dungeness (Kent) and popular birds at Scarborough (N Yorks) on 1st–3rd and Willington Gravel Pits (Derbys) from 5th. Down in Devon, the Cattle Egret settled at Colyford Common all week, and another was seen at Grouville Marsh (Jersey). Five Cranes touring southeast Wexford throughout the week were the only individuals of note, while Glossy Ibis remained in Cork and Pembrokeshire with a third again at Ham Wall (Somerset) to 7th.

Great White Egret, Leighton Moss RSPB, Lancashire (Photo: Simon St.Carter)

Great White Egret, Scarborough Mere, North Yorkshire (Photo: Steve Race)
Wexford also hung onto its striking juvenile female Northern Harrier to at least 5th; photos have illustrated that two different juveniles — this female and an earlier male — have been seen at Tacumshin this autumn. In Durham a male Lesser Kestrel was reported at Marsden Bay late on 3rd but wasn't seen the following morning despite searching. Unless a heavy November influx occurs, winter 2012/13 isn't looking like a vintage one for Rough-legged Buzzards: reports from Gedling (Notts) and Bradwell-on-Sea (Essex) on 6th were the week's only sightings.

Northern Harrier, Tacumshin, Wexford (Photo: Niall Keogh)
In contrast it was another good week for American Golden Plovers. The adult at Cardurnock (Cumbria) was joined by a juvenile on 5th, although the Golden Plover flock was often difficult to pin down; other juveniles were found among frustratingly large and mobile flocks at Port Meadow (Oxon) on 1st–2nd and Ouse Fen (Cambs) on 3rd. Another juvenile overflying Rosenannon Downs (Cornwall) on 4th was presumably that seen at nearby Dinham Flats on 5th. In Ireland, two juveniles remained on the Myroe Levels (L'derry), with other long-stayers still at Tacumshin (Wexford) and the Bridges of Ross (Clare).
A first-winter Long-billed Dowitcher was found at Long Nanny (Northumberland) on 4th and was still present on 7th, while the Lincolnshire first-winter at Alkborough was again seen on 7th and the Slimbridge adult was there all week. Remaining Lesser Yellowlegs were still at Ernesettle (Devon) and Aldcliffe Marshes (Lancs), with the Wood Sandpiper at the latter site also still there on 4th. One of the Poulnasherry Bay Spotted Sandpipers was also seen again at Moyasta (Clare) on 3rd.

Long-billed Dowitcher, Long Nanny, Northumberland (Photo: Colin Bradshaw)

Lesser Yellowlegs, Aldcliffe Marshes, Lancashire (Photo: Gavin Thomas)
Two White-rumped Sandpipers were still at Tacumshin (Wexford) on 3rd, with the two still at Cley (Norfolk) on 1st reducing to one the following day; the only new bird was at Rahasane Turlough (Galway) on 4th. A late report of a Pectoral Sandpiper in off the sea at the Bridges of Ross (Clare) on 31st was the first new bird for a couple of weeks.
Although it could be absent for much of the time, the adult Bonaparte's Gull at Dawlish Warren (Devon) continued to perform extremely well on occasions during the week, while a second individual was an excellent find in the roost at Boddington Reservoir (Northants) on 1st–4th. Ring-billed Gulls included a new first-winter at Portrush (Antrim) on 2nd and an adult at Rosslare (Wexford) on 3rd alongside more familiar birds in Down, Galway, Dublin and Cork. An adult Kumlien's Gull was at Big Isle (Donegal) on 3rd, and around ten Iceland Gulls included the returning adult to the West Midlands again in the Chasewater (Staffs) roost from 4th. A small influx of 20 or more Glaucous Gulls included three at the Butt of Lewis and two together on North Uist, while English birds were seen in North and West Yorkshire, Cambridgeshire and Rutland in addition to the usual fixture at Dungeness (Kent). The Forster's Tern also remained in Galway Bay, although it had moved to the south side at Doorus on 4th.

Bonaparte's Gull, Dawlish Warren NNR, Devon (Photo: Peter Moore)
The popular Hoopoe at Sand Point (Somerset) was last seen on 4th, while another must have felt pretty out of place at Hamister, Whalsay (Shetland) on 1st–4th. A third was seen in flight at Hunstanton (Norfolk) on 6th. Meanwhile, up in Durham, the unseasonable Bee-eater continued to perform extremely well from aerials at Seaburn throughout the week, and a Red-rumped Swallow was at Blackness then Wester Shore Wood (Lothian) on 3rd–4th.

Bee-eater, Seaburn, Durham (Photo: Derek Bilton)

Bee-eater, Seaburn, Durham (Photo: Marsch1962)

Hoopoe, Sand Point, Somerset & Bristol (Photo: Rob Cross)
A Tawny Pipit was late on the Great Orme (Conwy) on 3rd, while another crop of Red-throated Pipit records again failed to throw up a twitchable individual: birds were noted over St. Mary's and St. Agnes (Scilly) on 1st, over Slimbridge (Glos) on 6th and at Tacumshin (Wexford) on 2nd. Several Richard's Pipits included lingering birds at West Runton (Norfolk) to 4th and Nanquidno (Cornwall) on 4th–7th. An Olive-backed Pipit was at Burrafirth, Unst (Shetland) on 3rd.
One of the most popular attractions over the weekend, Essex's female Desert Wheatear at Abberton Reservoir, was last seen on 5th. Bluethroats were at Gibraltar Point (Lincs) on 3rd and on Tresco (Scilly), while Black-bellied Dippers were at Gulberwick (Shetland) on 3rd and on the River Thet in Thetford (Norfolk) from 6th; the latter was extremely elusive and only seen on a few brief occasions.

Black-bellied Dipper, Thetford, Norfolk (Photo: Mike Toms)

Desert Wheatear, Abberton Reservoir, Essex (Photo: Ian Curran)

Bluethroat, Gibraltar Point NNR, Lincolnshire (Photo: Paul Neale)
The Hume's Leaf Warbler was still at Beachy Head (E Sussex) on 4th although no news was forthcoming after that date; another was heard (and briefly seen) in Ventnor (IoW) early in the week although matters were confused by a Yellow-browed Warbler in the vicinity throughout. Around ten other Yellow-broweds included at least one Gloucestershire record — reports came from Frampton-upon-Severn and Slimbridge. A late Arctic Warbler at Helendale (Shetland) on 3rd–4th was 'unfortunately' not something more exotic, while the elusive Blyth's Reed Warbler remained on St. Mary's (Scilly) to 2nd and a handful of Barred Warblers remained.

Hume's Leaf Warbler, Beachy Head, East Sussex (Photo: Mark Tomlins)
A scattering of Red-breasted Flycatchers included at least four still on Scilly in addition to the Kilbaha (Clare) bird still there on 1st and new individuals at Firkeel (Cork) on 2nd–3rd and in the Cot Valley (Cornwall) on 6th–7th. The Penduline Tit was again seen at Dungeness (Kent) on 5th, with a new bird at Grove Ferry on 6th. Around 15 Great Grey Shrikes were primarily wintering birds in familiar locations across England and Wales.

Red-breasted Flycatcher, Firkeel, Cork (Photo: Fionn Moore)

Penduline Tit, Grove Ferry NNR, Kent (Photo: Marc Heath)

Great Grey Shrike, Thursley Common, Surrey (Photo: Billy Dykes)
A spectacular flock of five Hornemann's Arctic Redpolls was found at Baltasound, Unst (Shetland) on 4th, with four remaining there on 5th and at least two more on Unst at Halligarth on 5th–6th. Two further individuals were at Isbister, Mainland on 4th, while a Coues's Arctic Redpoll bucked the trend on Fair Isle on 2nd. A Serin was still on St. Martin's (Scilly) on 2nd, while Little Buntings concerned a twitchable individual at Lambton Estate (Durham) on 2nd–5th and a second in a Kingsland (Herefordshire) garden on 7th.

Little Bunting, Lambton Estate, Durham (Photo: Mark Newsome)
Photo of the Week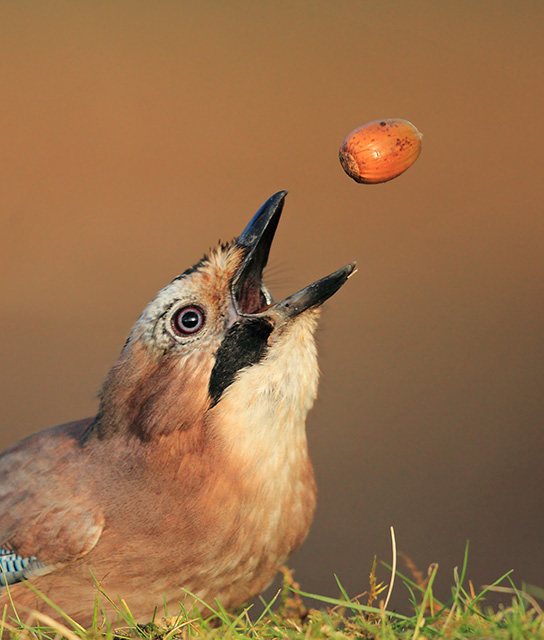 Jay, undisclosed site, Lancashire (Photo: Martin Jump)
Martin Jump started uploading his photos of Lancashire birdlife to BirdGuides just over a year ago and, in that time, his images have been going from strength to strength. After almost 200 uploads, a perfectly seasonable image earns him his first Photo of the Week. Martin has had an ongoing project to photograph local Jays, especially with the acorns they so feverishly collect and bury at this time of year. This type of project can be very hit-and-miss and needs lots of patience to get a moment when everything comes together. As Martin notes, there was just a fraction of a second this week when everything fell into place. Lit by the warm glow of the setting sun against a complementary autumnal backdrop, a Jay tossed an acorn into the air so it could be efficiently added to its crop. Thankfully, Martin nailed the shot and, furthermore, made the most of the resulting image in post-processing by using a tight crop with the bird and its airborne acorn aligned along the frame's diagonal for maximum dynamic effect. Like a golfer sinking a hole-in-one, bagging shots like this one can spur on any photographer to take their game to the next level, so we look forward to seeing more from Martin very soon.
Other notable images

Bee-eater, Seaburn, Durham (Photo: Frank Golding)

House Sparrow, Rayne, Essex (Photo: Mark Bicknell)

Waxwing, Maywick, Mainland, Shetland (Photo: Hugh Harrop)

Kingfisher, Aberford, West Yorkshire (Photo: Mark Hughes)

Mistle Thrush, Switzerland (Photo: Plumo)

Hoopoe, Sand Point, Somerset & Bristol (Photo: Rob Cross)

Great Black-backed Gull, Netherlands (Photo: Peter Beesley)

Red Kite, Gigrin Farm, Powys (Photo: Steve Round)

Black-tailed Godwit, Woodbridge, Suffolk (Photo: Carl Wright)

Slavonian Grebe, Shustoke Reservoir, Warwickshire (Photo: Dave Hutton)

Little Egret, Cley Marshes NWT, Norfolk (Photo: Peter Walkden)

Kestrel, Widewater Lagoon, West Sussex (Photo: Howard Kearley)

Red-backed Shrike, Salisbury Plain, Wiltshire (Photo: Carl Day)

Snow Bunting, Minsmere RSPB, Suffolk (Photo: Chris Mayne)

Great Spotted Woodpecker, Ayr, Ayrshire (Photo: Chas Moonie)