The week at a glance
As 2013 drew to a close amid mild but stormy conditions, you could be forgiven for thinking that, Ivory Gull having fallen earlier in the month, there would be a low-key finish to this most remarkable of birding years. Well, that proved not to be the case. The Christmas weather may have been rather turbulent, as a perfectly positioned jet stream delivered a series of abnormally intense (and often damaging) winter storms to our shores, but the birding nevertheless proved exciting beyond all expectations. As New Year's Eve approached and big birds continued to be found, the case for 2013 being Britain and Ireland's greatest birding year became even stronger.
The undeniable highlight of the festive period was England's first-ever truly twitchable Brünnich's Guillemot, identified in Portland Harbour (Dorset) on Boxing Day but apparently present for up to a week before that. This is the southernmost record by some distance, following hot on the heels of the Filey bird in early December and finally allowing large numbers a chance to see the species in Britain. Needless to say, it was the most popular bird of the period, with many hundreds visiting the Weymouth area in the following days also enjoying a back-up cast that included Glossy Ibis and Black Guillemot, while Weymouth Bay had earlier produced a Cory's Shearwater on 23rd. The Brünnich's, which performed astonishingly well at times, was still present on New Year's Eve but not on the first day of 2014. Interestingly, another guillemot, initially touted as a Brünnich's, was found dead on the beach at Tangwick (Shetland) on 28th. However, subsequent inspection suggests characters intermediate between Brünnich's and Common: hybrids are not unknown, and it will be fascinating to see what develops there.

Brünnich's Guillemot, Portland Harbour, Dorset (Photo: Simon Johnson)

Brünnich's Guillemot, Portland Harbour, Dorset (Photo: Dave Barnes)

Brünnich's Guillemot, Portland, Dorset (Photo: Ian Curran)

Brünnich's Guillemot, Portland Harbour, Dorset (Photo: Tony Hovell)

Brünnich's Guillemot, Portland Harbour, Dorset (Photo: Ian Ellis)
Also storm-driven, and just a couple of hours' drive from the guillemot, an adult White-billed Diver was found in Brixham Harbour (Devon) late on Christmas Day. Easily as confiding as the guillemot, it preferred the relative calm of the inner harbour and performed sensationally there until the end of the year. It brought back happy memories of the famous Hayle bird of 2007, which often spent time in water just a few inches deep, catching flatfish, outside the Co-Op at Copperhouse Creek! Meanwhile, two were seen in the more typical location of Bluemull Sound (Shetland) on 20th.

White-billed Diver, Brixham, Devon (Photo: Scott Reid)

White-billed Diver, Brixham, Devon (Photo: Gary Thoburn)

White-billed Diver, Brixham, Devon (Photo: Charlie Fleming)
Another highlight of the Christmas period — especially for north-west birders — was Cheshire's first Buff-bellied Pipit at Burton Marsh from 21st. The bird, of the American subspecies rubescens (as are all records in Britain and Ireland), often showed particularly well along the tideline at Denhall Lane, though it went missing on some days. Also present for good measure were a wintering Northern Wheatear and a couple of Siberian Chiffchaffs.

Buff-bellied Pipit, Burton Marsh, Cheshire (Photo: John Tymon)

Buff-bellied Pipit, Burton Marsh, Cheshire (Photo: Jon Worthington)

Siberian Chiffchaff, Burton Marsh, Cheshire (Photo: Anthony Griffiths)
Mid-December's most popular fixture — the Patrington Haven Ivory Gull — continued to show well until Christmas Day but not beyond: perhaps it had become a little sick of the salmon (and other classy fillets!) provided for it? And, not surprisingly, yet another juvenile was found, this time at the more likely location of Eoropie, Lewis (Outer Hebrides) on Christmas Eve, though it had apparently been present a few days previously — it was still there on 29th, and represents the seventh seen within a month.

Ivory Gull, Patrington Haven, East Yorkshire (Photo: Steve Race)

Ivory Gull, Patrington Haven, East Yorkshire (Photo: Tom Hines)
Also still present on the Outer Hebrides, in addition to several Glossy Ibis, was the Pied-billed Grebe at Balranald, North Uist to 31st. But, continuing the islands' purple patch in quite spectacularly unexpected fashion, Steve Duffield and John Kemp discovered a Marsh Sandpiper at Kyles Paible, North Uist on 30th-31st. This is a sensationally unlikely time of year for a Marsh Sandpiper to be gracing the Outer Hebrides and perfectly typifies 2013 — outrageous vagrant after outrageous vagrant. This, unsurprisingly, represents the first winter record for Britain and Ireland (the previous latest have been in October and the earliest in April).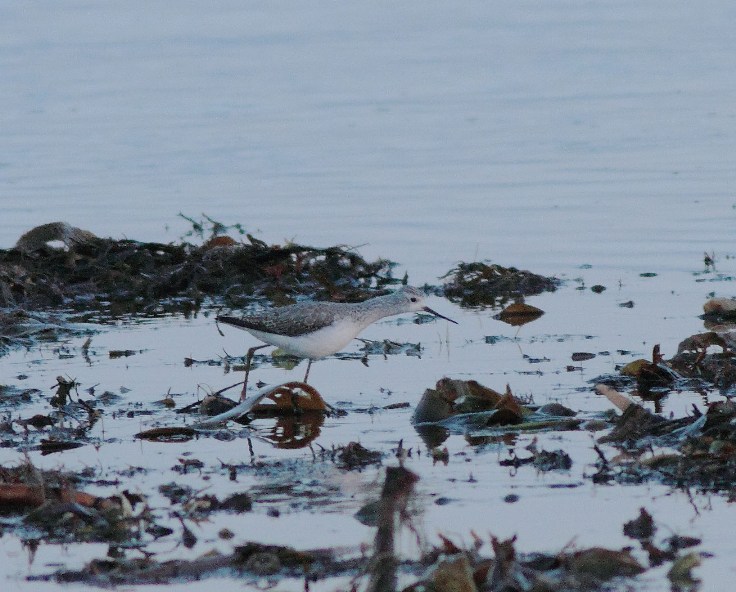 Marsh Sandpiper, Rubh' Arnal, N.Uist, Outer Hebrides (Photo: Steve Duffield)
There was no shortage of crossbills on offer over the Christmas period. At least 15 Two-barred Crossbills were at Brierley (Glos) on 20th, with 12 reported again at nearby Crabtree Hill on 29th. At least eight continued at Broomhead Reservoir (S Yorks) throughout, three were still in the Shropshire section of the Wyre Forest, and a male was found in the same county at Kinsley Wood on 29th. Parrot Crossbills included an impressive 20+ at Mayday Farm (Suffolk) on 28th, with nine found at Old Lodge in Ashdown Forest (E Sussex) on 27th–29th, up to 11 remaining in the Holt/Edgefield area of Norfolk, eight at Tunstall Forest (Suffolk) on 19th and 14 at Budby Common (Notts). A male was again at Hemsted Forest (Kent) on 29th, two were at Chamber's Farm Wood (Lincs) early on, a female was reported at Broomhead Reservoir (S Yorks) and two possibles were on Cannock Chase (Staffs) on 28th–29th.

Two-barred Crossbill, Broomhead Reservoir, South Yorkshire (Photo: Graham Catley)

Two-barred Crossbill, Broomhead Reservoir, South Yorkshire (Photo: Graham Catley)

Two-barred Crossbill, Broomhead Reservoir, South Yorkshire (Photo: Gelderd55)

Parrot Crossbill, Budby Common, Nottinghamshire (Photo: Jon Lowes)

Parrot Crossbill, Budby Common, Nottinghamshire (Photo: Darren Chapman)

Parrot Crossbill, Mayday Farm, Suffolk (Photo: Barry Woodhouse)

Parrot Crossbill, Budby Common, Nottinghamshire (Photo: Ian Curran)
Of the rare and scarce geese seen, the Isle of Wight Red-breasted Goose was still at Newtown Harbour on 20th but had seemingly relocated to Jersey from 22nd onwards; the only Richardson's Canada Goose reported was at Lissadell (Sligo) on 28th though a Todd's Canada Goose was seen at Skinburness and Cardurnock (Cumbria) on 20th and 28th–29th. Around 15 Black Brants included three at Paglesham Eastend (Essex), while three Irish records came from Counties Wexford, Mayo and Sligo. The white-morph Snow Goose was still at Carrahane Strand (Kerry) throughout, while two white morphs were again at Strathbeg (Aberdeenshire) on 30th.

Todd's Canada Goose, Cardurnock, Cumbria (Photo: Sam Northwood)
In Cornwall, the drake Lesser Scaup returned to Dozmary Pool from 29th, while the drake remained in Cardiff Bay (Glamorgan) and the female was still at Alturlie Point (Highland). Seven Ring-necked Ducks were split 5:2 between Ireland and Britain. The former involved birds in Counties Donegal, Mayo, Galway, Westmeath and Cavan, while British birds were at Eyebrook Reservoir (Leics) and Burrator Reservoir (Devon). Ten Green-winged Teal included new birds in Gloucestershire, Pembrokeshire, East Yorkshire and Devon, while drake American Wigeon at Fenham Flats (Northumberland) on 22nd and 28th and on Westray (Orkney) on 30th were also new: further birds remained at Burton Marsh (Cheshire) to 19th, Loch of Strathbeg (Aberdeenshire) and Tullaghan (Leitrim).
Two female King Eiders remained off the Fidra and Eyebroughy area of the Lothian coastline, while a drake lingered in Bluemull Sound (Shetland). Three drake Surf Scoters continued in Colwyn Bay throughout, while two were off Morfa Bychan (Gwynedd) again on 29th and a further Welsh drake was at Rhossili Bay, Gower (Glamorgan) on 29th. Another drake was showing well off the Musselburgh area of Lothian from 21st, with further records coming from Fife, Dorset, Cork and Antrim.
The Cattle Egret remained in the Steeple Claydon and Calvert Lakes area of Buckinghamshire for much of the Christmas period, while up to three were at Bunmahon (Waterford) on Christmas Eve, with one there until 30th. We carried over 130 reports of Glossy Ibis on Bird News Extra over the fortnight, with birds widespread between County Cork, Cornwall and Orkney, typically showing a westerly bias. Six Great White Egrets at Dungeness (Kent) was the highest single count of that species of the period, though three remained at Pitsford Reservoir (Northants) and multiple birds also continued along the Cheshire and Lancashire coastline.

Glossy Ibis, Radipole Lake RSPB, Dorset (Photo: Ron Marshall)

Glossy Ibis, Tregony, Cornwall (Photo: John Rowe)
Unusual raptors were limited to the two Rough-legged Buzzards continuing around Haddiscoe Marshes (Norfolk) and the long-stayer at Orford Ness (Suffolk).
A Baird's Sandpiper was a surprise record from Blennerville (Kerry) on 28th, while the Pectoral Sandpiper continued in County Armagh at Ardmore Point, Lough Neagh to at least Christmas Eve. The Lesser Yellowlegs at Lepe (Hants) soldiered on, and unsurprisingly decent numbers of Grey Phalaropes were seen in the stormy conditions.

Lesser Yellowlegs, Lepe CP, Hampshire (Photo: Jake Gearty)

Grey Phalarope, Skateraw, Lothian (Photo: Dennis Morrison)
A first-winter Bonaparte's Gull was fresh in on the Hayle Estuary (Cornwall) on 27th, while the adult remained at Dawlish Warren (Devon). A candidate second-winter American Herring Gull was at Elsham (Lincs) on 30th. Sixteen or so Ring-billed Gulls included double figures in Ireland, with three new birds around Cork City and a second-winter at Dun Laoghaire (Dublin). Four British records all concerned adults at traditional sites: Crosby Marine Park (Lancs), Llys-y-Fran Reservoir (Pembrokeshire), Gosport (Hants) and Dingwall (Highland). Iceland and Glaucous Gulls slowly increased in number over the Christmas period, although totals were hardly exceptional; perhaps they will increase if the unsettled weather continues into the New Year.

Ring-billed Gull, Gosport, Hampshire (Photo: Brian Anderson)

Ring-billed Gull, Cork City, Cork (Photo: Mark Carmody)

Iceland Gull, Stubber's Green, West Midlands (Photo: Philip John Parsons)

Iceland Gull, Brixham, Devon (Photo: Charlie Fleming)

Glaucous Gull, West Bexington, Dorset (Photo: Steve Carey)
In the mild conditions, it was no great surprise that wintering landbirds continued their respective stays: the Hoopoe was still in Pensarn (Conwy) on 26th, the Richard's Pipit was at Kelling (Norfolk) to 29th, Rose-coloured Starlings remained on Scilly and in Norfolk and Cornwall, and the Hume's Leaf Warbler was still at a private Northamptonshire site on 24th. As well as a handful of Yellow-browed Warblers, there was also a great showing of Siberian Chiffchaffs, and our Iris galleries were graced with some fabulous photos of the taxon over Christmas.

Hoopoe, Abergele, Conwy (Photo: Simon Smethurst)
[pic:19809]

Yellow-browed Warbler, St Mary's, Isles of Scilly (Photo: Joe Pender)

Siberian Chiffchaff, Chasewater, Staffordshire (Photo: Gary Woodburn)
And so that concludes a quite manic year that will live long in the memory for those who saw some of the delights it had to offer. With such a strong cast lingering into 2014, the New Year has already started on a bright note. Whether such an incredible pace can be sustained remains to be seen but, regardless of what is yet to come, it is now time to wish you all a Happy New Year and the very best for birding in 2014.
Photo of the Week, 18th–24th December

Black-headed Munia, Sri Lanka (Photo: Dave Williams)
Since returning from his latest trip to Sri Lanka earlier this month, Dave Williams has posted a selection of more than 30 of his bird images to BirdGuides. Dave's high-quality photography provides a great record of the local birds he encountered and more than one was of Photo of the Week standard. In the end, we opted for his striking portrait of a Black-headed Munia perched in a reedbed. Dave's simple composition isolating this well-lit bird against a lush green backdrop combines a clear species study with strong photographic aesthetics. Vertical framing and diagonal reeds provide an excellent framework and the bird is sized perfectly amongst the greenery to make the most of the tone and colour contrasts of its stunning tricoloured plumage. An exotic scene skilfully captured and presented.
Other notable images

Sanderling, undisclosed site, Essex (Photo: Jon Evans)

Ivory Gull, Patrington Haven, East Yorkshire (Photo: Mandy West)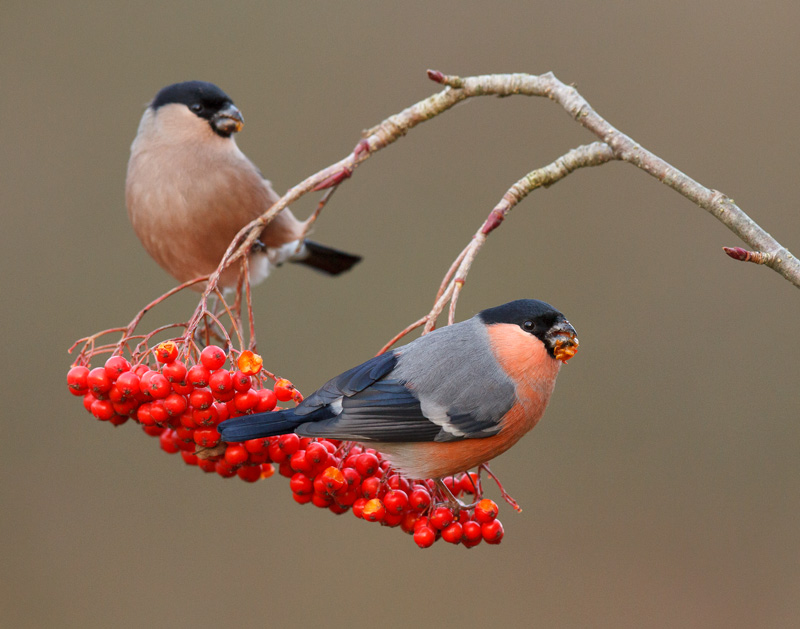 Bullfinch, Wayoh Reservoir, Lancashire (Photo: John Barlow)

Little Egret, Brancaster Staithe, Norfolk (Photo: Baz Scampion)

Starling, Blackpool, Lancashire (Photo: Martin Jump)

Dartford Warbler, Christchurch Harbour, Dorset (Photo: Joe)

Herring Gull, Bardsey Island, Gwynedd (Photo: Ben Porter)

Long-eared Owl, Poland (Photo: Artur Stankiewicz)
Photo of the Week, 25th–31st December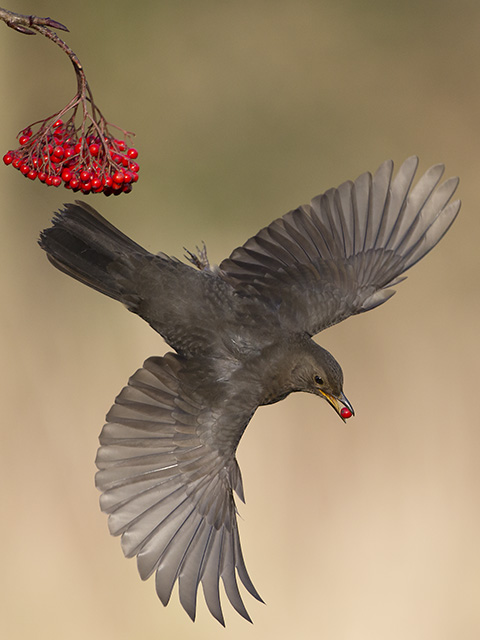 Blackbird, Wigan, Greater Manchester (Photo: Roy)
In recent weeks, we've received a stream of excellent portrait shots of birds feeding on berries. However, Wigan-based Roy Rimmer is the type of bird photographer who will always try for an action shot wherever possible, and so has managed an alternative take on this berry theme. Using a fast shutter speed (1/5000th second) to freeze a Blackbird as it flies off the berry bunch, Roy has created a dynamic image that tells the whole story. As the bird dives from the branch, wings outstretched and feet trailing, Roy has frozen the action in a tightly-framed shot, the single stolen berry completing the picture.
Other notable images

Barn Owl, undisclosed site, Norfolk (Photo: Tom Melton)

Snow Bunting, Pakefield, Suffolk (Photo: Carl Wright)

Purple Gallinule, Sri Lanka (Photo: Dave Williams)

Common Snipe, Slimbridge WWT, Gloucestershire (Photo: Mr Clive Daelman)

White-billed Diver, Brixham, Devon (Photo: Rich Andrews)

Black-necked Grebe, Snettisham RSPB, Norfolk (Photo: Chris Cook)

Kestrel, Strumpshaw Fen RSPB, Norfolk (Photo: Ian Clarke)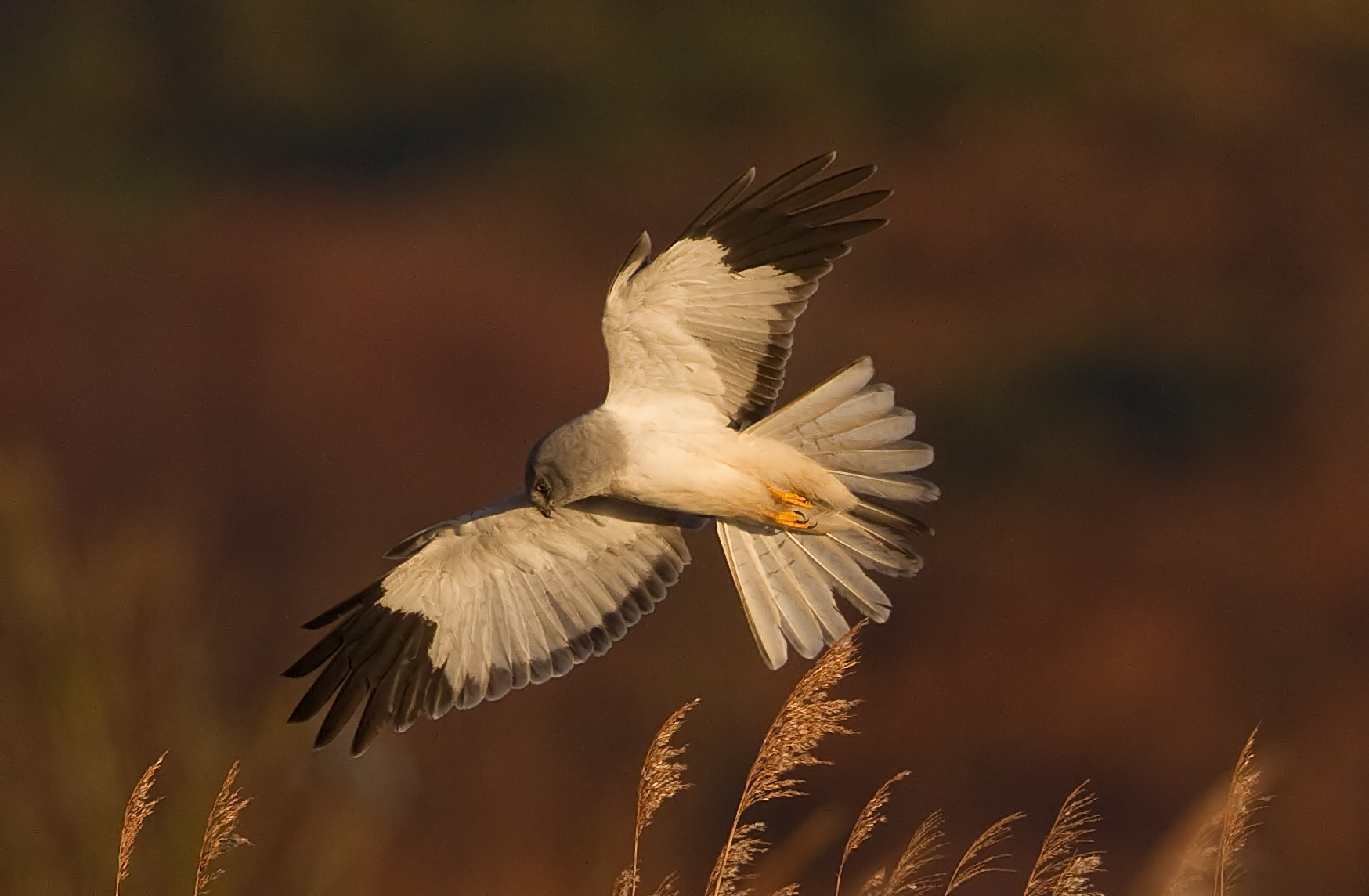 Hen Harrier, Minsmere RSPB, Suffolk (Photo: Nick Brown)

White-necked Jacobin, Trinidad and Tobago (Photo: Steve Whiteley)

Brünnich's Guillemot, Portland Harbour, Dorset (Photo: Steve Carey)

Siberian Chiffchaff, Burton Marsh, Cheshire (Photo: Mike Orritt)