The week at a glance
Easter 2014 proved a relatively low-key and routine affair, although there were nevertheless one or two good birds found — as you'd expect for a spring Bank Holiday weekend — and a reasonable arrival of common migrants along the south coast throughout the week. Portland (Dorset) claimed arguably the most significant British bird of the week, with a harrier photographed flying north along the island's coast on 21st proving, from photos, to be a really rather smart male Northern Harrier. It's tempting to speculate that this could be the bird seen on one evening only last November in Cornwall but, given the recent 'explosion' in records, it could quite easily be another. If actively migrating, this bird could be anywhere by now, but it'll be worth keeping an eye on harrier roosts right up the country in the coming days, just in case.

Northern Harrier, Portland, Dorset (Photo: Peter Moore)

Northern Harrier, Portland, Dorset (Photo: Peter Moore)
Ireland chipped in with a fine male Sardinian Warbler in Scott's Garden on Dursey Island (Cork), the site of last September's Wilson's Warbler. Though Sardinian Warbler is a regular but rare vagrant to neighbouring Britain, the Dursey bird represents only the third record for Ireland, following two males in quick succession in April 1993. In fact, the latest individual correlates strongly, with both previous occurrences coming from County Cork: on Cape Clear on 10th–12th and at Knockadoon Head on 14th–21st.
Also in western Ireland, the Pied-billed Grebe reappeared again on Sruhillbeg Lough, Achill Island (Mayo), on 16th after last being seen on 15th November. Whether it has been present here all winter or not remains a mystery; it has been looked for but its elusive nature and the generally abhorrent weather conditions through the winter meant that searching a large, exposed lough was hardly an easy task! The Hebridean bird also lingered another week at Balranald, and there was a report of a probable briefly at Loch Thom (Clyde) on 20th. Sad news for Highland birders, though, as the American Coot finally appears to have moved on.

Pied-billed Grebe, Keel, Achill Island, Mayo (Photo: Micheal O'Briain)
Wildfowl included the drake Baikal Teal still on the Ouse Washes (Cambs) to at least 21st and often alongside the continuing drake Green-winged Teal — the latter one of eight seen nationwide, with new birds at Attenborough Nature Reserve (Notts) on 16th–17th, near Holyhead (Anglesey) on 17th–20th, at Stocks Reservoir (Lancs) from 19th and on Lough Beg (L'derry) on 21st. The ever-present Black Duck was still on Achill Island (Mayo), while a female Blue-winged Teal was new in at Sandwich Bay (Kent) on 22nd; a drake American Wigeon was also new on Tiree (Argyll) on 21st–22nd and another was again on South Uist on 17th. A female Ferruginous Duck and three Ring-necked Ducks were also reported on Lough Beg (L'derry) on 20th, with the drake Ring-necked Duck also still at March Farmers.

Blue-winged Teal, Sandwich Bay, Kent (Photo: Steve Ray)

Black Duck, Sruhill Lough, Achill Island, Mayo (Photo: Micheal O'Briain)

American Wigeon, Loch an Eilein, Tiree, Argyll (Photo: John Bowler)
Two white-morph Snow Geese were at Holm (Orkney) on 22nd, and a third flew past Evanton (Highland) with Pink-feet on 21st. Two Grey-bellied Brants were reported from Killard Nature Reserve (Down) on 19th, a Black Brant remained around the Orwell Estuary (Suffolk) and the unringed Red-breasted Goose reappeared at Caerlaverock (Dumf & Gall) from 20th.
Offshore, King Eiders remained on Unst (Shetland) and in Fife and County Donegal. A drake Surf Scoter flew north past Starr Gate, Blackpool (Lancs), on 20th and another was found off Portmahomack (Highland) on 21st; the long-stayer also remained in Lothian. White-billed Divers included birds off Spurn and Flamborough (E Yorks), and Malin Head (Donegal) all on 19th, two off Port Skigersta, Lewis (Outer Hebrides) on 20th, and Eriskay and Tiumpan Head (both Outer Hebrides) and Birling Gap (E Sussex) on 21st. Seven were seen from a boat trip off Portsoy (Aberdeenshire) on 16th and one from the shore thereafter; another was seen in the traditional location of Kirkabister (Shetland) on 18th.
A Purple Heron was at Dungeness (Kent) on 22nd, and two adult Night Herons reached Shetland: one was at Brake then Spiggie from 18th onwards and the other at Reawick on 18th–20th was found expired on 21st. Cambridgeshire's Cattle Egret spent the week on the Ouse Washes, and two were reported over Isleworth (London) on 19th. A White Stork toured North Wales, being seen at Caernarfon (Gwynedd) and South Stack (Anglesey) on 17th and over Bardsey Island (Gwynedd) on 19th, before finally being found settled near Caerhun (Conwy) on 21st. Others were over Hook (Hants) on 20th and Lisvane Reservoir (Glamorgan) on 21st, while one was seen over Otmoor (Oxon) and later Wilstone Reservoir (Herts) on 22nd. Double figures of Glossy Ibis also remained nationwide.

Night Heron, Loch of Spiggie, Mainland, Shetland (Photo: Hugh Harrop)

Night Heron, Reawick, Mainland, Shetland (Photo: James Wood)

Glossy Ibis, Middleton Lakes RSPB, Warwickshire (Photo: Dave Hutton)
A sensational flock of 16 Black-winged Stilts graced St Ouen's Pond (Jersey) on 21st, with two remaining there the following day. Meanwhile, the pair was last seen at Old Hall Marshes (Essex) on 17th. Kentish Plovers were typically brief, with a male at Dawlish Warren (Devon) on 18th and a female at Gibraltar Point (Lincs) on 19th. The shorebird highlight, though, was a mobile and elusive Collared Pratincole at Northam Burrows on 21st–22nd — the first record for Devon since 1956! A first-winter Franklin's Gull was seen on the Gower (Glamorgan) on 18th, firstly at Crofty and later Wernffrwd, while a second-winter flew south past Saltburn (Cleveland) on 21st. Ring-billed Gulls included immatures on Tiree on 16th, at Loch Gilp (Argyll) on 19th and two at Poolbeg (Dublin) on 20th, while an adult remained at Belfast Lough (Antrim) on 16th.

Black-winged Stilt, Old Hall Marshes RSPB, Essex (Photo: Stephen Allen)
Hoopoes were again the most numerous southern overshoot, with at least a dozen scattered around. New birds were at Treales (Lancs) on 16th–18th, Bannow Bay (Wexford) on 16th–18th, Priors Marston (Warks) on 17th, Brew Pool and St Just (Cornwall), Watten (Highland) on 19th, Thornham (Norfolk) and Porlock (Somerset) on 21st, and at Mizen Head and Ballywilliam (Cork), and on St Martin's (Scilly) on 22nd. Long-stayers remained in Kent and Dumfries & Galloway. The first flush of Wrynecks came from 21st, with a bird on the Farne Islands (Northumberland) followed by five more on 22nd: on Fair Isle, Marrister (Whalsay), North Ronaldsay (Orkney), Anstruther (Fife) and Benacre (Suffolk). One was reported inland in Warwickshire on 18th. At least one Bee-eater toured the Isles of Scilly until 19th, and another was over Dursey Island (Cork) that day.

Hoopoe, Thornham, Norfolk (Photo: Penny Clarke)

Bee-eater, St Mary's, Isles of Scilly (Photo: Robin Mawer)
A particularly bright Short-toed Lark at Long Nab (N Yorks) on 20th was a first for the Scarborough area; not too far away, the Tawny Pipit remained at Flamborough Head until 19th, while the identification of a large pipit further down the coast at Easington flitted between Richard's and Blyth's before sound recordings suggested the former as the correct identification. The long-staying but elusive Richard's was also again at Gramborough Hill (Norfolk) on 21st. Bluethroats were reported from Grove Ferry (Kent) briefly on 18th and singing near Howden (E Yorks) the following day. Brief Red-rumped Swallows were at Horsey (Norfolk), Portland (Dorset) and Minsmere (Suffolk) on 17th, with a two-dayer at Pennington Marshes (Hants) on 18th–19th and further fly-throughs at Felixstowe Docks (Suffolk) on 20th and Praa Sands (Cornwall) on 22nd. Two lingered long enough to be twitched on the Cam Washes (Cambs) on 20th. Woodchats — the first of 2014 — were on St Mary's (Scilly) on 20th–22nd and at St David's Head (Pembrokeshire) on 20th.

Short-toed Lark, Long Nab, Burniston, North Yorkshire (Photo: Lee Johnson)

Tawny Pipit, Flamborough Head, East Yorkshire (Photo: Neil Hughes)

Woodchat Shrike, St Mary's, Isles of Scilly (Photo: Martin Goodey)
Late news of a Subalpine Warbler also came from St David's Head on 13th, while a Western Subalpine Warbler was seen relatively briefly at Pagham Harbour (W Sussex) on 21st. A Savi's Warbler buzzed at Radipole Lake (Dorset) on 17th though was again fleeting; long-stayers included the wintering Dusky Warbler still at Oulton Marshes (Suffolk) on 17th, the Hume's Leaf Warbler at Dungeness (Kent) on 21st and the Yellow-browed Warbler in Uffmoor Wood (Worcs) to 21st. Another Yellow-browed was in Saltash (Cornwall) on 20th.
There was no shortage of lingering Two-barred Crossbills, with six again at Broomhead Reservoir (S Yorks) on 17th. The male was still in Hemsted Forest (Kent) on 19th, as was the Manchester bird at Dove Stone on 18th. At least two remained at Lynford Arboretum (Norfolk), and there was a report from Dimmingsdale (Staffs) on 22nd. Serins were at Hunmanby Gap (N Yorks), St Mary's (Scilly) and Sidestrand (Norfolk) all on 17th, with a male in the observatory garden at Portland Bill (Dorset) on 20th, further flyovers at Swanage (Dorset) and Newhaven (E Sussex) on 21st, and at Hengistbury Head (Dorset) on 22nd. The Outer Hebrides' first remained at South Glendale to at least 22nd.

Two-barred Crossbill, Lynford Arboretum, Norfolk (Photo: Chris Mayne)
Further afield, Sweden claimed another male Caspian Plover — this time on Öland — while a Cape Gull was photographed in the far northeast of Spain on 21st, just 950km from London! Tantalising Sussex and Kent seawatchers was a Black-browed Albatross seen on the Calais side of the English Channel on 21st, while Iceland's fourth Killdeer was noted on 20th. Biggest news, though, was the Western Palearctic's first Wahlberg's Eagle — photographed at Ras Shokeir, on the Egyptian Red Sea coast north of Hurghada, last May but only identified on Tuesday via photographs.

Wahlberg's Eagle, Egypt (Photo: Ahmed Waheed)
Photo of the Week

Black-tailed Godwit, Titchwell RSPB, Norfolk (Photo: Carl Wright)
Capturing the dynamic interactions between birds on camera is not as straightforward as it may sound — such interactions may only last for a matter of seconds, sometimes even less. Though we often see classic interactions uploaded to Iris such as a Sparrowhawk with its prey or mating birds, other instances are less regular and, given the often high pace and intensity of these comings together, quality images that freeze the action are even scarcer. As a result, Carl Wright's striking series of images portraying two Black-tailed Godwits locked in an intense battle were gratefully received here in the BirdGuides office, with one in particular standing out: one bird, standing on the other's wing, locks its bill around its victim's neck and pins it to the muddy floor. This shows a character that contrasts with the elegant, placid and graceful impression usually associated with the species: it is this unusual pose, combined with a sharp focus, which made the image really stand out to our team. Congratulations to Carl on his fourth Photo of the Week.
Other notable images

Dotterel, Kessingland, Suffolk (Photo: Chris Darby)

Cuckoo, Ashdown Forest, West Sussex (Photo: John Stanton)

Yellow Wagtail, Toft Newton Reservoir, Lincolnshire (Photo: Nick Clayton)

Gannet, Bempton Cliffs RSPB, East Yorkshire (Photo: Chris Upson)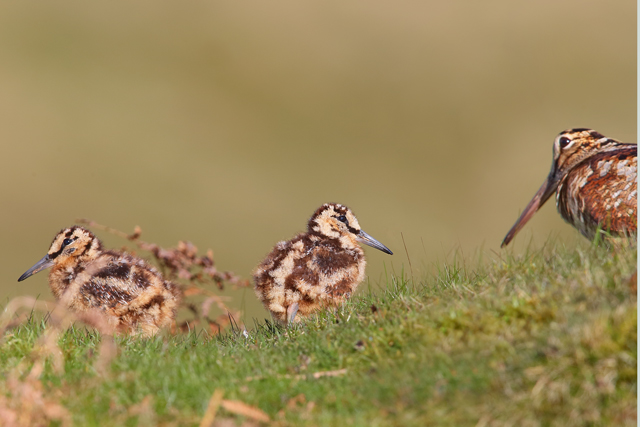 Woodcock, Bollihope Common, Durham (Photo: Colin Bradshaw)

Tufted Duck, London Wetland Centre WWT, Greater London (Photo: Tom Hines)

Ptarmigan, Cairn Gorm, Highland (Photo: Marcus Conway - ebirder)

Eider, Holy Island, Northumberland (Photo: Andy Mould)

Swallow, Hardley Flood, Norfolk (Photo: Nick Appleton)

Red-necked Grebe, Farmoor Reservoir, Oxfordshire (Photo: Mike McKenzie)

Great Spotted Cuckoo, Spain (Photo: Natalino Fenech)

Thick-billed Lark, Morocco (Photo: Simon Patient)