The week at a glance
Unlike the male in Co Cork two years ago, the Wilson's Warbler at Port Nis, Lewis, decided to linger for several days, putting on quite a show for a good crowd of British twitchers that made the long journey north-west. Its final appearance was on Saturday 17th, a particularly warm and sunny day that was followed by a cool, clear night, and predictably resulted in the unfortunate 'no sign' message being broadcast the following morning. Given the series of superb images uploaded to the BirdGuides galleries throughout the week, it evidently showed well at times ...

Wilson's Warbler, Port Nis, Lewis, Outer Hebrides (Photo: Tony Dixon)

Wilson's Warbler, Port Nis, Lewis, Outer Hebrides (Video: Pete Hines)
The decline of Siberian Rubythroat as a near-mythical rarity has been rapid over the past decade, though their appearance on our shores is still nevertheless celebrated — or rather cursed if you're not willing to go to Shetland. Where else but Fair Isle was on hand to claim this week's record, a female during the afternoon of 20th — the third record for the island in four years. It seems this is the week to be on Fair Isle if you want to see the species: excluding the first for Britain found on 9 October 1975, previous records have come on 17th (2003), 21st (2013), and 23rd (2005, 2012) October. Add to this records from Mainland Shetland in 2011 and 2014, and the species is at the risk of being demoted to 'annual fodder'. It may sound harsh for what remains among the most enigmatic of eastern vagrants, but the records don't lie. One can only assume that this trend will persist as coverage on Shetland continues to increase throughout the autumn weeks — although the wait for an accessible bird on the British mainland goes on.
Another species seemingly going the same way is Brown Shrike — a species that had occurred in Britain just once before 2000 (and once in Ireland) but has since turned up a further 17 times, including this week's bird at Porthgwarra, Cornwall, on 20th. Though the five seen in 2013 may remain the exception rather than the norm for some time to come, it's a species that is now very much on the radar for any rarity hunter.
Were it not for the long-staying bird in West Sussex this summer, there's no doubt that the juvenile Hudsonian Whimbrel present on St Agnes, Scilly, from 15–19th would have sparked a sizeable twitch. Irrespective of this it is one of the highlights of what has been an improved autumn for the archipelago. This bird will represent the 11th of its kind to be seen in Britain.

Hudsonian Whimbrel, Tresco, Isles of Scilly (Photo: Richard Stonier)
Just across the water the Blyth's Pipit was performing brilliantly at times on Peninnis Head, St Mary's, throughout the week. It was one of two reported this week, the other being at Sumburgh, Shetland, during the afternoon of 15th but not again.

Blyth's Pipit, St Mary's, Isles of Scilly (Photo: Jim Almond)
Other mega-rarities included a Pallas's Grasshopper Warbler showing well on Fair Isle for a time on 19th and a Short-toed Treecreeper reported from Dungeness, Kent, on 16th. A White's Thrush was found at Baltasound, Unst, on 20th and there was a report of another seen in flight near Porthgwarra, Cornwall, on 19th. A probable Black-and-white Warbler was glimpsed at Frampton Pools, Glos, in the late afternoon on 18th but was not seen again despite extensive searching.

Pallas's Grasshopper Warbler, Fair Isle, Shetland (Photo: Lee Gregory)
There was no news of the Black Scoter in Co Kerry this week but Surf Scoters remained off Lunan Bay, Angus, and Ferny Ness, Lothian. King Eider news this week concerned a possible female past Cley, Norfolk, on 17th.
As well as the continuing drake in Hertfordshire, a juvenile Ring-necked Duck was on the River Exe at Countess Weir, Devon, on 14th. A Lesser Scaup returned to Lough Gill, Co Kerry, on 16th, while a drake was found on Achill Island, Co Mayo, on 18th and the long-staying bird was at Cardiff Bay, Glamorgan, on 20th. Four drake American Wigeon included two on Orkney; a female was reported at Old Hall Marshes, Essex, on 18th. The only Green-winged Teal was a drake at Lough Beg, Co Londonderry, on 17th.

Lesser Scaup, Lough Doo, Achill Island, Mayo (Photo: Micheal O'Briain)
The white-morph Snow Goose continued at Caerlaverock, Dumfries & Galloway, to 15th and another was still at Findhorn Bay, Moray & Nairn, to 16th. A blue morph was again with Pink-feet at Braehead of Lunan, Angus & Dundee, on 17–18th. Two Todd's Canada Geese were seen on Islay, while the Ridgway's Cackling Goose was still with Dark-bellied Brents on the Exe Estuary, Devon, on 15th.

Todd's Canada Goose, Islay, Argyll (Photo: Steve Percival)

Ridgway's Cackling Goose, Exmouth, Devon (Photo: Chris Townend)
Glossy Ibises continued to arrive, a flock of six at Smerwick Harbour, Co Kerry, on 19th upstaging the two present in the county at Kilshannig from 14th (four there on 17th). Another was at Youghal, Co Cork, on 14th and one was discovered at Leighfield, Leics, on 16th. Further individuals remained in Somerset and Essex.
A Cattle Egret reached Collafirth, Shetland, on 16th and was still there the following day. One remained on the Somerset Levels while three were on Jersey on 15th. The peak Great White Egret count was eight at Dungeness, Kent, while four were at Burton Marsh, Cheshire, on 14th along with many ones, twos and threes elsewhere. A juvenile Purple Heron was brief at Steart, Somerset, on 14th.
A juvenile Pallid Harrier at Annagh Marsh on 19–20th was a fantastic first for Co Mayo; the only other reported this week was at Loch of Spiggie, Shetland, on 14th. Rough-legged Buzzards are now arriving; at least 15 were reported this week, predominantly from east coast counties, though records from Sunbiggin Tarn, Cumbria, and Scotney Gravel Pits, E Sussex, on 19th illustrated that it is worth keeping an eye out elsewhere.

Pallid Harrier, Annagh Marsh, Mayo (Photo: Dave Suddaby)
The juvenile Semipalmated Sandpiper was last reported at Slimbridge, Glos, on 14th. It's been a quiet autumn for White-rumped Sandpipers so a juvenile at Loch of Strathbeg, Aberdeenshire, on 18th was notable. Elsewhere an adult showed well in the high-tide roost at Stag Rocks, Bamburgh, Northumberland, from 14–18th and another was at Blennerville, Co Kerry, on the latter date. Just four Pectoral Sandpipers were reported (West Sussex, Lincolnshire, Cheshire and the Outer Hebrides), while the Temminck's Stint continued at Swillington Ings, W Yorks, to 14th and another was at Blagdon Lake, Somerset, on 19th.

White-rumped Sandpiper, Bamburgh, Northumberland (Photo: Chris Barlow)
The Isle of Wight Greater Yellowlegs was still in situ at Whippingham on 18th, and the only Lesser Yellowlegs was the bird still at White's Marsh, Co Cork, on 15th. In Hampshire the Long-billed Dowitcher remained at Pennington Marshes all week. Eight American Golden Plovers included a couple of new juveniles in Co Cork and an adult at Anthorn, Cumbria, on 18th.
An adult Gull-billed Tern was something of a surprise at Blennerville, Co Kerry, from 17th. The White-winged Black Tern was last reported from The Mere, Shropshire, on 15th. Adult Bonaparte's Gulls remained at Dawlish Warren, Devon, and the Lossie Estuary, Moray/Nairn, while a good candidate for a third-winter American Herring Gull was seen near St Just, Cornwall, on 17th. Ring-billed Gulls included familiar faces on the Hayle Estuary, Cornwall, and at Portrush, Co Antrim, with an adult at Lurgan Green, Co Louth, on 16th and three at Nimmo's Pier, Co Galway, on 18th.

Ring-billed Gull, Hayle Estuary, Cornwall (Photo: Mark Dowie)
The Hoopoe remained at Stretton Sugwas Pits, Herefordshire, to 18th and another was photographed at Rinsey Head, Cornwall, on 19th. Wrynecks were seen in Hampshire, Cornwall and the Isles of Scilly.
Scilly also laid claim to the week's only Short-toed Lark — the continuing bird on St Mary's airfield. Last week's Shore Lark remained at Blyth, Northumberland, and others were found at Burnham Overy, Norfolk, on 15th and Margate, Kent, on 19th.
A Red-throated Pipit also continued on St Mary's to 17th, with another on nearby Tresco on 18th. Double figures of Olive-backed Pipits were seen across Britain: two were seen on Mainland Shetland with two also still on Fair Isle early in the week. Orkney failed to get on the scoresheet but a bird at Brevig, Barra, on 18th meant that the Outer Hebrides did. Fly-overs were noted in Durham and Cleveland on 18th, while East Yorkshire bagged two, at Spurn and Buckton. Single records came from Dorset and Scilly and Norfolk also scored two, including the most popular bird of the week at Muckleburgh Hill from 15–18th, and another at Wells Woods.

Olive-backed Pipit, Muckleburgh Hill, Norfolk (Photo: Rob Wilson)
In fact the Wells Woods/Holkham Pines area had a momentous week, with two Red-flanked Bluetails, Hume's Leaf Warbler, Isabelline Shrike, Blyth's Reed Warbler and several Pallas's Warblers on show there, making it by far the most popular spot for birders over the weekend. This phenomenal selection, plus a further two Isabelline Shrikes seen along the coast (at Sheringham and Mundesley), several more Pallas's Warblers and brilliant numbers of common migrants, has made it one of the best weeks to be birding in the county in living memory, and no doubt something that all those who visited will savour for many years to come.

Red-flanked Bluetail, Wells Woods, Norfolk (Photo: Roger Ridley)

Blyth's Reed Warbler, Wells Woods, Norfolk (Photo: Jaz)

Pallas's Warbler, Wells Woods, Norfolk (Photo: Andrew Steele)

Isabelline Shrike, Beeston Regis, Norfolk (Photo: James Lowen)
News of a male Pied Wheatear near St Just, Cornwall, on 17th only came to light on Tuesday; a female was briefly at Valyie, Unst, on 14th. Save a bird at Spurn on 15th, this week's handful of Bluethroats were restricted to Shetland. A rather smart Siberian Stonechat was discovered at Flamborough Head, E Yorks, and co-operatively lingered thereafter, while the Shetland bird was last seen at Quendale on 15th.

Pied Wheatear, Botallack, Cornwall (Photo: Adrian Davey)

Siberian Stonechat, Flamborough Head, East Yorkshire (Photo: Tony Dixon)
Nine Red-flanked Bluetails were seen this week. In addition to the two in the Holkham/Wells area, Norfolk registered another individual at Hemsby on 18th. Elsewhere new birds were present at Low Newton, Northumberland, on 16th, Kergord, Shetland, on 16–17th, and, on 20th at Sandwich Bay, Kent, Gibraltar Point, Lincs, and, most significantly, at Mizen Head, Co Cork — just the fifth for Ireland. The Scilly bird remained on St Agnes all week. At the current rate of occurrence, it could even be that this most enigmatic of eastern visitors might soon be dropped from the list of BB rarities.

Red-flanked Bluetail, St Agnes, Isles of Scilly (Photo: Colin Harvey)

Red-flanked Bluetail, Holkham Pines, Norfolk (Photo: Denise Emmerson)
The only Booted Warbler report concerned a probable at Gimble Porth, Tresco, on 17th. Apart from the popular Norfolk bird, Blyth's Reed Warblers were seen at Quendale, Shetland, to 17th and on Cape Clear, Co Cork, from 14–17th. Another was trapped at Nanjizal, Cornwall, on 16th. Melodious Warblers were on Bryher, Scilly, on 14th and as far north as Tory Island, Co Donegal, on 15th.
Eight or nine Dusky Warblers were seen nationwide from Shetland to Scilly. A bird lingered at Gibraltar Point, Lincs, all week and another at Flamborough Head, E Yorks, proved popular from 16th. In Cornwall, one showed well at times at Land's End from 15–17th. A Radde's Warbler found on Fair Isle on 14th lingered to at least 19th, while the Great Yarmouth bird reappeared on 15th after a two-day absence and another was heard at Kenidjack Valley, Cornwall, on 17th. At least 35 Pallas's Warblers is perhaps the best showing of this species on British shores in the past decade. Particularly confiding birds were at Hartlepool Headland, Cleveland, on 17th and Flamborough Head, E Yorks, all week, and another bird was as far south-west as Nanjizal Valley, Cornwall, on 20th. As well as the bird in Wells Woods, Hume's Leaf Warblers were at Brancaster, Norfolk, on 15th and Kingsdown, Kent, on 18th.

Dusky Warbler, Gibraltar Point NNR, Lincolnshire (Photo: Graham Catley)

Radde's Warbler, Fair Isle, Shetland (Photo: Lee Gregory)

Pallas's Warbler, Seasalter, Kent (Photo: Richard Bonser)

Pallas's Warbler, Flamborough Head, East Yorkshire (Photo: David Aitken)
Autumn 2015 is rapidly developing in to one of the best on record for Great Grey Shrikes, with around 100 reported from 89 sites this week. Some sites even boasted multiple counts on some days — for example, threes were at Spurn on 15th and Langdale Forest, N Yorks, on 19th, and there were numerous counts of two from coastal sites. Norfolk was particularly productive, with at least 25 recorded. There has arguably never been a better time to find your own!

Great Grey Shrikes, Flamborough Head, East Yorkshire (Photo: Chris Barlow)

Great Grey Shrike, Heybridge Basin, Essex (Photo: Jason Ward)
In contrast Red-backed Shrike numbers have fallen right away (as you'd expect by the second half of October), with just two reported — a showy bird at Portland, Dorset, all week and another at Mizen Head, Co Cork, from 14–17th. Aside from Norfolk's remarkable hat-trick, the Isabelline Shrike remained at South Huish Marsh, Devon, throughout the week, and showed typically well.

Red-backed Shrike, Portland, Dorset (Photo: Simon Craft)

Isabelline Shrike, South Huish Marsh, Devon (Photo: Alan Doidge)
Of the four or five Rose-coloured Starlings noted this week, it was likely that just one was 'new' — a juvenile at East Mersea, Essex, from 15th was a good record of what remains a scarce bird in the county. At least one juvenile remained in the Land's End/Sennen area with another still at Mizen Head, Co Cork, and the long-staying adult was still on Islay, having been first reported on 21 August!

Rose-coloured Starling, Land's End, Cornwall (Photo: Mark Dowie)
A reduced number of Barred Warblers this week saw the species only just make double figures; Common Rosefinches numbered five and showed a strong south-westerly bias, with records from Devon, Scilly, Pembrokeshire and Co Cork. A European Serin was on St Martin's, Scilly, on 14th, with others briefly at Apex Park, Somerset, on 16th and Southwold, Suffolk, on 20th, though the only one to linger was a bird at Portland Bill on 19–20th. At least 20 Richard's Pipits were seen, including counts of up to four on Fair Isle, and around 15 Red-breasted Flycatchers were registered.
A male Two-barred Crossbill was briefly at Blacksod, Co Mayo, on 15th. Two Penduline Tits arrived at Minsmere, Suffolk, on 18th with one again the following morning. Fair Isle also dominated among the dozen or so Little Buntings, with three still on the island on 15th; elsewhere birds were in East Yorkshire, Norfolk (two), Devon and on Mainland Shetland and Scilly. A further bird was on Dursey Island, Co Cork, from 17–19th. There were no Rustic Buntings seen this week, though Ortolans were on Fair Isle from 16th and St Martin's, Scilly, on 17th.
Western Palearctic news
It appears that there is no such thing as a quiet autumn on Corvo, Azores, with easily the best fall of Nearctic passerines to occur on the island since the legendary autumn of 2005 taking place, despite conditions that appeared distinctly average for an arrival of birds. The highlights were the Western Palearctic's first and second records of Eastern Wood Pewee, discovered on 18th and 20th respectively.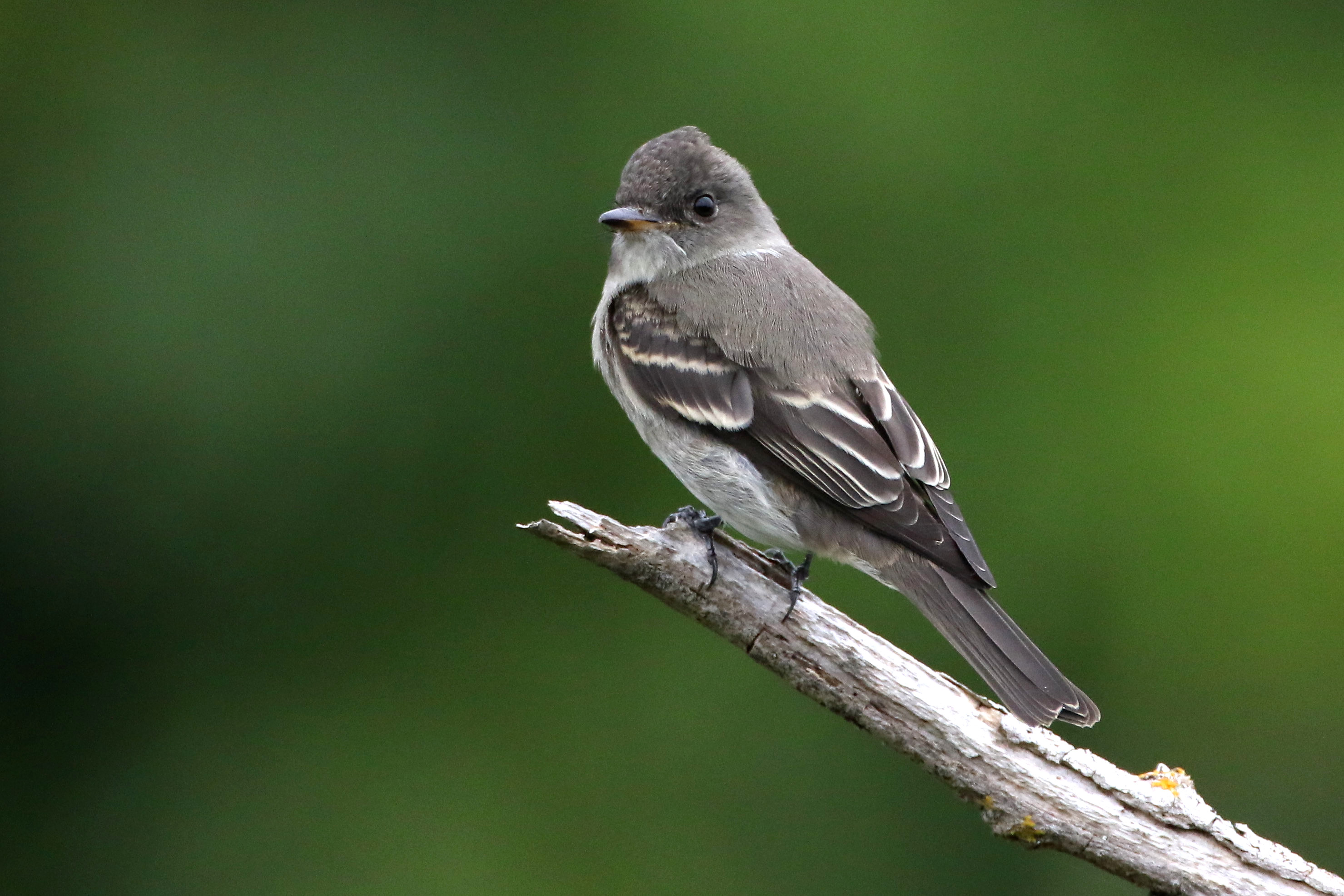 Eastern Wood Pewee, Azores (Photo: Radoslaw Gwozdz)
Another Western Palearctic first came in the form of a stunning Brewster's Warbler on 20th — though this hybrid between Blue-winged and Golden-winged warblers will of course not make any official list, its occurrence should be no less celebrated. It would be interesting to see how many would twitch one were it to turn up in the UK!

Brewster's Warbler, Azores (Photo: Darryl Spittle)
Other species were present in numbers too great to detail here, although other highlights included the Western Palearctic's third Blue-winged Warbler from 17th, the Azores' first Veery from 15th and second Swainson's Thrush on 20th, Corvo's sixth Black-throated Blue Warbler on 20th and double figures of Rose-breasted Grosbeak, Scarlet Tanager, Indigo Bunting and Red-eyed Vireo. For anyone interested in exploring in more detail, daily totals are posted on the BirdGuides Western Palearctic news page.

Blue-winged Warbler, Azores (Photo: Radoslaw Gwozdz)
Away from the mayhem unfolding in the mid-Atlantic, the region was actually fairly quiet this week. A Caspian Stonechat was a nice find on Ouessant Island, France, while an Amerian White-winged Scoter remained off Blåvand, Denmark, and the Pintail Snipe was still at Kfar Ruppin, Israel, on 15th.
Content continues after advertisements