The week at a glance
It was another entertaining August week, with a decent spread of scarce, unusual and rare birds on offer across Britain and Ireland. Some pretty humid, very warm, weather pushed across much of the country as the week drew to a close, temperatures nudging the 30° mark in the southeast, while western coasts (on both sides of the Irish Sea) were rather cooler in some brisk, rather good, seawatching conditions.
Top billing this week goes to the second-summer Audouin's Gull seen circling over Buzza Hill in Hugh Town, St. Mary's (Scilly) on the afternoon of 13th. A second report later in the day from the Garrison turned out to be a false alarm and there's been no further sign around the islands. This record comes almost a year on from the very popular bird along the Lincolnshire coast and will be the second for the southwest of England if accepted, following the second-summer bird seen at Seaton in Devon on the very similar date, 14th August 2007. In Cornwall, another potential Yelkouan Shearwater was seen from Porthgwarra on 17th, the third there this summer.
Successive pelagics off Scilly this week produced Wilson's Storm-petrels on 14th, 15th and 16th (two birds on the first date, six on the second and one on the third) while a trip west of the Bishop Rock on 18th yielded a further two birds, and a trip to the northwest of the islands, on the same date, produced a single bird. Two more were seen from another pelagic heading out from St. Ives (Cornwall) on 15th and on 16th a Wilson's was seen from Annagh Head (Co. Mayo). The following day saw two head past Bridges of Ross (Co. Clare), with a single bird there on 18th and two more on 19th.
Odd ones and twos of Cory's Shearwaters were seen off the coasts of Cornwall, Clare and Cork during the week, while a notable single was off Lenadoon Point (Co. Sligo) on 16th. Three birds passed Pendeen (Cornwall) on 16th with three more off Porthgwarra on 18th, while the high counts for the week were seven off Brandon Point (Co. Kerry) on 15th and nine from a Scilly pelagic on 16th. Brandon also recorded eight Great Shearwaters and the species fared rather better than Cory's overall this week. The highest count was 34 birds past Cape Clear Island (Co. Cork) on 18th, with 11 from Annagh Head on 16th, following on from nine there the previous day. Five Great Shearwaters were seen from Bridges of Ross on 15th and odd singles followed from there during the rest of the week and one was seen from Strumble Head (Pembrokeshire) on 17th.
Seawatchers at "Bridges" scored a dozen Sabine's Gulls on 15th, with two from Annagh Head on the same day. Singles were noted off Pendeen and Old Head of Kinsale (Co. Cork) on 16th and two more flew past the County Clare seawatchers on 17th and 19th. Elsewhere, away from the regular coastal haunts, two Sabine's were seen off Red Point (Highland) on 13th and 17th, a juvenile was seen at Wakering Stairs (Essex) on 14th and one lingered off Hartlepool Headland (Cleveland) on 19th. Sooty Shearwaters have steadily begun to outnumber Balearic Shearwaters now: Sooties have included counts of 46 and 66 (from Bridges of Ross) and 40 and 49 (from Annagh Head) this week, while Balearics have struggled to muster 60 birds in total. The week's only Long-tailed Skuas of the week were singletons recorded off Annagh Head on 15th, Fife Ness (Fife) on 16th and Spurn (East Yorkshire) on 17th, with two birds off Bridges of Ross, also on 17th. Pomarine Skuas included 12 past, inevitably for this week at least, Annagh Head on 16th.

Sabine's Gull, Red Point, Highland (Photo: Nick Davies)

Sabine's Gull, Gairloch, Highland (Photo: Greg Jeffreys)
The only Cattle Egrets of the week were at Elmley Marshes (Kent) on 14th and Hayling Island (Hampshire) on 19th. On 15th, a Great White Egret arrived at Dungeness (Kent), where it stayed to 19th. In Somerset, a Great White Egret was still on Meare Heath at lunchtime on 13th and, later that day, was followed by one at Chard Reservoir, this bird also on show until 19th. Two birds (one colour-ringed) were seen together in the Cambridgeshire fens from 15th (two birds also spent late January to late February this year in and around the Ouse), while a single Great White Egret lingered in Suffolk to 13th. Finally, as far as Great White Egrets are concerned, three birds were reported from Dolydd Hafren (Powys) on 11th.

Great White Egret, Chard Reservoir, Somerset & Bristol (Photo: Chris Grady)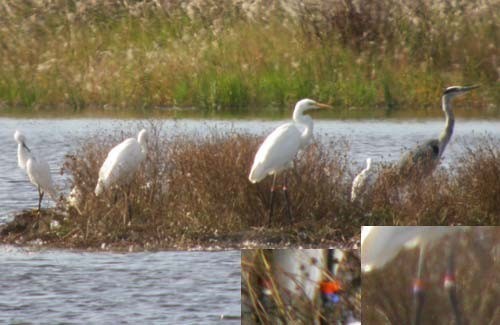 Great White Egret, Over Fen, Cambridgeshire (Photo: Richard Thomas)
The year's largest flock of Spoonbills was also seen in Suffolk this week: 19 birds at Havergate Island on 16th (after 17 birds were seen there at the end of last week). Elsewhere it was singles or twos, but the bird on Otmoor (Oxfordshire) was certainly worth a mention — a county tick for many locals — spending 13th–14th on site. A Spoonbill then appeared out the outskirts of Swindon (Wiltshire) on 17th and was still present on 18th. Another inland Spoonbill was seen in the Dearne Valley (South Yorkshire) on 18th–19th.

Spoonbill, Cley Marshes NWT, Norfolk (Photo: Ben the plumber)
In Norfolk, the Common Crane was still at Burnham Thorpe at the start of the week before taking a little trip to Holkham Freshmarsh on 16th (this bird is now known to be the proud owner of a blue plastic ring, so is of suspect origin at the very least). Three Cranes were at Welney on 15th and, at the other end of the county, eight birds were on Heigham Holmes on 16th. Also on 16th, two birds were seen along the washes in Cambridgeshire. The same county on the same day also saw a Night Heron appear out of the evening heron and egret roost at Fen Drayton Lakes. A Spotted Crake was a neat inland find for birders at Upton Warren (Worcestershire) on 15th and another appeared at the more traditional location of Marazion Marsh (Cornwall) on 16th. The third of the week was found at Edderthorpe Flash on 18th, and was still present on 19th.

Spotted Crake, Upton Warren NR, Worcestershire (Photo: Rob Smith)
An adult Snow Goose seen on Deerness (Orkney) on 15th may have been an early autumn vagrant — the islands seem to have a good track record with the species in recent years. The drake Ferruginous Duck remained at Chew Valley Lake (Somerset) to 17th while the Ferruginous Duck and Ring-necked Duck were reported as still present at Loch Gelly (Fife) to 18th at least and a second drake Ring-necked Duck was found in Fife on 14th, at Kilconquhar Loch.
Content continues after advertisements

Ring-necked Duck, Kilconquhar Loch, Fife (Photo: Willie McBay)
The adult female Snowy Owl remained on Termon Hill, near Blacksod Bay (Co. Mayo) between 13th and 16th and, further to the south, a Black Kite was seen near Lissagriffin (Co. Cork) on 15th. A first-summer male Red-footed Falcon was found late in the day at Hickling Broad (Norfolk) on 17th and was still in place on 18th. In Scotland, reintroduced White-tailed Eagles were seen in Perth & Kinross on 10th and Dumfries & Galloway on 13th
In Northumberland, an adult Semipalmated Sandpiper was found at Cresswell Ponds on 19th. Other Nearctic shorebirds this week included the Baird's Sandpiper which was reported again at Hickling Broad on 14th (the bird was distant and hadn't been seen the previous day). In Kent, an adult White-rumped Sandpiper spent two days (from 13th) at Elmley Marshes and an adult Buff-breasted Sandpiper spent time on the airfield on St. Mary's (Scilly) on 16th–19th. The first juvenile Buff-breast of the autumn made landfall at Tacumshin (Co. Wexford) on 17th.

Semipalmated Sandpiper, Cresswell Pond NWT, Northumberland (Photo: Colin Pears)
Staying on St. Mary's, the Lesser Yellowlegs remained at Porth Hellick Pool until 19th, while the popular Lesser Yellowlegs at Aberlady Bay (Lothian) was present to 18th at least. Just four Pectoral Sandpipers were reported this week, two on 14th (at The Shunan, Orkney and Marazion) while one remained at Frampton Marsh (Lincolnshire) to 16th at least. Also on 16th, a Pectoral Sandpiper was seen at Orford Ness (Suffolk). Another was reported in Nottinghamshire, at Budby, on 15th.In East Yorkshire, a Red-necked Phalarope was seen at Kilnsea and Spurn on 15th.
Back again for yet another winter were adult Ring-billed Gulls at Westcliff-on-Sea (Essex) from 13th and the Isle of Dogs (London) from 17th. A second-summer was still being seen at Sandymount Strand (Co. Dublin) during the week (and the haul of Roseate Terns peaked at around 200 birds on 14th). In and around Galway City, adult and second-summer Ring-billed Gulls were seen at Nimmo's Pier and Salthill between 15th and 18th and a first-summer was at Lurga Point (Co. Clare) on 18th, along with a Glaucous Gull. Another Glaucous was noted on South Uist (Outer Hebrides) on 17th.

Ring-billed Gull, Isle of Dogs, Greater London (Photo: Richard Bonser)
In Norfolk, the impressive summer haul of Caspian Gulls at Blackborough End tip continued this week with at least five different birds noted (including four on 14th). At least 12 different birds have been seen there during the past month. A third-summer was reported at Titchwell (Norfolk) on 15th, while further singles were seen in Oxfordshire and South Yorkshire, and an adult or hybrid was seen at Pitsford reservoir (Northamptonshire) on 16th.
The first Wryneck of the autumn season appeared at Baltasound, Unst (Shetland) on 15th (with another on Guernsey on 17th). Red-backed Shrikes were seen at Halling (Kent) on 13th–14th, Hindon (Wiltshire) on 14th–17th and Hayling Island (Hampshire) on 18th. Rather more surprising was news of a Bluethroat trapped, ringed and released at a private site at West Bexington (Dorset) on 15th.

Red-backed Shrike, Hayling Island, Hampshire (Photo: Steve Copsey)
A late record from the end of last week concerned a Greenish Warbler seen at Saltfleetby NNR (Lincolnshire) on 12th. This week, a Greenish Warbler appeared on Fair Isle (Shetland) on 17th, remaining to 18th. A Barred Warbler was on Noss (Shetland) on 15th and a second Shetland bird appeared at Norwick, on Unst, on 16th. These were followed by one on St. Mary's (Scilly) from 17th where the Melodious Warbler lingered until 18th. Further Melodious Warblers were reported from the Lizard (Cornwall) on 16th, Pleinmont (Guernsey) on 17th and Hengistbury Head (Dorset) on 18th. The only Icterine Warbler of the week appeared at Seaford (East Sussex) also on 18th.
A Common Rosefinch was a brief visitor to Girvan (Ayrshire) on 16th and another appeared at Skaw, Whalsay (Shetland) on 18th. The review for this week ends with news of two possible male Two-barred Crossbills seen briefly at St. Margaret's Hope, South Ronaldsay (Orkney) on 15th and another possible reported last week in Dumfries & Galloway, at Wood of Cree.

Honey Buzzard, New Forest, Hampshire (Photo: Russell Wynn)
Photo of the Week: 13th-19th August

Manx Shearwater, at sea, Pembrokeshire (Photo: Richard Crossen)
Continuing last week's theme of recognising photos taken on pelagic trips, this week's Photo of the Week was taken by Richard Crossen 26 miles off the coast of Pembrokeshire in Wales. In contrast to last week's winner, though, the emphasis isn't on capturing detail in an individual bird so much as recording an amazing natural spectacle. Richard captured the scene as Manx Shearwaters flocked around a lunge-feeding Fin Whale, a magnificent creature typically growing to over 60 feet long. As a photographer, this is the type of once-in-a-lifetime opportunity that you either get right or spend years kicking yourself over. Fortunately, Richard has no need to kick himself on this occasion!

Dunlin, Crosby Marine Park, Lancashire (Photo: David Cookson)

Hoopoe, Greece (Photo: Kit Day)

Woodchat Shrike, Greece (Photo: Kit Day)

Common Buzzard, Mull, Argyll (Photo: Tony Mills)

Little Egret, Leighton Moss RSPB, Lancashire (Photo: Steve Dolan)

Teal, Cley Marshes NWT, Norfolk (Photo: Kevin Du Rose)

Common Kingfisher, Chard Reservoir, Somerset & Bristol (Photo: James Packer)

Little Grebe, Pitsford Reservoir, Northamptonshire (Photo: Amanda Hayes)

Cuckoo, Spurn, East Yorkshire (Photo: Marcus Conway)

Common Tern, undisclosed site, Lancashire (Photo: Richard Steel)
Photo of the Week: 6th-12th August

Great Shearwater, at sea, Kerry (Photo: Rónán McLaughlin)
This week, unusually, our Photo of the Week is actually a photo of our Bird of the Week, the Great Shearwater. From a pelagic trip venturing over 30 miles off the coast of County Kerry in Ireland, Ronan McLaughlin submitted a superb series of photos recording the various species seen, including Great and Sooty Shearwaters, Storm Petrels and a Sabine's Gull. Even when there are large numbers of seabirds within close range of a boat, taking photos of them can be incredibly difficult. In our pick of Rónán's series, he has managed to capture a handsome Great Shearwater in pin-sharp detail with great lighting, pose and background, including fine facial detail: quite an achievement!

Little Owl, private site, Cheshire (Photo: David Cookson)

Puffin, Sumburgh, Mainland, Shetland (Photo: Kev Joynes)

Swallow, Hightown, Lancashire (Photo: David Cookson)

Great Crested Grebe, Pitsford Reservoir, Northamptonshire (Photo: John Betts)

Short-eared Owl, North Uist, Outer Hebrides (Photo: Pauline Greenhalgh)

Grey Heron, Les Grand Pre, Guernsey (Photo: Steve Levrier)

Sand Martin, Minsmere RSPB, Suffolk (Photo: Jon Evans)

Tree Pipit, undisclosed site, Clwyd (Photo: Steve Round)

European Stonechat, Pleinmont, Guernsey (Photo: Chris Bale)

Turnstone, North Wirral, Cheshire (Photo: Richard Steel)

Dipper, Brecon, Powys (Photo: Steve Wilce)

Northern Cardinal, Canada (Photo: Peter Beesley)