A true classic start to the autumn in the Spurn recording area, a brief European Roller lingered between Easington and Kilnsea for two short hours on 12th before heading off northwards. This is the fourth record for the famous East Yorkshire site – all in the last 13 years – with previous records in July 2007, September 2010 and May 2012. Last week's first-winter female Collared Flycatcher was still present and correct by the Warren until the 12th, too.

European Roller, Kilnsea, East Yorkshire (Bethan Clyne).
Last week's showstopper, Lothian's Scopoli's Shearwater, was unfortunately nowhere to be found this week. That is, of course, until a bird with the same distinctive wing markings headed south past Mundesley, Norfolk, early on 15th, although it wasn't picked up further south. It will be interesting to see whether this unique individual will make a reappearance before the year is out.
In Derbyshire, the young Bearded Vulture continued to find enough sustenance in the Crowden area to satisfy its voracious appetite. Despite its potential provenance and status it is a bird well worth seeing. For an in-depth analysis of the species' history and vagrancy across Europe, see the article by Sam Viles here.

Bearded Vulture, Crowden, Derbyshire (Jon Worthington).
An adult female Aquatic Warbler trapped and ringed in Dorset at Lytchett Bay was the first record of the year for this delightful eastern European Acrocephalus. On Shetland, Fair Isle's second Thrush Nightingale of the year was at Utra on 14th. Curiously, a Sardinian Warbler was belatedly reported from Norfolk at Winterton Dunes NNR on 16th, although the trail has gone rather quiet since.

Aquatic Warbler, Lytchett Bay, Dorset (Samuel Levy).

Thrush Nightingale, Fair Isle, Shetland (Daniel Gornall).
The Argyll Bonaparte's Gull – with recently replaced wing and tail feathers – was at Lochgilphead on 13-14th, having left the nearby Add Estuary. In Kent, the long-staying adult was still to be found at its favoured Oare Marshes NR all week, while the youngster reappeared on the Clyde Islands at Kilchattan Bay, Bute, on 18th.
Suffolk's settled Gull-billed Tern continued to entertain on the railings at Alton Water, with a brief venture to Trimley Marshes on 13th. Last reported at the former site on the 16th, it seems a fair bet that this concerns the roosting adult at Gibraltar Point NNR, Lincolnshire, late on 18th. Elsewhere, a brief adult was reported in a Lancashire field at Singleton on 13th; in Ireland, the individual at Tacumshin, Co Wexford, was last noted on 16th.
A large, dark-backed tern south past Cullercoats, Northumberland, on 17th was thought to likely be the Sooty Tern, which has seemingly gone unnoticed in north-east England for some time.

Bonaparte's Gull, Loch Gilp, Argyll (Jim Dickson).

Gull-billed Tern, Alton Water, Suffolk (Andrew Moon).
On the wader front, the ever-popular Pacific Golden Plover impressed at Boulmer and Longhoughton Steel for most of the week. Elsewhere, possibles flew over Flamborough Head, East Yorks, on 12th, Oare Marshes, Kent, on 14th, and Reculver on 16th. Two Kentish Plovers were recorded on the Exe Estuary off Cockwood, Devon, on 13th, with one or another at Dawlish Warren earlier in the day. Another was in Dorset at Stanpit Marsh on 14th.
As we eagerly await the arrival of the first sparklingly fresh juvenile 'Yank' waders, continuing adults provided plenty to crow about. Cornwall's spotty Spotted Sandpiper continued delighting visitors to Drift Reservoir throughout the week, while in Northern Ireland, the adult remained at Castle Espie WWT, Co Down, until 17th. Cumbria's Long-billed Dowitcher hung out with Common Redshanks at Anthorn until the same date.
A 'queen' King Eider was again at Dornoch, Highland, on 13th, with the Strontian American Black Duck still in the far west of the county throughout.

Spotted Sandpiper, Drift Reservoir, Cornwall (Martin Webb).
Scottish mainland
Ayrshire's birders will be hoping the showy juvenile Spotted Crake found at Doonfoot on 18th remains as site-faithful as the 2017 bird that hung about at the same site for nearly three weeks. Last week's Surf Scoter at Blackdog, Aberdeenshire, moved seamlessly into its second week on site. The impressive series of Cory's Shearwater records in Scottish waters this summer continued with an individual noted again at Hound Point, Lothian, on 13th, while another flew south at Tarbat Ness, Highland, on 14th, and one moved past Skateraw, Lothian, on 16th. A Leach's Storm Petrel responded to tape at Noss Head, Caithness, on 14th. The east coast movement of Long-tailed Skuas evident off English coasts was less pronounced in Scottish Waters but individuals were noted at Hound Point, Lothian, on 13th, and Skateraw, Lothian, and Tarbat Ness, Highland, on 17th. An adult Sabine's Gull was noted from the beach at Whiteness Bay on 16th.
A European Bee-eater heard at Inverbervie, Aberdeenshire, on 12th, was likely the same individual noted in the county in early August. Lothian produced two Red-backed Shrike reports, with presumably the same first-winter noted at Barns Ness on 12th and nearby Skateraw the following day.
When it comes to migrant warblers then the Isle of May, Fife, is superbly placed to make the most of autumn movements and this week was no exception, with an Icterine Warbler on 11th, Greenish Warbler between 13th and 17th, and a Barred Warbler on 14th. On the mainland, further Icterine reports came from Dowlaw, Borders, on 12th and Sands of Forvie, Aberdeenshire, on 18th. Another Greenish Warbler was at Fife Ness, Fife, on 17th and an additional Barred Warbler was at Collieston, Aberdeenshire, on 18th. Lepidoptera news concerned a Camberwell Beauty in an Inchinnan garden during the week.

Spotted Crake, Doonfoot, Ayrshire (Dave Grant).
Northern Isles and the Hebrides
Most of the action around Orkney was centred on North Ronaldsay this week, a Melodious Warbler led the way but two Barred Warblers and singletons of Red-backed Shrike and Wryneck were also dug out. Away from North Ronaldsay, a Citrine Wagtail flew south at Voy, Mainland, on 17th and a juvenile Common Rosefinch was on Papa Westray the same day.
With a nod to mid-summer, the Outer Hebrides kicked off the week with a Rosy Starling at Shulishader, Lewis, on 12th. An American Golden Plover was on machair on Lewis between 13th and 14th and a Pectoral Sandpiper was at Kildonan, South Uist, on 13th. A Barred Warbler at Brevig, Barra, from 16th offered a hint of what may lie ahead in the next couple of weeks.
The summering White-billed Diver remained content in South Nesting Bay, Shetland, in a week where the archipelago began to see some movement. A Great Shearwater was noted from Skaw and Haroldswick, Unst, on 16th. At Boddam, the adult Long-tailed Skua remained in situ; another was noted at Ordale, Unst, on 12th.

Long-tailed Skua, Caldback, Unst, Shetland (David Cooper).
With some parts of Finland reporting a very good breeding season for Red-backed Shrikes it appears Shetland may see solid numbers this year; up to nine individuals were reported in the period with Fair Isle having the lion's share of up to four individuals, though Foula, Fetlar and Whalsay all got some action. On the Mainland, three sightings of a Citrine Wagtail could easily concern a single wandering individual. First reported at Virkie on 12th, it was later reported at Boddam on 14th and Sumburgh on 15th. Another was recorded at Baltasound, Unst, on 18th.

Citrine Wagtail, Baltasound, Unst, Shetland (David Cooper).
There was a small arrival of Common Rosefinches from 14th with singles at Foula and Funzie, Fetlar, while a red male was on Fair Isle from 16th. A Blyth's Reed Warbler was found at Skaw, Unst on 18th, four Icterine Warblers were noted from Lerwick, Mousa, Fair Isle and Out Skerries, and at least six Barred Warblers were found, half of which were on Fair Isle.

Blyth's Reed Warbler, Skaw, Unst, Shetland (David Cooper).
North-East England
Northumberland's week kicked off in style with a moulting adult White-winged Tern discovered at Longhoughton Steel on 13th. Though it only remained for that day it was presumably the same individual noted the following morning at Druridge Bay Country Park that has spent the rest of the period commuting between there and nearby East Chevington NWT. The unquestionable highlight of the week for many, though, was the strong passage of juvenile Long-tailed Skuas on 16th. Combined totals from Church Point, Newbiggin, produced 19 individuals, further south 13 were noted past Whitley Bay in seven hours and 11 other sites along the Northumberland coast managed between one and nine during the day. A Black Guillemot was noted twice in the Annstead area during the week and a fresh-looking juvenile Caspian Gull was found at Linton Lane NR as the week ended, remarkably the first August juvenile ever recorded in the county. A Greenish Warbler was on Holy Island 12th-14th and early Barred Warblers were in the north of the county at Holy Island (16th) and Budle Bay (18th).

White-winged Tern, Druridge Bay CP, Northumberland (Frank Golding).
As might be expected, the Long-tailed Skua passage was the main talking point from Durham's premier sea-watching site at Whitburn Coastal Park, with a whopping 17 juveniles noted moving north on 16th and a further four over 17-18th. A Garganey and a Little Stint duo were the double-header at Durham's Rainton Meadows DWT reserve throughout the week. Two Great Egrets were one of the other notable observations from Whitburn Coastal Park's sea-watchers who also noted a small passage of Sooty Shearwaters, with up to six daily between 13th and 16th, as well as the odd Pomarine Skua.
England's hardiest Western Cattle Egret continued to brave the northern summer at Greatham Creek, Cleveland, during the week. The weekend period brought a Red-backed Shrike to Hartlepool Headland; one of several that turned up along the East Coast. At least one Great Egret remained in the Saltholme area and a Curlew Sandpiper was noted at Greatham Creek. Black Terns were noted at South Gare and Hartlepool Headland, as were a handful of Sooty Shearwaters. Surprisingly only four Long-tailed Skuas were recorded along the Cleveland coastline, with three off Saltburn on 16th and a single off Hartlepool Headland on 14th.
North-West England
Cumbria was fairly quiet this week. Wood Sandpipers were present at Beetham on 12th and at South Walney on 17th. Up to five Great Egrets were discovered at Black Dyke Moss this week, a decent local count.
The loafing tern flocks off Sefton Coast can produce the odd nice local record, and Black Terns at Hightown and Crosby were welcome. Also to be found amid the throng were multiple Little Gulls and Little Terns. Slightly to the south – or more accurately the other side of the fence – Seaforth LWT played host to a first-summer Caspian Gull on 14th and a juvenile on 15th. Passage waders were again represented by the expected, but nice, species: Wood Sandpipers included the remaining juvenile at Conder Green (13th), a single at Lunt Meadows NR (14th), one at Skippool Creek (18th), while up to three graced Hesketh Out Marsh RSPB. The latter site continues to look tasty to waders with an early Jack Snipe, Little Stint and three Spotted Redshanks. A juvenile Spotted Redshank was also present at Lades Marsh on 13th.
Pleasing news from Cheshire this week, where up to three Spotted Crakes have been on show at Burton Mere Wetlands RSPB throughout. With an adult and two first-winters present it appears likely this species has bred for another year, a just reward for the wardening team. The Eurasian Spoonbill flock has seemingly plateaued at seven individuals and can usually be found at Parkgate Marsh RSPB. Wood Sandpipers were at Hale on 12th and the aforementioned Burton Mere Wetlands on 17th. Little Stints were reported from Meols, Leasowe and Hoylake this week, the latter site also playing host to a Curlew Sandpiper on 18th.
Greater Manchester certainly had a turn up for the books this week, with arguably the region's best species on offer… although you had to be quick or you'd have missed them! Belated news came from Castleshaw Reservoirs, where an adult White-winged Tern was present on 15th, although there was sadly no further sign the next day. Next up, a Pectoral Sandpiper turned up at Hollingworth Lake CP on the evening of 16th, remaining in-situ until late morning of 17th. Up to two juvenile Wood Sandpipers graced Little Woolden Moss through the week, meanwhile other sightings of note included a Black Tern at Pennington Flash CP on 12th, three Black-necked Grebes briefly at Elton Reservoir on 16th, and a Sandwich Tern over Astley Moss LWT on 18th.
Lincolnshire and Yorkshire
No fewer than three Barred Warblers were seen along the Lincolnshire coast, while a male Common Rosefinch sang at Chapel Six Marshes on 17th, a Red-backed Shrike was at Stallingborough on 12th and a European Bee-eater passed south over Glentham on 14th. Offshore, numerous Long-tailed Skuas were seen as part of a very good week for the species in the North Sea. Two Temminck's Stints were among the throngs of shorebirds at Frampton Marsh RSPB. Inland, the Common Crane fledged at Willow Tree Fen LWT, a Black-necked Grebe remained at Baston & Langtoft Pits and a Dark-bellied Brent Goose did the same at Deeping Lakes LWT.
Icterine Warbler, Spurn YWT, East Yorkshire (Shaun Ferguson).
The Spurn recording area once again enjoyed a terrific period of early autumn birding. Birds were on the move all week but it was 16th that saw the biggest arrival of birds: 142 Pied Flycatchers was a spectacular modern-day tally, but the two Greenish and handful of Icterine Warblers seen added some real quality. Several Red-backed Shrikes and a few Barred Warblers also added spice, with an impressive 15 Long-tailed Skuas passing by offshore on 15th.

Long-tailed Skua, Spurn YWT, East Yorkshire (Chris Griffin).
The latter was eclipsed by a spectacular 30 past Flamborough Head on the same date. Flamborough also bagged at least three Red-backed Shrikes, singles of Icterine and Greenish Warblers and numerous Caspian Gulls. Long-tailed Skuas were seen from several coastal sites north of there, with Scarborough scoring an Icterine Warbler on 17th.
Moving inland, a Long-tailed Skua over Broomhead Moor, South Yorkshire, was the standout sighting, although murky conditions over the weekend did encourage modest passage of waders, terns and ducks. A smart juvenile Spotted Redshank was at St Aidan's RSPB, West Yorkshire.

Spotted Redshank, St Aidan's RSPB (Swillington Ings), West Yorkshire (Steve Cribbin).
West Midlands
Waders were top billing in Staffordshire this week, and a juvenile Spotted Redshank at Middleton Lakes on the morning of 13th was a respectable find and represented the 200th species to be recorded in the county this year. Little Stints were at Blithfield Reservoir on 14-16th and Branston GPs on 16-17th, both of which were accompanied by a Sanderling. A Wood Sandpiper was at Middleton Lakes RSPB on 13th, and a Ruddy Turnstone at Blithfield Reservoir 16-17th. Two Black Terns were at Belvide Reservoir 16-17th and one at Blithfield Reservoir the same dates. The latter site also played host to a juvenile Arctic Tern on 16th, with one at the earlier date of 13th at Tittesworth Reservoir.
A Hoopoe was reported between Craven Arms and Sarn, Shropshire, on 13th but no further reports were submitted. Hopping over the border, the West Midlands saw a juvenile Eurasian Dotterel at Short Heath briefly on the morning of 14th but sadly again there was no further sign. An adult Black-necked Grebe was at Bartley Reservoir on the evening of 18th.
In Worcestershire, Upper Bittell Reservoir scored a Little Stint on 17th, where a Red Knot was present 16-17th as was a Ruddy Turnstone. Two Black Terns were at Upton Warren NR on 13th. Warwickshire also had some nice local birds on offer, including a Western Cattle Egret that briefly set up shop at Brandon Marsh NR early on 13th before doing a bunk an hour later. Classic eastern castaways included a Black Tern and Little Gull at Draycote Water, and another Black Tern and Wood Sandpiper at Kingsbury Water Park. A Common Nightingale at Salford Priors GPs proved all too brief on 15th.
East Midlands
Nottinghamshire kept the flame burning with some solid county birds. Highlights consisted of a juvenile Long-tailed Skua over Holme Pierrepont on 16th and a European Bee-eater heard over Woodborough on the afternoon of 17th. A Western Cattle Egret was at Besthorpe NWT on 16th and Spotted Redshanks were brief visitors to both Netherfield Lagoons and Langford Lowfields RSPB the same day. The latter site also produced a Curlew Sandpiper, two Wood Sandpipers, multiple Ruddy Turnstone and a Sanderling during the week. Other Wood Sandpiper records came from Holme Pierrepont (15th), Misson (17th) and East Leake Quarry (16-18th). A Black Tern was at Hoveringham GPs on 16th, while two juveniles flew through Netherfield Lagoons the following day, and two over Beeston Weir the day after that. Attenborough NR produced a delightful Little Stint on 13th, which remained till the following day.

Long-tailed Skua, Holme Pierrepont, Nottinghamshire (Alan Clewes).
A steady week for Derbyshire: a Western Cattle Egret was by Renishaw on 15th, Carr Vale NR notched up a juvenile Spotted Redshanks also on 15th and a Wood Sandpiper the following day. Up to three Little Gulls were at Long Eaton GPs, and Caspian Gulls logged at Staunton Harold and Ogston Reservoirs.
Content continues after advertisements
Stanwick GPs continues to provide Northants birders with their Western Cattle Egret fix and four were still present on 18th. Black Terns were at Stanford Reservoir, Pitsford Reservoir and Hollowell Reservoir, meanwhile a juvenile Arctic Tern was at Summer Leys LNR on 14th. A Little Gull was at Boddington Reservoir on 16th and a Caspian Gull was still showing at Hollowell Reservoir 14-15th. The Wood Sandpiper remained present at Earls Barton GPs through the week.
Rutland Water continues to provide quality birds. This time around it was a White-rumped Sandpiper on 14th, with a report it was still present the following day. Other quality birds included Eurasian Spoonbill, Western Cattle Egret, three Wood Sandpipers, Spotted Redshank, Caspian Gull and Arctic and Black Terns. Other Spotted Redshanks were located at Eyebrook and Swithfield Reservoirs, the former site also hosting a Western Cattle Egret and three Wood Sandpipers. A Wood Warbler in a private garden in Grimston briefly on 16th was a decent local bird.
East of England
Second only to Yorkshire, Norfolk also prospered from the week's murk and north-easterlies. No fewer than nine Greenish Warblers was a fantastic total for the seven-day period, with five in the Holkham-Blakeney Point area alone. There were also three Icterine Warblers (Wells, Brancaster and Holme), four Wrynecks (Brancaster (two), Blakeney Point and Winterton), a Red-backed Shrike at Thornham Point and no shortage of Pied Flycatchers. Offshore, Long-tailed Skuas included six past Cley on 15th, while at least 14 different Caspian Gulls were at Cromer during the week. There wasn't too much excitement away from the coast, but a Temminck's Stint at Cantley Beet Factory was a nice record on 16th.
Suffolk was somewhat quieter, although Gunton produced a Greenish Warbler on 16th and Southwold hosted a showy Red-backed Shrike. A Wryneck visited Thorpeness, a brief Ortolan Bunting was at Landguard on 17th and Pied Flycatchers popped up right along the coast. Inland, eight Caspian Gulls were tallied at Livermere Lake on 18th and a White-tailed Eagle flew over Kentford on 15th.

Red-backed Shrike, Southwold, Suffolk (Roland Jeremy Ian Hornegold).
An Icterine Warbler visited The Naze, Essex, on 12th, while a Sabine's Gull past Canvey Point on 15th was notable. Western Cattle Egrets were confirmed to have bred at both Chigborough Lakes (for the second year running) and Abberton Reservoir. The redhead Smew popped up again at Fisher's Green, Essex, while a Wood Warbler was seen at East Tilbury on 17th.
A Wryneck was at Piccotts End, Herts, on 16th and a juvenile Long-tailed Skua passed over Startop's End Reservoir on 17th. The Temminck's Stint was last seen at Amwell NR on 16th, while the popular Black-necked Grebe remained at Wilstone Reservoir. Two Western Cattle Egrets roosted at Grovebury Sand Pit, Bedfordshire, on 18th, with Little Gull and Ruddy Turnstone also seen there; other sightings in the county included Little Gull at Millbrook Pillinge and Wood Sandpiper and Caspian Gull at Broom GPs. Up to three Great Skuas at Grafham Water was the highlight in Cambridgeshire, although there was a good spread of migrant waders, gulls and terns (plus four sites hosted Western Cattle Egrets).

Black-necked Grebe, Wilstone Reservoir, Hertfordshire (Mark Rayment).
South-East England
Two regional firsts for the autumn appeared in Kent on 16th – a Wryneck at Reculver and an Ortolan Bunting sound-recorded over Sandwich Bay in the small hours, the earliest UK noc-mig record of the species. Sandwich Bay also scored an Icterine Warbler when one was trapped and ringed on 14th. The previous day, a Red-rumped Swallow was reported over Chillenden. A Camberwell Beauty was photographed at Marden on 13th.
At Dungeness, the Glossy Ibis remained all week, three European Honey Buzzards flew west on 14th and a juvenile Caspian Gull was by the fishing boats. A Eurasian Dotterel flew over Reculver on 18th, a Common Quail sang at Brabourne Lees on 16th and up to four Little Stints graced Oare Marshes. The Pied Flycatcher influx seemingly peaked – no fewer than 24 sites scored, with double-figure counts achieved on 15th at Dungeness (10) and North Foreland (12).
A Pomarine Skua flew past Brownwich and Chiling, Hampshire, on 16th and some 12 Curlew Sandpipers were at Keyhaven Marshes on the same day. Up to 30 Western Cattle Egrets were in the Chichester/Langstone Harbour area. Some 17 sites got in on the Pied Flycatcher influx and three Eurasian Spoonbills were at Lepe CP.
Inland in Hants, Alresford Pond enjoyed its seemingly annual record of Wood Sandpiper and the Garganey was still at Fleet Pond. Across the Solent on the Isle of Wight, a Wryneck was at Freshwater on 17th, three Black Terns were off Cowes on 14th, a Great Egret was at Brading Marshes and seven sites hosted Pied Flycatcher.

Whinchat, Shackleford, Surrey (Ed Stubbs).
London always does well for autumn Pied Flycatchers and some 14 sites hosted the species, with Wanstead Flats claiming five individuals and another five locales scoring three or more. A Common Nightingale at Wanstead on 18th was a nice local record, as was a Garganey at Ponders End Lake in Enfield. Six Western Cattle Egrets, all too briefly at Beddington Farmlands on 17th, was a notable count.
A couple of Wood Sandpipers were logged in the capital and Caspian Gulls were as far west as King George VI Reservoir and as far east as Erith. Staines Reservoir enjoyed a purple patch, with two Great Skuas proving popular on the morning of 15th, before they headed north, later seen in Berkshire, Buckinghamshire and then Cambridgeshire. A Black Tern was at the site the same day; a Common Scoter on 18th.
One of said Great Skuas was only the ninth Buckinghamshire record when it appeared at Calvert Lakes on the evening of 15th. Probably the same Wood Sandpiper was at Floodplain Forest and Wolverton; another was at College Lake. Wolverton also hosted Great Egret, with another at Willen Lake. A Common Quail sang at Bledlow on 15th.
In Oxfordshire, Farmoor had a decent week, with Sanderling, Common Scoter and Black Tern logged. Cassington GPs hosted up to three Great Egrets and a Ruddy Turnstone, while Grimsbury Reservoir enjoyed a Common Scoter. A Wood Sandpiper dropped into Sutton Courtenay GPs on 17th, Sonning Eye GPs hosted a Western Cattle Egret on 16th and the nine Ruddy Shelduck remained at Blenheim Park.
Across the border in Berkshire, the juvenile Black-crowned Night Heron, seen briefly at Lea Farm GPs on 8th, reappeared at Dinton Pastures on 16th, but sadly was only present that evening. The aforementioned Great Skua duo powered over Horton GPs on 15th and a Western Cattle Egret was at Dinton Pastures on 16th.
In Surrey, the Badshot Lea/Tice's Meadow Great Egret was still present, and the latter site hosted two separate Ruddy Turnstones and a Wood Sandpiper. Another Wood Sandpiper settled in at Holmethorpe SP from 15th. Blackheath (two), Chiddingfold Forest, Crooksbury Common (two), Epsom, Hascombe and Papercourt Water Meadows all enjoyed Pied Flycatchers. A Common Scoter was at Island Barn Reservoir on 16th.
Only seven West Sussex sites registered Pied Flycatcher. Some 38 or more Western Cattle Egrets at Pagham Harbour was a high count for the site on 18th, with the site also hosting up to two Wood Sandpipers, slightly outdone by an impressive four at Pulborough Brooks. Presumably the same Pomarine Skua seen in Hampshire flew past Selsey Bill on 16th. Littlehampton/Climping scored two Wrynecks on 16th, though both were elusive and only one lingered until 17th.
On 16th in East Sussex, a Eurasian Stone-curlew flew over Seaford Head. The same site hosted up to three Pied Flycatchers, matching Beach Head's high count for the week, as seven East Sussex sites in total scored the species. Four Garganey were at Weir Wood Reservoir on 12th, a Wood Sandpiper was at West Rise Marsh on 13th, Great and Western Cattle Egrets were dotted about and a Little Stint was at Rye Harbour. On 16th, an impressive flock of nine Curlew Sandpipers dropped into the meanders at Cuckmere Haven.

Curlew Sandpiper, Cuckmere Haven, East Sussex (Matt Eade).
South-West England
In Wiltshire, an Icterine Warbler trapped on Salisbury Plain on 16th is a top inland bird and a just reward at this high-performing ringing site. A female Blue-headed Wagtail was trapped at Marlborough Downs on 13th, while a European Honey Buzzard flew over Deptford the previous day. A Wood Sandpiper was at Cotswold Water Park on 14th.
An early first-winter Citrine Wagtail at Slimbridge WWT from 15th was a stellar find and the first Gloucestershire record. Wood Sandpipers were at Northwick Warth and Slimbridge WWT, with a juvenile Curlew Sandpiper at the latter site on 18th.
Citrine Wagtail, Slimbridge WWT, Gloucestershire (Paul Masters).
A Rosy Starling was the highlight at Portland, Dorset, this week, present at Weston on 14-16th. A Pomarine Skua flew past the Bill on the latter date, while Stanpit Marsh hosted a Black Tern, Little Stint and Curlew Sandpiper. Another Black Tern was in Brand's Bay on 14th, with another Little Stint on Brownsea Island on 17th. Wood Sandpipers were at three sites.
In Somerset, the juvenile Purple Heron remained at Durleigh Reservoir until 17th at least, while the Black-winged Stilt family continued enjoying the environs of Steart WWT. A Wood Sandpiper bounty included birds at Chew Valley Lake, Cheddar Reservoir and Catcott Lows, while one flew over Stone Allerton on 13th. A Wryneck at Lucott Cross on 16th would have been undoubtedly popular had it hung around.

Purple Heron, Durleigh Reservoir, Somerset & Bristol (Carl Bovis).
Cornwall saw an Icterine Warbler trapped at Nanjizal Valley on 15th, which was followed up by a Wryneck and Melodious Warbler on 17th. Cory's Shearwaters were recorded past Porthgwarra on four dates, with another past Porthcurno on 16th. The American Black Duck × Mallard hybrid was at Devoran again on 14th, while a Hooded Crow was on The Lizard on 17th. Wood Sandpipers were recorded from seven sites.
A delightfully showy Melodious Warbler – unfortunately missing its left eye – at Dawlish Warren on 18th topped a brief Icterine Warbler at Bolberry on 12th. A Little Stint and Wood Sandpiper were at Seaton Marshes, with another Wood Sandpiper recorded at Dawlish.
The oceans stole centre stage on Scilly once again, with Wilson's Storm Petrels recorded on five dates, peaking at six individuals on 14th and 17th. Other pelagic highlights included adult Sabine's Gulls (13th and 15th), Pomarine Skuas (14th and 18th), Grey Phalarope (15th), Black Tern (15th), and Balearic Shearwaters (16th and 18th), with good numbers of both Great and Cory's Shearwaters throughout (including a brilliant 344 Greats on 18th). A Wood Sandpiper was on Tresco on 15-16th, with another at Porth Hellick, St Mary's, from 17th. A Purple Heron was reported on Stony Island on 17th.

Great Shearwater, Scilly pelagic, Isles of Scilly (Joe Pender).
Wales
Never one to shy away from Hippolais action, Bardsey Island joined in on the Icterine Warbler arrival with one at Nant on 15th, with a Wryneck present earlier that same day. A Sooty Shearwater flew past Strumble Head, Pembs on 12th, and a juvenile Black Tern past Cemaes Head. Roseate Terns were represented by two at Burry Port, Carmarthen, from 14th and one at Pembrey on 15th.
A juvenile Rosy Starling on Skomer on 13th, a somewhat pleasant change from this summer's influx of gaudy adults. At Goldcliff Pools, the Glossy Ibis was accompanied by three Little Stints, Spotted Redshank and two Garganey. The country received a welcome smattering of Wood Sandpiper records, with eight sites scoring. Conwy RSPB scored a juvenile Spotted Redshank on 18th.
The adult Whooper Swan continues to find Aber Ogwen NR, Gwynedd, much to its liking and was still present on 17th. Another long stayer, the Hooded Crow can still be found at South Stack RSPB, Anglesey, with others at Goodwick, Pembs (14th), Strumble Head (15th), and Kidwelly Quay, Carmarthen (17th).
Ireland
An adult American Golden Plover at Annagh Beach, Co Mayo, on 14th was a precursor to what will hopefully be a productive autumn for Nearctic waders, with the same to be said for the Pectoral Sandpiper that flew over Ballycotton on 13th. Wood Sandpiper is always a good bird out west, so the three at Blennerville, Co Kerry, on 16th was significant (a fourth was at Carrahane Strand).
Both Red-backed Shrike and Red-rumped Swallow were at Hook Head, Co Wexford, on 16th. The Eurasian Stone-curlew was last seen at Kilcoole on 15th, while the adult Ring-billed Gull returned to Blackrock, Co Louth, on 17th.
A Glossy Ibis was a new arrival at Rahasane Turlough, Co Galway, on 16th, lingering thereafter; another was briefly at Bull Island, Co Dublin, on 12th. Two Wilson's Storm Petrels were seen from a pelagic trip off Cape Clear, Co Cork, on 15th, but seabird news was otherwise at a low ebb.
Western Palearctic
A strange, leggy plover photographed among European Golden Plovers at Westkapelle, The Netherlands, seemed an unerring match for Oriental Plover, recorded on just three previous occasions in the Western Palearctic. Soon located in a nearby field, it wasn't long before twitchers from across the nearby continent converged on the location. The first Dutch record, unfortunately, it flew off alone high to the south-west that evening. One can only wonder where it ended up – south-east England somewhere, perhaps?

Oriental Plover, Westkapelle, Zealand (Kris De Rouck).
Elsewhere in the country, the Black-winged Pratincole remained at Sint Maartensburg all week, while the female Amur Wagtail was reported again at Strype on 16th. The Great White Pelican remained at Halfweg.
This year's exceptional seabird summer shows no signs of abating, with just the region's second Short-tailed Shearwater photographed in the Bay of Biscay during a pelagic trip off the Quiberon peninsula in Brittany, France, among a flock of 6,000 Balearic Shearwaters on 7th. The sensational record comes hot on the heels of the first for the Western Palearctic, which was seen in Ireland in June. Remarkably, an even earlier French record has come to light, photographed during a Balearic Shearwater survey in the Channel off the north coast of Brittany on 9 September 2015. You can read more about the two French records here.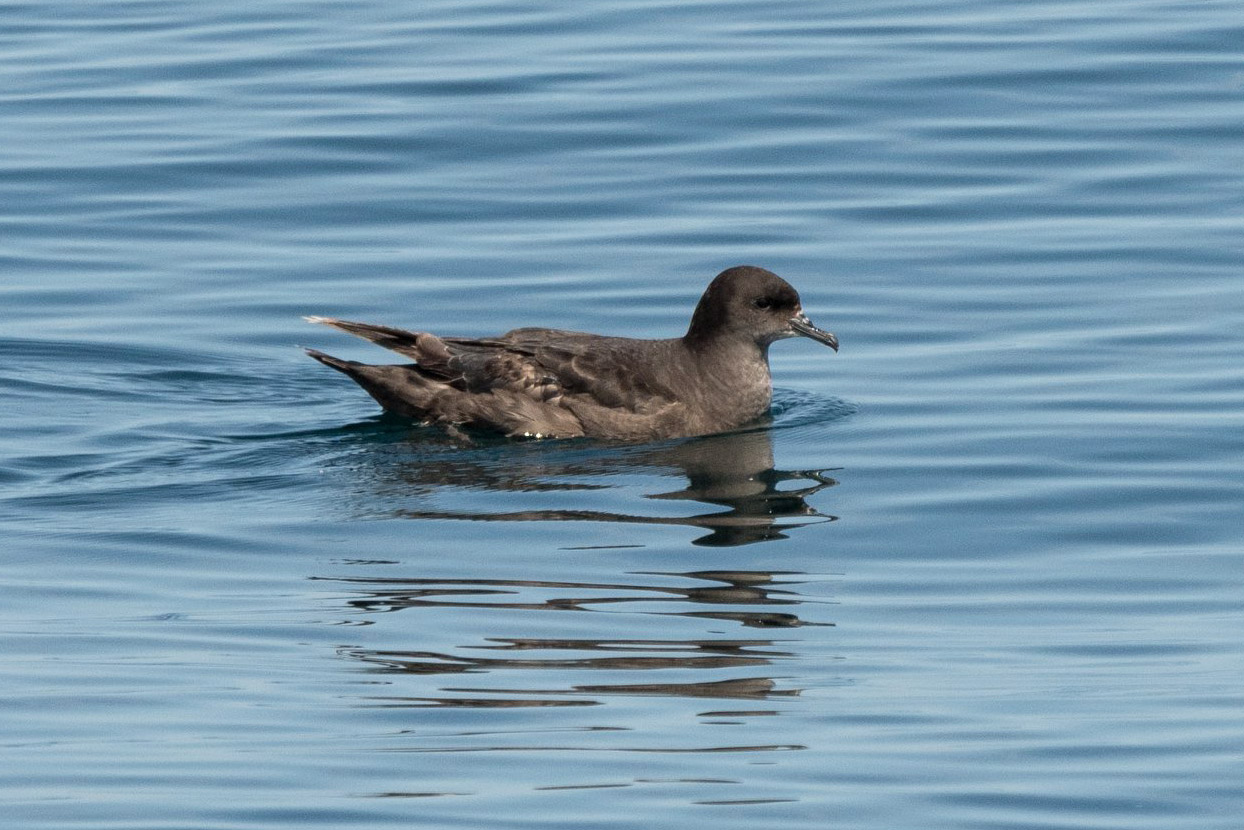 Short-tailed Shearwater, Mor Braz Bay, Brittany (Sébastien Roques).
Elsewhere in France, the country's second Eastern Bonelli's Warbler was a top find on Hoëdic Island from 15th. A new Greater Sand Plover was at Etang David Allègre, in the west of the country, from 12th, while the Sharp-tailed Sandpiper remained at Ambon. The broody White-rumped Swift hung round by its chosen Red-rumped Swallow nest until 15th.

Eastern Bonelli's Warbler, Hoëdic Island, Morbihan (Guillaume Bruneau).
Switzerland's autumn got off to a solid start with the first national record of Brown Shrike, an adult at Kerzers on 14-15th. In Sweden, Falsterbo hosted a Black-winged Pratincole on 12th, while Finland's Lapland province hosted an Oriental Turtle Dove at Kaamanen on 9th. At least 20 juvenile Red-footed Falcons flew through Skagen on 18th, the highest autumn count for Denmark since 1979 – could Britain be set for another bumper autumn showing of the species?
Israel's 14th Swinhoe's Storm Petrel was off Eilat on 13th, while the country's first Three-banded Plover remained at HaMa'apil fishponds. Belgium's Booted Eagle was still at Baasrode on 17th; a Sociable Lapwing was in Poland at Opole on 13th.
Very much worthy of an honourable mention, a rather lost Harp Seal was in Castelo Branco harbour on Faial, Azores, at the end of the week.