The week at a glance
Another fantastic week passes with plenty to get excited about across the length and breadth of the British Isles — not least Britain's second Green Warbler, expertly found and identified at Baltasound, Unst. First seen late on Thursday, the bird was initially reported on Friday as a Greenish Warbler but the early date and bright state of plumage rang alarm bells. There was a likelihood that the bird might be well be nitidus so the bird was trapped on Saturday, in turn seemingly confirming the suspicions.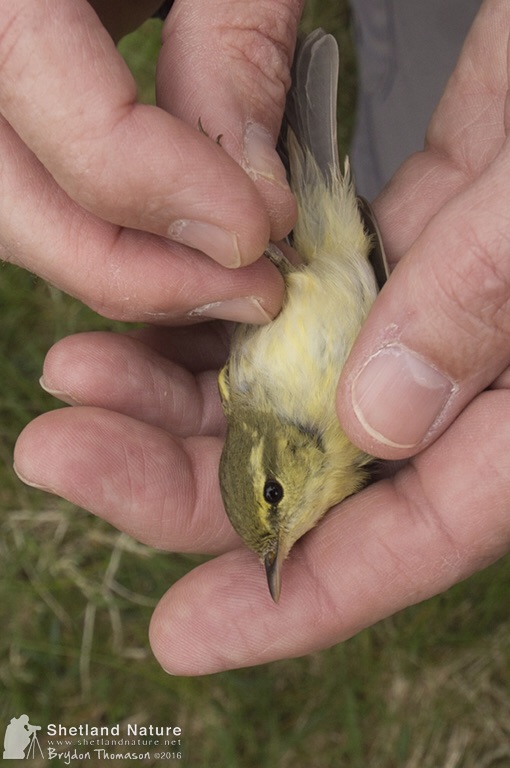 Green Warbler, Baltasound, Unst, Shetland (Photo: Brydon Thomason)
The first visitors made it from the British mainland on Sunday afternoon after confirmation came that the bird was still in Baltasound in mid-morning. On Monday the news was negative until mid-afternoon, frustrating would-be twitchers on charter planes. Its mobile and sometimes elusive nature was somewhat reminiscent of the famous Cape May Warbler of October 2013, present in the same village. The only previous British Green Warbler was a bird on St Mary's, Scilly, in September–October 1983 — many will be hoping it's not as long a wait for the third.
Content continues after advertisements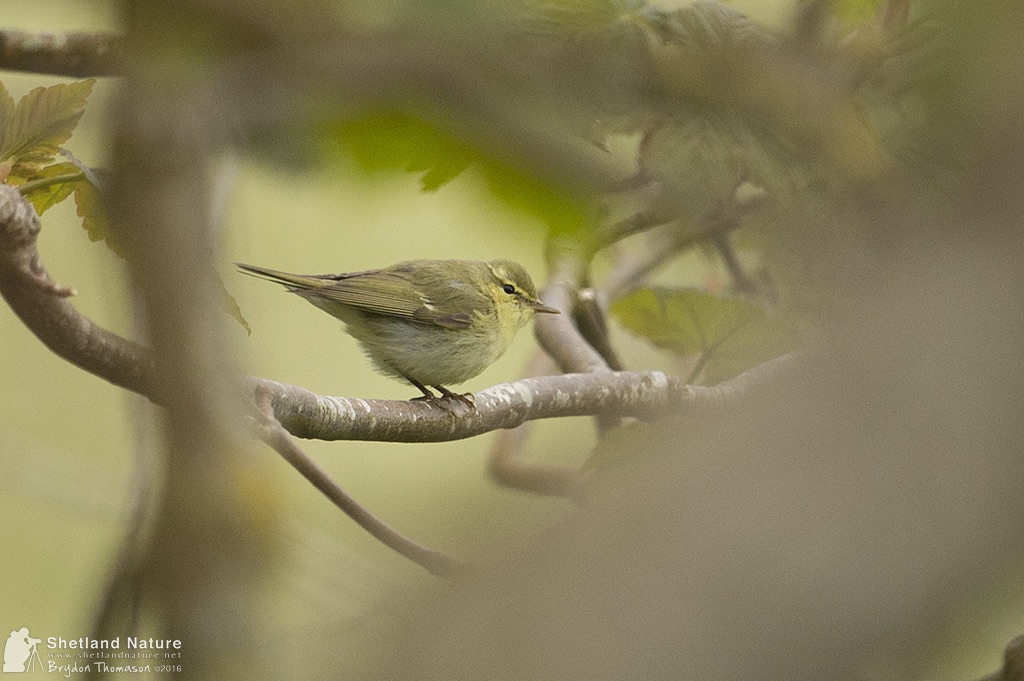 Green Warbler, Baltasound, Unst, Shetland (Photo: Brydon Thomason)
Other supremely exciting news — and somewhat more spectacular — was the occurrence of an immature Lammergeier, first in Gwent and subsequently in Devon. Last Thursday we reported the presence of a Lammergeier in Belgium via our Twitter feed; what we weren't expecting was for this bird to cross the English Channel and end up by the Severn Estuary on Thursday — potentially around the same time that we were typing the tweet about it being in Belgium! Video footage, taken by a non-birder, eventually came to light via Gwent birders on Sunday afternoon and was posted online. Illustrating the bird both perched and in flight with the Severn Bridge in the background, 'gripping' doesn't come close to summarising it and we suggest you take a look yourselves.

Lammergeier, Sudbrook, Gwent (Video: Dale Kedward)
With birders aware that a Lammergeier is gracing British skies, further sightings always seemed likely and the first of those came at Shipley Bridge, on the edge of Devon's Dartmoor National Park, late on Monday morning. This was followed by several reports from the general area, though some birders believe that at least some of those sightings relate to a drone flying in the area. The forecast for the coming days isn't particularly warm or bright, so one imagines that this bird will be in British airspace for the foreseeable future at least. Crucially, it doesn't appear to show any bleached flight feathers, which would indicate a bird released as part of the reintroduction scheme in the Alps. Whether it's the offspring of released birds (or the offspring of those), or a truly wild bird, is up for debate. Whatever its story, it's a spectacular bird to see in Britain and will no doubt prove monstrously popular if and when it is pinned down.
Similarly spectacular and massive is the lingering adult Dalmatian Pelican, which continues to tour westernmost parts of Cornwall. It eventually found Drift Reservoir in the late morning on 14th but, surprisingly, seems relatively unenthused with the place and continues to carry out its daily excursions around the Land's End peninsula. That said, it seems to have adopted a habit of roosting at Drift (it was there nightly from the evening of 14th) and so any prospective twitchers yet to see it could do worse than get to the reservoir for dawn in the coming days.

Dalmatian Pelican, Drift Reservoir, Cornwall (Photo: Tony Mills)
A Blyth's Pipit spent an evening on Bardsey Island, Gwynedd, on 11th. Continuing a good recent run of records of the species, this represents the second for Bardsey (following one in October 2005) and the third for Wales. It is, perhaps more significantly, the first spring record anywhere in the UK and this was a hugely significant find — and another great bird for this brilliant island.

Blyth's Pipit, Bardsey Island, Gwynedd (Photo: Steve Stansfield)
Fair Isle's Calandra Lark was last seen on 13th, while it appears that Otford's Oriental Turtle Dove may too have finally moved on — it was last noted on 12th, with negative news the following day. Otford was also the site of a probable Lesser Spotted Eagle reported flying over on 12th, though nothing else came of it. Hampshire's delightful Caspian Stonechat lingered until the end of its second day — still performing at Titchfield Haven at dusk on 11th, it had gone by the following morning. There was no news either way on Argyll's Pied-billed Grebe.

Calandra Lark, Fair Isle, Shetland (Photo: Lee Gregory)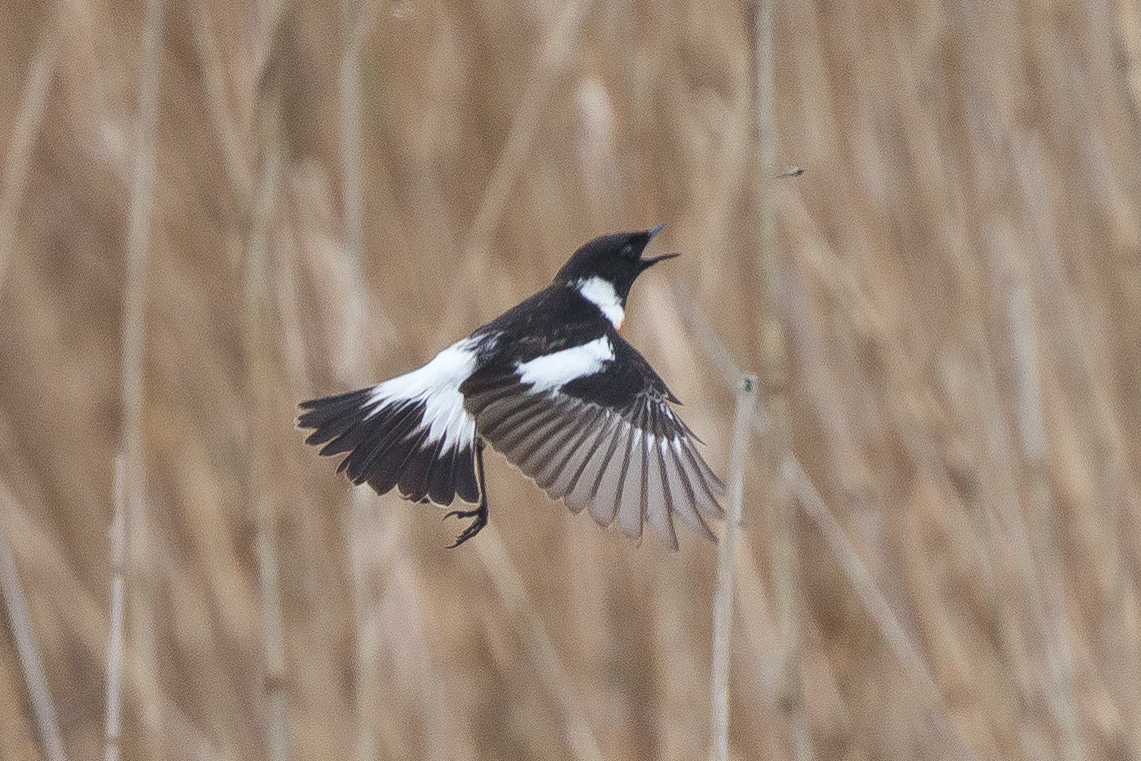 Caspian Stonechat, Titchfield Haven NNR, Hampshire (Photo: Simon Colenutt)
King Eiders continued to perform well on the Ythan Estuary, Aberdeenshire, to 12th and at Achiltibuie, Highland, to 15th; the Surf Scoter celebrated its five-month stay off Filey, N Yorks, on 16th. Three White-billed Divers were off Tory Island, Co Donegal, on 12th, with one still the following day. Singles remained off Portsoy, Aberdeenshire, and Burghead, Moray, with one past Esha Ness, Shetland, on 13th.
Seawatching usually focuses on northbound skuas in May but in the absence of any significant reports of either of the scarcer species, it was down to a Fea's-type Petrel north past Flamborough Head, E Yorks, on 14th to make the headlines. We carried just one report of Long-tailed Skua all week (at sea in the Firth of Forth on 14th). Pomarine Skuas peaked at four past Bowness-on-Solway, Cumbria, on 14th.
The Squacco Heron was still on Jersey on 11th. Five Purple Herons included birds briefly recorded in Leicestershire (13th), Nottinghamshire (14th), Kent (15th) and Essex (17th); the only twitchable individual was that at Exminster Marshes, Devon, from 11–13th. Several records of White Stork in Devon presumably related to a single wandering bird, the last report coming from Broadhempston on 16th. Another was at Mona Airfield, Anglesey, on 12th and there was a report from Clifton, Notts, the same day. One flew over Box Hill, Surrey, on 14th, while Kent records from Swalecliffe and Grove Ferry on 16th presumably referred to the same bird. Glossy Ibises were reported from 15 sites across Britain and Ireland, the most northerly being that found at Loch of Strathbeg, Aberdeenshire, late on 16th.
Double-figure numbers of Black Kites were reported, one of the few to linger being that at South Slob, Co Wexford, on 15–16th. Another was as far north as Machrihanish, Argyll, on 11th, while there were reports from three sites in Kent. A solid (if unspectacular) total of 18 Honey Buzzard reports was received this week. The Snowy Owl continued to commute around the Isles of Scilly. The week's four Red-footed Falcons showed an unusual demographic in that all were females. Birds remained at two South Yorkshire sites early in the week, with another at Verwood, Dorset, on 14th. By far the most co-operative, though, was a female showing well at Vange Marsh, Essex, from 14–17th.

Red-footed Falcon, Vange Marsh RSPB, Essex (Photo: Steve Arlow)
The latter Red-foot was found by a birder looking for two Black-winged Stilts present there on 14–15th; another stilt called in at Lytchett Bay, Dorset, from 11–14th and appears to be the bird seen previously in Lincolnshire and Norfolk.

Black-winged Stilt, Vange Marsh RSPB, Essex (Photo: Brian Anderson)
What is potentially Ireland's third Semipalmated Plover was noted at Tacumshin, Co Wexford, on 11th but had unfortunately moved on by the following day. An American Golden Plover showed well at Tacumshin on 14–15th, while there was a report of a Pacific Golden Plover at Lough Swilly, Co Donegal, on 11th.

American Golden Plover, Tacumshin, Wexford (Photo: Paul Kelly)
Lincolnshire's Frampton Marsh remains one of the best sites to see shorebirds in Britain and reaffirmed its reputation with a smart Broad-billed Sandpiper from 12–14th, often seen alongside a Temminck's Stint. Another Broad-billed was reported at Hale, Cheshire, on 12–13th but was nowhere near as obliging. Temminck's weren't particularly numerous, with around 12 recorded, including inland birds at Brandon Marsh, Warks, on 14th and Belvide Reservoir, Staffs, on 17th. Pectoral Sandpipers have been far less numerous than in spring 2015, so a bird at Titchwell, Norfolk, on 17th was notable. A Red-necked Phalarope graced Gouthwaite Reservoir, N Yorks, on 16th.

Broad-billed Sandpiper, Frampton Marsh RSPB, Lincolnshire (Photo: James Lowen)
A beautifully spotty Spotted Sandpiper was at Findhorn Bay, Moray, on 16th but proved a one-day wonder, so typical of this species in spring. Another was discovered on St Mary's, Scilly, on 17th, and a Lesser Yellowlegs also arrived on Foula, Shetland, that day.

Spotted Sandpiper, Findhorn Bay, Moray & Nairn (Photo: Richard Somers Cocks)
A rare multiple occurrence of Caspian Terns concerned two adults together at Portbury Wharf, Somerset, for the day on 11th, one of which was bearing a Swedish ring. Another flew north-east past Rossall Point, Lancs, the following day. Two Whiskered Terns lingered at Saltholme, Cleveland, throughout the week — an unusually co-operative pair of what is normally a brief, restless and mobile species in Britain. The two White-winged Black Terns were last seen at Draycote Water, Warks, on 11th, while further birds were discovered at March Farmers, Cambs, and Deeping Lakes, Lincs, on 14th and one lingered on Benbecula, Outer Hebrides, on 13–14th.

Whiskered Tern, Saltholme RSPB, Cleveland (Photo: Darren Ward)
Essex's third Franklin's Gull, a first-summer, was first reported at Abberton Reservoir on 11th but had been present since at least the Monday; thankfully it lingered throughout the week and often showed well. It follows birds in 2000 and 2009. It's been a quiet spring for Bonaparte's Gulls, so the arrival of a first-winter at the National Wetlands Centre in Carmarthen from 12–15th was welcome.

Franklin's Gull, Abberton Reservoir, Essex (Photo: Ian Curran)
What was probably the week's most popular bird was a cracking first-summer Great Spotted Cuckoo at Portland, Dorset. Found on 13th, it lingered until the end of the review period and delighted many observers as it commuted between the Bill and Reap Lane, generally favouring the latter site as it gorged itself on Brown-tail moth caterpillars. This is the third for Dorset, the last record coming as long ago as 1994.

Great Spotted Cuckoo, Portland, Dorset (Photo: Ephraim Perfect)

Great Spotted Cuckoo, Portland, Dorset (Photo: Jake Gearty)
In total, Eurasian Hoopoes were recorded nationwide, and double figures of Golden Oriole included four on Bryher, Scilly, on 11th. Just a handful of Wryneck reports included one singing on Bardsey Island on 16th. A Pallid Swift was reported over Blakeney, Norfolk, for a brief time early in the afternoon on 12th. Norfolk also claimed the week's only Alpine Swift — a bird over Framingham Earl on 11th. East Norfolk's European Bee-eater continued to show well in the Winterton area until 16th, and there were three reports of fly-overs in Dorset.

European Bee-eater, Winterton-on-Sea, Norfolk (Photo: Rob Holmes)

European Bee-eater, Winterton-on-Sea, Norfolk (Photo: Nick Appleton)
Scillonian Woodchat Shrikes were on Bryher and St Mary's, with birds elsewhere on Fair Isle (11–16th) and at Slapton Ley, Devon (15th). Perhaps around 30 Red-backed Shrikes were seen, Fair Isle typically claiming a significant portion of them — day counts peaked at five but there was evidently turnover in individuals throughout the week. Further south, birds were reported from East Sussex and Norfolk but most occurred from East Yorkshire northwards.
The Short-toed Lark was still at Knockadoon Head, Co Cork, on 12th, and another was briefly at Portland Bill the same day. At least two Red-rumped Swallows continued on St Mary's, Scilly, and at least two were seen in the Beachy Head area of East Sussex throughout 12th. One flew west at Selsey Bill, West Sussex, on 12th, with further records from Lodmoor, Dorset, on 14th and Lincoln on 16th.

Red-rumped Swallow, Beachy Head, East Sussex (Photo: Beachy Birder)
A second British Dusky Warbler in as many weeks involved a one-day bird at Walney Island, Cumbria, on 14th. A Western Bonelli's Warbler was trapped at Portland, Dorset, on 11th and spent the day in the observatory garden. The Iberian Chiffchaff continued to sing heartily on Tresco, Scilly, while London's second (and first since 1972) was discovered at Barnes on 13th; the latter lingered to the week's end but could be frightfully elusive. A female Sardinian Warbler at Spurn on the afternoon of 16th was the first site record since a male in spring 1982; frustratingly it could not be found the following morning.

Sardinian Warbler, Spurn YWT, East Yorkshire (Photo: Darren Ward)
A male Eastern Subalpine Warbler on Skokholm, Pembrokeshire, on 14th was their second male Eastern of the spring and followed a female Western Subalpine Warbler there on 13th! Male Easterns remained on Shetland and Bardsey Island to 11th, while confirmed male Westerns were recorded at Calf of Man on 12th, on Holy Island from 14–16th and on Islay on 16th. Two further undesignated subalpine warblers were on Scilly.

Eastern Subalpine Warbler, Skokholm, Pembrokeshire (Photo: Skokholm Warden)

Western Subalpine Warbler, Holy Island, Northumberland (Photo: Jonathan Farooqi (Age 15))

Western Subalpine Warbler, Loch Kinnabus, Islay, Argyll (Photo: David Wood)
It's still a tiny bit on the early side for Icterine Warblers, so it was no great surprise that just a couple were reported: one still at Kilnsea, E Yorks, on 12th and another on Unst on 11th. Two Melodious Warblers were logged on Scilly — on St Mary's and Gugh.
When so many have occurred in neighbouring counties in recent years, it's difficult to fathom how the Great Reed Warbler singing at Paxton Pits, Cambs, from 14th is the first county record for 34 years. It proved the most obliging and popular of the three recorded this week; the Cleveland bird continued to sing at Haverton Hole to 15th and one was still on Scilly on 13th.

Great Reed Warbler, Paxton Pits NR, Cambridgeshire (Photo: James Hanlon)
A male Red-breasted Flycatcher was on Fair Isle on 13th, with a female showing well at Overstrand, Norfolk, on 15–16th and the bird still on Isle of May, Fife, on 11th. The latter site also hung on to its Thrush Nightingale to 15th, though the Farnes bird stayed until 11th only. A new individual sang at Sammy's Point, E Yorks, throughout 14th. It's been a decent May for Red-spotted Bluethroats and over 20 were reported this week. Most surprising was a male found dead at Abbeystead, Lancs, on 12th but the most obliging was that at Hartlepool Headland, Cleveland, on 13–14th. Fair Isle boasted a peak day count of four.

Red-breasted Flycatcher, Overstrand, Norfolk (Photo: Nik Borrow)

Thrush Nightingale, Isle of May, Fife (Photo: John Nadin)

Red-spotted Bluethroat, Haroldswick, Unst, Shetland (Photo: Robbie Brookes)

Red-spotted Bluethroat, Hartlepool Headland, Cleveland (Photo: Martyn Sidwell)
A Richard's Pipit was at Weybourne, Norfolk, on 11th and another was at Spurn on 14–15th. A Red-throated Pipit was at East Denwick, Orkney, on 13th, with birds on Bryher and Fair Isle on 14th. The only Common Rosefinch this week was at Calf of Man. European Serins were reported from 10 sites and included the lingering bird at Land's End still there on 15th. A Rustic Bunting was on Fair Isle on 13th.

Red-throated Pipit, Mull Head, Mainland, Orkney (Photo: Alan Leitch)

Red-throated Pipit, Fair Isle, Shetland (Photo: Lee Gregory)

European Serin, Land's End, Cornwall (Photo: Brian Mellow)
Western Palearctic news
The Netherlands continued its fine spring as it dominated our Western Palearctic news page with a summer-plumaged Great Knot on Texel from 13–17th and a showy Stilt Sandpiper in Gelderland throughout the week. As already mentioned, an immature Lammergeier was near Pollinkhove, Belgium, on 9th.

Great Knot, Texel, Netherlands (Video: Natuurbeeld85)
A hemprichii Caspian Stonechat was on Bornholm, Denmark, on 11th; this represents the second Danish record. German records included the Black-browed Albatross again on Sylt on 11th and a Trumpeter Finch on an industrial estate north of Langenbrand, Baden-Württemberg, the same day. The Steller's Eider continues on Suðuroy in the Faroe Islands.
The adult Elegant Tern continues in a Sandwich Tern colony near Barbâtre, Vendée, France, and is very much twitchable for any WP lister 'needing' the species. Other records included the lingering Mourning Dove in Catalonia, Spain, to 13th, a report of a Dark-eyed Junco on Pico, Azores, on 11th and an Oriental Honey Buzzard over Yotvata, Israel, on 13th.