Leaping right to the top of the pile of this week's major news – at least in the rarity stakes – at the close of play on Tuesday was a Yelkouan Shearwater, photographed among hordes of Balearic Shearwaters off Portland Bill, Dorset. A species oft claimed but rarely conclusively identified, there is just one previously accepted British record, off Berry Head in Devon way back on 29 July 2008. As fate would have it, another shearwater tentatively identified as either a Yelkouan or 'Menorcan Shearwater' (a confusing hybrid gaggle of Yelkouans and Balearics) was reported heading past Berry Head on 4th, having been earlier sighted past Dawlish Warren in the company of two Balearic Shearwaters.
In what turned out to the quite a week for mega seabirds, it is Bempton Cliff's Black-browed Albatross that will be the clear highlight for many – although equally as painful for plenty of others! First sighted over the cliffs by the gannetry late on Thursday afternoon, it hung around long enough the next day to allow for some of the best photos of the species ever taken outside the Southern Hemisphere. The species of fantasy for seawatchers across the land, it seems sensible to assume it is individual which has returned annually to the North Sea since at least 2014, providing hope it may eventually give itself up to all and sundry one day soon.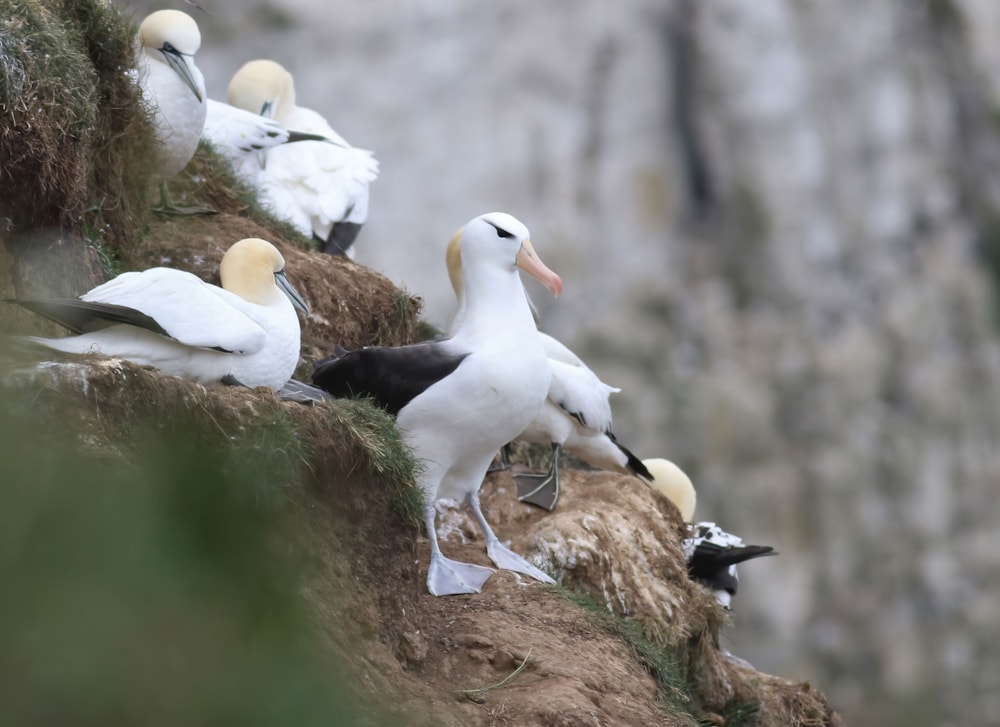 Black-browed Albatross, Bempton Cliffs RSPB, East Yorkshire (Craig Thomas).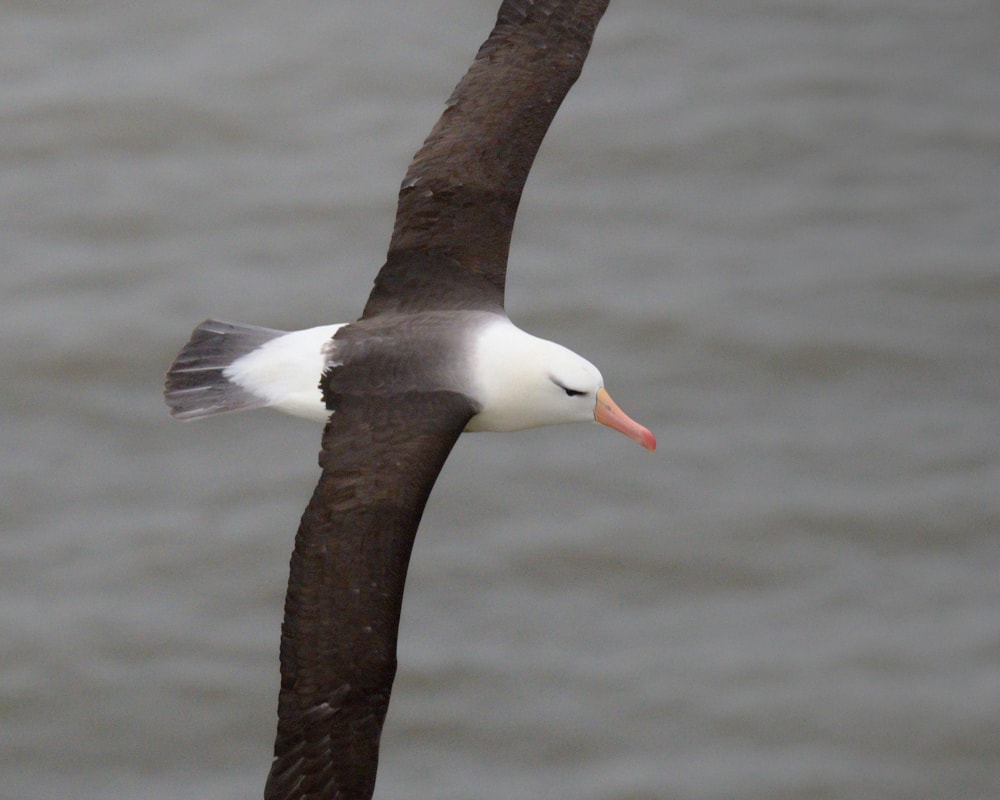 Black-browed Albatross, Bempton Cliffs RSPB, East Yorkshire (Tom Hines).
Another species yet to give itself up to the masses is the wandering Bearded Vulture, which seems to have made itself at home in Derbyshire's Peak District. Managing to keep a low profile throughout most of the week, it re-emerged over Froggatt Edge on the afternoon of 6th, before giving several birders the run-around at nearby Big Moor the next morning. Recent reports are largely concentrated over a relatively small geographic area with easy access, providing hope that it may yet be pinned down for those intrepid souls willing to put the hours in – we've put together a handy guide to assist in efforts to track it down over the coming days.
Bearded Vulture, Cressbrook Dale, Derbyshire (Wendy Birks).
Lothian's slightly moth-eaten Greater Sand Plover proved popular once travel became permissible again in Scotland during the week, although was nowhere to be seen on 7th. A Spotted Sandpiper was reported at Aghagallon, Co Antrim, on 4th, while an adult Semipalmated Sandpiper was at Dornoch, Highland, the following day. In Co Clare, the Pacific Golden Plover enjoyed the Doonbeg environs throughout, with the Gull-billed Tern still at Ballycotton, Co Cork, on 5th.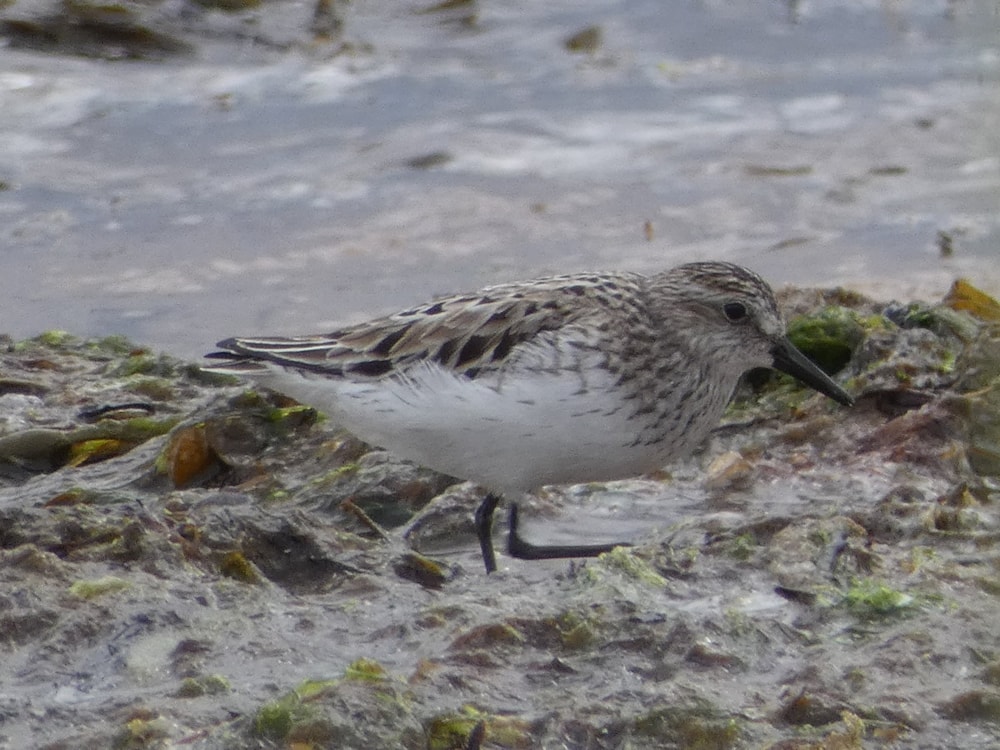 Semipalmated Sandpiper, Dornoch, Highland (Dean macaskill).

Greater Sand Plover, Tyninghame Bay, Lothian (Frank Golding).
Moray's drake King Eider was still to be found in Burghead Bay until 6th, likewise the resident Pied-billed Grebe remained at Loch Feorlin, Highland. The Bonaparte's Gull was still at Add Estuary, Argyll, on 7th, with the returning adult still performing admirably at Kent's Oare Marshes NR and a new first-summer at Annagassan, Co Louth, from 4th. A Baillon's Crake was belatedly reported singing from the RSPB's Fowlmere reserve in Cambridgeshire on 24 June.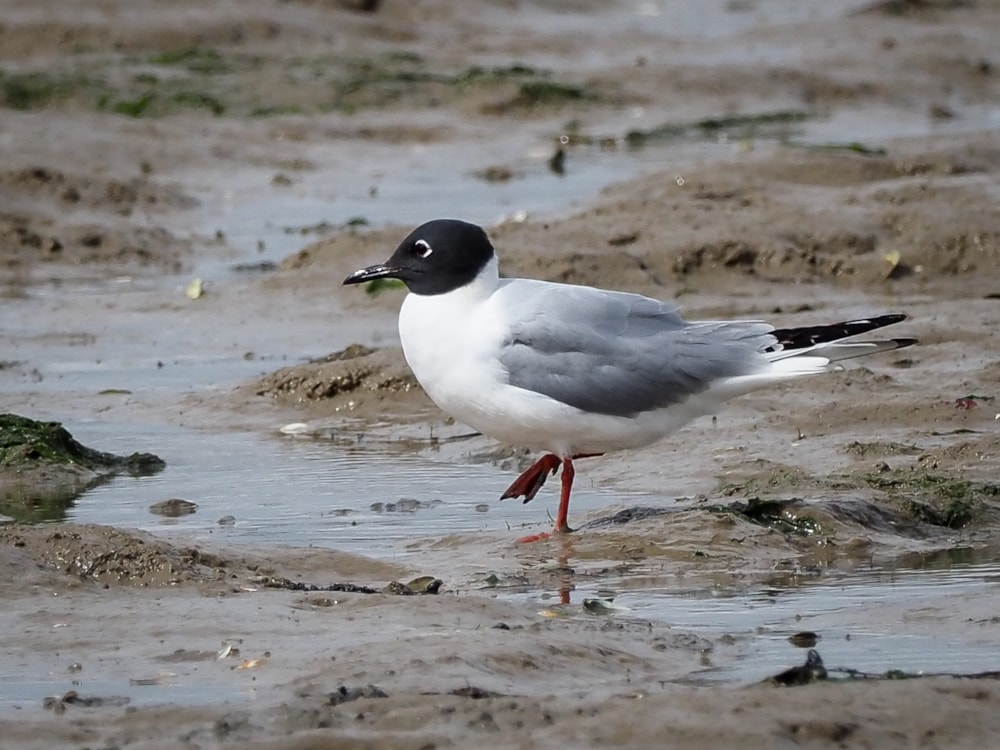 Bonaparte's Gull, Oare Marshes NR, Kent (Terry Laws).
The only rare new passerines of the week concerned no fewer than five Two-barred Crossbills at Kergord, Shetland, from 4th, while the Iberian Chiffchaff remained staunchly loyal to Suffolk's Minsmere Heath.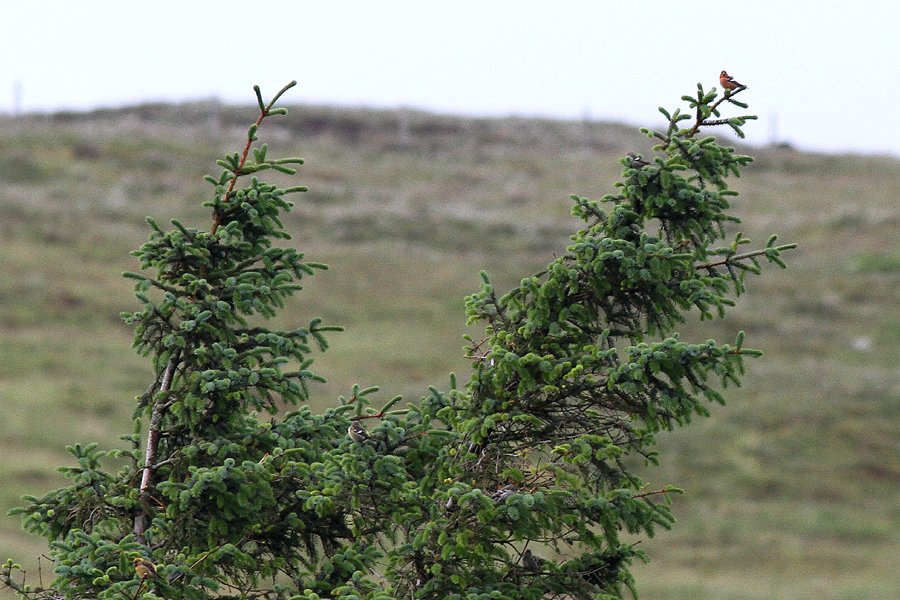 Two-barred Crossbills, Kergord, Shetland (Rob Fray).
Scottish mainland
A male Marsh Warbler briefly at Mire Loch, Borders, on 4th was perhaps the last gasp of this strangest of Scottish springs. Only three Rosy Starlings were noted this week, with two at Durness, Highland, present for several days and a lone individual at Bunessan, Mull, on 1st.
Great Egrets were at the Ythan Estuary, Aberdeenshire, on 1st and the Spey Estuary, Moray, on 3rd. Last week's adult Red-necked Grebe remained a fixture at Hogganfield Loch, Clyde. A Black Tern put in an appearance at Kinneil Lagoon, Forth on 4th. Seawatching too was a quiet affair, with single Pomarine Skuas noted at Tarbat Ness on 6th and North Queensferry on 7th.
The run of mainland Ruddy Shelduck sightings continued with singles at Martnaham Loch, Ayrshire, and on River Forth at South Alloa. A single Spotted Redshank was at Ythan Estuary, Aberdeenshire, on 7th. Borders continued its solid showing of Common Quail, with singing males at four sites this week – the only other individual was at Dairsie, Fife, on 7th. Wandering European Turtle Doves again featured in northern counties, with individuals at Portgordon, Moray, on 1st and Thrumster, Caithness, on 4th.
Northern Isles and the Hebrides
A fine drake Surf Scoter photographed in Laxfirth Voe on 7th was a significant new arrival in Shetland. Just the one Rosy Starling was noted this week (at Collafirth), while singing Marsh Warblers were in the Bakkasetter and Ellister area and Red-backed Shrikes visited Levenwick and Sumburgh. Although Long-tailed Skuas occasionally summer in Shetland, adults at Boddam, Aith, Loch of Clumlie and Sumburgh suggested a bit of a movement.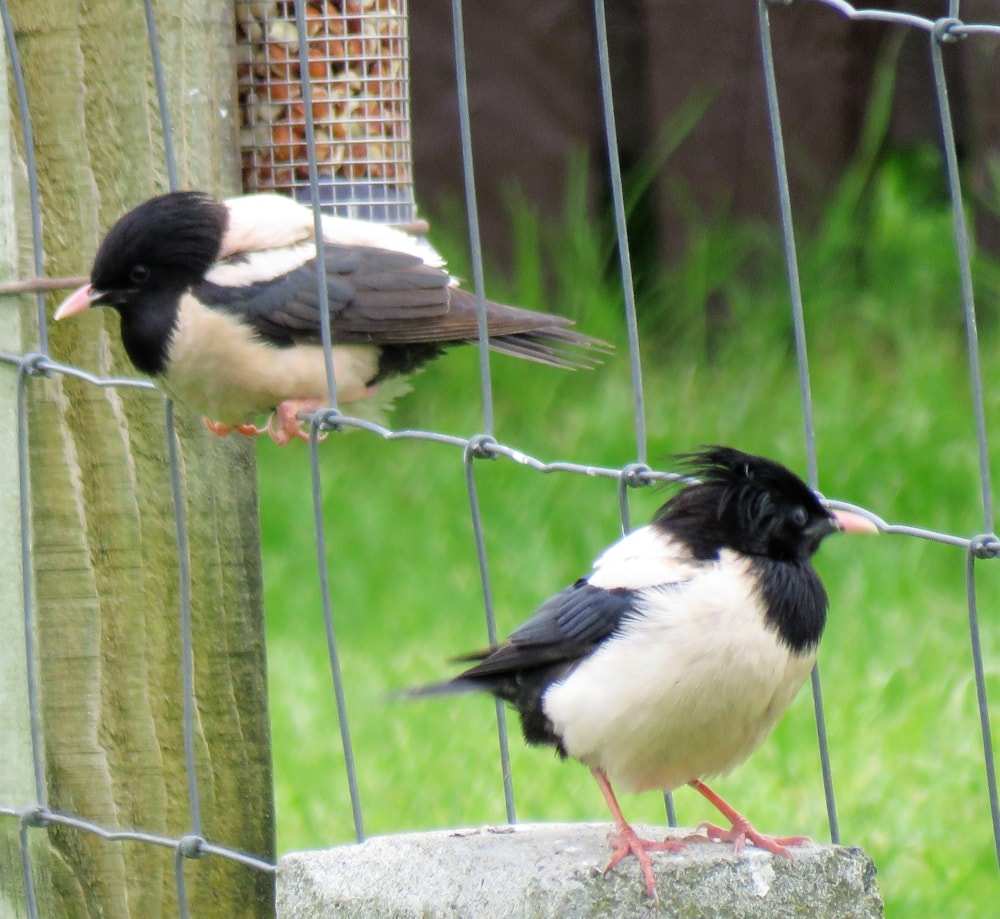 Rosy Starling, Port Skigersta, Lewis, Outer Hebrides (Sam Hawkins).
Rosy Starlings dominated the week in the Outer Hebrides, with reports from 13 different sites. Three remained at Cross, Lewis, throughout the week, with two at Port Skigersta; other sightings on Lewis came from Mangurstadh, South Dell, Breanais and Port Nis. Singles were on Vatersay and at Carinish and Balemore, North Uist, as well as Rubha Ardvule, South Uist. Aside the pink invasion, a Wilson's Storm Petrel photographed off St Kilda from the passing RV Celtic Explorer on 6th was a huge Scottish rarity and the country's highlight this week. The same ship also scored Sabine's Gull and a couple of Long-tailed Skuas on 7th.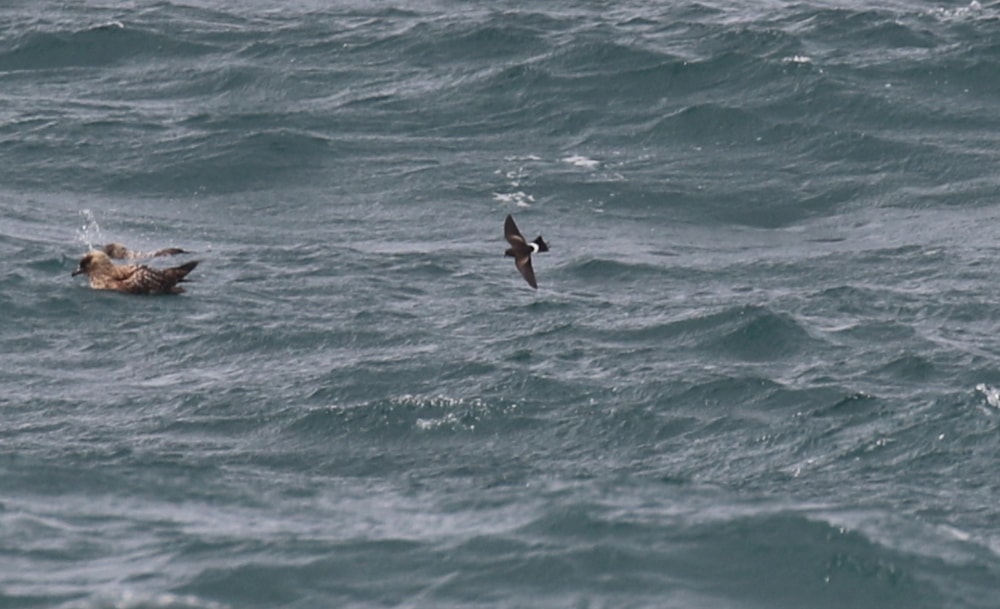 Wilson's Storm Petrel, St Kilda, Outer Hebrides (Paul Connaughton).
North-East England
A fine adult White-rumped Sandpiper at Saltholme RSPB, Cleveland, from 3-6th kicked off return wader passage in style. Eurasian Spoonbill and Great Egret remained in the Saltholme area. A Common Quail was at Kirklevington on 6th.
Last week's Rosy Starling at Seahouses, Northumberland, remained throughout but was elusive for much of the time. Up to three Eurasian Spoonbills started the week in the Druridge Bay area but were mobile. A Great Egret was in the north of the county on 2nd at Monks House then subsequently seen in flight over Long Nanny Burn. Good numbers of Common Quail continued to be found, with singing males at five sites – including two popular birds at Monkseaton.
Durham remained quiet; a Wood Sandpiper at Boldon Flats hinting at autumn, small numbers of Velvet Scoter moved past three sites at the coast and the occasional Western Osprey was spotted around the inland reservoirs.
North-West England
The Cumbrian Blyth's Reed Warbler lengthened his stay into the new month, and at times showed very well. Other sightings of note included a pair of Ruddy Shelduck at Bowness-on-Solway on 1st and a Spotted Redshank at Port Carlisle on 6th. On the Isle of Man, a Rosy Starling performed well in Ramsey on 4-5th.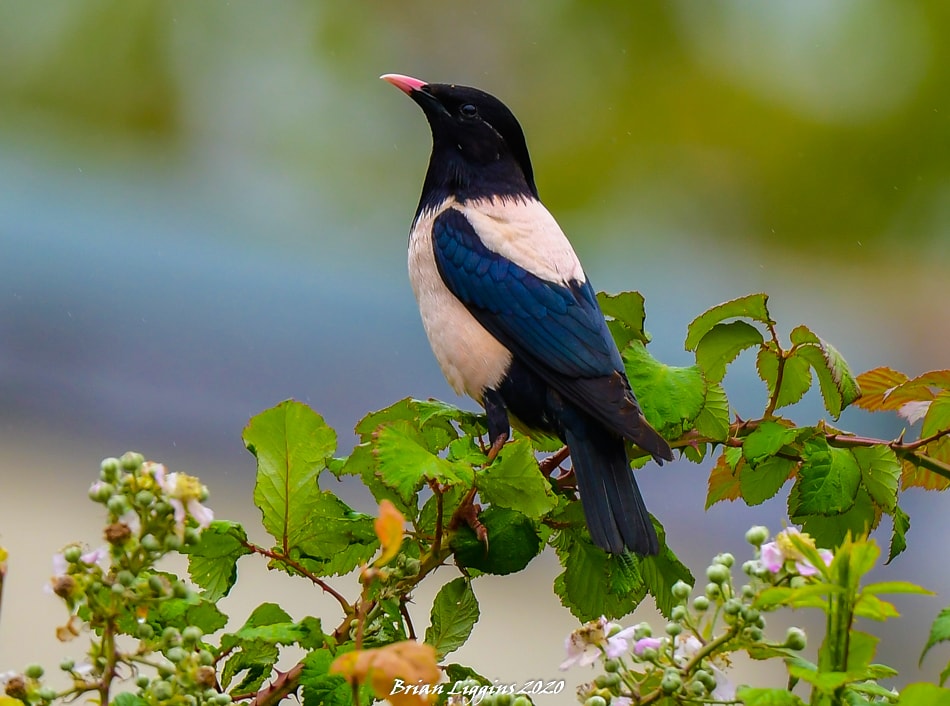 Rosy Starling, Ramsey, Isle of Man (Brian Liggins).
Down in Lancashire, a report of a Golden Eagle over Leyland on 1st had locals scanning the skies, but alas there was no further sign in the area. More tantalising news came from Leighton Moss RSPB, where an adult Black-crowned Night Heron had been seen in an area with no general access during mid-June. Spotted Redshanks were at Hesketh Out Marsh RSPB, Seaforth LWT and Little Singleton through the course of the week.
The westerly blow produced a Northern Gannet at Sandbach Flashes on 6th and the bird was still present the following day – a very decent bird for inland Cheshire and one of several to have been displaced nationwide during the weekend's winds. On the Dee Estuary, the pair of Eurasian Spoonbills remained settled at Parkgate Marsh and a Spotted Redshank was at Burton Mere Wetlands RSPB on 1st.
A second-summer Arctic Tern frequented Pennington Flash CP, Greater Manchester, from 2nd onward. Also there, two drake Greater Scaup pitched up on 4th.
Lincolnshire and Yorkshire
Aside from the aforementioned highlight East Yorkshire had a week of unconfirmed reports, including probable male Black-headed Bunting at Bessingby on 30th, a probable immature Brown Booby past Withernsea on 4th, and a possible Gyr Falcon at Thornwick Bay on 6th. A Little Stint was at Kilnsea at the start of the week.
An inland Roseate Tern at Sprotbrough Flash YWT, South Yorks, on 4th was a great find, as was a male Red-veined Darter at Soil Hill, West Yorks, on 6th. European Honey Buzzards continued to put on a show at Wykeham Forest, North Yorkshire, while the summering Lesser Yellowlegs chilled out at Nosterfield LNR.
In Lincolnshire, there was a report of a Purple Heron at Stamford on 4th. A female Greater Scaup was at the Donna Nook realignment on 1st, while the Glaucous Gull remained at nearby Pyewipe. A Black-necked Grebe was at Baston and Langtoft Pits from 6th.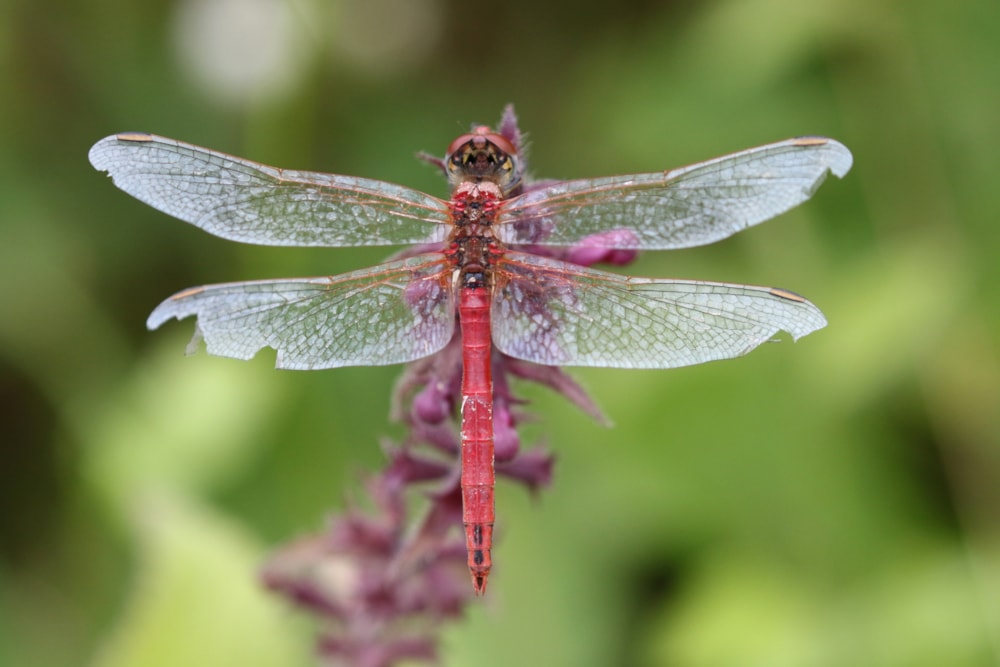 Red-veined Darter, Soil Hill, West Yorkshire (Daniel Branch).
West Midlands
Sightings were sparse in the region as we entered the new month. Staffordshire hosted a Ruddy Shelduck at Blithfield Reservoir on 1st and a Little Tern at Middleton Lake RSPB on 6th. Worcestershire secured its Glossy Ibis for another week at Lower Moor, and an Arctic Tern flew through Salford Priors GPs, Warwickshire, on 5th. The only sighting of note in West Midlands county this week was a brief Rosy Starling in a Dudley garden on 2nd.
Content continues after advertisements
East Midlands
Large raptors aside, it was another quiet week for Derbyshire. However, seven Arctic Terns at Foremark Reservoir on 4th was notable for the time of year, as was an adult Northern Gannet at Pools Brook CP on 7th. A Black-necked Grebe was on Carsington Water the same day.
A Black-necked Grebe was also at the Nottinghamshire hot-spot of Slaynes Lane, Misson, which continues to produce quality birds on a regular basis. A Roseate Tern briefly on 3rd has to be this week's highlight, but supporting birds included Wood Sandpiper, Red Knot and an overflying Western Osprey. A Black Tern was at Hoveringham GPs on 6th, meanwhile a Wood Sandpiper was at Langford Lowfields RSPB.
In Northamptonshire, a Little Tern was seen flying high west over Stanford Reservoir on 6th, a pair of Common Cranes was over Northampton on 7th, and the usual Western Cattle Egrets remained in place. A couple of juvenile Black-necked Grebes were at Summer Leys LNR on 6-7th.
Rutland Water continued to produce notable sightings, with a Black Tern on 4th, Wood Sandpiper briefly on 5th, and two Western Cattle Egrets and Red Knot on 6th.
East of England
In a week in which it was announced that Western Cattle Egret has been added to the list of breeding avifauna in Norfolk, the county produced several sightings of the new family at Holkham NNR, as well others along the coast. The Cley area always has something of interest to see, and a Red-necked Phalarope visited the reserve on 5-6th. Nearby, a Hoopoe was discovered by a trailcam in operation at Weybourne on 5th. A Black Kite was reported flying past Hopton-on-Sea on 6th and a Hooded Crow was at Hemsby.
A European Serin was seen at Landguard, Suffolk, on 2nd and 6th, but it was otherwise a pretty quiet week for the county. Both Caspian and Yellow-legged Gulls were building up at Livermere Lake, though. A scattering of Western Cattle Egrets, Eurasian Spoonbills and Common Quail was the best Essex had to offer (unless you fancied hunting down the numerous Southern Migrant Hawker dragonflies), while Hertfordshire produced little more than a Common Quail and an early Whinchat.
Not a single report was received from Bedfordshire, while Cambridgeshire's arguable highlight was a drake Cinnamon Teal at Islesham – unringed, but of presumed suspect origin.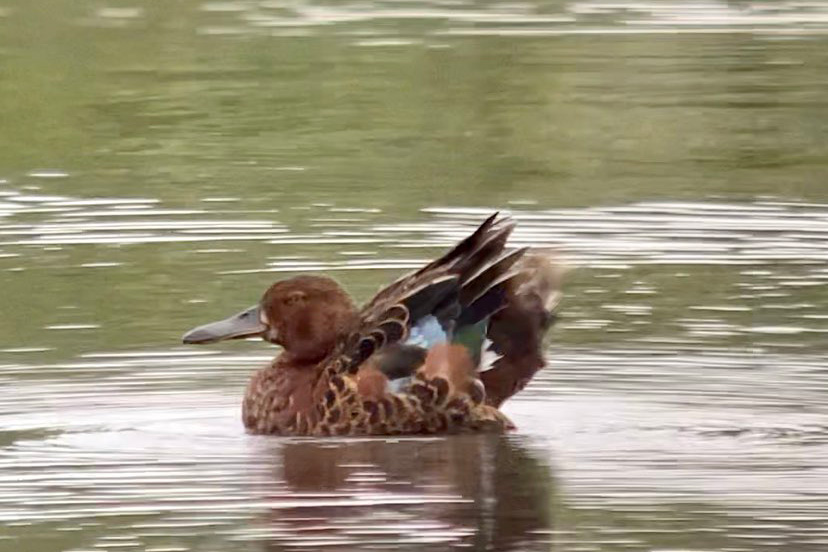 Cinnamon Teal, Islesham, Cambridgeshire (Oliver Marshall).
South-East England
A singing Melodious Warbler at Dungeness, Kent, on 6th wasn't exactly in keeping with the season or predominant weather in the south-east this week but was nevertheless a quality July record. Also at Dunge, the male Black-winged Stilt continued, a Balearic Shearwater flew past on 4th and two juvenile Yellow-legged Gulls were logged. Elsewhere in the county things were quiet – unsurprising given the weather – though a Western Cattle Egret at Elmley was of note.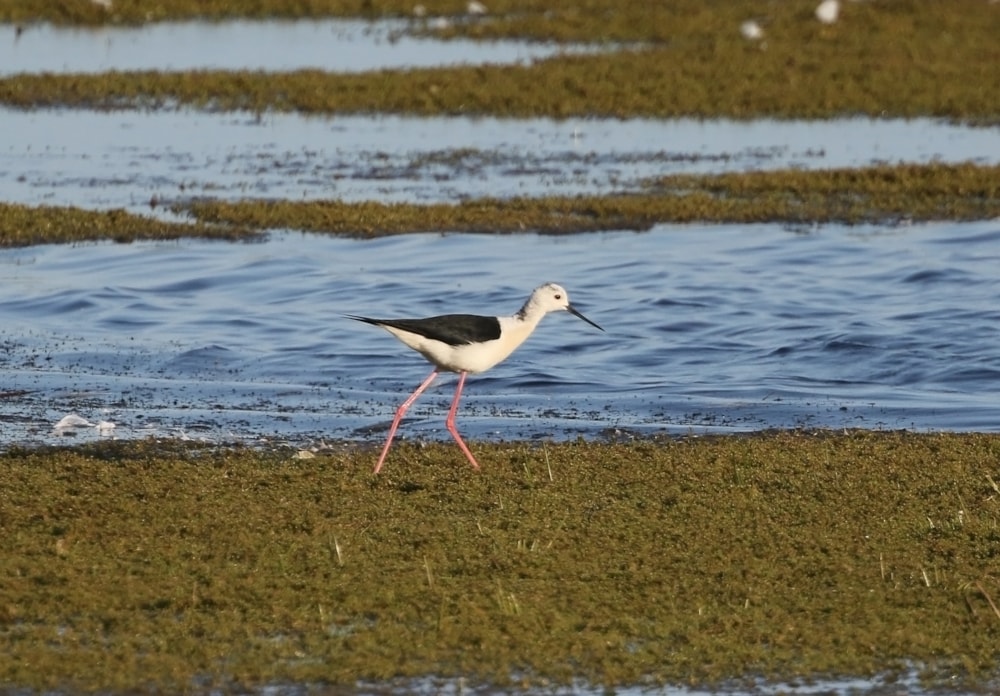 Black-winged Stilt, Dungeness RSPB, Kent (Martin Casemore).
There were some signs of autumn in the capital, with both Arctic (one) and Sandwich Tern (three) logged, the former at London Wetland Centre and 'Sarnies' at Greenwich (two) and Rainham. Staines Reservoirs scored a neat double act of Ruddy Turnstone and drake Greater Scaup, a Whinchat passed through Richmond Park and a handful of Yellow-legged Gulls arrived on the Thames.
A pair of Western Cattle Egrets graced Tice's Meadow, Surrey, for several hours on 7th – just the 11th county record – with one of this duo later seen at nearby Ash Vale, curiously on the central reservation of the A331. At Holmethorpe SP, a Great Egret was a brief visitor on 4th. The other inland counties were very quiet (there was nothing to report from Berks or Bucks), though Oxfordshire enjoyed the four Common Quail at Kingston Warren Down until 1st and another at Letcombe Castle on 6th, along with Garganey at both Otmoor and Sutton Courtenay GPs.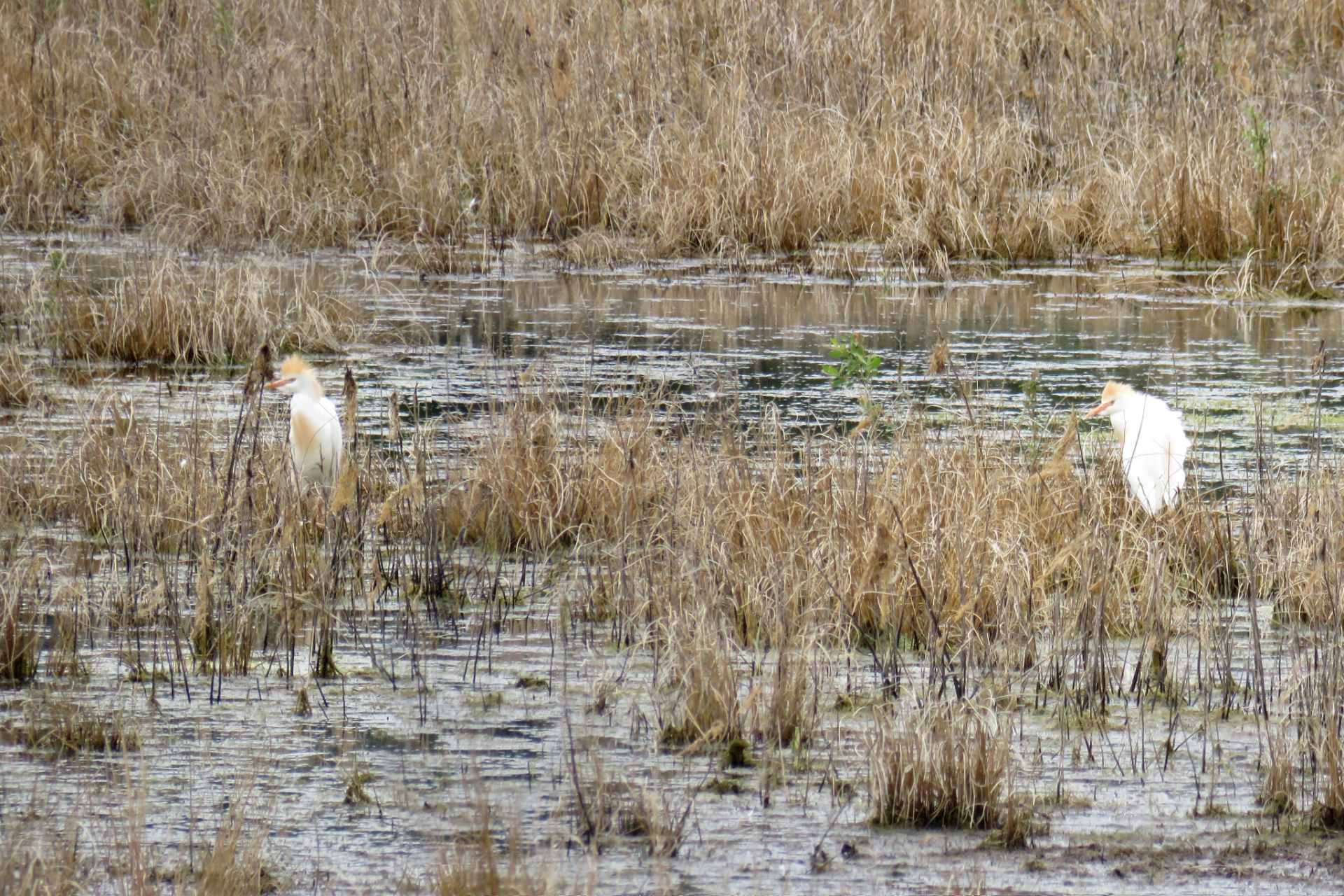 Western Cattle Egret, Tice's Meadow, Surrey (Shaun Ferguson).
There were some moderate seawatching results in Hampshire, with four Balearic Shearwaters logged at both Taddiford Gap, on 3rd and Sandy Point, Hayling Island, the following day. The latter site also scored two Roseate Terns on 7th and a Black Tern from 6th. Another Roseate – or perhaps one of the birds later seen at Hayling Island – was on the scrape at Titchfield Haven on 7th. Inland, a Great Egret graced Edenbrook CP from 3rd. Things were quiet on the Isle of Wight, with a Great Egret and Eurasian Spoonbill of note.
Only one Balearic Shearwater was picked up in Sussex, with an individual on 4th past Selsey Bill, where seawatches somewhat underwhelmed during the days of strong south-westerlies. The Temminck's Stint was reported again distantly at Pulborough Brooks on 1st but has either departed or remained out of view since, while an adult Eurasian Spoonbill was at the same site from 3-6th. In East Sussex, Common Quail were found on 2nd and 3rd, at Castle Hill NNR and Rottingdean respectively.
South-West England
A popular Wood Sandpiper was at Ham Wall RSPB, while the adult Curlew Sandpiper stayed steadfast at Steart WWT (a Channel Wagtail was also there on 5th). A Balearic Shearwater flew past Sand Point on 5th. The Black-crowned Night Heron at Watchet on 3rd was perhaps that photographed in the village the previous month.
The male Spotted Crake remained singing at Splatt Bridge, Gloucestershire, on 6th, while Slimbridge WWT's Ruddy Shelduck count increased to two on 7th. A Northern Gannet visited Frampton-upon-Severn sailing lake, but sadly perished. A Hoopoe was at Tockenham, Wiltshire, on 6th.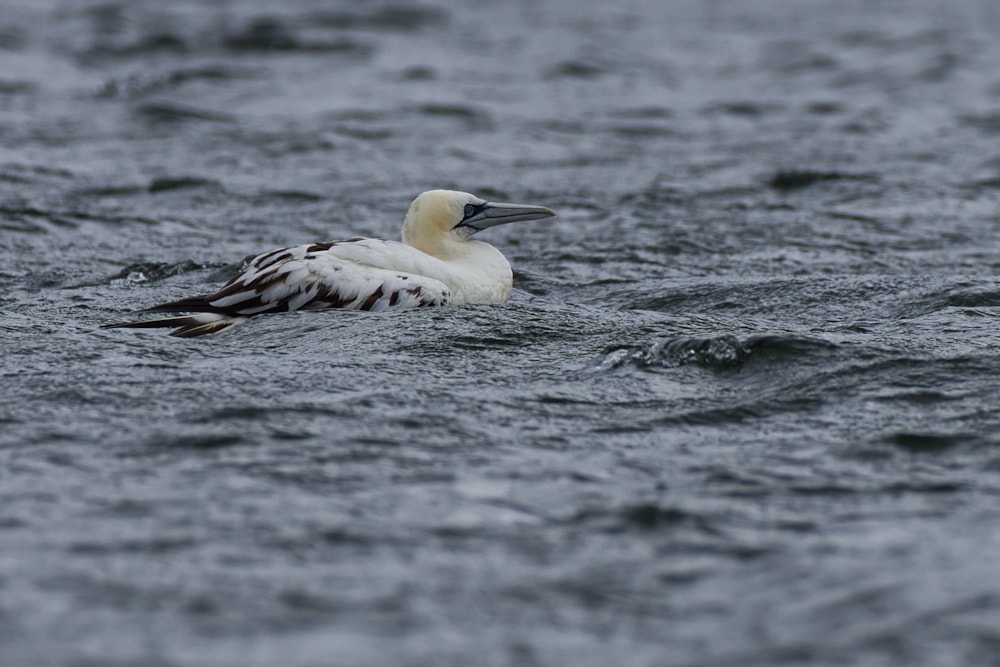 Northern Gannet, Frampton-on-Severn, Gloucestershire (Jonathan Bull).
Four Cory's Shearwaters past Porthgwarra on 3rd were the first of the season there, although rather surpassed by a Wilson's Storm Petrel off Tater Du Lighthouse later that day, along with two Sabine's Gulls. In what is a decent showing for early July (no doubt helped by the winds), another passed Pendeen on 5th, with a third sparking the Scilly pelagic season to life at the end of the week. On the isles themselves, a Rosy Starling was on St Mary's on 4th.
Four Roseate Terns were at Dawlish Warren, Devon, on 5th, with at least six Pomarine Skuas offshore. The Slavonian Grebe remained on the Exe Estuary. In Dorset, a mobile European Serin darted around Portland from 1st, with another at Broadstone on the same date. Looking offshore, four Pomarine Skuas flew past the Bill on 3rd, as well as large numbers of Balearic Shearwaters all week and a Roseate Tern in the Lodmoor area on 1st. Interest on the Odonata front was kept alive by a Lesser Emperor at Longham Lakes on 7th.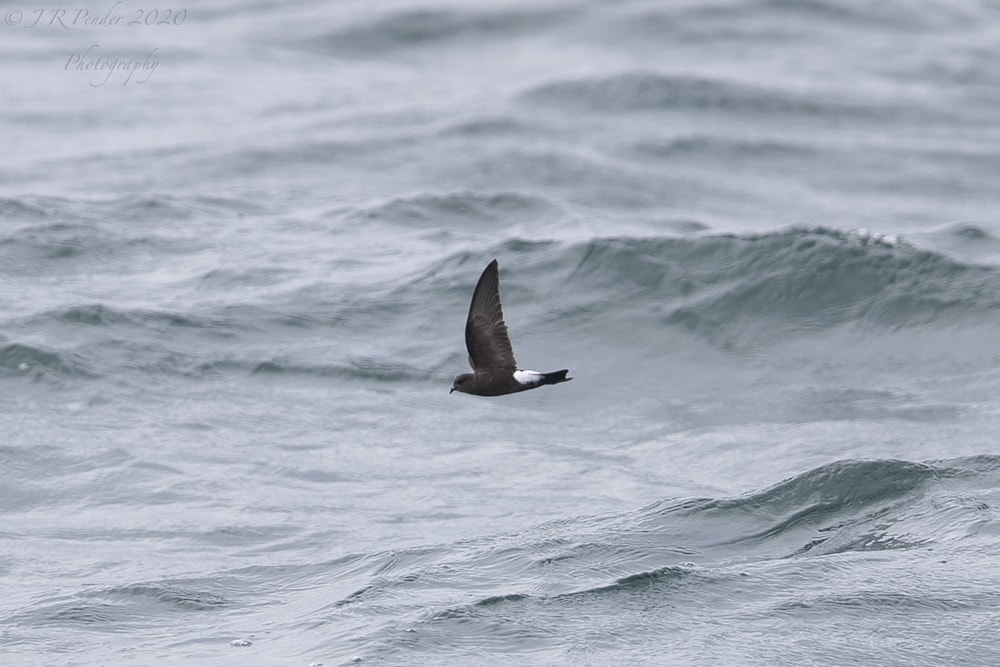 Wilson's Storm Petrel, Scilly pelagic, Isles of Scilly (Joe Pender).
Wales
After a two-month hiatus, the long-staying Glossy Ibis put in another appearance at Goldcliff Pools NR, Gwent, on 6th. Elsewhere, Rosy Starlings were at Trefeitha, Powys, on 1st and Berea, Pembs, on 4th. Two Black-necked Grebes were again at Lisvane Reservoir, Glamorgan, on 3rd and a Spotted Redshank was at Goldcliff Pools NR on 1st.
Anglesey produced the country's first Balearic Shearwater of the year, with a single past Point Lynas on 6th. The Roseate Tern put in another appearance at Cemlyn Bay the same day. Perhaps the most surprising find of the week was an early Velvet Scoter off Rhos Point on 7th.
Ireland
Seawatching started to pick up this week. Although there was nothing outstanding, Wilson's Storm Petrels flew past Ballycotton, Co Cork, on 3rd and Brandon Point, Co Kerry, on 5th. The odd Cory's Shearwater, Sabine's Gull and Pomarine Skua at the classic southern and western sites were hints at what's to come over the next couple of months. Meanwhile, an adult Long-tailed Skua hunting over a Connemara bog made for an exciting sight in inland Co Galway.
Rosy Starlings numbered four, with new birds at Youghal, Co Cork, and Waterville, Co Kerry. A first-summer Eurasian Hobby at Orlock Point, Co Down, from 4th was a locally significant record, while the Egyptian Goose hung on at Lough Neagh. The odd Yellow-legged Gull was seen in Co Louth and the Eurasian Spoonbill returned to Bull Island, Co Dublin.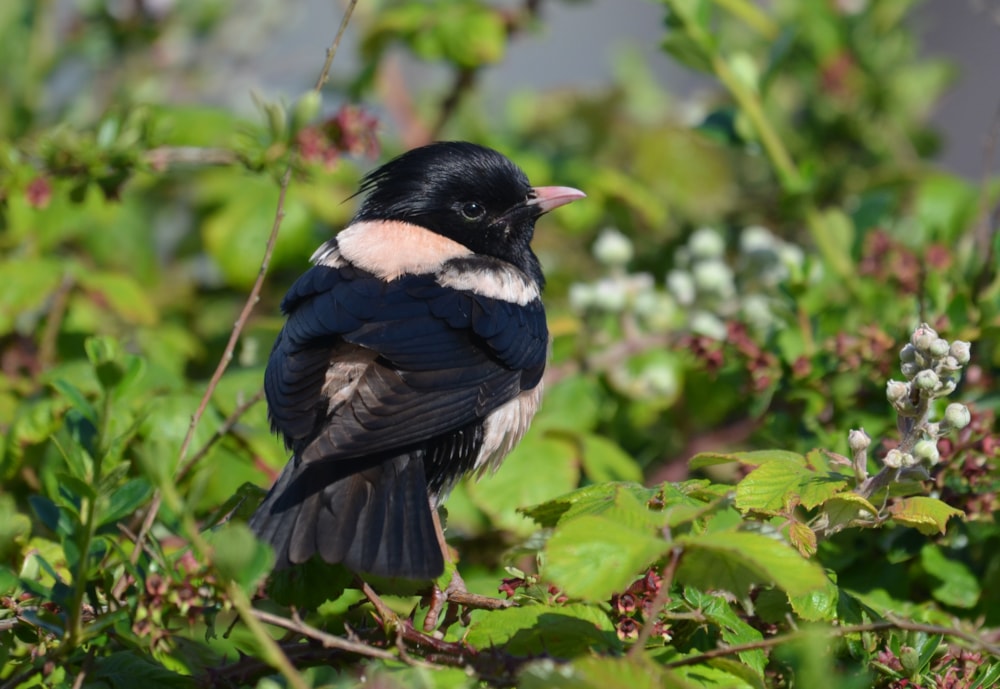 Rosy Starling, Ballycotton, Cork (Dorothy Heaphy).
Western Palearctic
The male Pied Bush Chat at Eurajoki, Finland, from 4th was a major find. That said, it feels very much like sooner rather than later for a potential British occurrence, although the species' semblance for turning up seemingly at random at all times of year doesn't aid in narrowing down the search parameters. The country's 11th Greater Sand Plover was at Tormela on 5th.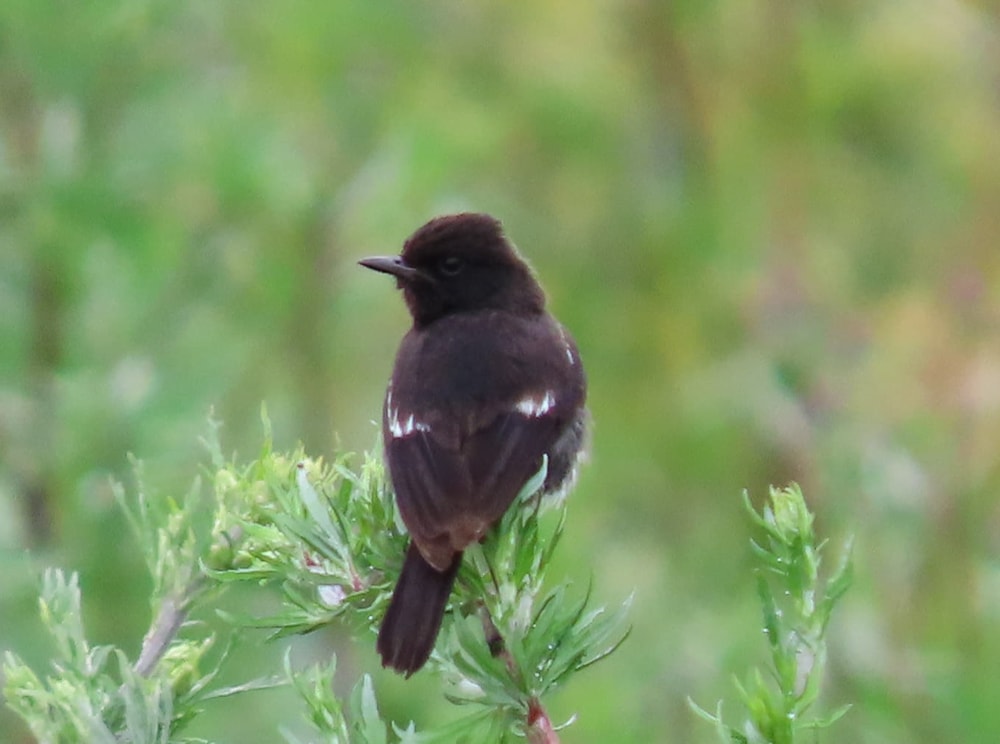 Pied Bush Chat, Eurajoki, Satakunta (Jouni Riihimäki).
A White-tailed Tropicbird on Cape Verde was a surprise towards the end of the week, trapped and ringed at Red-billed Tropicbird colony on Ilhéu de Cima, becoming just the third record for Cape Verde and fourth for the WP in the process.

White-tailed Tropicbird, Ilhéu de Cima, Cape Verde (Projecto Vitó-Fogo / Facebook).
Sweden's ninth Lesser Sand Plover was on the beach at Trelleborg on 1-2nd and, given its appearance (a female from the atrifrons group), could well be the bird recently seen in Germany. A Pacific Golden Plover was also in the country at Norrköping on 2nd, with a Black-winged Kite at Tanumshede on the same date. An eastern Red-rumped Swallow was at Degerhamn from 3rd.
An adult Sociable Lapwing was on the German plains at Utphe from 4th, with Dutch Amur Wagtail present throughout. A Squacco Heron at Daugavpils on 1st was, remarkably, the first for Latvia. A Rosy Starling was at Sandgerði, Iceland, on 4th. The Spanish Pied-billed Grebe was still at Grijalba on 1st, while an adult Elegant Tern was at Conil de la Frontera on 4th.