After arriving in Britain in late June, the Bearded Vulture has managed to spend long periods – often days at a time – hidden in the north-west of the English Midlands. After tracking directly towards the Peak District National Park when it was first seen on 26 June, it's been no great surprise that all confirmed reports subsequently have come from this area.
However, sightings have been both sporadic and fleeting, as well as by chance in their nature. More often than not they have been made by non-birders and only reported some time after the event – not easy for tracking down a bird that seems entirely averse to staying still. Indeed, some of the frustrations that many felt while trying to pin down the 2016 bird in Devon are resurfacing here.
But it's most certainly not all doom and gloom. Although the Peak District in its entirety is a third larger than Dartmoor, sightings of this year's bird give hope that it seems relatively settled (for now!), with most reports concentrated over a relatively small geographic area, which is both easily accessed and well populated, while the 2016 bird was far more mobile – even wandering to Cornwall and Somerset during the fortnight or so in which reports were regular.
That's not to say that catching up with it will be by any means straightforward, but anyone wishing to appreciate the spectacular sight of a Bearded Vulture traversing the hills of Derbyshire would feel justifiably encouraged by its path so far.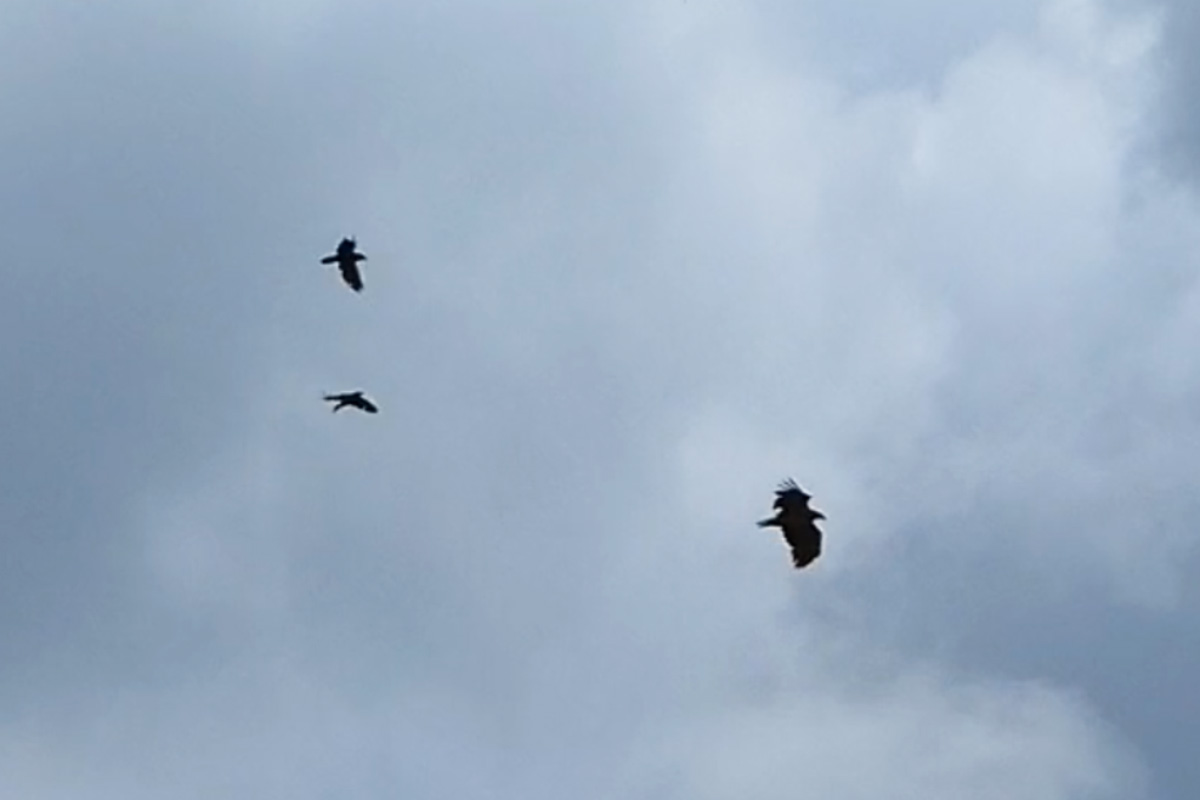 This still from a video taken near Cressbrook on 6 July shows just how large the Bearded Vulture is when compared to the local Ravens (Wendy Birks).
What we know
After flying over Hassop at 2 pm on 30 June and then being photographed between Edale and Castleton later that afternoon, there was a report of what was presumably the Bearded Vulture over Goyt Valley that evening.
Despite a few birders searching the area over the weekend of 4-5 July, the trail went cold again until 6th – when Wendy Birks filmed it in flight over Cressbrook Dale at 1.30 pm on 6th. It was then seen over Froggatt Edge, heading north for Stanage Edge, at 3.20 pm. Two more sightings followed from the Big Moor area on the morning of 7th, before it was reported a little later over Gardom's Edge, east of Baslow.
From this still limited pool of sightings, it would appear that the Bearded Vulture is finding the south-eastern Peak District to its liking and, although still mobile, has settled in this area. All sightings bar the report over Goyt Valley have come from a general area between Bakewell and Ladybower Reservoir – as the vulture flies, a distance of little more than 15 km.
Notably, several sightings have come from the ridges surrounding the Derwent Valley, to which both Hope Valley and Edale (where the bird was picked up on 30 June) are directly connected. It may well be that the bird is spending most of its time in this area but, given the often blustery and grey conditions of early July, is keeping a low profile and rarely gaining significant height, which would in turn render it less visible to those searching.
Where to look
Bearded Vultures are hardy creatures and inclement weather rarely bothers them in their native range. That said, a bright and warm day will likely harbour the best chance of seeing this bird – unless it is fortuitously picked up at roost one evening, which is far from outside the realms of possibility.
Looking at the map of sightings so far, it's clear that the Derwent Valley would be the best place to start. This incorporates several of the iconic Peak District localities, including Edale, Castletown, Bradwell and Hathersage and covers a large area, but anywhere in the vicinity which offers a good vista would be worth staking out. Most of the moors and ridges in the area are reachable by public footpath, and searching for the vulture certainly lends itself to a picturesque day (or weekend) outdoors.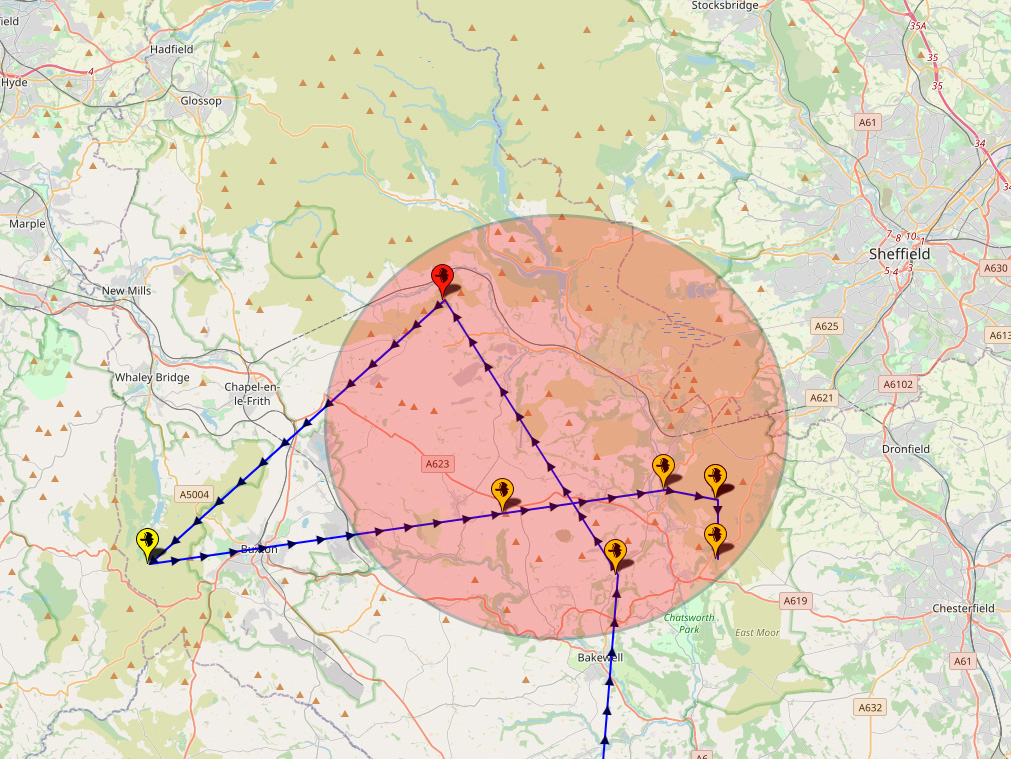 Given the cluster of sightings between Bakewell and Castletown, the core area (shaded red) likely represents the best place to start searching for the Bearded Vulture over the coming weekend, unless its habits suddenly change.
Viewpoints such as Curbar Edge (SK261747), Mam Tor (SK127836) and Surprise View (SK252801) all give extensive views over the area, and would be good starting points for a stakeout. Hook's Car (SK245829) is a good base for the ascent to Stanage Edge, which also offers a good vantage point over the valley to the west. To the north, parts of Snake Pass and the Derwent Reservoir area may also be worth a shot.
The likes of Hathersage, Hope and Edale, all within the 'core range' of sightings so far, are all easily accessible via train from Sheffield or Manchester Piccadilly – each offers a great starting point for exploration of the surrounding ridges, hills and tors on foot. Most towns and villages in the Peak District are linked via bus routes, but please be aware that the ongoing coronavirus situation means that bus companies are running reduced services and advise against all but essential travel. However, with campsites now opening up across England, staying in the area for more than one day is now a possibility, and can be easily done without the use of a vehicle.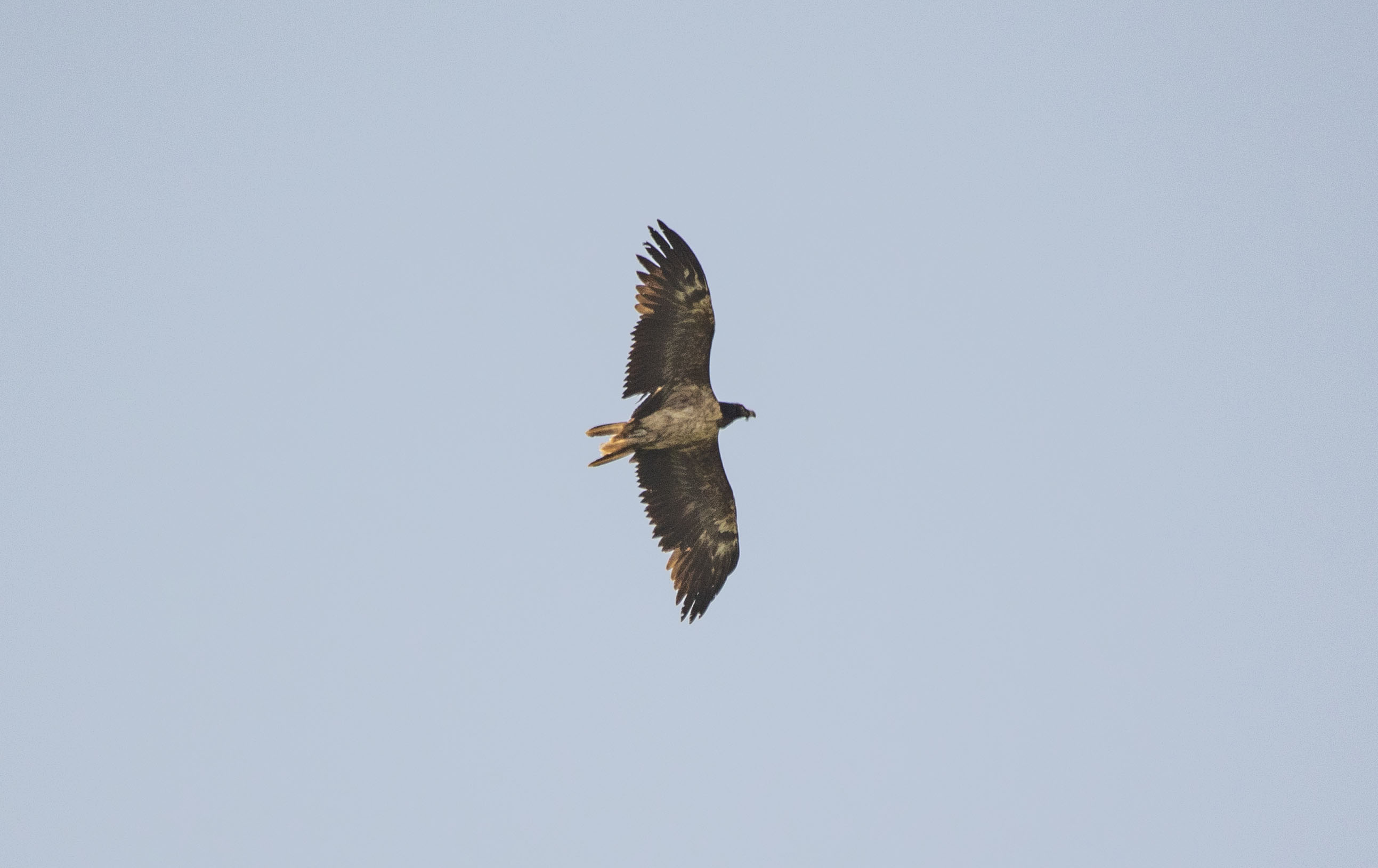 As well as its unrivalled size, the vulture's distinctive tail damage should make it very quickly recognisable if encountered (Lucy Burrell).
Of course, all of this only applies if the vulture likes the area enough to remain here. From the weekend and into next week, the forecast is for more settled and warmer weather, which may just encourage it to become a little more mobile – but, as things stand, a concerted effort among birders to cover the southern Peak District, with teams strategically positioned at the above vantage points and (for the more intrepid) along some of the higher trails gives as good a chance of pinning this mighty bird down and giving birders an unprecedented opportunity to appreciate one of the world's great birds of prey within sight of Sheffield.