One of the many reasons that inspired our move to Filey in 2012 was the potential for getting one's birding and natural history kicks not just during the perceived peak times, but through 360 degrees of the seasonal cycle. The prospect of being on the coastal front line for winter movements, storm-driven influxes and pelagic long-shots was, and remains, inspiration enough to keep the engine running throughout the darkest days up here on the edge of North Yorkshire.
Up until then, my frame of reference for patch birding in the depths of winter, at least in recent years, had been very different. During the preceding decade, my backyard of choice was Stoke Newington Reservoirs — a watery, tower block-encircled enclave deep in the London Borough of Hackney's dark heart, and thus about as urban as birding gets. With a few notable exceptions — almost all of which involved cold-weather movements — winter's pickings were slim; slivers of hope were provided by gull assemblages and Aythya flocks (often containing colour-ringed birds and hybrids respectively), and the routine checking of both would occasionally produce something a little more special. Otherwise, factor in robotically dull, inmate-style circuits of the barbed-wired perimeter, and you get the somewhat noirish picture.
With that in mind, it's fair to say that winter birding here at Filey is a somewhat different proposition. It would, of course, be disingenuous to paint a picture of perpetual pay-outs, and like pretty much anywhere, it can be hard work at this time of year. In keeping with many other exposed stretches of coast, for example, various terrestrial species (and especially passerines) sensibly decamp to more hospitable surrounds as winter approaches, and thus are predictably thin on the ground; the hedgerows and copses which held such promise in the midst of autumn migration become exposed, barren and almost birdless as the new season takes hold.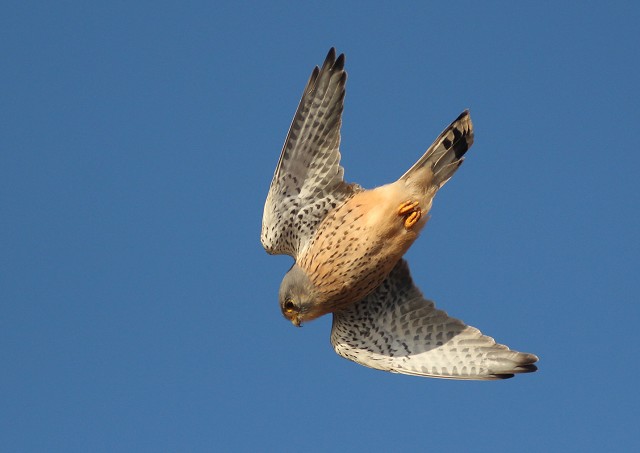 Among other standard fixtures locally, this Kestrel patrols the landslips in the bay corner on a daily basis (Photo: Mark James Pearson).
But while expectations are suitably downscaled as the autumn ebbs away, time and energy spent in the pursuit of quality birds and birding don't necessarily have to be. Instead, they become seasonally adjusted towards a more specific range of possibilities. Attentions turn to those habitats which, unlike the quintessentially English seaside town sharing their grid squares, are far from closed for business in the off-season.
First and foremost, there is the bay. Geographically speaking, it goes without saying that any bay on the British and Irish coast is likely to host an enviable array of visitors from far and wide over the course of a winter season, either as a matter of course, or as a temporary port in an unforgiving storm. The range of more expected or anticipated species naturally varies according to exactly where along the coastline you happen to be, but there are certain common denominators — divers, grebes and seaduck, for example — that grace the majority of our bays to varying degrees, and Filey is happily no exception.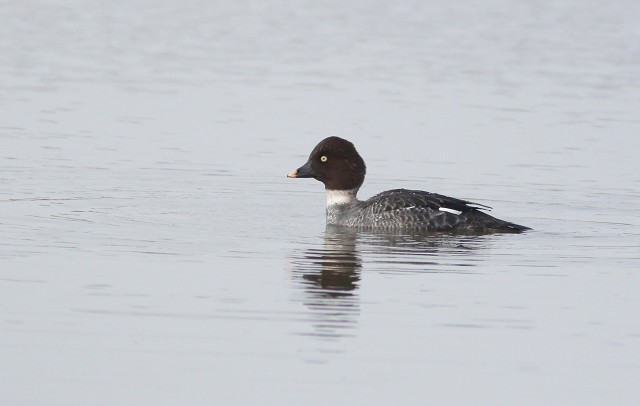 Ducks are very much a feature of the bay in winter, with Goldeneye occurring regularly in small numbers (Photo: Mark James Pearson).
The bay itself is a sweeping, sheltered crescent lined for the most part by five miles of sandy beach, and framed by the rugged, crooked finger of the Brigg to the north and the iconic, vertigo-inducing chalk cliffs of Bempton and Flamborough to the south. With a variety of interconnecting offshore and intertidal habitats, possibilities increase accordingly (as do the fantasies of otherwise off-the-radar Arctic refugees — more of those a little later).
But it's also a bay that makes you work for your rewards. This is no cosy harbour, or small, becalmed basin easily scanned and scoped in a few minutes. Instead, its daunting expanse forces you to pick your battles, and there is no best practice or secret recipe. The vagaries of prevailing conditions naturally heavily influence the dark art of second-guessing its inhabitants and their respective positions at any given time, the nuances of which being (mercifully, perhaps) a little too esoteric to go into here.
In order to maximise possibilities and bring a higher proportion of birds closer inshore, high tide or thereabouts is very much the preferred option. In theory, those frustrating, over-zoomed views of a promising diver bobbing in the distance are increasingly likely to reveal a key feature as the tide rolls landwards; not always the case in practice, of course, but enough to justify targeting the highest point in the tidal cycle above others.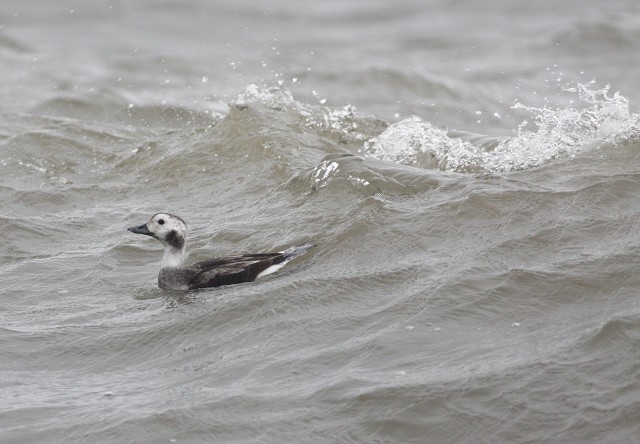 Long-tailed Ducks are rare but regular visitors to the bay in winter, particularly around the Brigg. Females are smart enough ... (Photo: Mark James Pearson).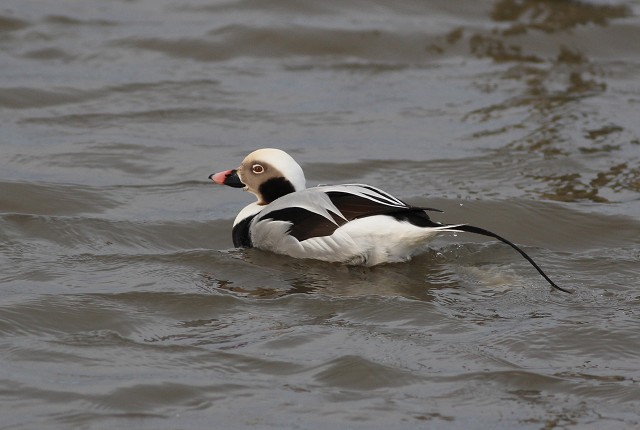 ... but winter males are arguably the most beautifully decked-out creatures to visit our local shores (Photo: Mark James Pearson).
But timing, say, an hour or so's scan around the turning of the tide here also has its responsibilities. Hence, on a given day, you can be entirely alone at first light, but for the shimmering silver streams of gulls leaving the water's surface and heading inland. Alternatively, you may become engaged in passing the time of day with a local motability scooter-riding lady pensioner, while trying hard not to be distracted by the six Yorkshire Terriers crammed unceremoniously into the scooter's shopping basket like a canine bouquet (each with matching hand-knitted jumpers, individually embossed with marker-penned numbers, in case you were wondering). What Filey lacks in culture it tries to make up for in uniquely colourful distractions.
Talking of which, the bay has an illustrious history of sheltering coronary-inducing exotica from distant climes. Indeed anyone hoping to add Harlequin Duck, Steller's Eider or Ivory Gull to the local list should look away now, with all three, somewhat incredibly, having fallen (the latter two to the collector's gun) here in the 19th century. In more recent decades, the bay has harboured national and local rarities including several King Eiders, Surf Scoters and White-billed Divers; not quite as mind-blowing as the contents of Victorian hunting bags perhaps, but quality finds nonetheless — and the stuff of distant dreams to a London-based birder with no immediate hope of parole a few years ago.
Until recently, regular coverage of Filey Bay seemingly became fitful at best, reflected by the bay slipping off the pages both of bird reports and the radars of visiting birders. Latterly, however, a quiet renaissance has occurred, with a small team of us dutifully scanning its surface on a regular basis, from the bay corner in the north to Reighton in the south, with often rewarding and gratifying results.
At the end of last year the bay reinstated its potent but dormant wildcard potential with an emphatic bang when, while scanning the bay from the promenade one December day and shooting the breeze with a few local anglers ("Wigeon — it rhymes with Pigeon"), a certain A-list alcid swam innocently into my field of view.
That Brünnich's Guillemot has already been well documented elsewhere on these pages, but it's worth stating for the record that I'd never honestly imagined my daily scanning ritual just a couple of minutes away from where I write would yield so glittering a reward after such a short time.
There is a certain extra-special something about uber-rare Arctic seabirds and the environments they evoke, and being lucky enough to find one this far south tastes all the sweeter. Much as I'd sometimes love to be on, for example, the Uists or Orkney for such reasons, the thrill of discovering such a bird more than half way down the east coast is all the more intense as a result.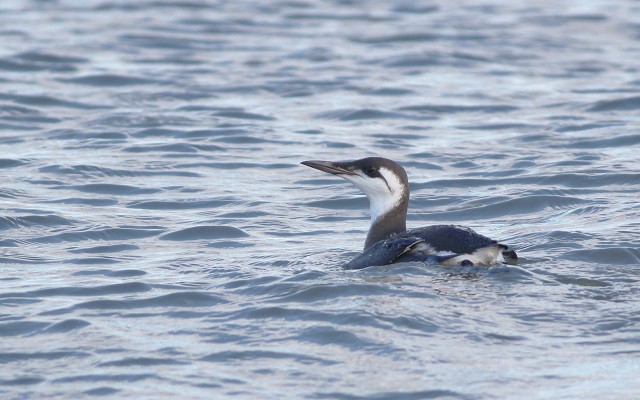 In contrast to other times of year, auks in the bay in winter are unpredictable and always worth a second glance. The most likely species are Guillemots, like this winter-plumage bird ... (Photo: Mark James Pearson).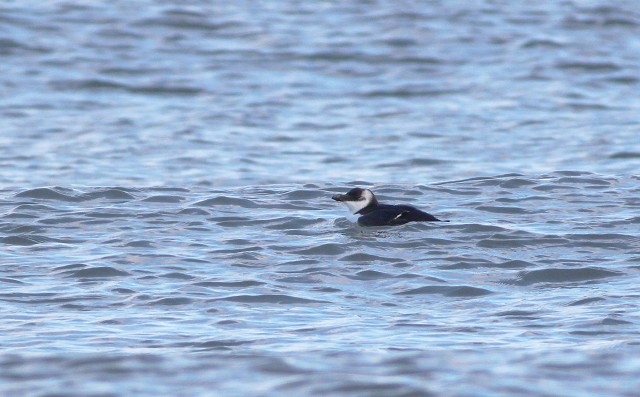 ...or Razorbills, which are also the default species close inshore in the summer months. Less expected congeners occasionally put in cameo appearances, however ... (Photo: Mark James Pearson).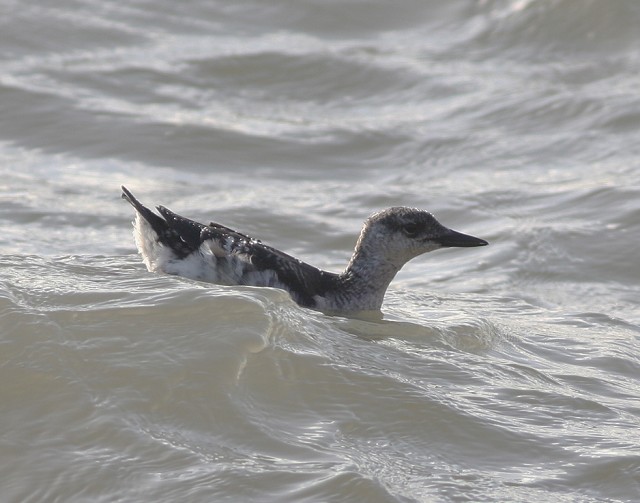 ...such as Black Guillemots (like this bird in the bay corner), which are less than annual locally but sometimes stick around once in the bay... (Photo: Mark James Pearson).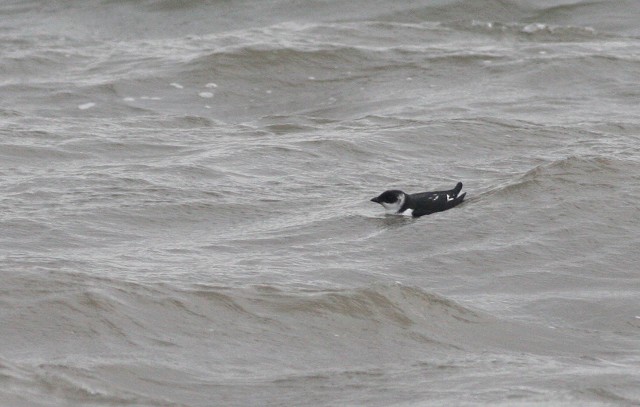 ...and Little Auks, which may occur in sudden influxes as fly-bys, or as temporary guests in the bay (as with this bird) ... (Photo: Mark James Pearson).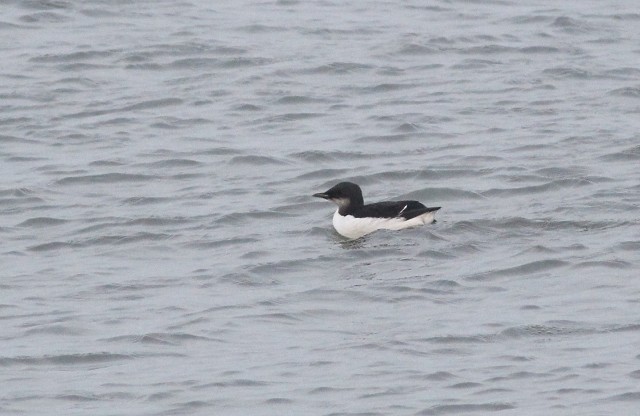 ... and then there's those occasions when a second glance is akin to a bomb exploding ... Brünnich's Guillemot, Filey Bay, December 2013 (Photo: Mark James Pearson).
From a purely headline-grabbing perspective, the Brünnich's is naturally a nigh-on impossible act to follow (even if we stay here for years to come); but if it were only about rarities, I wouldn't have been there to find it in the first place. The real inspiration to keep checking comes from the ever-changing dynamic out on the waves, the mix of transients, medium- and long-stayers, and the anticipation of a new roll-call on a daily or even hourly basis.
Thus, each winter is unique here, with different and sometimes unexpected species taking centre stage in a given season, depending on all manner of factors. Most importantly perhaps, conditions (locally and further afield), the availability and abundance of food, population fluctuations, and not least, pure chance affect the cast and its performances.
As mid-winter approached (and with a gift of a show-stopper already on the scorecard), the coming weeks and months would prove constantly entertaining, and pleasingly difficult to predict.