Common Swift by Mark Ranner
Not so long ago this superb image of a flying Common Swift would have been virtually impossible to take; manual lenses and slow slide film just made it a waste of time even trying. With digital cameras and faster autofocus lenses the odds of taking good flight shots have ncreased, but even with today's equipment an image of this standard is still very difficult to capture, and Mark Ranner has done a fantastic job.
It's hard to imagine a better upperwing pose than this, with so much feather detail on show, and the dark swift against a pale blue sky makes for a perfect composition. A shutter speed of 1/4000th second has been used to ensure everything is pin sharp, while the aperture of the 300 mm lens has been left wide open; a 1.4× converter was added to bring the bird a little closer in the frame.
Congratulations to Mark on his well-deserved Photo of the Week award.
You can read more on bird photography from Steve Young, including product reviews and a regular Photo Challenge for readers, every month in Birdwatch magazine.
Other notable images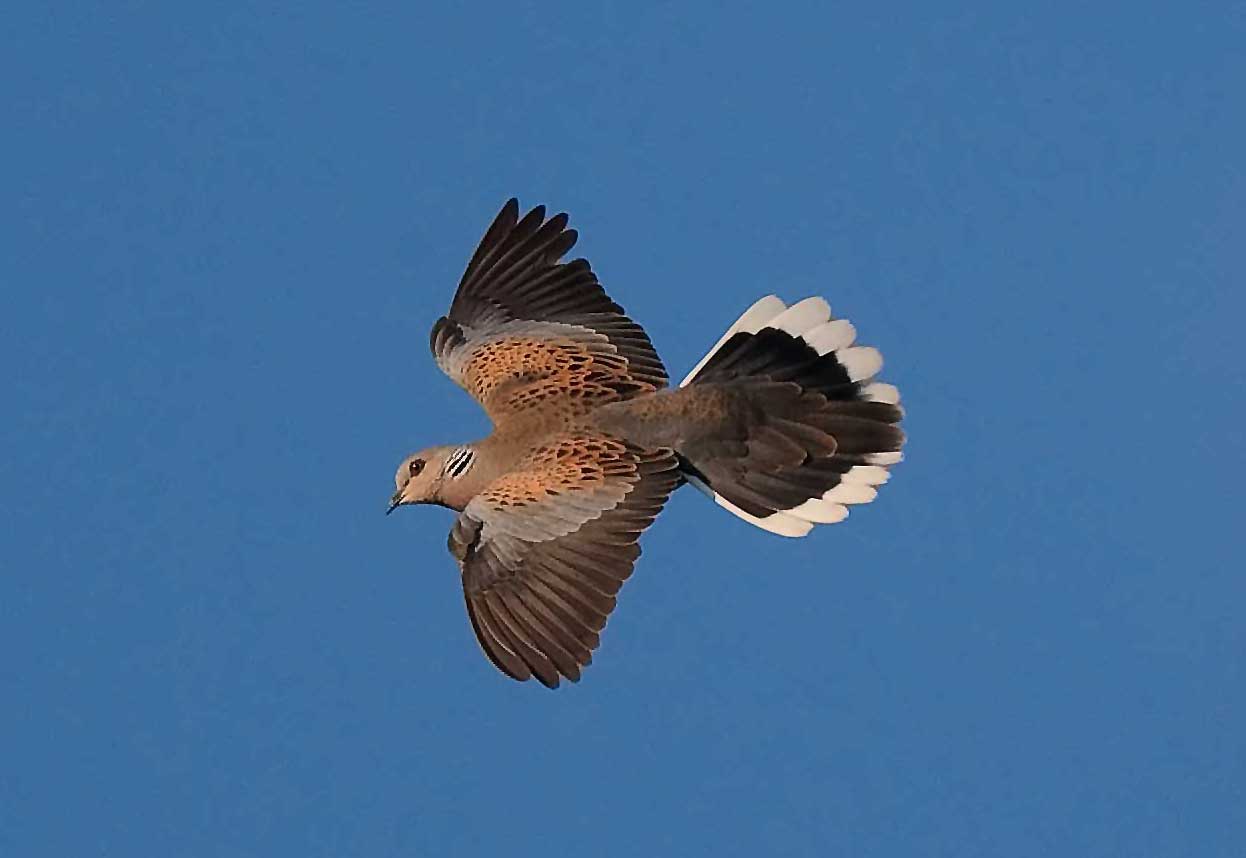 Turtle Dove, Goole, East Yorkshire (Photo: Chris Downes)

Manx Shearwater, Ballyherly Lough, Down (Photo: Ronald Surgenor)

Spoonbill, Druridge Pools, Northumberland (Photo: John Atkinson)

Common Redstart, Elan Village, Powys (Photo: Kev Joynes)

Avocet, Titchwell RSPB, Norfolk (Photo: Matt Crosby)

Little Owl, undisclosed site, Lancashire (Photo: Austin Thomas)

Meadow Pipit, Llangollen, Clwyd (Photo: Steve Round)

Sand Martin, Usk, Gwent (Photo: Mike Warburton)

Little Owl, undisclosed site, Worcestershire (Photo: Peter Walkden)

Sanderling, Winterton-on-Sea, Norfolk (Photo: Mick Davis)

Spotless Starling, Spain (Photo: Ross Doughty)

Marsh Warbler, Hen Reedbed SWT, Suffolk (Photo: Nick Brown)

European Stonechat, Mull, Argyll (Photo: Clare Ward)

Goldfinch, Stithians Reservoir, Cornwall (Photo: John Rowe)