Birders are a strange breed — we're probably the only group of people in the UK who look forward to the first signs of summer ending and impending autumn! This was no more evident than on the @patchbirding Twitter feed as patchers stepped up a gear in August, with plenty of scarcities being added to year lists and falls of common migrants creating a real buzz. Both coastal and inland sites benefitted from the arrival of autumn wading specialities such as Curlew Sandpipers, Little Stints and an unexpectedly large arrival of Wood Sandpipers. Ospreys began to make their long-haul journey back to Africa, making many a patcher's day en route, with several recording their first local records of this impressive raptor.
A large fall towards the end of the month brought in large numbers of Common Redstarts, Pied and Spotted flycatchers alongside chat species. This was naturally most evident on the east coast, but many sites elsewhere scored, with drifters spreading to many inland sites. This was no more in evidence than for Nick Croft at Wanstead in London where all of these scarcities were recorded in impressive numbers, in addition to which he recorded the only PWC inland Wryneck in August. This diminutive and popular autumn speciality made the highlights at no fewer than 11 patches this month. Many of these were bonus pointers as early mornings paid off, with most being recorded on east- and south-coast patches stretching between Loe Pool in Cornwall and Girdleness in Scotland.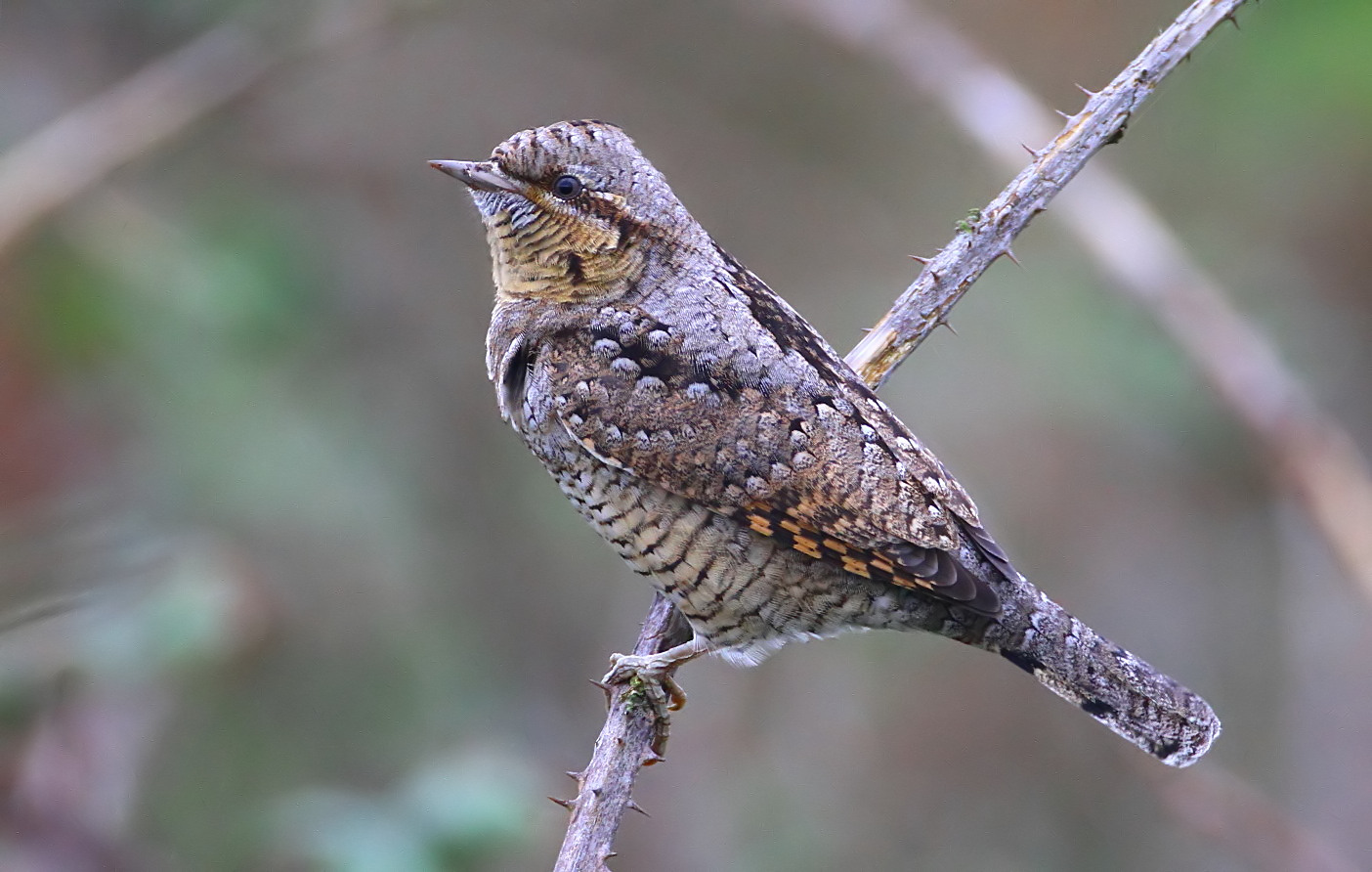 Wryneck, Hook-with-Warsash LNR, Hampshire (Photo: Lee Fuller)
Icterine Warblers brightened the day on six patches during the month, including three at Flamborough, while three east-coast sites scored with Barred Warbler. Lytchett Bay is patched by two birders, Shaun Robson and Ian Ballam. Both enjoyed the first Bluethroat since 1971 but a patch-first Melodious Warbler, found by Ian and dipped by Shaun, could make all the difference by the end of the year.
The Black Stork show continues, with four patchers adding this prehistoric-looking bird. Has there ever been a better chance to add this to your UK list than this year? A bird located by Mick Turton added to his already-impressive year at Easington. The same bird has spent so much time in the ditches of nearby Sunk Island allowing many of the Spurn Migfest attendees to catch up with it. Meanwhile, North Lincolnshire has had its fair share of records this year so it is perhaps no surprise that Nige Lound at Gibraltar Point in the south finally added this to his year list. Finder's points also went to Sean Foote at North Portland and perhaps most impressively of all to John Hopper at his Hoveringham patch, far inland in Nottinghamshire.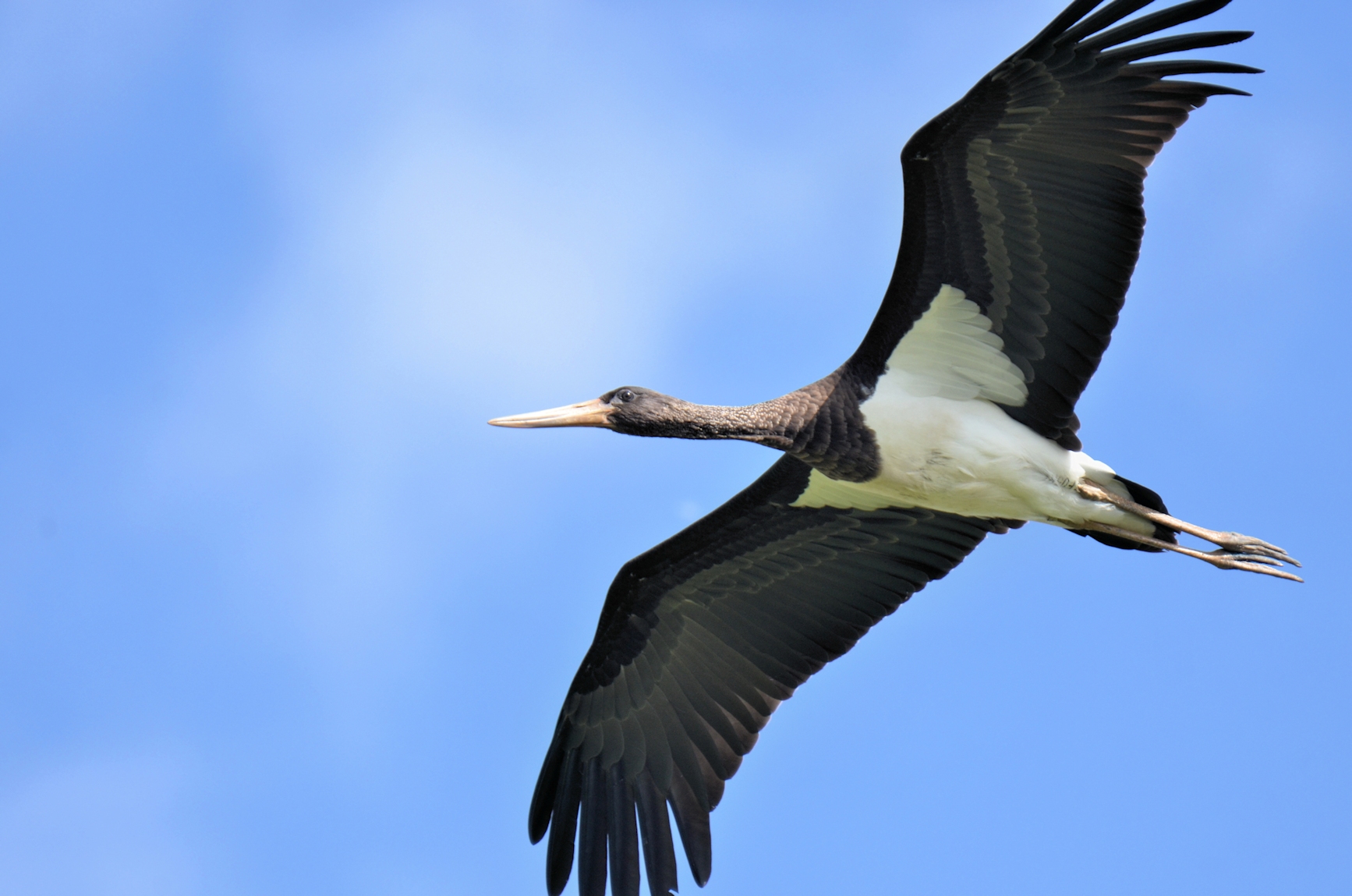 Black Stork, Spurn YWT, East Yorkshire (Photo: Phil Jones)
Spoonbills and Great White Egrets are frequently found in double figures at some locations now, but for many sites they are still an excellent record; there were records of the former from Little Marlow Gravel Pit and Holme Pierrepont and the latter from Saltburn and Hale and Pickerings. A Glossy Ibis at Brough Airfield stayed until the early morning of Sunday 2 August, much to the relief of Peter Williams who was unable to get to his patch when the bird was located the previous day. Meanwhile the only Spotted Crake of the month was unearthed by Seamus Eaves at Fleetwood.
Late summer is a great time to add Hobby to your list, but when news came from Denmark of large numbers of Red-footed Falcons on the move, it made many patchers looks a little more closely! It only paid off for Mick Turton in August, however, with a fine bird frustratingly spending five hours on wires just off patch, until it finally made a foray within his patch boundaries!
There were a number of scarce waders recorded in the month. A Kentish Plover at Ferrybridge for Joe Stockwell was an excellent record, this bird seemingly becoming ever more difficult to connect with in the UK. Meanwhile, Bill Aspin looked up at the right time to nail a Lesser Yellowlegs that paid a brief visit to inland Brockholes before departing as quickly as it arrived, perhaps the same bird that was seen at Condor Green later in the month. The west of England scored again when Dave Craven at Hale & Pickering Pastures found a White-rumped Sandpiper in the high-tide roost, while the only Pectoral Sandpiper on patch this month was found in Ireland by Eamonn O'Donnell at Ninch/Laytown. Finally a flyover Dotterel was a welcome record for Ashley McElwee.
As August progresses, seawatching can really pay off for those willing to watch the waves. The east-coast trio of Long Nab, Flamborough and Easington all located Long-tailed Skua flying offshore, while Balearic Shearwaters flew past Southwold, Dawlish Warren and Ninch/Laytown. An early Leach's Storm-petrel was a highlight for Damian Money at Saltburn. August is also a month for tern movements and a good number of patches reported Black and Roseate terns and a county record count of 2,484 Common Terns were totted up by Kev Rylands at Dawlish. Some had no need to go to the coast, however, with a Roseate Tern adding to last months' Pomarine Skua for Howard Vaughan at RSPB Rainham Marshes while Mark Reeder at Orgreave had both Arctic Skua and Sandwich Tern.
A Ring-billed Gull was an unseasonable bird on the Bann Estuary for Richard Donaghey. Caspian Gulls were identified by Andy Sims at Boultham Mere and Ashley McElwee at Felmingham.
Quail were heard but not seen at two patches in August, including a late bird on 31 August at Long Nab. Meanwhile Red-backed Shrike was also seen at a brace of patches, with singles at Gibraltar Point and Burray, the latter providing Barrie Hammill with finder's points. Barrie also located a Common Rosefinch in the month but having found a bird in the spring there were no additional points this time around.
Finally, this month's #patchgold award (for a common UK bird that is a rarity on patch) saw fierce competition, with the likes of Spotted Redshank on Tiree, Coal Tit at Dawlish Warren and movements of Common Swift in northern Scotland. However, the undoubted winner was a Magpie on Askernish for both Yvonne B and Ian T. This is a first island record and the second record for the Outer Hebrides, exemplifying perfectly the local anomalies of patch birding.
Top 20 Points League
Mick Turton adds 15 species in August including Red-footed Falcon and self-found Black Stork moving him closer to the 200 species mark — surely a barrier that will fall in September. Testament to Mick's bird-finding skills is his points tally of 322. The gap of almost 50 points now looks invincible. Martin Garner's equally impressive 15 new species for 38 points shows that big moves can be made as he overtakes John Bowler to make second place his own for now. Nick Addey is in fourth but Nige Lound and Joe Stockwell are putting on the pressure with everyone having a good month.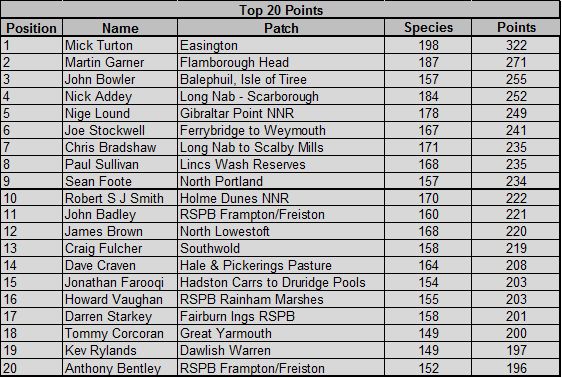 Top 20 Comparative
No additions in the month for Alison C means that her lead is cut slightly by Ben Moyes who added Ringed Plover in the month. An excellent month for Eamonn O'Donnell at Ninch sees him climb from ninth into third as he added Pectoral Sandpiper and Balearic Shearwater. Biggest climber goes to Andy Rhodes who added 15 species in August including patch-ticked Black Tern to rise from twentieth to fourth. Such changes show that this league is still there for the taking. 29 patches are now all well over the 100% mark, a score which is every PWC contestant's ultimate aim.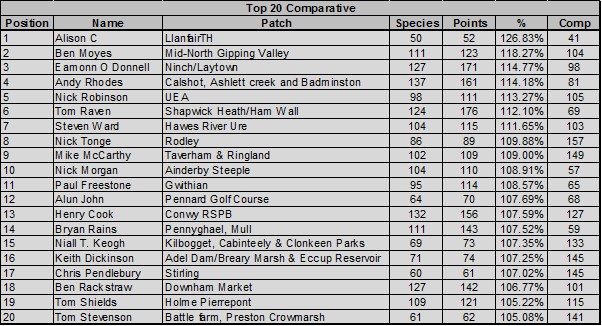 Top 20 Inland
Those with inland patches run their own competition to see which is the best inland patch of the year. Darren Starkey at Fairburn maintains his spot at the top amid tough competition thanks to six additions in the final week of August, his first since June. Wood Sandpiper and Little Stint may have been expected but a Sandwich Tern was more of a surprise. His patch has now topped the 200-point mark, an excellent score. Ian Cowgill at Lound maintains the pressure, adding six species of his own, while Tom Raven (of Hudwit fame) makes up the top three adding Little and Black Terns. Meanwhile Bill Aspin enters the Top 20 courtesy of a Lesser Yellowlegs and John Hopper jumps to fourth, getting the finder's points for a Black Stork at Hoveringham.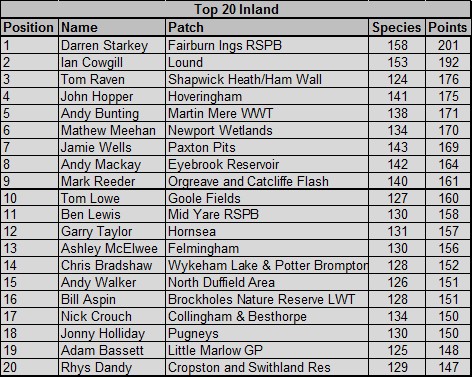 Top 20 Points per Bird
Mick Turton has now ousted John Bowler from his traditional position at the top of the points per bird table. Whilst John scored with a raft of two pointers in August including Spotted Redshank, an unusual bird on Tiree, Mick moved to top spot with self-found Black Stork and a Red-Footed Falcon. There is just 0.002 points between the two! Dave Suddaby drops to third spot with no additions in the month. Ilya Maclean joins them in exceeding the 1.5 PPB marker with a Wryneck helping the cause at Loe Pool.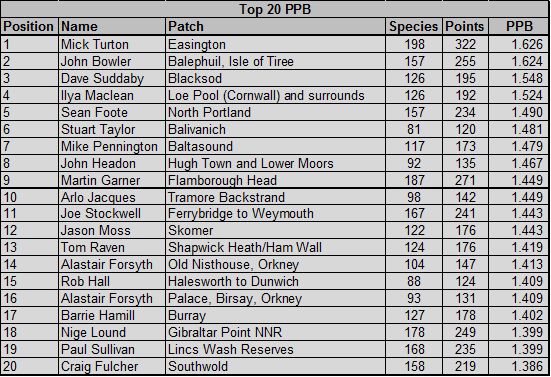 Top 20 NGB
Joe Stockwell extends his lead at the top of the NGB league with nine additions in the month including a Kentish Plover. Indeed the top four sees no change in August. Amy Robjohns moves into fifth position creating a gap to the rest of the field adding Spotted Flycatchers and a whole bunch of Wood Sandpipers!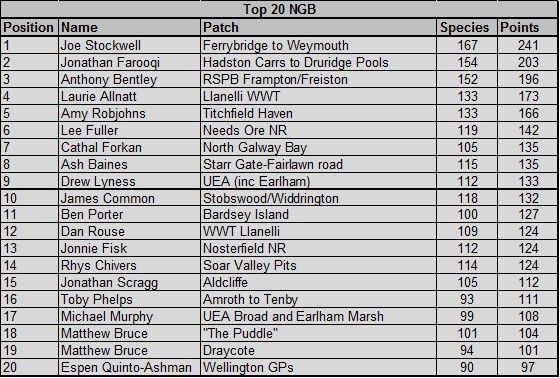 Top 20 Green
Nige Lound extends his lead by a further twenty points at the top of the Green League with Black Stork, Red-backed Shrike, Barred Warbler and self-found Wryneck added in the month. The top three remains the same but a good month for Andy Johnson puts pressure on the top three. Andrew Whitehouse at Girdle Ness enters the top 20 in 14th spot, also with a self-found Wryneck helping him along the way.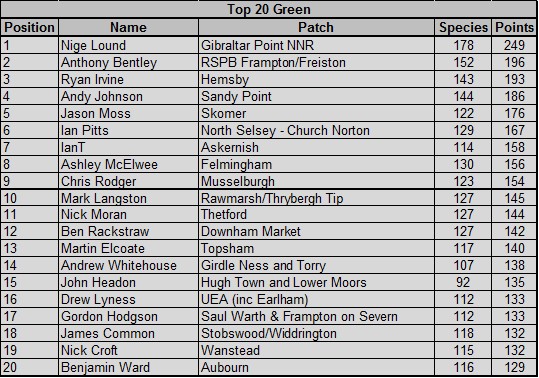 Top 20 BirdTrack lists
Alastair Flannagan leads the way, the first to exceed 300 lists. There are a few other waiting in the wings to breach this marker. This is an amazing effort and it will provide all of the patchers below with a wealth of data to analyse in future years. It is notable that many of the BirdTrack users are collecting their data for largely underwatched locations where high scores are hard work but data collection adds to the knowledge of the site.
It should also be noted that the following birders have all topped 10,000 records this year: Nick Moran at Thetford, Ian Ballam at Lychett Bay, Steven Ward at Hawes and Andy Bunting at Martin Mere. Well done all!
Total lists from PWC competitors now stand at 9,465 and the number of records submitted tops 300,000, which deserves a collaborative pat on the back.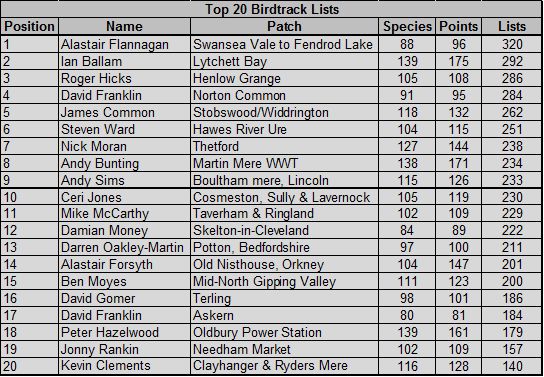 Top 20 Species
Mick Turton retains top spot as both he and Martin Garner at Flamborough add 15 species in the month. Martin passes Nick Addey who stays in the top three. Fairburn Ings and Lound are the flag-bearers for the inland league here, an excellent effort for inland sites to compete on total species.