What a difference a year makes. The volume of images in our Iris galleries continues to grow, with currently 297,522 photos of some 4,714 species — that's over 41,000 more than 12 months ago (uploaded at an average rate of about 800 per week), and among them some 335 new species not previously featured in what has become a huge photographic and ornithological resource.
2013's favourite species were (with number of uploads):
It's not just a question of quantity, of course, but quality too. Outstanding images are submitted on an increasingly regular basis, making the job of long-standing BirdGuides Photo Editor Mike Atkinson ever more absorbing. 2013 continued this trend apace, with a truly arresting array of bird images selected as Photos of the Week during the course of the year and published both here and in our weekly newsletter.
As is customary, following the year end we set about the process of reviewing this 52-strong selection of award-winning weekly images with the aim of nominating one above all others as the BirdGuides Photo of the Year. This task has taken longer than usual with the establishment of a new judging system, but we are now delighted to welcome three of the world's most respected bird photographers onto the judging panel. Markus Varesvuo from Finland, US-based Alan Murphy and Britain's David Tipling joined in-house judges Steve Young and Dominic Mitchell, under the leadership of Mike Atkinson, to give their view on 2013's top images (see below for more background on the judges). After compiling a shortlist and voting in two rounds, this is their verdict:
BirdGuides Photo of the Year 2013
Winner
Kingfisher taken by Mike McKenzie in Worcestershire on 18 July 2013: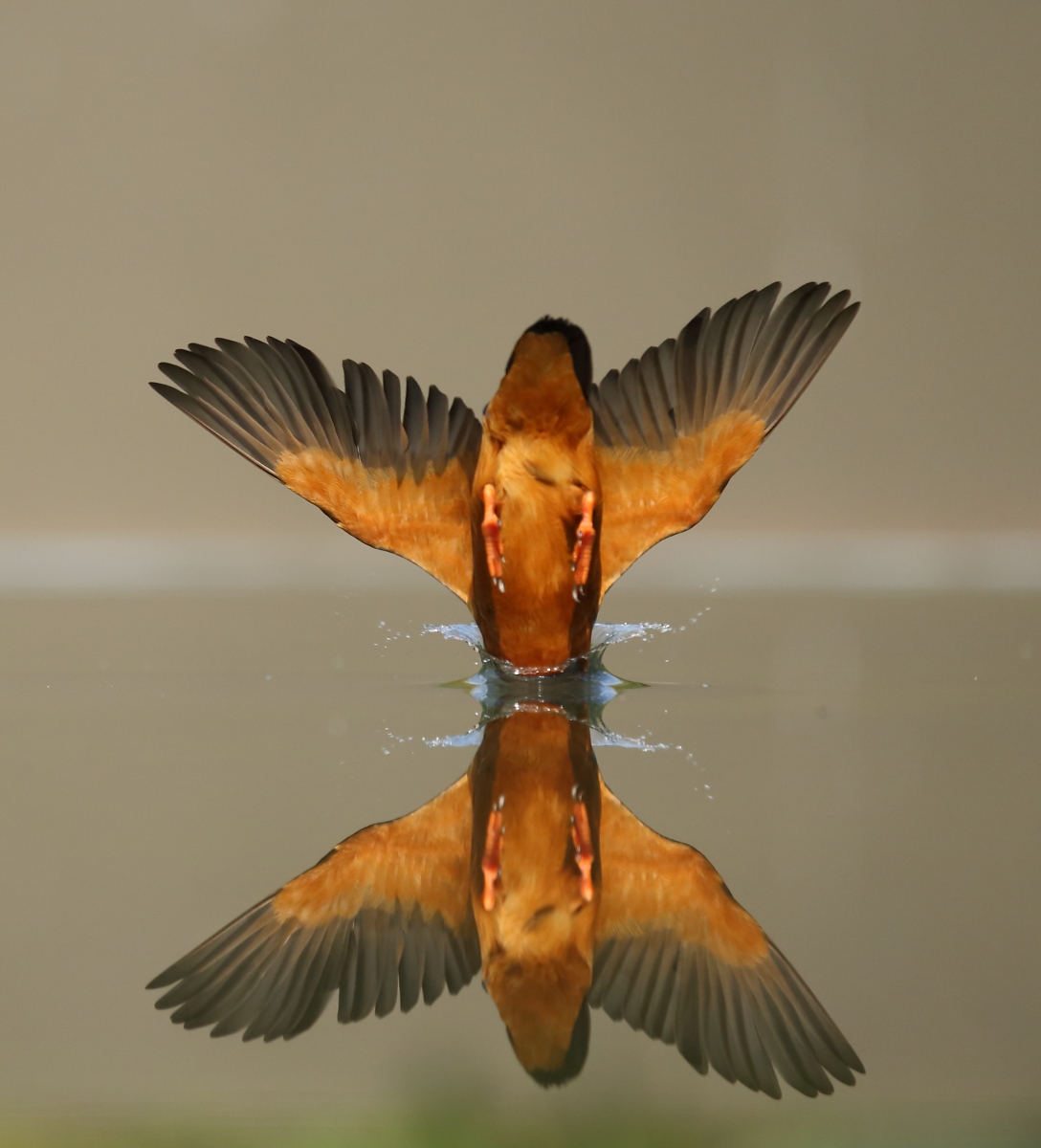 Kingfisher, undisclosed site, Worcestershire (Photo: Mike McKenzie)
This remarkable shot was a clear favourite among the judges. Their comments included:
MV: "The action has been captured at the exact right time. It happens so fast that in addition to good equipment and a skilful photographer, ample amounts of good luck are needed. I also like the fact that the image shows the Kingfisher's more subtle underside colouring; normally Kingfisher images play on the strong metallic colours of the bird's upperside."
AM: "The perfect timing of the bird entering the water with the little splash shows us something we don't get to see with our eyes. The strong reflection against the silky smooth water really makes this a striking, dramatic image."
DT: "In my opinion, a really great picture is one that not only lingers long in the memory, but when viewed for the first time also stirs a reaction. This image does both of these things. Pictures of diving Kingfishers are now very familiar, yet this shot has been perfectly executed with great artistry, and for me stood out as a clear winner."
MA: "Freezing a diving Kingfisher as it enters the water is one of those 'Holy Grail' shots for bird photographers, but even this has been achieved many times. What Mike has done, though, is different from most in several respects: he has captured this shot from a low angle, from the bird's underside, with a clear reflection and background and, finally, with a perfect 'entry splash'. Putting these all together results in a graphic, colourful action image with a real 'wow factor'. If there are other bird photographers looking to find a new angle on this wildlife spectacle, Mike has just made their task even more difficult!"
Mike wins £200 worth of books, and a complimentary BirdGuides Platinum news subscription for his winning image.
Content continues after advertisements
Runners-up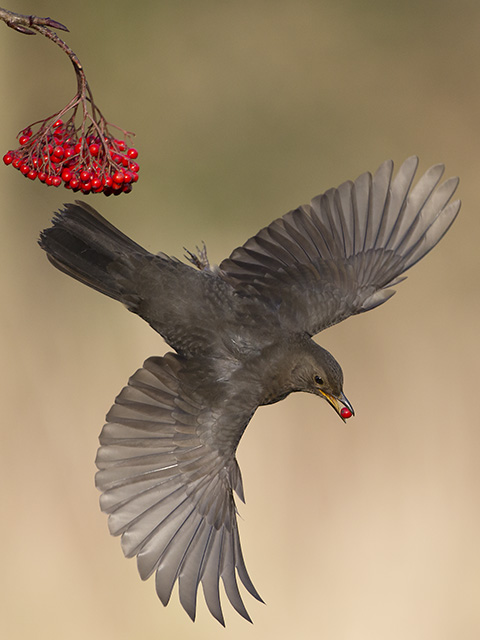 Blackbird, Wigan, Greater Manchester (Photo: Roy)
SY: "This is a superb photo, with the bird caught in full flight complete with a snatched berry, nicely exposed and perfectly framed. While there's a little bit of luck to get the wings at such a perfect angle, it is an image full of action."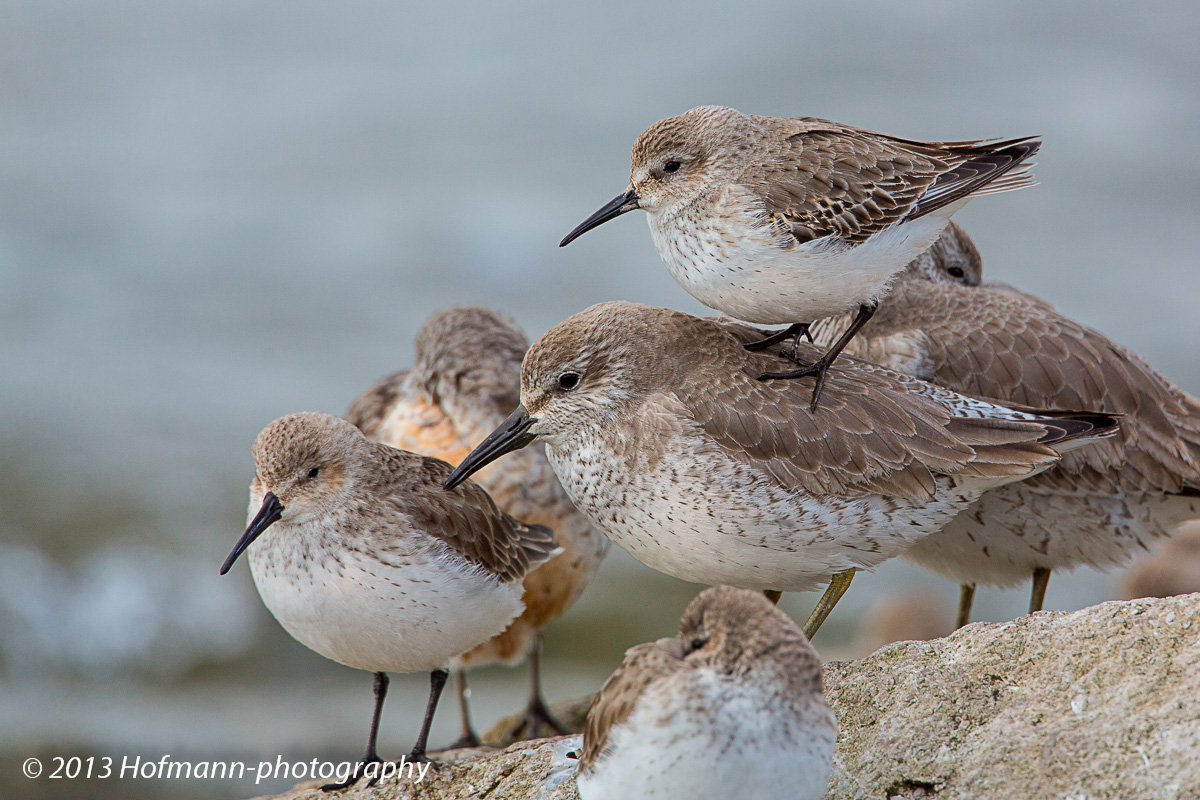 Dunlin, West Kirby, Cheshire (Photo: Gerhard)
MV: "At first glance I was not that impressed as the image felt messy and uninteresting, with some of the birds partly framed out of the image. Then I spotted the Dunlin perching on top of a Knot! A rare situation. And a rarity among wildlife images as well — it's not so easy to capture humour and fun with birds."

Jay, undisclosed site, Norfolk (Photo: Matt Crosby)
AM: ""The difficulty factor stands out to me in this image. I like the natural side lighting. The perfect timing of this image really shows the majesty of the bird's wings and tail feathers. The weathered stump with a hint of greenery at the bottom was a great choice for a landing perch, and the mottled out-of-focus background is beautiful."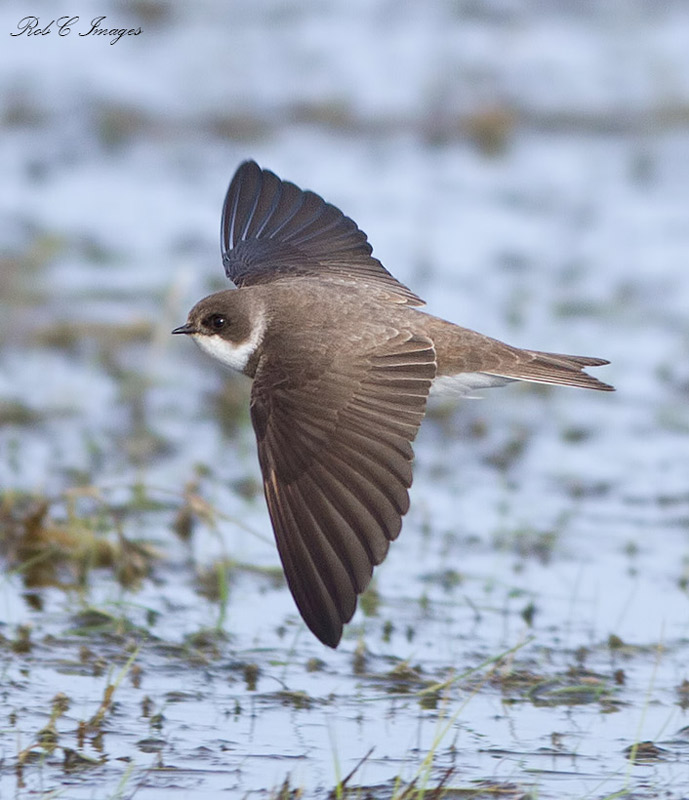 Sand Martin, Skern, Northam Burrows CP, Devon (Photo: Rob Cross)
DT: "As with all hirundines, Sand Martins are notoriously difficult to photograph well. Indeed the challenge was once described to me by another photographer as like attempting to capture a picture of a flying bird while running on the spot. Many of us have attempted to photograph Sand Martins but failed dismally so hats off to Rob Cross for nailing such a superb shot."
Each of our runners-up wins a year's subscription to Iris Pro.
Commended

Wheatear, undisclosed site, Cheshire (Photo: Gerhard)
MV: "A successful wide angle wildlife image is always a delight. Here the light creates a pleasant mood, and the bird's habitat is nicely included in the image. Photos like this are much harder to take than portraits with long lenses, and they really stand out from the crowd."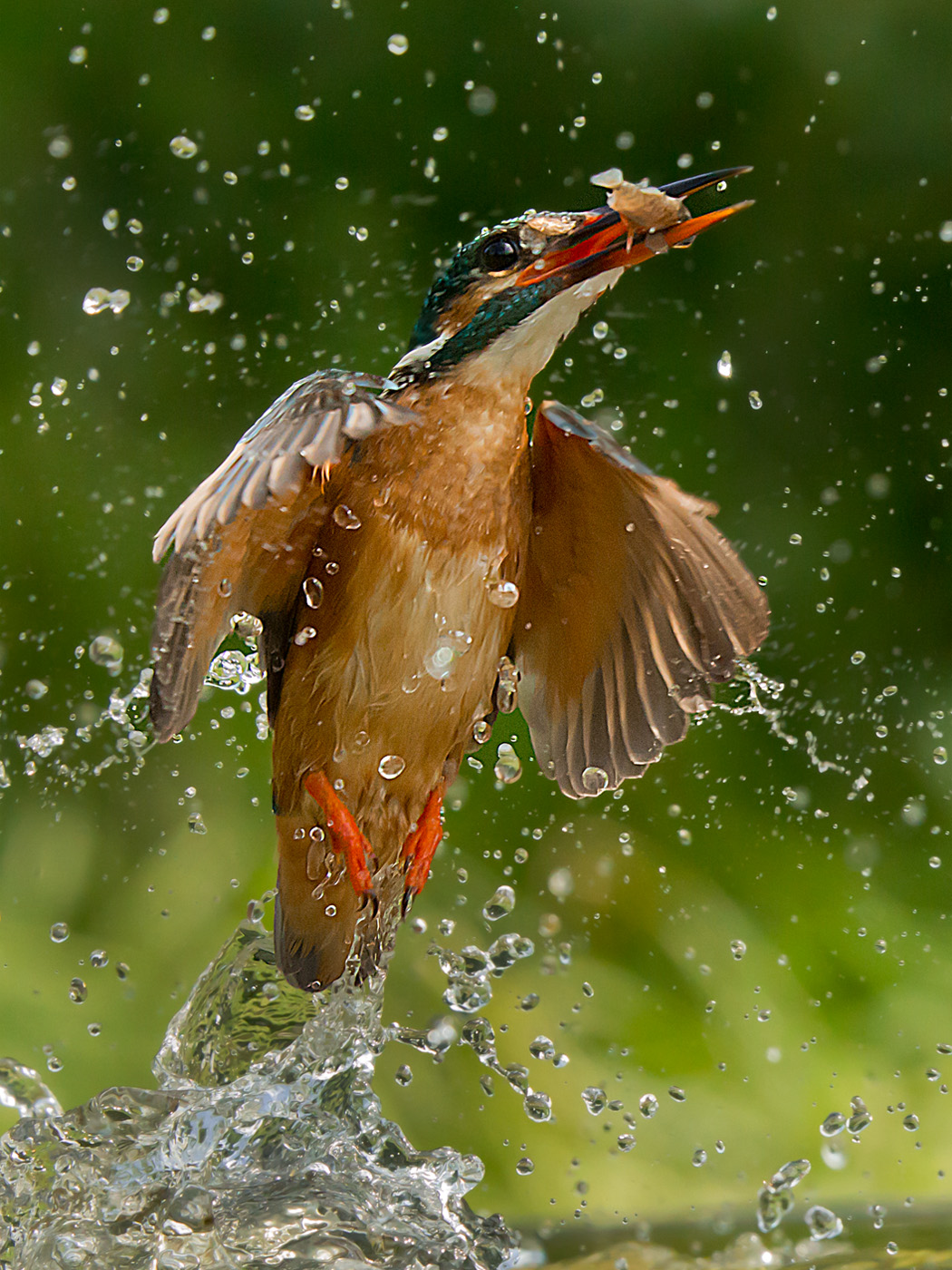 Kingfisher, undisclosed site, Norfolk (Photo: Jamie MacArthur)
AM: "The difficulty factor again stands out in this image. I like the fact that the lens is at water level, giving a very intimate feel, and the way the 'explosion' of the water was captured. The dark mottled green background sets off the water splashes nicely. The sharp detail of the bird, the little feet and the trailing water are all exceptional, and the fish in the bill adds a lot to this fine image. The head angle with eye contact really brings the viewer into the kingfisher's world."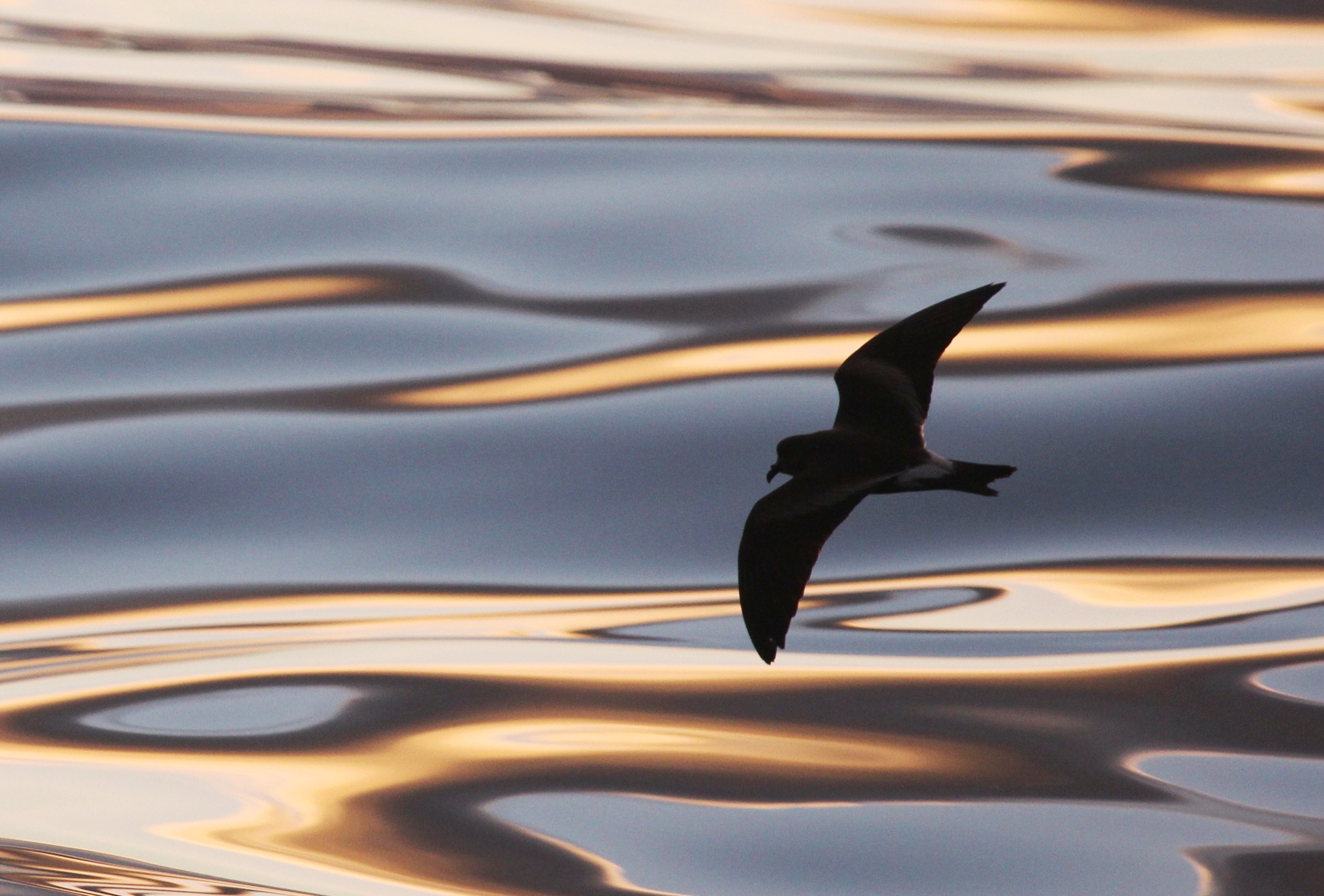 Leach's Storm-petrel, Loch Gairloch, Highland (Photo: Nick Davies)
DT: "On my first review of the contenders for this competition this picture stood out. Yes, it's a Leach's Storm-petrel and so a 'sexy' species to photograph, but it could have been a common bird and it would have had the same effect, for it is the quality of the water and the lighting that creates the mood which makes this image. When I look at this picture I want to be there watching and photographing this bird or any other skimming across that water. A magical scene, a special moment."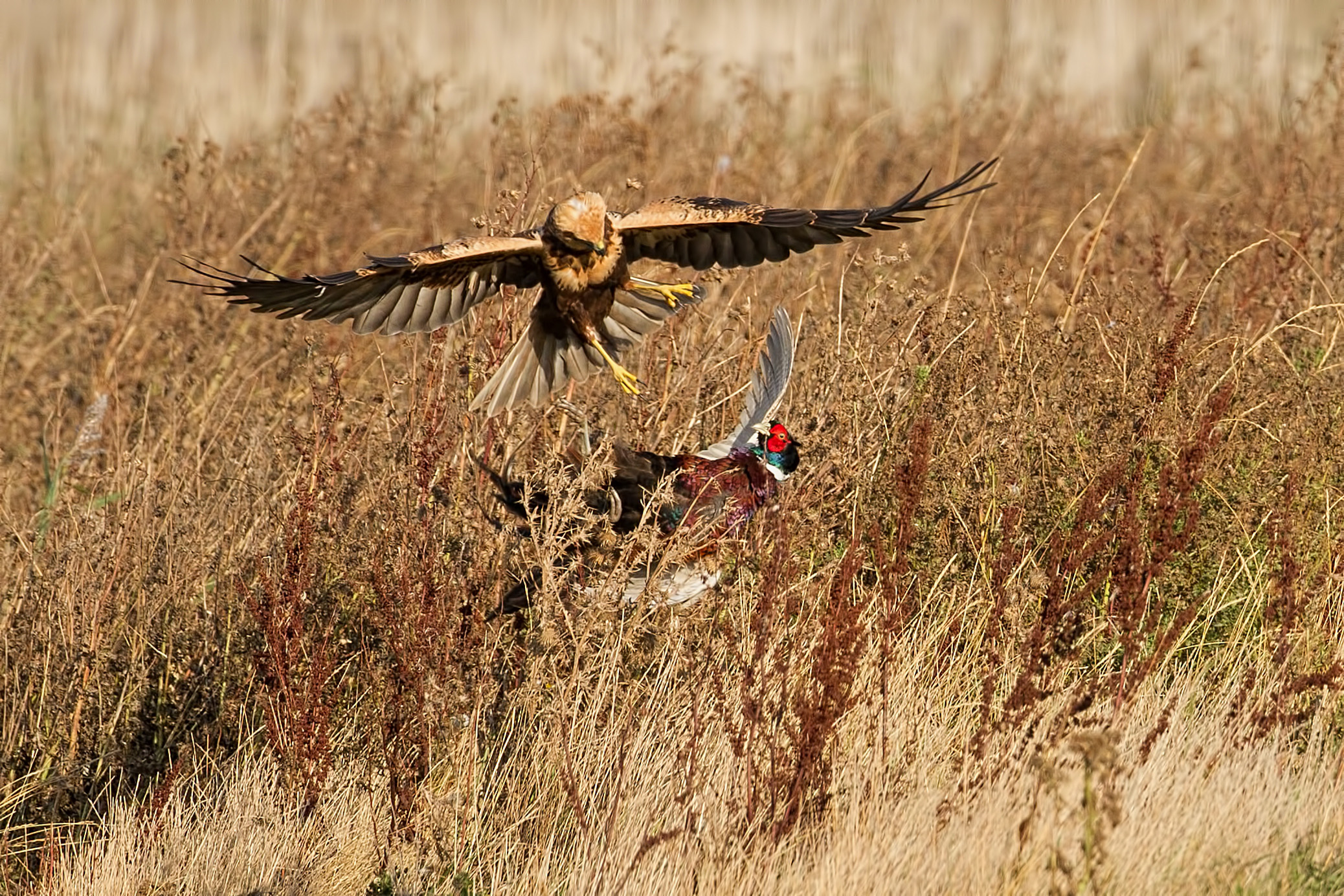 Marsh Harrier and Pheasant, Cley Marshes NWT, Norfolk (Photo: Trevor Hannant)
SY: "We've all seen Marsh Harriers patrolling reedbeds and occasionally had one come close enough to photograph. Maybe we've even been fortunate enough to see one dive down after prey. But this is a remarkable image, showing the harrier flushing a Pheasant from the reeds and appearing to try and take it — one of those memorable 'grab' shots that will probably never happen again."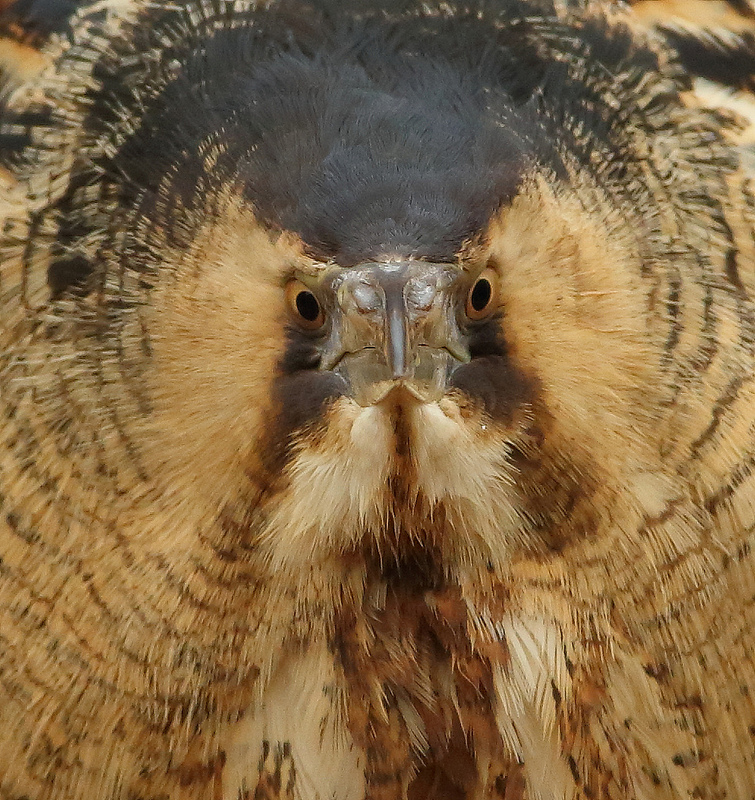 Bittern, Slimbridge WWT, Gloucestershire (Photo: Mike McKenzie)
MA: "Bitterns are notoriously difficult to see, let alone photograph, so a frame-filling shot of one looking 'down the barrel' is quite an achievement. Such precise head-on shots always look best when cropped symmetrically and, in this case, Mike's use of a tight, square crop further adds to the graphic effect. Throw in the perspective-compressing effect of a long telephoto lens and the result is almost unrecognisable as a bird. The Bittern's staring eyes leap out from the background of cryptic plumage to make the composition thoroughly engaging."
Judging panel
Markus Varesvuo
Markus Varesvuo is a world-renowned bird photographer. While working in business in his native Finland for more than 20 years he lived a parallel life of birdwatching and photography that began in his early teens, eventually becoming a full-time professional photographer. He has since written several books and received a number of awards for his work, including the GDT European Wildlife Photographer of the Year award in the Birds category in 2010. His book Birds: Magic Moments was released by New Holland Publishers in six different languages and won the Birdwatch Bird Book of the Year 2011 award. His latest title is the Handbook of Bird Photography, co-authored with Bence Máté and Jari Peltomäki, and published in English and German. Markus is focused on European birds and works as eagerly with everyday species as he does with rare birds. He doesn't photograph birds in captivity or use a flash, preferring to depict his subjects in their natural environment. He is co-founder of www.birdphoto.fi, and his work is also visible on www.facebook.com/markus.varesvuo.
Alan Murphy
Award-winning photographer Alan Murphy grew up in England and is an avid birder. Having emigrated to the United States, he picked up a camera and began pursuing his vision of how birds should be photographed. He has developed a style that is very recognisable, with stunning portraits of birds on beautiful perches. Now a full-time professional bird photographer, he is in demand as a speaker at festivals, conferences and photography clubs around the nation. Alan is the author of bird photography instructional ebooks and videos which have helped thousands of photographers take better images. He also teaches his techniques through highly successful in-the-field workshops with small groups. When not photographing birds, he is busy submitting images to a wide range of magazines, with published credits including National Geographic, Birder's World, Wildbird, Birding and many more.
David Tipling
David Tipling is one of the world's most widely published wildlife photographers. His awards include a coveted European Nature Photographer of the Year Award (2002) for work on Emperor Penguins, and in North America, Nature's Best Indigenous Peoples Award (2009) for his pictures of Mongolian eagle hunters. He is also a multi-award winner in the Wildlife Photographer of the Year. David is the author or commissioned photographer for many books including the RSPB Guide to Digital Wildlife Photography (Bloomsbury) and Penguins — Close Encounters (New Holland). In 2013, after six years' work visiting 39 countries on all seven continents, the critically acclaimed Birds & People (Random House) was published. David writes regularly for various periodicals including Wild Planet Photo magazine, in which he has a monthly column on all things related to bird photography.
Steve Young
One of the UK's best known bird photographers, Steve Young writes a monthly column for Outdoor Photography magazine and is Photo Consultant for Birdwatch magazine. His work has illustrated countless magazines and books, and he was the overall winner of the British Wildlife Photographer Awards in 2010 with a stunning image of a Herring Gull in breaking waves. Based in Liverpool, his favourite subjects include two local seasonal specialities, Little Gull and Leach's Storm-petrel, while his favourite rarity is the enigmatic Ross's Gull, of which he has seen no fewer than 15 in the UK. His work can be viewed at www.birdsonfilm.com.
Mike Atkinson
Mike Atkinson's website, now in its 10th year, is one of the world's best-known sources of information and inspiration about bird photography. As well as featuring over 1,500 of his images covering more than 200 British species, it contains detailed 'how to' articles and links to his tuition services. Mike's images have appeared in a wide range of publications, both in print and electronic media. Since suggesting the initiation of BirdGuides' Photo of the Year contest in 2006, Mike has acted as the site's Photo Editor, encouraging the development of bird photography through the weekly photo awards and other activities.
Dominic Mitchell
Having watched birds for more than four decades, Dominic Mitchell has travelled to all seven continents, and never without his cameras. A judge on previous photo contests organised in association with Kodak, Swarovski Optik and other companies, he is Managing Editor of BirdGuides and also Birdwatch, Britain's leading monthly magazine for keen birders, which he founded in 1992. Dominic also leads birdwatching tours and has written and edited a number of books on birds, including A Photographic Handbook of the Rare Birds of Britain and Europe, Where to Watch Birds in the London Area and the forthcoming A History of Birdwatching in 100 Objects. When not studying and photographing gulls in his home city of London, his travels regularly take him to Norfolk, the Azores in the mid-Atlantic, and the Neotropics.