Where to Watch Birds in Scotland app
98d2cef4-cf6e-411a-9da4-6d85131bbb72
For many years Helm's Where to Watch Birds in Scotland was the definitive site guide to the country's numerous birding hot-spots. Written by the late Mike Madders and Julia Welstead, it ran to four editions but the last was in 2002, and is now only available secondhand.
In the meantime, new sites have emerged, old ones have changed or even disappeared, and of course the way birders access this kind of information has been transformed in the digital era. This is the context in which the Scottish Ornithologists' Club (SOC) set about planning and producing its recently launched Where to Watch Birds in Scotland app.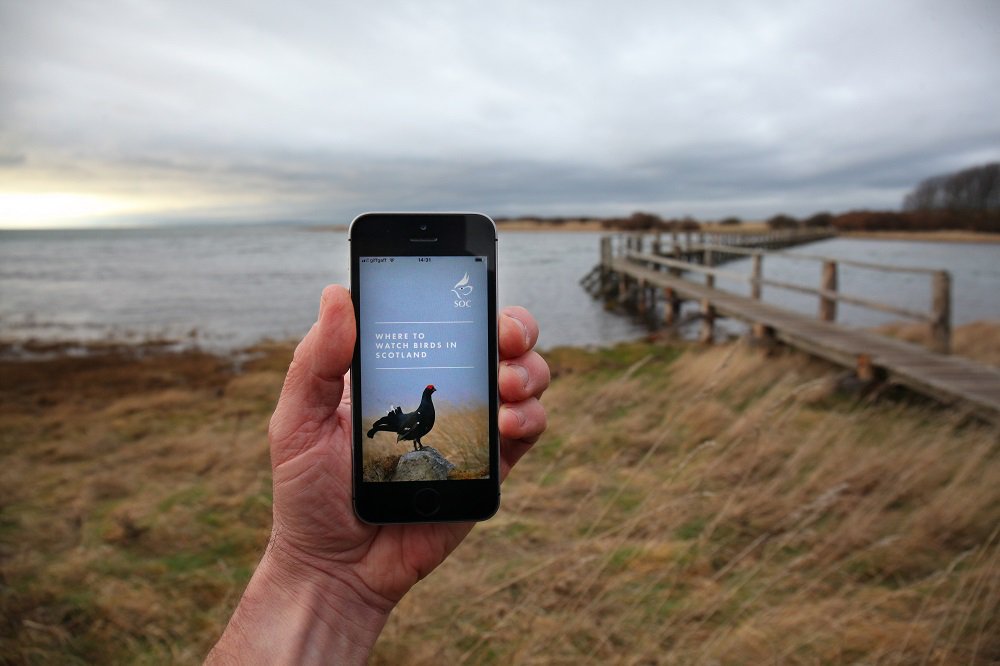 Released for both Apple and Android devices, and available completely free, this new app builds on some of the SOC's existing resources while introducing significant new content of its own. I tested version 1.0.4 on an iPhone 7 Plus running iOS 12.2, beginning in late April 2019 on one of my regular trips to southern Scotland. I used it to plan birding routes in advance, and also in the field to ensure I got the most out of each site visited.
The app launches to an interactive map of Scotland covered in location markers. Zoom in and tap one to see a label with the site name, then tap that to load all the relevant site information in the next screen. This features a more detailed map with numbered points of interest (which are dealt with in more detail when you scroll down), plus a site overview (including any conservation designations), a Get Directions button which loads a route to the site from your current location, and a Submit Sighting button to send bird news for the site either by email to the SOC, or via the BirdTrack website to the BTO. The final sections cover Accessibility, Rare Species and Recent Sightings within about 2 km.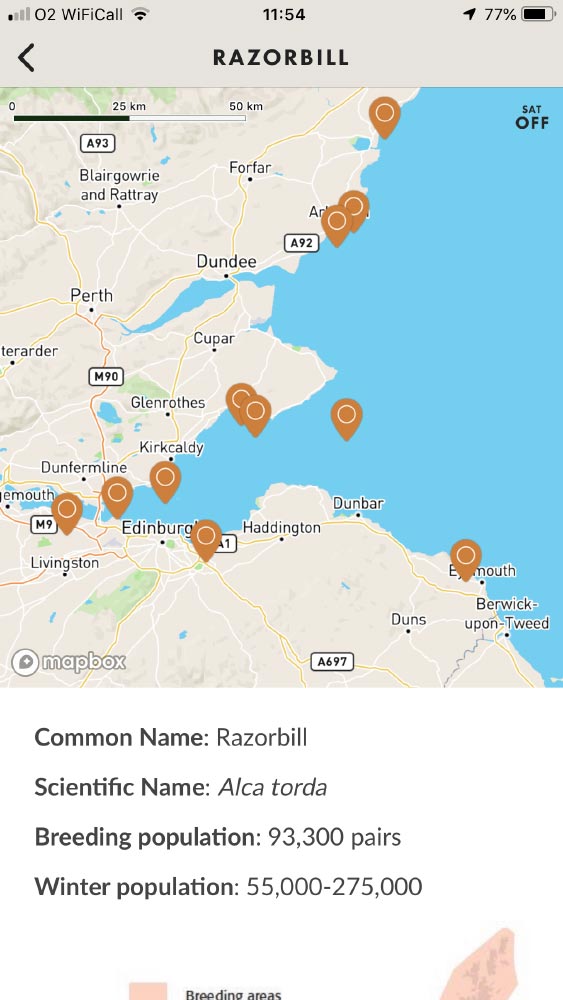 From the numbered routes to the summarised additional information, the structure and detail of site information recalls the style used for locations in Birdwatch's County Guides and its former Where to Watch series – a major plus point. The app adds the functionality of an interactive Google Map with a useful 'Sat On/Off' toggle feature, while Ordnance Survey grid references are reduced to grey text at the foot of each account.
Sites can also be accessed through a searchable alphabetic list, and it's possible to store Favourites, which can then be accessed through another menu option. Similarly, species can also be looked up through a searchable alphabetic list: tapping a regular Scottish species will load an interactive map with relevant sites, plus a static map and population statistics sourced from the SOC's two-volume Birds of Scotland. The app also encourages users to record their own sightings, though the navigation goes to a menu of county buttons which are simply linked to a county page on the SOC website, rather than a form to use for reporting.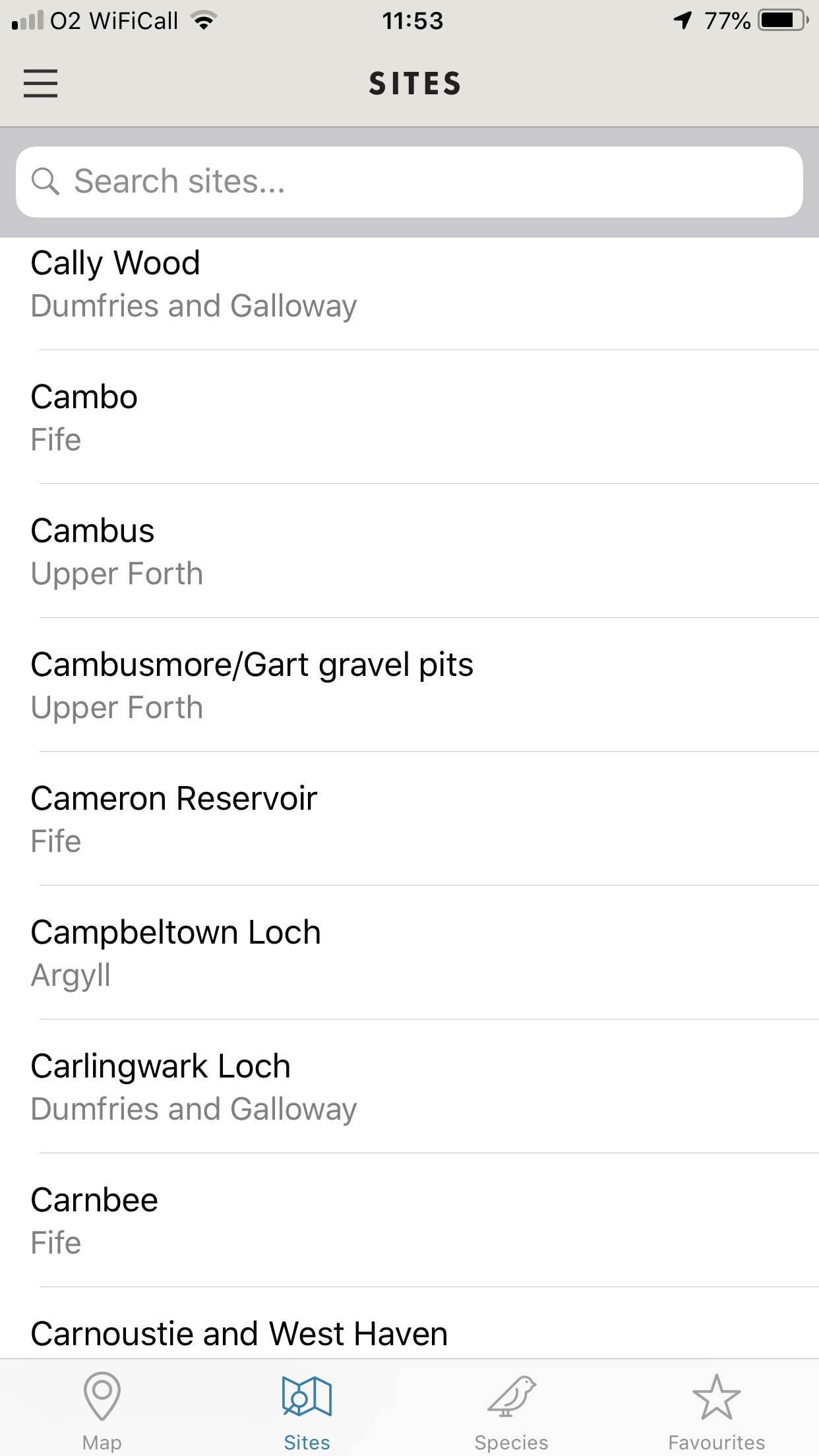 The only odd thing I noticed about the site pages was a bug in the Recent Sightings section, with the word 'undefined' occasionally appearing in the species list alongside recently reported species. As this list is powered by BirdTrack, inevitably it also contains some common, expected birds as well as occasional rarities or scarcities.
Comparing the list of locations to those in an old copy of Helm's Where to Watch Birds in Scotland (third edition, 1997), the app weighed in with 401 sites at the time of reviewing, compared to the book's 142 main sites and very brief information on a smaller number of others. More sites will be released through app updates in the future, meaning that it well and truly trumps the book in terms of coverage – as well as the structure of the app's site accounts being clearer and more practical to use.
I field-tested it at various sites along the Firth of Forth, starting at Barns Ness in East Lothian. I know this site from many visits over the years, and pleasingly the app set out the best areas and their birds just as I'd expected. I followed a circular route of almost 1.75 miles, which produced numerous migrants including Grasshopper Warbler and six White Wagtails, and just as I was completing the loop struck gold with a Wryneck lurking in some elder scrub.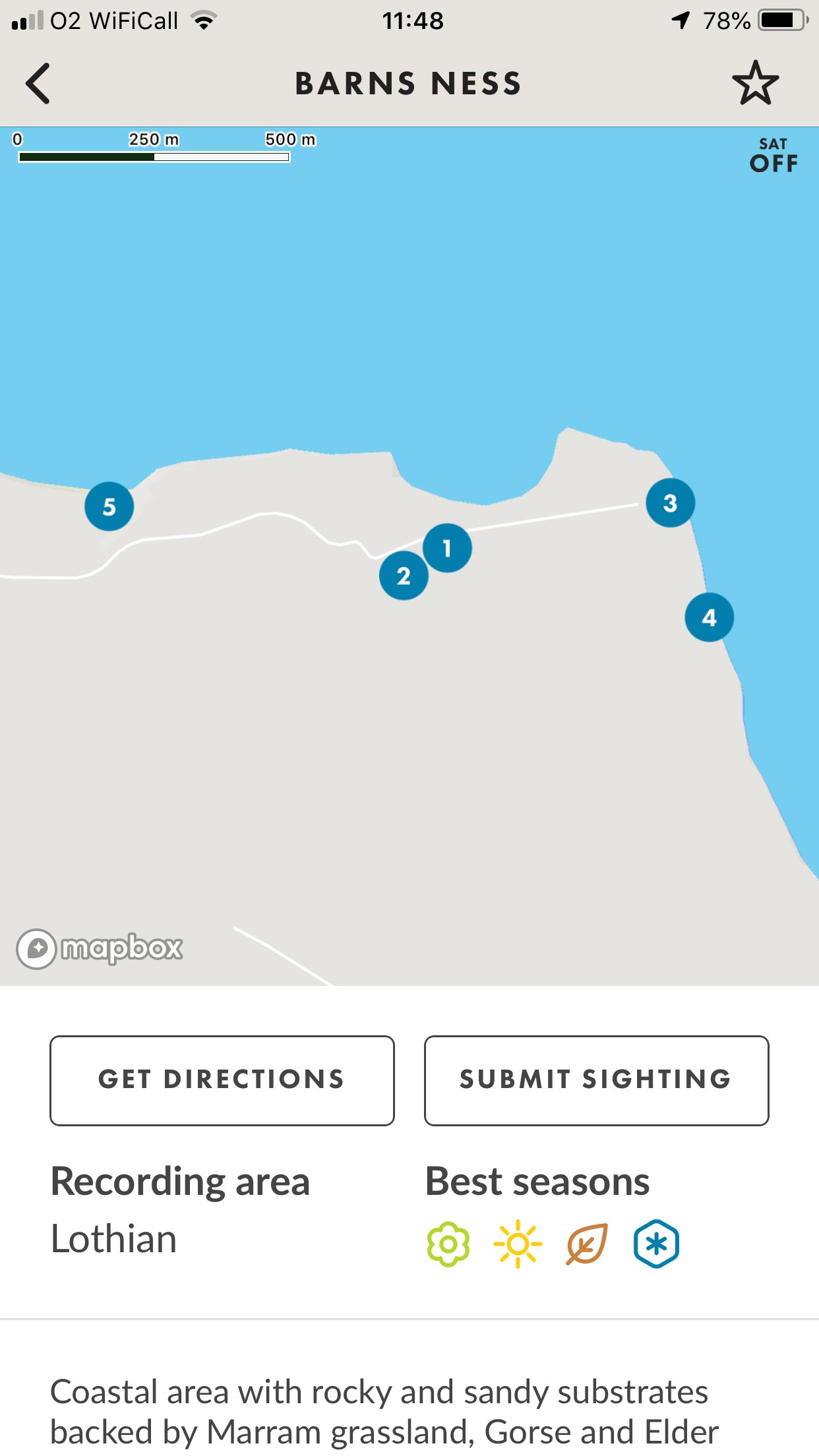 A different test came at Skinflats in the Upper Forth recording area. I'd never visited this site previously so relied on the app for directions and on-site navigation. In both respects it was spot on, and during my walk from the parking spot to the pools I was again serenaded by reeling Grasshopper Warblers. The app advised that on the north pool "Garganey are also regularly recorded in spring or summer", and bang on cue a fine drake revealed itself there among a flock of sleeping Eurasian Teal.
I then headed north and east towards point 5 at Skinflats, the saltmarsh, but the path veered off in a different direction. Using the app, however, I was able to continue in the right direction around the edge of a field to the seawall overlooking the saltmarsh, monitoring my location 'live' as it moved across the app's site map. It does this by using the phone's GPS rather than the network signal, meaning that the app should presumably work wherever you are birding, regardless of signal coverage.
I'll put that to the test next time I'm in a more remote area of the country, but in the meantime this novel app exceeded expectations, introducing me to some new sites with excellent birding opportunities. The information provided when I was in the field, as well as the design and user interface, are excellent. I'd like to see more sites added soon – for example the Red-necked Grebe hot-spot of Longniddry is missing (though strangely Edinburgh Royal Botanic Garden is already included) – but these will surely come with updates in due course.
Congratulations to the SOC for producing such an excellent and well-designed app – every birder should download this superb free resource.
Information
From the Scottish Ornithologists' Club and Mucky Puddle | Free | 78.1 MB | Available for Apple (iOS 10.0 or later) and Android (4.3 and up) | Version 1.0.4