52 European Wildlife Weekends
1cec68fb-dc49-4d01-8b6b-a98200d8f3ac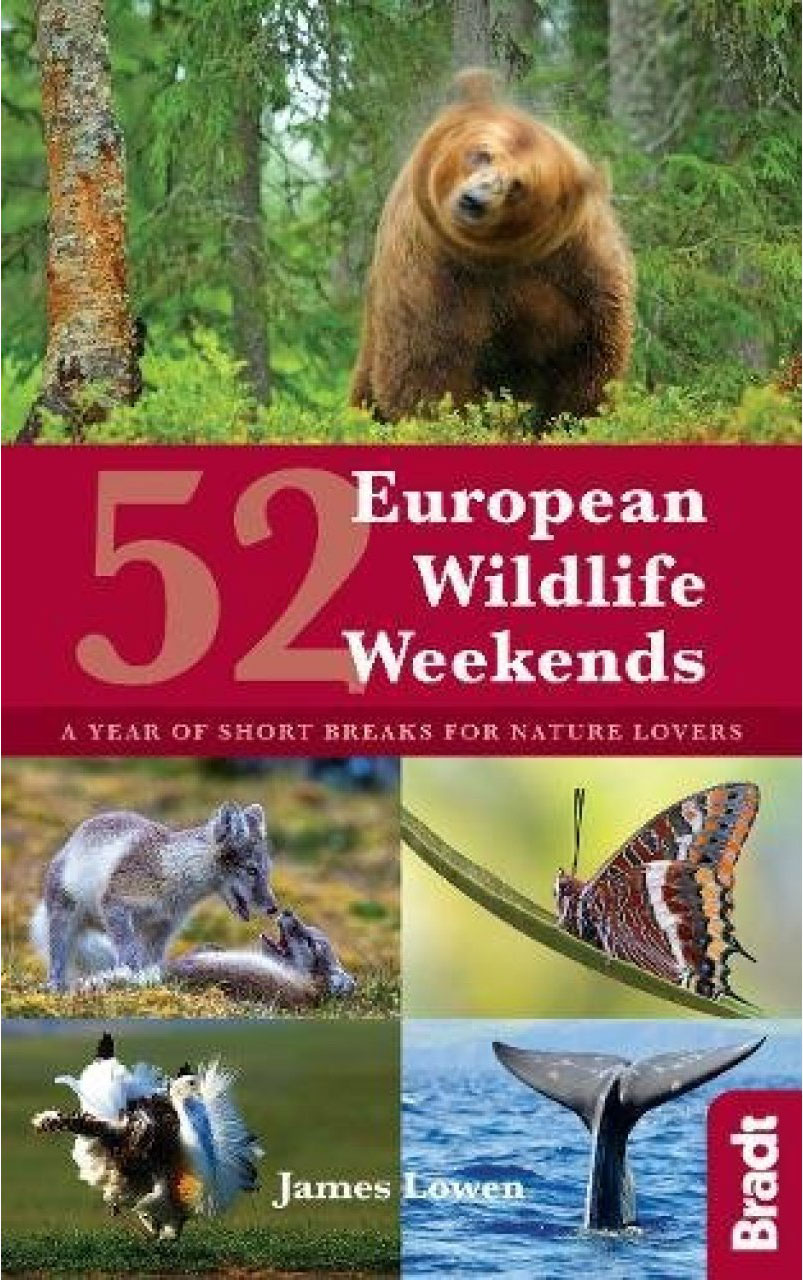 52 European Wildlife Weekends by James Lowen (Bradt Travel Guides, 2018).
264 pages, numerous colour photos.
ISBN 9781784770839. Pbk, £15.99.
Published earlier this year, James Lowen's latest guide follows a familiar structure to his seminal 2013 works – 52 Wildlife Weekends. As the title suggests, this new publication broadens the readers' horizons from the shores of Britain to the four corners of Europe. But, despite the obvious increase in travelling distances, Lowen religiously adheres to his self-imposed structure – that is to say, each and every entry here can feasibly be completed within a long weekend (two full days in the field, plus travel either side).
Lowen has chosen 52 well-spread sites around Europe, incorporating Scandinavia, Iceland, Ireland, Iberia (for which there are plenty of entries), the Macaronesian islands, Mediterranean Basin and the Balkans. Credit must go to the author for having the courage to deliberate leaving out some apparently suitable locations due to persistent and ongoing illegal persecution within those countries (Cyprus and Malta being examples), while there is intentional vagueness in parts of the book, as to minimise the disturbance risk to sensitive wildlife. Other, apparently obvious localities are omitted due to the inability to 'make a weekend of it' – ie various impracticalities, such as a lack of travel options, made it impossible to complete the destination over the period of a long weekend. Due to the aforemtioned 52 Wildlife Weekends, Britain has been deliberately excluded from proceedings.
As with his previous title, Lowen's charm and enthusiasm for the subject ring out throughout the entirety of the text, not least in his ever-punchily titled weekends ('Butterfly nirvana', Zino moonwalk', 'Keep calm and carrion' to name but a few), which inevitably produce smiles and instantly captivate the reader. The main text itself is enthusiastic, evocative and certainly never dull – Lowen's passion and unique way with words never falter, making for a lively and upbeat read.
This is all well and good, but what of the content itself? The spread of chosen localities, incorporating the very best of Europe's birds, mammals, reptiles and amphibians, lepidoptera, odonata and flora is confounding – in a good way! While I could never claim to be an experience all-round naturalist, I do consider myself fairly worldly – yet Lowen's book has taught me how little I really know about iconic places and species within range of a two-hour flight from London. His infectious style then only serves to inspire … it makes you think "I want to see that!", which I have to say is something I never thought I'd find myself thinking about Pyrenean Brook Newt, Schreiber's Green Lizard or Blind Squat Lobster …
Each weekend comes with an extensive information box, which includes details on 'Getting there', 'Where to go' and 'Suggested bases', while the 'Make it a week' suggestions reflect Lowen's understanding that not all readers will want to rush everything into just a couple of days and explore each listed area at their own pace. Both the Accessibility and Child-friendliness ratings, at the fore of each chapter and just after the list of target species, are thoughtful additions that ensure that everyone needs are catered for, whatever your status – some weekends may be better suited to the more intrepid, while others are much easier to explore with a young family.
This book truly bears the fruit of the huge amount of research that must have gone into formulating such a book, with Lowen's intricate and wide-ranging knowledge undeniably playing a significant underlying role in that. So, with 2019 just around the corner, why not treat yourself to 52 European Wildlife Weekends and start planning a few wildlife weekenders for yourself?