Yelkouan Shearwater in the Bosphorus: the Coastal Count Marathon
a10472e1-dd9d-4b79-aaa7-d6a848446d5b
There are very few places where you can enjoy watching pelagic seabirds with a cup of tea in your hand and a nice view of a city. We are talking about watching thousands of Yelkouan Shearwaters migrating through the Bosphorus in a few hours.
Yelkouan Shearwater is a globally threatened seabird species endemic to the Mediterranean, and its global status assessment is complicated by the fact that no information exists on the species from Turkey.
The spectacular migration in the Bosphorus, which occurs in early February, is a total mystery. Except that they occur in high numbers, very little is known about these birds passing the Bosphorus, such as where are they coming from and going to. The most interesting part of the migration is the synchrony of thousands of birds; they all pass in a very short time as if they are in a rush for something.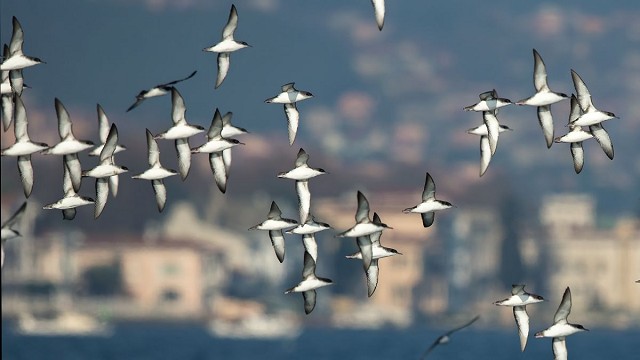 Migrating Yelkouan Shearwaters along the Bosphorus (Photo: Serhat Tigrel).
Yelkouan Shearwater Project–Turkey has monitored this migration for 5 years and some extraordinary numbers — up to 90,000 — have been counted in the past. The team is organizing the third Coastal Count Marathon this winter in order to catch the peak day again. The Marathon will be run between 1 and 7 February 2016 and the team is calling for volunteers to help with counting. In return, they promise tea, baklava, Turkish Delight and amazing views of the Bosphorus.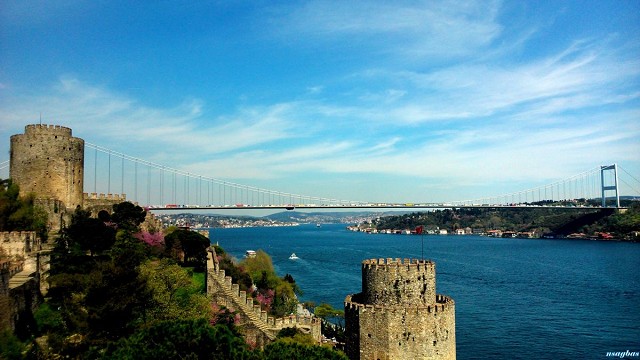 The Bosphorus (Photo: Nurettin Sagbas).
Yelkouan Shearwater is a good indicator species for the Mediterranean basin. Understanding its movements between the Black Sea and the Mediterranean would improve conservation efforts significantly.
For more details see http://yelkouanshearwater.org/en/. To volunteer, see http://yelkouanshearwater.org/en/volunteer/.