Lincolnshire cranes suffer setback
ac087bbb-1dc3-4205-9ed8-9b587ae53f9f
Poor weather over the bank holiday weekend appears to have claimed the lives of two young Common Crane chicks in Lincolnshire.
The youngsters hatched at Willow Tree Fen reserve in late April and were being seen daily as their parents fed them, according to Lincolnshire Wildlife Trust (LWT).
But the cold temperatures, heavy rain and strong winds over the Early May Bank Holiday appear to have proved a lethal combination – neither of the youngsters has been seen since – although LWT has not ruled out the possibility of predation.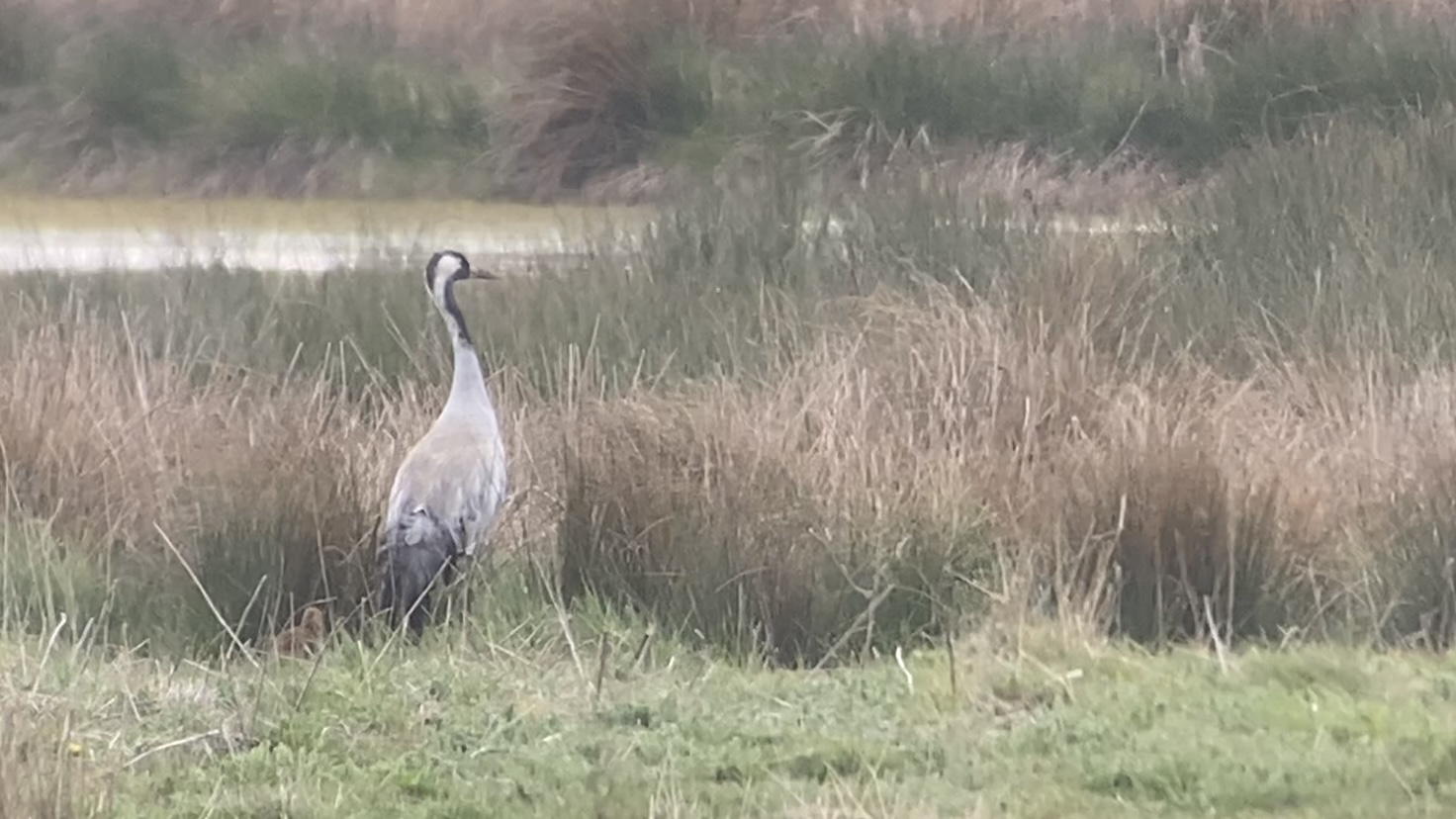 One of the Common Crane chicks (below and left of the adult) on 30 April. Both have subsequently perished (Josh Jones).
Last year, the same pair made history by successfully raising a single chick on the reserve, representing the first breeding record of Common Crane in Lincolnshire for more than 400 years.
Common Crane is a secretive species that is susceptible to disturbance in the breeding season. Last year, during lockdown, LWT closed the reserve to visitors to accommodate the breeding cranes, and again closed its gates in January when the pair returned.
Despite the setback, LWT remains upbeat about the species's prospects and South Lincolnshire warden, John Oliver, said: "Cranes are incredibly rare in the UK and we were delighted to welcome them back to the reserve for the second year in a row. However, it is not unusual for them lose chicks and only about 10-20% of crane chicks actually make it to adulthood.
"While the whole team is incredibly disappointed, we understand that this is not unusual in the grand scheme of things and with such long lived birds, a survival rate of one out of every five chicks is more than enough to sustain the population. We are therefore confident that this is not the end of the story for cranes in Lincolnshire."
Although the cranes have failed this season, Willow Tree Fen LWT reserve remains closed to visitors for the time being.