France bans hunting birds with glue sticks
02debf46-10b2-445d-acc0-fa49d60205ff
President Emmanuel Macron has banned hunting songbirds with glue in France this autumn.
Up until the government's announcement on 27 August, the practice was still permitted in five departments of the Provence-Alpes-Côte d'Azur region in the south-east of the country – around the cities of Marseille and Nice – despite being outlawed across Europe in the 1979 EU Birds Directive. This year's decision to outlaw the use of glue comes as a welcome contrast to 2019's ruling to allow 42,500 thrushes to be trapped in the region using the method.
At the beginning of July, as part of an infringement procedure opened a year ago, the European Commission sent a reasoned letter to Paris in which it asked the French government to "re-examine its methods of capturing birds", stressing that glue is not a selective method permitted by the EU. It gave the government three months to respond, failing which France might have to attend to the EU Court of Justice. Now, at the end of August, a decision has been reached.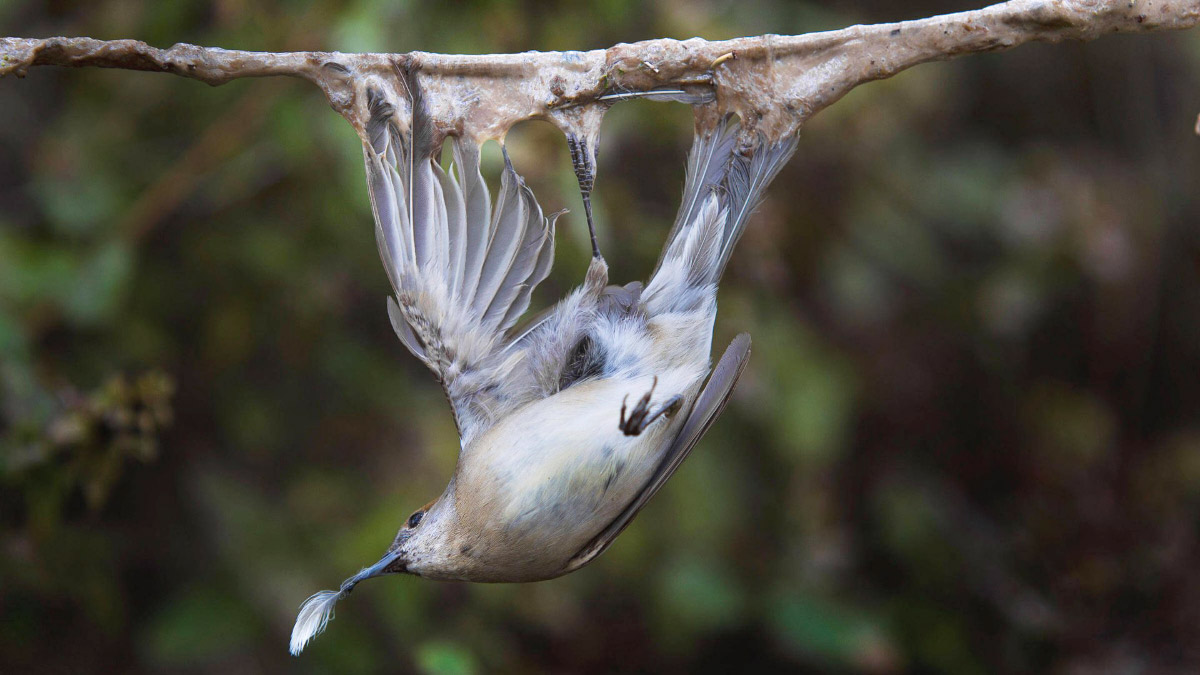 Limesticks are used to trap thrushes in France, but there is inevitably significant 'collateral damage' involving many other species of songbird (BirdLife Europe).
Glue hunting involves covering sticks with a glue (often known as 'limesticks') and placing them in bushes, or at the top of long bamboo poles, in order to provide an appetising perch for songbirds. Any bird that alights on these becomes stuck and, as it struggles to free itself, usually becomes progressively more attached to the stick. This results in a long and lingering death for any trapped bird, usually only relieved when a hunter arrives to kill their catch.
According to Ligue pour la Protection des Oiseaux (LPO), the practice is used to target thrushes (such as Song Thrush and Blackbird). However, all manner of species end up as victims of the barbaric practice, ranging from tits and warblers to larger birds, such as Eurasian Sparrowhawks and some small falcon species.
Willy Schraen, President of Fédération Nationale des Chasseurs (National Federation of Hunters; FNC), denounced the move, claiming that it has no effect on biodiversity. "We have a legal hunt which has just been arbitrarily stopped, it is unacceptable," he said, adding his intention to "attack the State" in order to reverse a "political decision".
For the Minister of Ecological Transition, Barbara Pompili, whose position has been weakened by the reintroduction of neonicotinoids on beet crops and suggesting that France should be allowed to shoot 18,000 European Turtle Doves this autumn, the move represents a positive step, while also undermining the repeated boasts from Schraen about his privileged links with President Macron.