Cattle Egrets breeding in Cheshire
b400153e-19b4-4530-8712-cfbbc05de39e
The RSPB has announced that Cattle Egrets are breeding at its Burton Mere Wetlands reserve in Cheshire this spring.
Up to six Cattle Egrets are frequenting the reserve and favouring the Marsh Covert woodland, where there is one occupied nest. The nest can be viewed distantly from Inner Marsh Farm Hide.
Following a sizeable influx (up to 200 individuals) in the winter 2007/8, Cattle Egret first knowingly bred in Britain in summer 2008, when 2-3 pairs successfully raised young in Somerset. However, subsequent years saw the species become increasingly scarce in Britain and Ireland once more.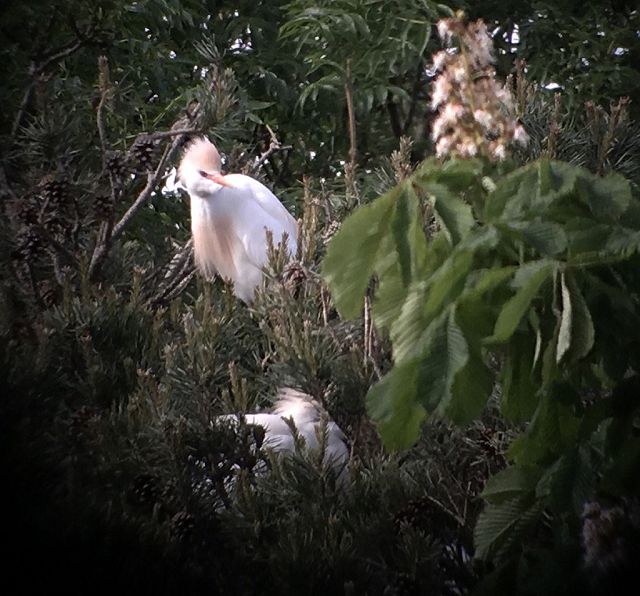 The breeding Cattle Egrets at Burton Mere Wetlands, May 2017 (Photo: Fred Fearn)
After several quiet years, winter 2016/7 produced another major influx of Cattle Egrets to Britain and Ireland, with south-western areas typically claiming the lion's share of the records. For example, a coordinated census took place in Cornwall on 19 March 2017 which, although coverage of regular haunts was incomplete, produced a total of 75 individuals. Birds have been seen widely across England, Wales and southern parts of the Republic of Ireland, with records as far north as Dumfries & Galloway (Scotland) and Co Antrim (Northern Ireland). Given the scale of the winter's influx and that good numbers have lingered well in to the spring around the country, it seems unlikely that the Burton Mere Wetlands pair will prove the only breeding attempt this summer.
Keep up to date with latest sightings of the Burton Mere Wetlands Cattle Egrets (and how their nesting attempt fares) at www.birdguides.com/bne