Bird news during lockdown: an update
557ddc43-386f-478a-98c0-bb29d03490e7
Earlier in the week, we released a statement with regard to our policy on the continuation of the BirdGuides bird news service. Since then, the UK Government has enforced a 'lockdown' scenario, which means that birders are now almost completely confined to their homes – save the exception of a single piece of exercise, namely a walk or cycle from home, each day.
With this in mind, and in recognition of the fact that birders should be now birding almost exclusively from their homes or gardens, we've decided to refocus our continued bird news output to reflect this – and recognise the dedicated efforts of housebound birders nationwide.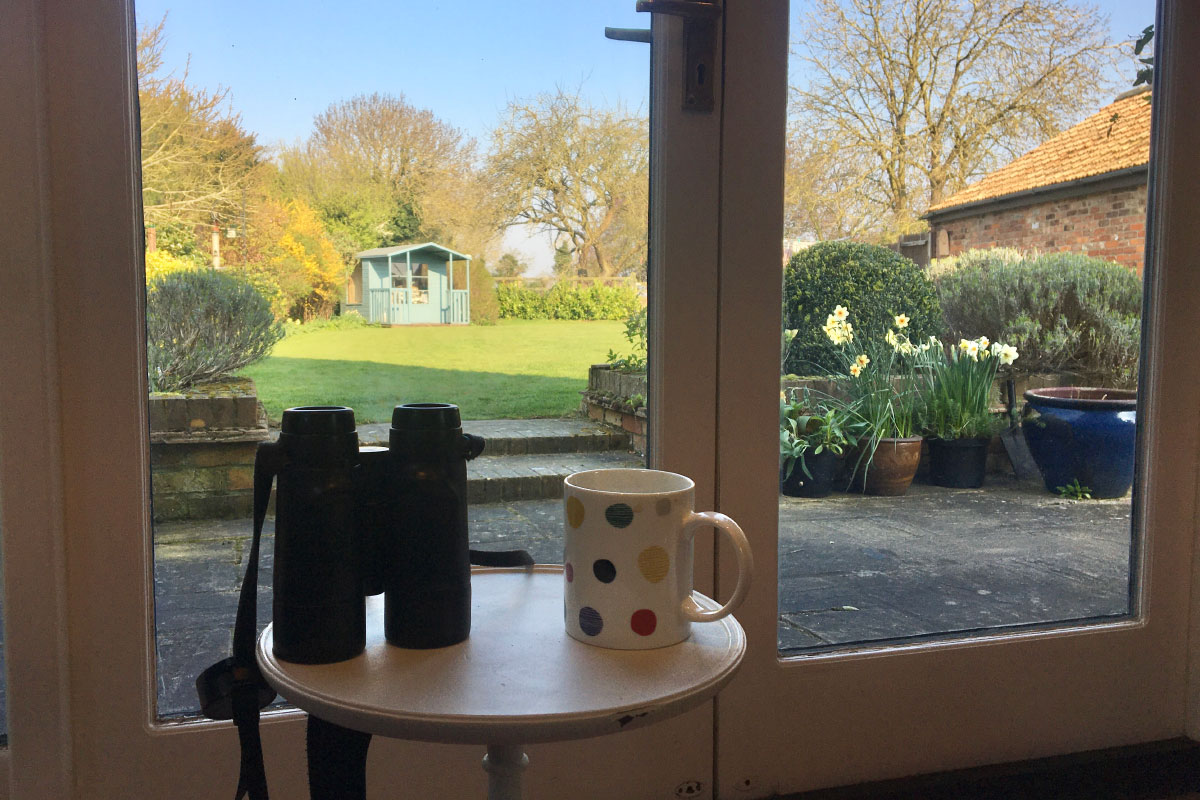 We're expecting to hear of plenty of great garden records over the coming days and weeks, with lockdown birding in full force nationwide.
So, over the coming days and weeks, we're encouraging home-based birders to keep vigilant and report any significant garden bird sightings to us – and, in return, we'll give you and your garden a shout-out on our bird news page. Had a garden tick? Got a migrant Common Redstart in your vegetable patch, a Eurasian Wigeon on your garden pond, or had a Western Osprey moving overhead? What did you record on noc-mig last night? Make sure you let us know!
We appreciate that this is not our normal news output, but these are not normal times. But, as nobody should be birding any distance away from their homes, the only news coming in should be from the immediate airspace around your houses and gardens. And we want our service to reflect that, to keep things relevant for all our website users nationwide. We'd love to see some friendly competition break out across the isles – so much so that we're going to give away a free Bird News Ultimate subscription to the winners of three new categories in what we've informally dubbed the 'BirdGuides Lockdown Garden Awards'. The winners will be decided by the BirdGuides team and we'll announce the podium finishers when lockdown is lifted. The full results, plus notable reports and a selection of photos, will be published in a future issue of Birdwatch magazine. The awards are:
Best individual find;

Champagne moment (this could be anything that makes us say "wow!" – a mega day of overhead passage, a completely bizarre discovery or an amazing breeding record);

Best garden bird photo taken during the lockdown period (you'll need to

upload these to our gallery for them to be eligible

).
To submit your garden sightings to us, you can use our online submission form, email sightings@birdguides.com, phone us on 0333 577 2473 or tag @BirdGuides on social media. We're expecting to hear of garden life lists swelling nationwide. Let the fun begin!
It goes without saying that everyone, birders included, must adhere to government rules during these difficult times – you must stay at home and avoid all but essential travel. To reinforce that, we will now cease reporting any significant bird news that could potentially facilitate a twitch scenario in normal circumstances. Birding, as much as we all love it, does not constitute an essential pastime and you should not be travelling anywhere to do so until restrictions have been lifted. Play fair, and stay safe.