Beck's Petrel expedition returns with new sightings but no taggings
132ce675-8b30-4598-b292-14a6b3b5c577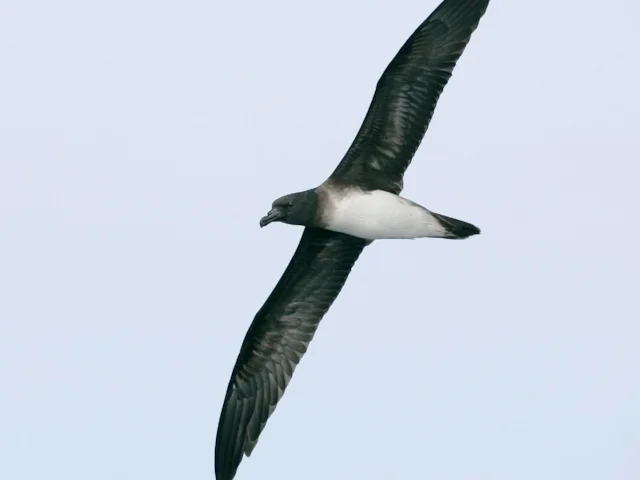 A BirdLife International team has returned with new information from an expedition to Papua New Guinea to discover the nesting grounds of the Critically Endangered Beck's Petrel.
Beck's Petrel was rediscovered in 2005, having only been known from a few museum specimens beforehand. However since its rediscovery, conservationists have estimated its world population at no more than 250 birds, and the race to save it from extinction has been ongoing since, with this year's expedition being the latest attempt.
With over 200 kg of 'chum' (a frozen soup of fish waste) on board, specially designed to lure the Critically Endangered Beck's Petrel, along with a couple of gas-operated net cannons for harmless capture and a keen crew of four from BirdLife International and the Wildlife Conservation Society, the PNG Explorer motored out of Kavieng, bound for Cape St George at the southern end of remote New Ireland in Papua New Guinea. Even without 'spontaneous chumming' thanks to calm seas, curious Red-footed Boobies, Black Noddies and other pantropical seabirds were soon escorting the ship on its 400 km trek south.
The first Beck's Petrels were sighted quite quickly. With excitement and nervous anticipation the team set a chum slick, but after a few casual swoops the birds' inspection of this marine buffet was done. Nevertheless, fears that the strong El Niño conditions affecting the Pacific may have caused the petrels to move elsewhere were allayed and, with greater numbers known to be in the vicinity of the Cape, the subdued start was merely a teaser, said BirdLife.
Dawn on day two revealed Cape St George, perched on the edge of the 9,000 m deep New Britain Trench. With the rich upwellings and currents associated with those marine mountains, it was perhaps no surprise to find seabirds concentrated there. While some, such as Wedge-tailed Shearwaters and Streaked Shearwaters, were passing through on their annual migrations, noddies, boobies, terns and frigatebirds were frequently seen working the upwellings of fish.
BirdLife expedition team meber Chris Gaskin attemtps to catch a Beck's Petrel with a net gun. Photo: Jez Bird.
Fortunately, scattered among them were a few Beck's Petrels, and hours were spent trying to coax them to the banquet of chum. Over the next couple of days, all manner of techniques were used in attempting to get them to settle on the surface, but to no avail. Night-time chumming and spotlighting attracted the attention of several large sharks, and swiftlets amassed in the ship's lights "like a snowstorm with dark flakes swirling about", as they hawked insects.
One of the expedition's objective was to catch a Beck's Petrel – hopefully several – but this proved no easy task. Fifty kilometres up the eastern coast from where the PNG Explorer was moored, the 2012 BirdLife survey had sighted many Beck's, and the area of Silur Bay thus offered the best hope of success.
After several hours of searching the 20 km-long bay, it was with immense relief that Jez Bird and his team were able to confirm that earlier observation. Not only were Beck's Petrels present in numbers, but they were bobbing about on the surface. The hunt was finally on, yet despite careful and stealthy approach, the birds casually flew off whenever the team got within about 100 m.
Over the remaining four days of the expedition, this game of cat and mouse played out repeatedly. Alternative catching strategies evolved, including switching to a kayak that allowed team member Chris Gaskin to get much closer with a net gun.
"Sitting in the kayak keeping as low a profile as possible I felt a bit like a polar hunter sneaking up on prey – except the sea temperature, full tropical sun and lurking sharks was a far cry from polar ice flows," said Chris.
Boom! Another near miss. While there were few opportunities for deploying the net and even less with a good probability of capture, Chris recalled: "I connected with one as it banked in front of me, but as the petrel and net dropped to the water it tumbled out and flew away before I could reach it. On another occasion, a bird exhibited its acrobatic prowess, flying through a 50 cm gap beneath the net and sea surface."
Of course, the team aims to return again to tag and monitor the extremely range-restricted species as soon as possible, perhaps with new strategies to capture them.