Digiscoper of the Year
0e9275c6-6500-421c-8796-56c416a5a3b3
COMPETITION DETAILS
Launched in 2005, Swarovski Optik's Digiscoper of the Year is the world's longest running and most prestigious digiscoping competition. The contest attracts some of the best digiscoped images of wildlife from around the globe.

There are four themed categories: Movement and Action; Mammals; Portrait and Macro; and Video. A panel of experts, including Birdwatch's Managing Editor Dominic Mitchell, will decide the winners for each category and an overall winner.

Birdwatch is proud to support the competition, and readers can first find out the winners' names in our December issue. A calendar featuring a selection of the best photos will also be available free with that issue.

DEFINITION OF DIGISCOPING
Under the terms of this competition, digiscoping pictures and videos are digital pictures and videos featuring animals that have been produced using a digital camera and a spotting scope eyepiece.
TAKING PART
Photographers can use any digital or video camera or smartphone, along with any commercially available spotting scope and eyepiece. Entrants can submit up to five photos per category. Photos should be uploaded via www.digiscoperoftheyear.com. A maximum of five videos can also be entered; these must be no longer than 120 seconds, high definition (minimum quality of 720p), and must be submitted via YouTube or Vimeo.

Entries must be of wild animals in their natural habitat. Images or film that have been digitally manipulated are not allowed. Retouching – adjusting contrast, brightness or sharpness – is acceptable, but the original must be available in its unprocessed format. See the website for all terms and conditions.

The best 15 photos and five videos will be published on the competition website, with each image receiving a €300 publication fee. A winner for each category will be selected, and the overall winner will be chosen from these. The first prize consists of a full set of Swarovski digiscoping kit. The remaining three category winners will each receive a Swarovski Optik EL 32 binocular.

ON FACEBOOK
Every month during the competition, Swarovski will upload a selection of photos and videos to the company's Facebook page. Fans can choose their favourites by clicking 'Like'. The image or film with the most likes at the end of each month will win Swarovski goodies.

For further information and to see galleries of winning images, go to www.digiscoperoftheyear.com.
PRIZES
• First prize: full set of digiscoping equipment, comprising ATX or STX telescope, digiscoping adapter, telescope rail, tripod and tripod head
• Category prize: EL 32 binocular
• Each winner will also receive a one-off payment of €300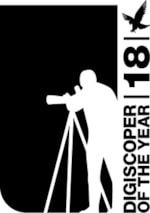 SWAROVSKI OPTIK