Sandwiched between Iraq and Saudi Arabia, the small, oil-rich Arab nation of Kuwait represents one of the south-eastern extremities of the Western Palearctic. With direct flights taking about six hours from London, it's about as far detached from British birding as a WP destination can be.
For any WP birder, though, a visit to Kuwait is essential to bolster your regional list. Depending on the season, it's the only place in the region where you can reliably see the likes of Socotra Cormorant, Basra Reed Warbler, Indian Roller and Grey Hypocolius. Less tastefully perhaps, but nevertheless significant for the lister, the state also supports self-sustaining populations of several introduced species, such as Red-vented Bulbul and Bank Myna.
Listing aside, it's also a fantastic place to search for vagrants and enjoy the general spectacle of migration. Peak spring passage occurs in March and April, with autumn at its best in November. Many a birder has come back from Kuwait and raved that the passerine migration here eclipses even the famous spring movements witnessed in Eilat, Israel.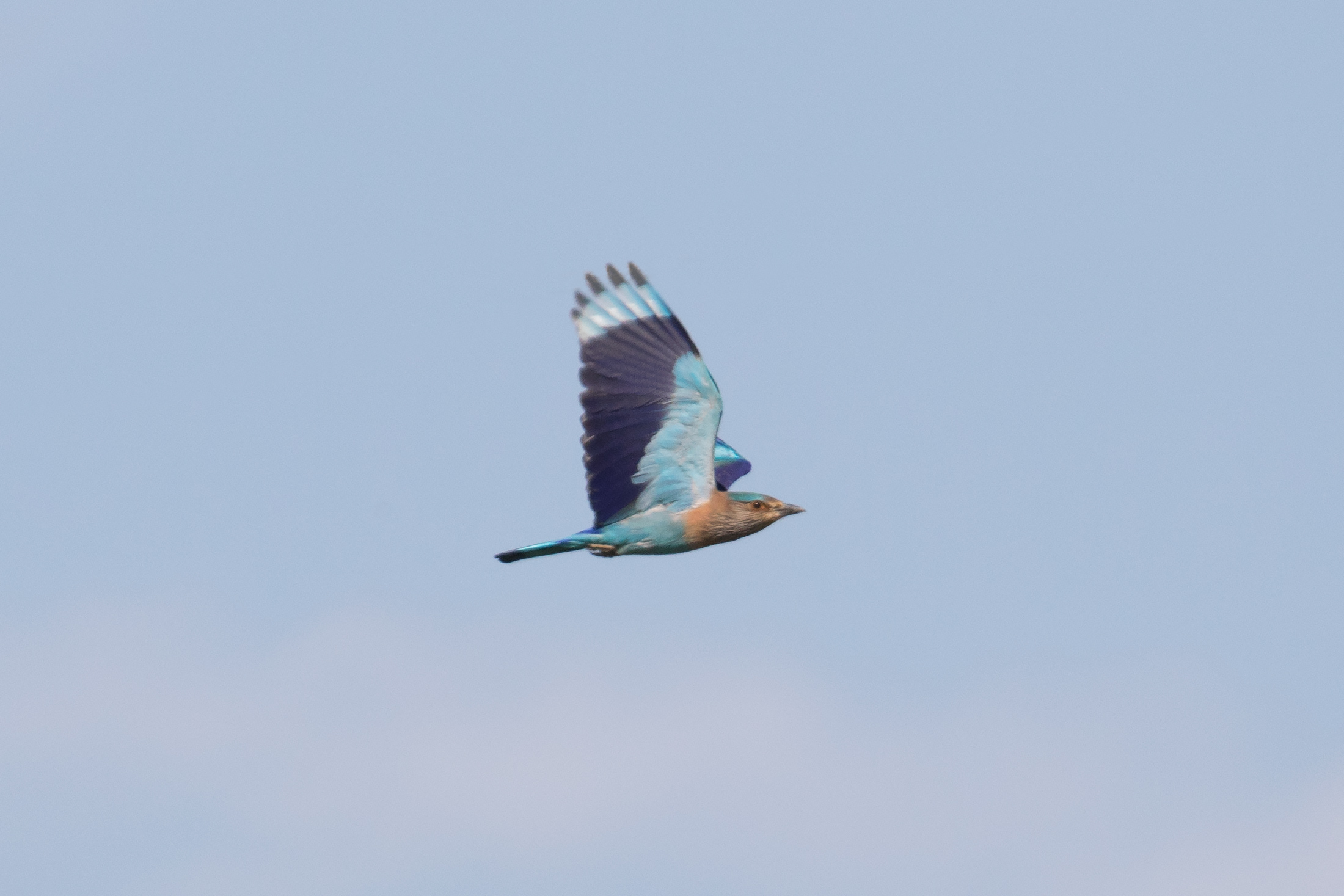 Indian Roller is a very scarce winter visitor to Kuwait, with up to a handful found annually – although this was the only one on show in early 2018 (Josh Jones).
The summer months (May to October inclusive) in the Arabian Desert are unbearably hot, and birding takes a back seat. However, in winter (December to February), Kuwait offers extremely pleasant conditions for birding, with temperatures in the high teens Celsius and (usually) unbroken sunshine providing a welcome contrast to the cold and drearily grey days of a British winter. The birding itself is excellent in the cooler months, with huge numbers of wintering waders and waterbirds in the bay and, on land, birds of prey, passerines and rarities, plus great opportunities to see resident or nomadic desert species. It's also hugely under-watched, with just a small band of local birders, meaning even the best sites are only sporadically covered.
What's more, getting around is delightfully easy. Hiring a car is as straightforward as it is anywhere and road infrastructure is excellent (and the Kuwaiti government seems intent on pumping billions into improving this yet further). Given how small the country is, you're never more than a couple of hours' drive from the next stop. Although a few of the key birding sites require pre-organised access, birding here is fairly effortless – the terrain is flat, walking required is minimal and some of the key sites, like Jahra Pools Reserve, are designed to be driven around.
It was with this in mind that I decided to head to Kuwait for a long weekend in mid-January 2018. Spurred on by an impressive list of wintering vagrants pre-Christmas, including the WP's first Grey-throated Martins alongside multiple Pale Martins, and encouraged by the realistic prospect of 'clearing up' in just a couple of days, I took advantage of some relatively cheap indirect flights (£300 with a connection in Istanbul) and flew out on Friday 12th with Sam Viles, returning late evening on the following Monday.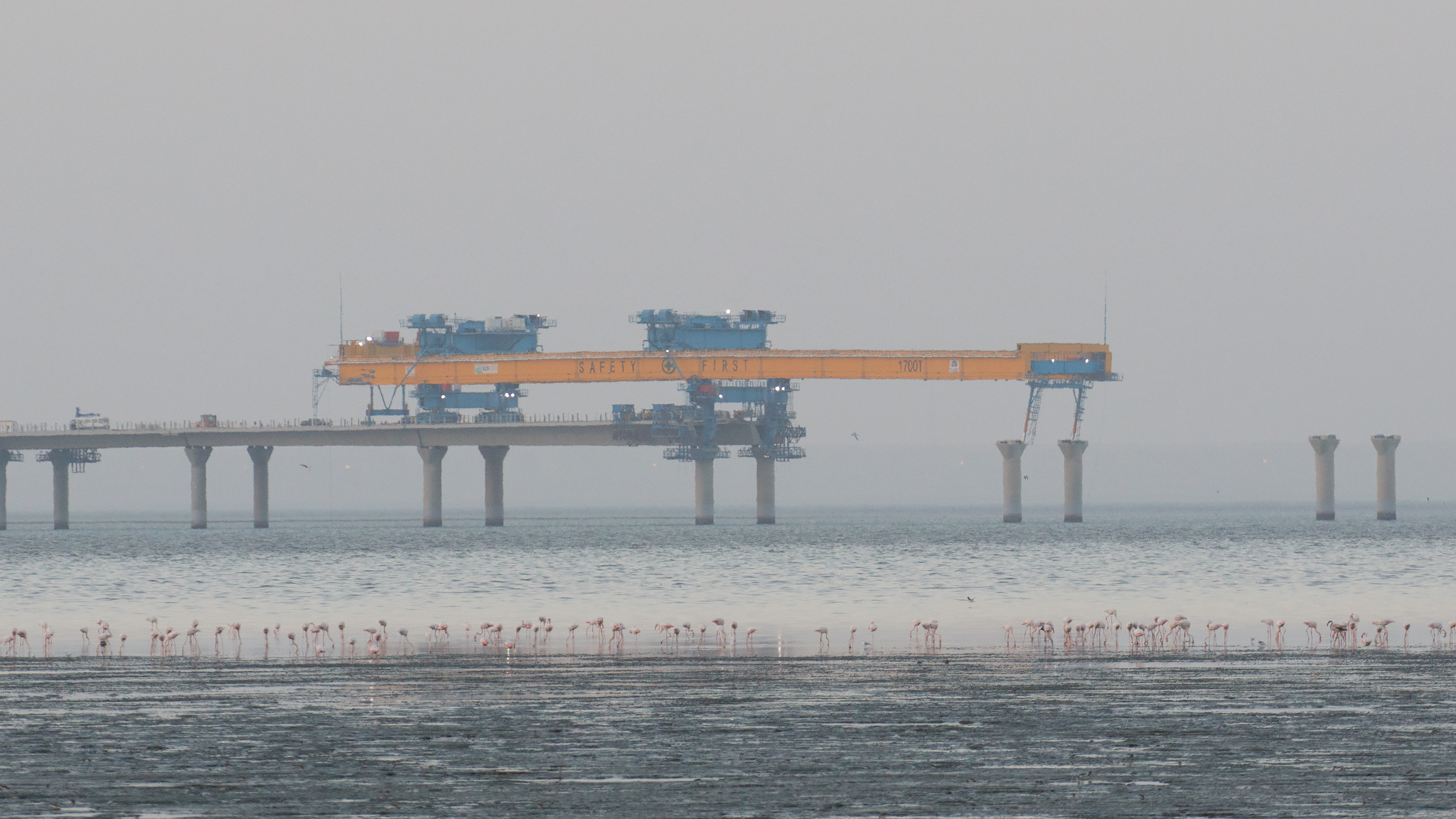 A phenomenal number of construction projects are ongoing in Kuwait. However, thousands of wintering Greater Flamingos remain unperturbed by the $3 billion causeway being erected across Sulaibikhat Bay (Josh Jones).
By the time Sam and I had arrived, our target list had already diminished by three. An unusually warm spell of weather over the Christmas period had encouraged both the Grey-throated and Pale Martins to depart Jahra Pools, and the previously reliable Crested Honey Buzzards in a city park had also disappeared. Not to be deterred, however, we started a surprisingly chilly first morning at the Kuwait Institute for Scientific Research (KISR), overlooking Sulaibikhat Bay, where we were soon watching dozens of Grey Hypocolius within minutes of sunrise as they arrived from their roost site.
This is one of the stand-out birds of any winter trip to Kuwait. Aside from the very occasional vagrant in Israel, this is the only way to see hypocolius in the WP. While it's a bird you won't necessarily bump into everywhere you go, it's a pleasantly numerous winter visitor, particularly around the city, where it is often encountered in suburban parks and gardens. It's habitual by nature and roost sites (or pre/post-roost gatherings) are generally reliable, making it an easy 'tick'. We saw them at a few sites, although nowhere were they as numerous as at KISR, where our early morning total approached three figures.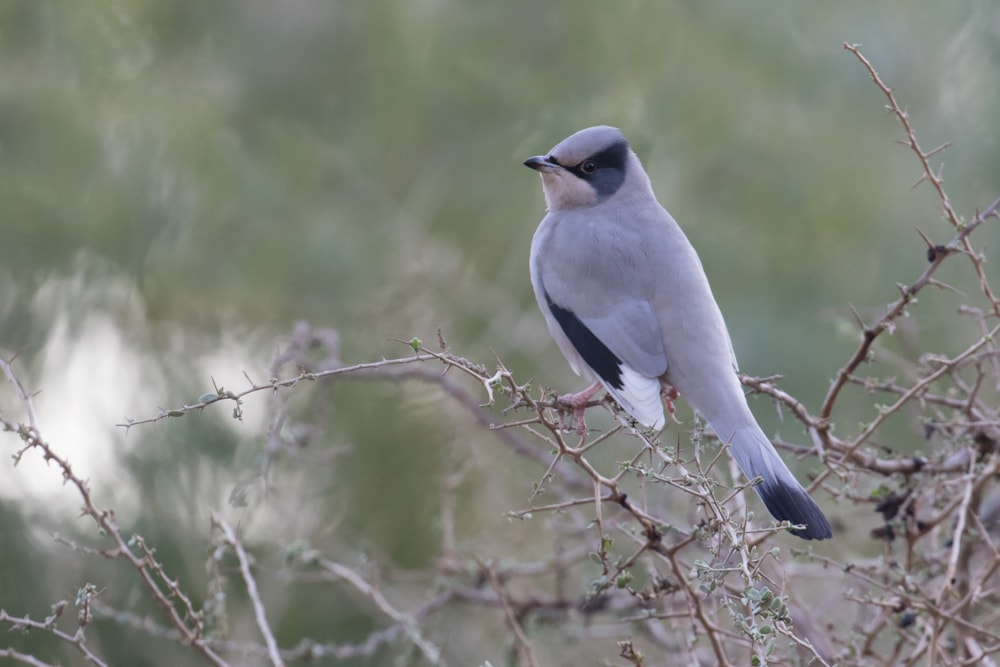 Grey Hypocolius are characterful, gregarious birds – this male was part of a flock numbering almost 100 (Josh Jones).
Sulaibikhat Bay itself is stuffed with birds, and we paid it several visits over the three days. In gorgeous light, we enjoyed dozens of Broad-billed and Terek Sandpipers among the thousands of Little Stints and Curlew Sandpipers. Both Greater and Lesser Sand Plovers were present, allowing for direct comparisons between the two, while gulls included Slender-billed and Armenian. Then there are the shockingly large (for anyone that hasn't seen them previously) Crab Plovers, energetically chasing crabs around the mudflats. All this is set against a backdrop of pale pink that stretches as far as the eye can see: the bay is absolutely littered with thousands of wintering Greater Flamingos, which provide a near-constant soundtrack of frog-like grunts and yelps. There's been a site-faithful Lesser Flamingo nailed on among the flock for several winters now, although it pulled off a less-than-miraculous disappearing act on the weekend we were there. Nevertheless, it was fantastic to enjoy a classic Persian Gulf coastal scene, which was alive with birds. Just how many Red-necked Stints, Great Knots and other East Asian waders must be missed at this huge site?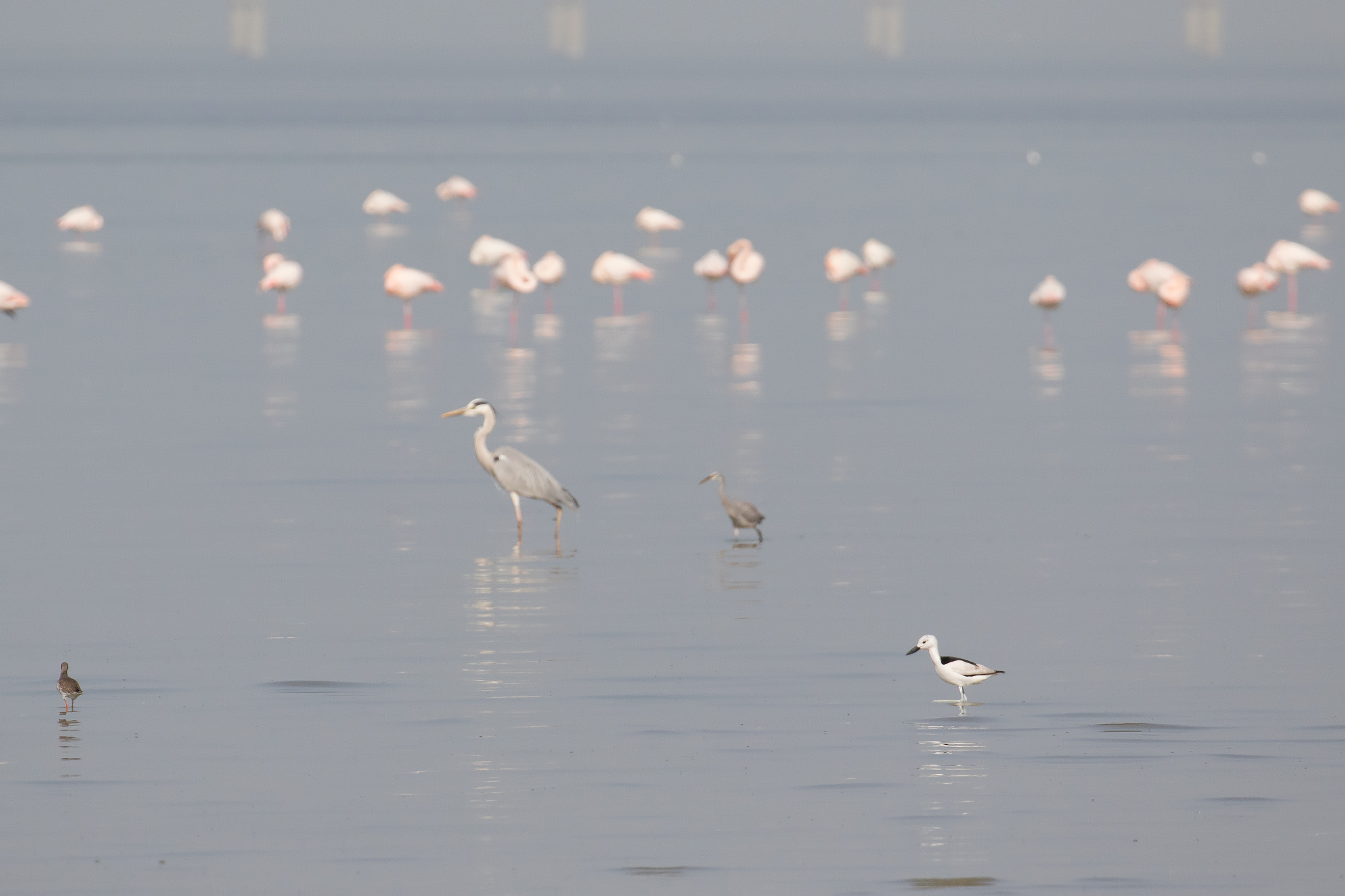 Crab Plover feeding against a backdrop of Greater Flamingos: a typical estuarine scene in the Persian Gulf (Josh Jones).
Given that the vast majority of the country is made up of parched desert, land-birding tends to focus on the relatively few patches of green that exist here, most of which are close to the city. Jahra Pools Reserve is Kuwait's flagship wetland, supporting excellent numbers of wildfowl, waders and raptors in winter. Here we were treated to point-blank views of Greater Spotted and Eastern Imperial Eagles, plus countless Isabelline Shrikes, in the drier areas. An early visit on Sunday morning revealed double figures of Grey-headed Swamphens crashing around the reedbeds, where Moustached and Clamorous Reed Warblers also skulked. Further colour was provided by multiple White-throated Kingfishers. Towards the sea, saline pools held nine White-tailed Lapwings among other waders, and there were three Pallas's Gulls among the commoner species on the beach.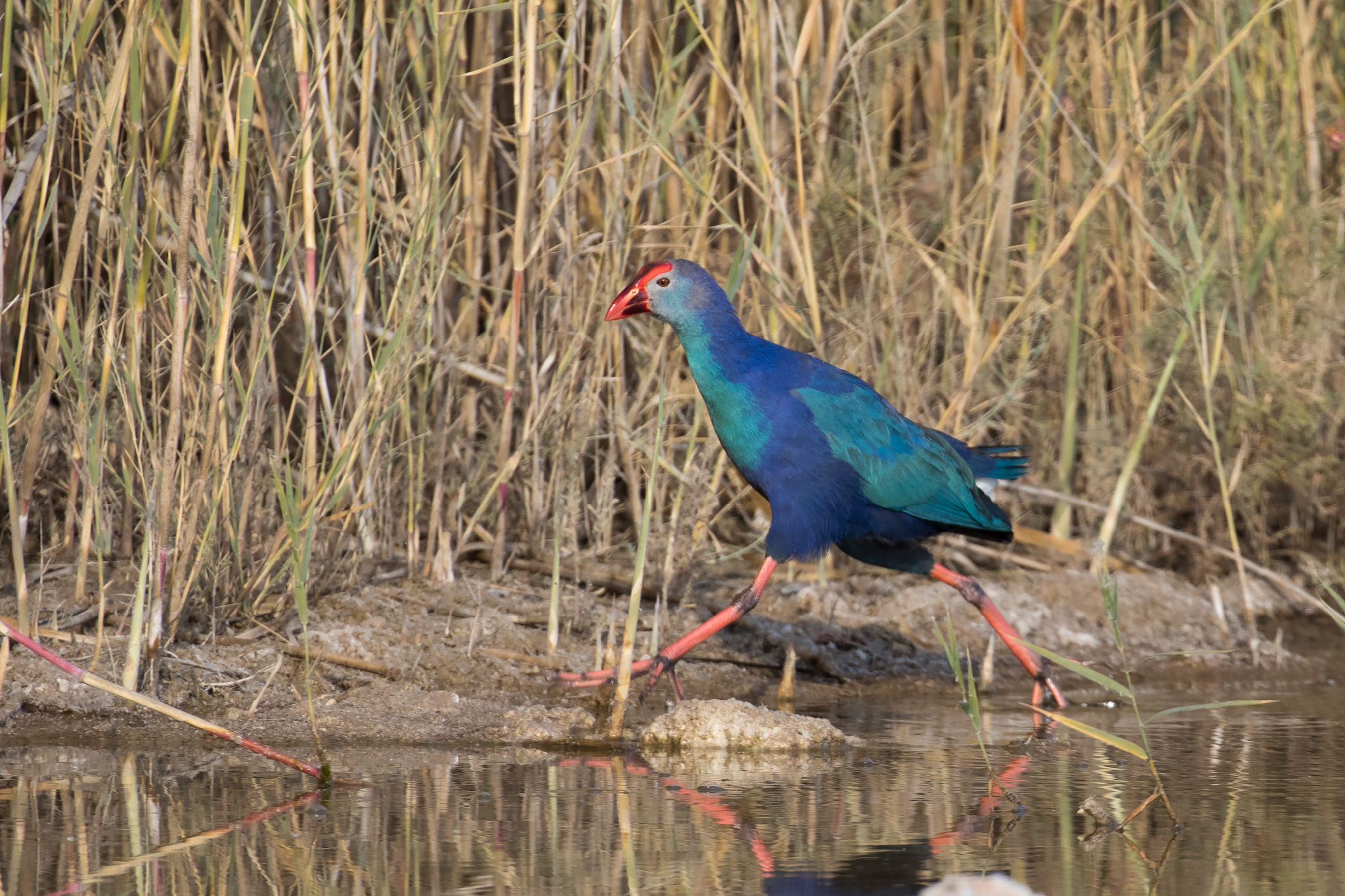 As well as frequenting reedy pool edges at Jahra Pools Reserve, Grey-headed Swamphens sometimes wander out onto the tracks to feed, but soon scarper for cover at the first hint of human presence (Josh Jones).
We also found a single Afghan Babbler there, although they are much more reliably seen an hour's drive to the north, at the massive Abdaly Farms complex, not far from the Iraqi border. This is another of the species that, if you're remotely interested in WP listing, you have to visit Kuwait for. Abdaly itself is such a vast area, much of which is privately owned and fenced off, and you can only wonder at what exciting vagrants might be lurking out of view.
One of Kuwait's premier sites, Sulaibiya Pivot Fields, is out of bounds to the general public. While this keeps the hunters out (good for the birds), it also means that access can be tricky for birders, although relations seem to be improving after a difficult few years and, gradually, birders are once again being granted entry to this phenomenal spot. The 'Pivot Fields' consists of a huge area of irrigated agricultural plots, which provides birds with an unparalleled green oasis in the Kuwaiti desert. Constant irrigation even means that there are marshy areas in some plots, rich in invertebrate life, and there is also a large, man-made pond, while mature trees provide wind-breaks for each field. Such a varied array of habitats makes it attractive to a great range of birds. We were fortunate to connect with an Indian Roller, another species which sits high on the target list for a winter trip to Kuwait, but equally exciting – and much more significant in a world context – was a group of seven Sociable Lapwings.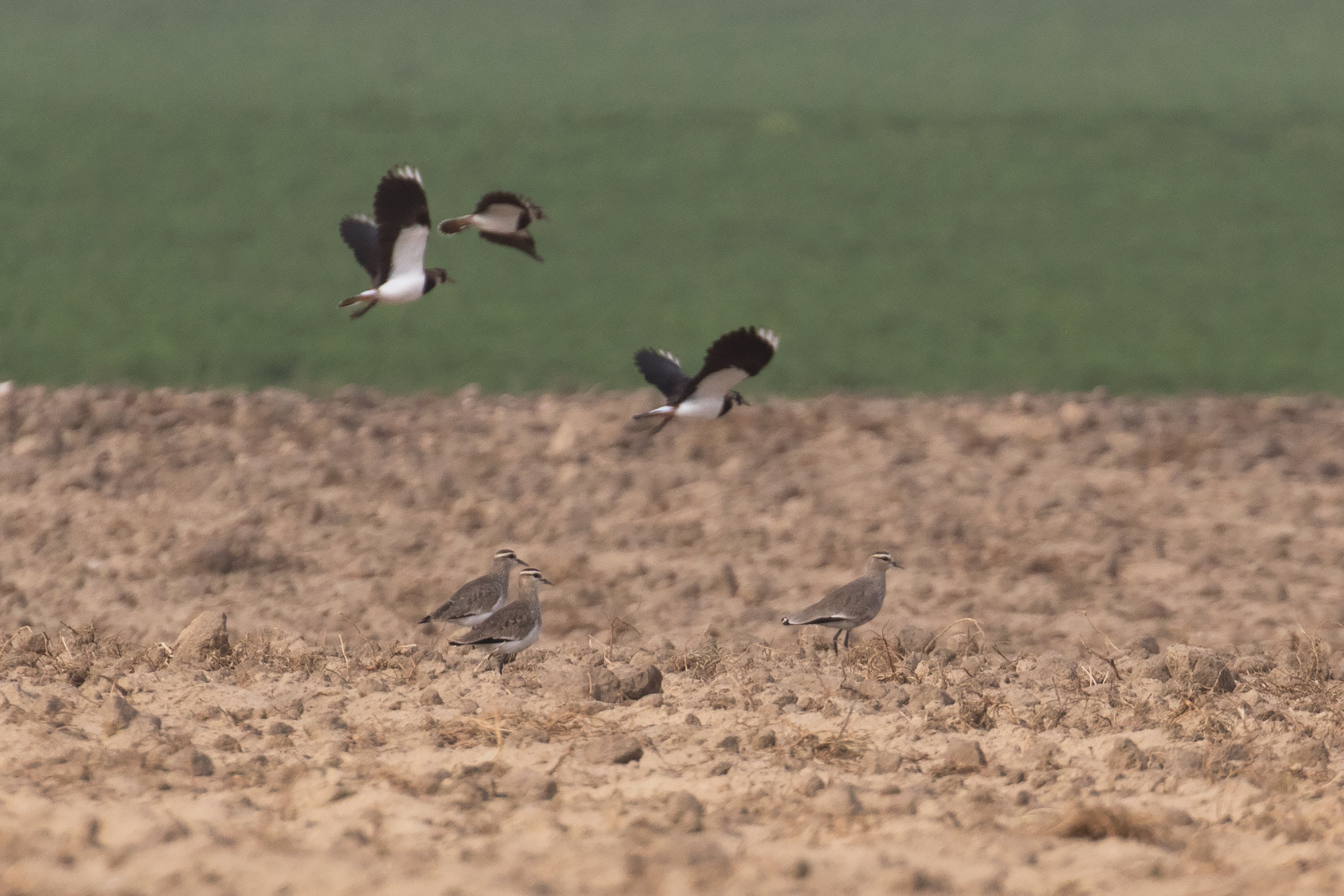 Sociable Lapwing is listed as Critically Endangered by BirdLife International. This trio was part of a group of seven loosely associating with a large flock of Northern Lapwings (Josh Jones).
It's also one of the best places to see another 'Kuwaiti special', Red-wattled Lapwing, which is reliable only here in the WP (in Turkey it remains patchy and only occasionally seen away from the Syrian and Iraqi borders). Among the thousands of wintering Eurasian Skylarks, a few Oriental Skylarks can usually be found, usually best picked up by their harsher, more 'buzzy' call – it was in this way that we located one. Hundreds of pipits mainly comprise Water and Tawny (but look out for Siberian Buff-bellied), while overhead raptors numbered Black Kites and Greater Spotted Eagles, the latter including a striking juvenile of the fulvescens form on our visit. It's an incredibly 'birdy' place and one can only imagine how good it must be in the peak weeks of migration.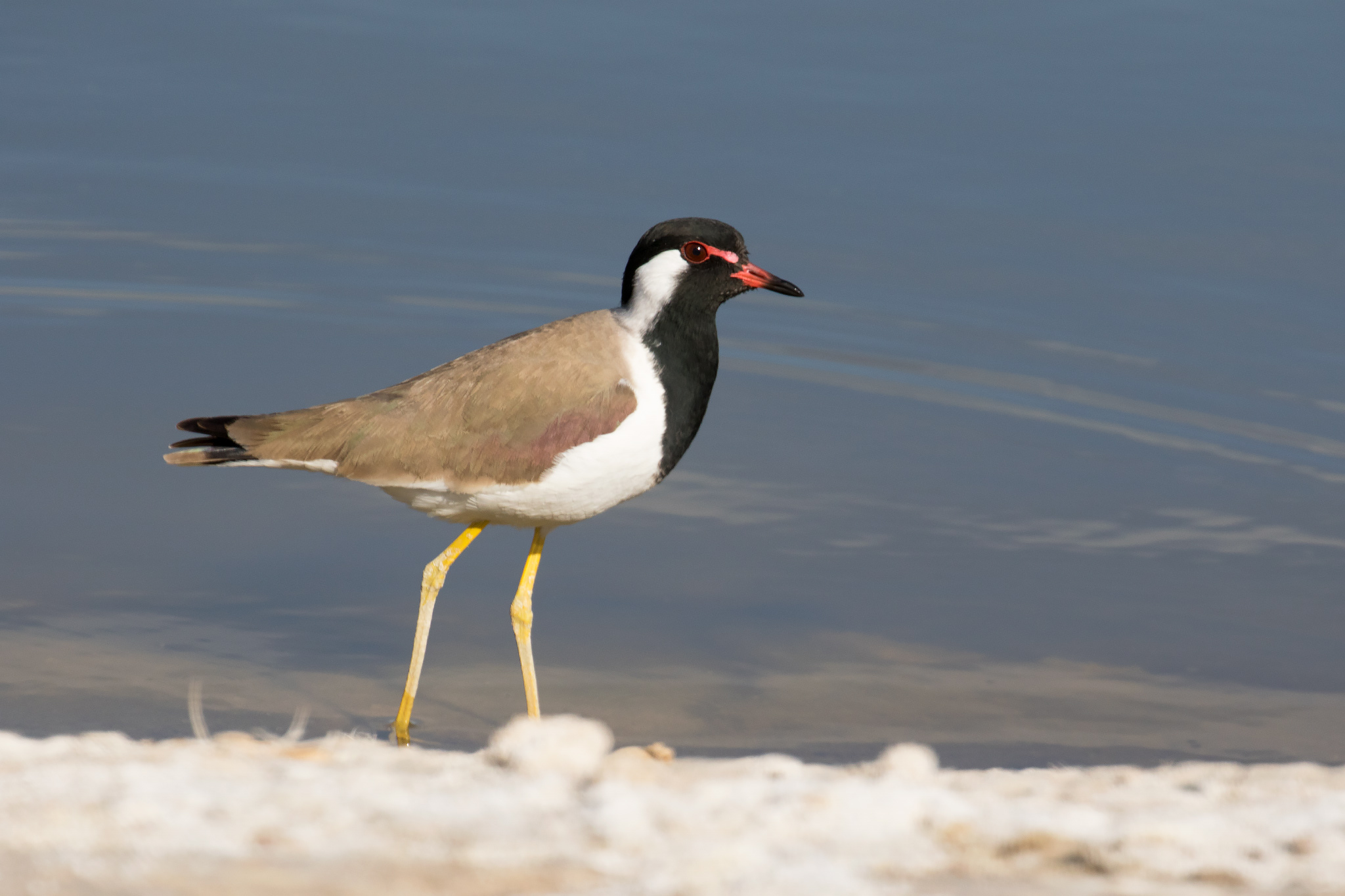 Kuwait is the easiest Western Palearctic country in which to see Red-wattled Lapwing. This bird was one of a small flock at Sulaibiya Pivot Fields (Josh Jones).
Another, much smaller area of cultivated greenery we visited was Jahra Farms, which has produced a great range of exciting birds over the years. It's also more straightforward to access, and we were able to simply wander around during our late afternoon visit on Saturday. It's not to everyone's taste, but one of the main draws here is the pre-roost gathering of various introduced myna species, two of which are currently tickable. Actually, it's hard not to like mynas – they're attractive, characterful and entertainingly noisy to boot. Most of the birds here are Bank Mynas, a species native to the Indian subcontinent, while Common Mynas are also plentiful (as they are across much of the Kuwait City environs). The two scarcer species, Javan and Jungle Mynas, both appear to be self-sustaining and will likely soon find themselves on the Kuwaiti bird list.

A large flock of mynas, consisting of up to four species, roosts nightly at Jahra Farms. Both Bank and Common Mynas can be seen here (Josh Jones).
The mynas represent just a few of the numerous introduced species that can be seen in and around Kuwait City. Keen listers will inevitably head for the man-made Green Island at some point during their trip, as we did on the Sunday. A collection of curious, woven nests is usually the first sign of one of the quarry, followed by a scratchy, and slightly unpleasant, song … which leads you to the shocking yellow of a male Rüppell's Weaver. The other 'Cat C' here tends to be a bit more elusive, but again song is often the first sign of a Red-vented Bulbul. Found patchily through the city, it is scarce and always outnumbered by the (native) White-eared Bulbuls, which are extremely common.
Despite struggling with a few of our target species and having to re-visit some sites over the weekend, we found three days was ample time to see everything we wanted to, even with our foot off the gas somewhat. This is largely testament to the ease of birding and the small size of Kuwait, which means plenty of sites can be covered each day. If time allows, a week-long trip here would allow for thorough coverage of all the best sites, including repeated visits, and would give the best opportunities to see some of the more elusive wintering specialities and even find a few good birds for yourself. However, I couldn't complain at 11 WP ticks in three days amid some fantastic general birding, plus a host of other previously unmentioned highlights, including Red-tailed Wheatear and Shikra – neither of which were new for me, but both are far from easy to see in the region.
While its quality as a birding destination is known to keen WP listers, Kuwait is still somewhat under-visited by European birders, despite having so much to offer. Although the country has its problems with shooting, particularly during spring and autumn (be prepared to see locals taking pot-shots at just about anything – we saw one carload taking aim at Black-headed Gulls trying to feed at an outfall), this shouldn't put people off too much. If anything, encouraging more birders to visit will only serve to highlight the excellent birdlife on offer in this corner of the Arabian Peninsula, and that preserving it is the right way forward. So, next time you're contemplating a short winter birding break on bleak British winter's day, consider a long weekend in the Kuwaiti sun – and find a WP first while you're at it.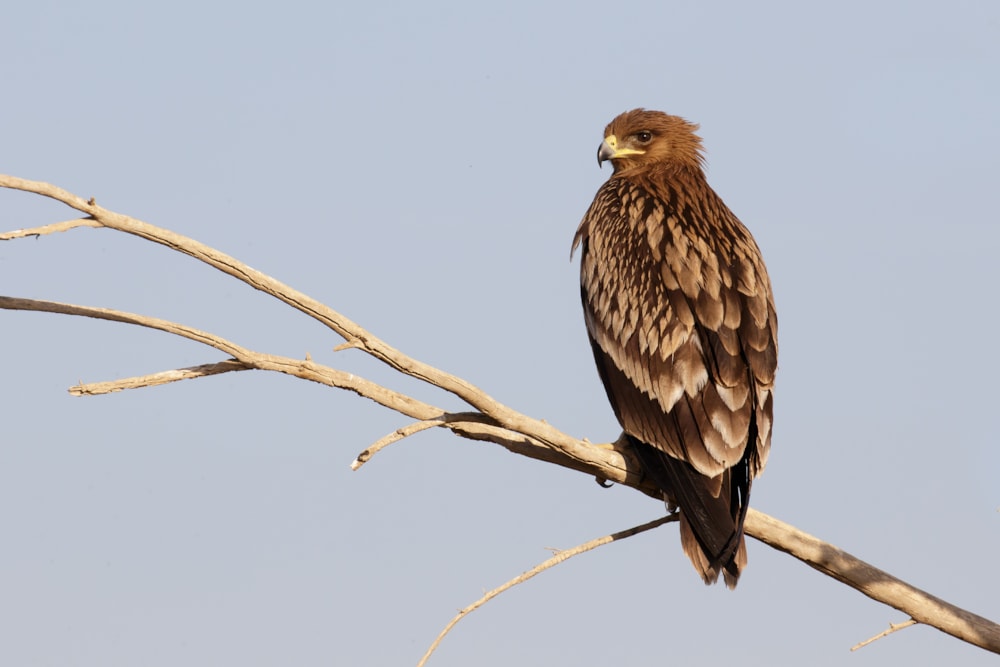 There are plenty of eagles to see during the Kuwaiti winter: look out for streaky juvenile Eastern Imperial Eagles, like this bird at Jahra Pools, among the commoner Greater Spotted Eagles (Josh Jones).