August is the peak month for juvenile Aquatic Warblers to be passing through Britain, so now's the optimum time to try and find Europe's most threatened passerine on our shores.
It seems that Aquatic Warbler is becoming ever more exclusive to ringers' nets in Britain, but a sharp-eyed observer could contrivedly find this globally-threatened Acrocephalus in almost any reedbed or marsh in the south of the country, provided they know what they're looking for, and have a sprinkling of good fortune on their side.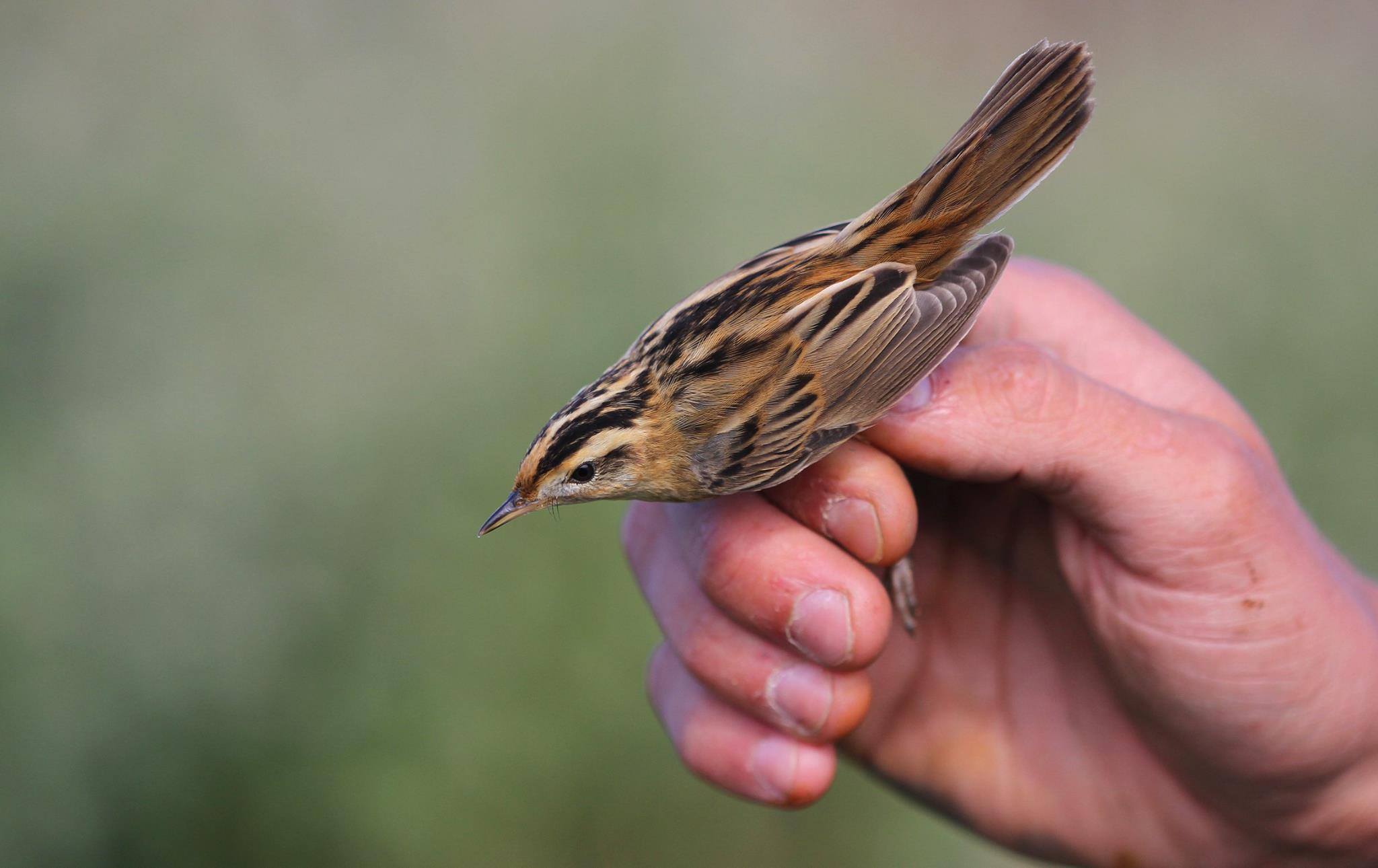 Aquatic Warblers are most often seen when they are extracted from mist nets along the south coast of England (Hugo Touzé).
Aquatic Warbler occurs annually in the autumn in Britain, though with a decreasing world population of no more than 21,000 pairs, they are of high conservation concern. The species is very particular when it comes to breeding habitat, requiring sedge fen mires with a water depth of 5-10 cm. Drainage has resulted in the deterioration of many wetlands that Aquatic Warbler relies on, and consequently habitat management, namely mowing, is essential to maintain remaining sites. However, it's been suggested that this mowing in fact has a detrimental effect on the warblers, with studies in Biebrza, Poland, signifying that productivity was lowest in the first year after mowing.
Incredibly, its West African wintering grounds weren't known until 2007, and even the migration of Aquatic Warblers in Western Europe remains poorly understood. Due to its secretive habits they're difficult to observe, and thus likely to be under-recorded – unsurprisingly many records stem from ringing sites. To add to the confusion, numbers recorded in autumn in Western Europe show marked fluctuations from year to year. For example, this year at the Loire Estuary, France, large numbers were recorded weeks before the normal peak, with a staggering 70 individuals trapped and ringed over a 16day period at the end of July/early August.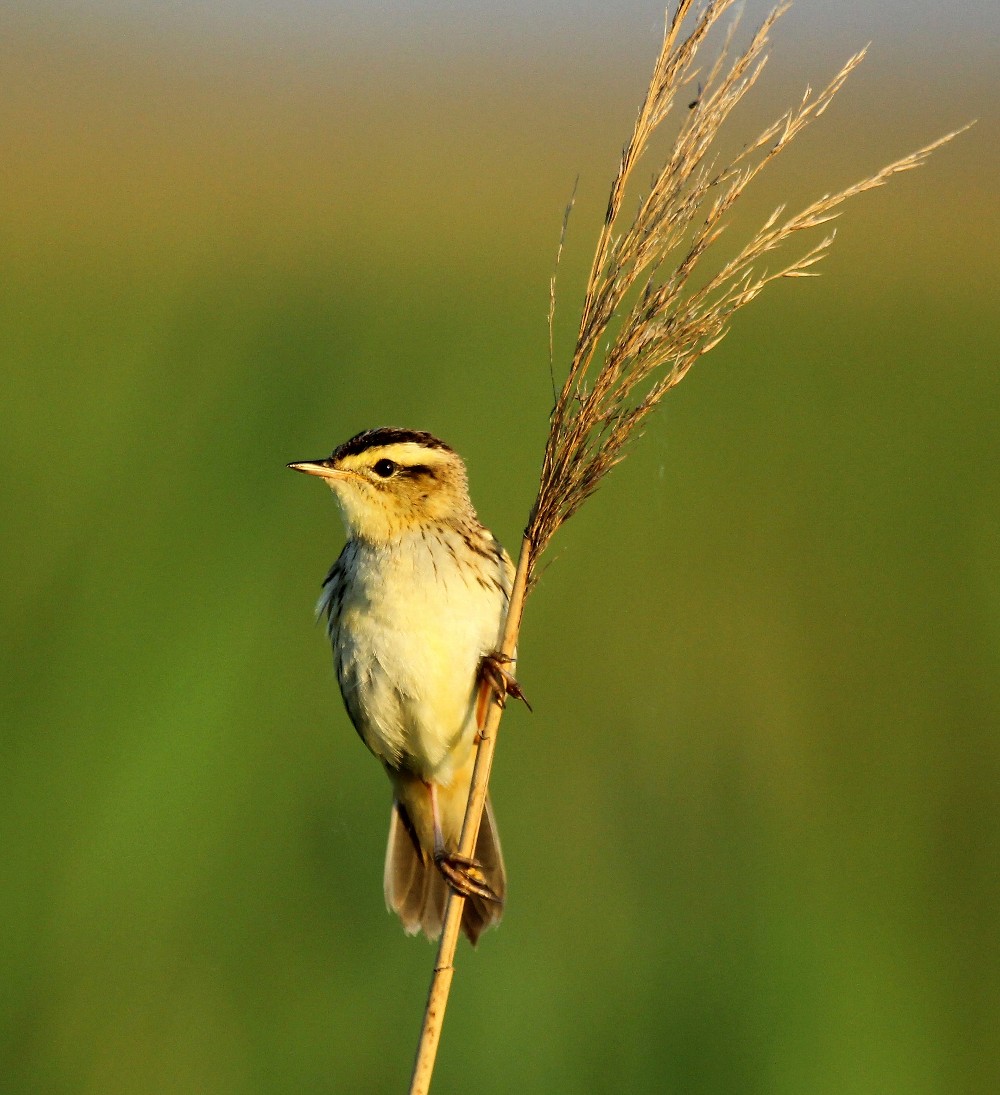 Eastern Poland is of international significance to Aquatic Warblers, with the Biebrza valley home to one of the largest breeding populations in the world. The sedge mire at Długa Luka is arguably the most reliable place in the world to see the species (Trevor Marshall).
The population decline is mirrored in the reduced frequency of autumn records in Britain, which, having peaked at 102 in 1976, now averages little more than a handful each year. Indeed, having been considered regular enough to be downgraded from rarity to a scarcity in 1983, Aquatic Warbler returned to BBRC description level in 2014. Another likely factor behind the reduced sightings is the conversion of former coastal marshes to nature reserves, which has led to the removal of suitable habitat and reduced accessibility at former hotspots. One such example is Marazion Marsh, Cornwall, where habitat management in the early 2000s restructured most of the areas formerly popular with the species.
Where to look
British records are largely confined to south-coast counties, which is difficult to explain for a species with an eastern European origin, and south-east winds from early August to mid-September are preferable for arrivals. Aquatic Warblers are considered almost exclusive to reedbeds in Britain, but birds can turn up almost anywhere on migration, including rank vegetation, crop fields and hedgerows. However, coastal reedbeds are certainly the best place to look, and those with adjacent Juncus vegetation, where the species occasionally feeds, are particularly ideal.
Traditionally, the West Country has enjoyed the lion's share of Aquatic Warbler records with Marazion Marsh, Cornwall, probably the best known in a historical sense. However, records from there have declined significantly during the past couple of decades, with the aforementioned habitat management seemingly having a negative effect on the species.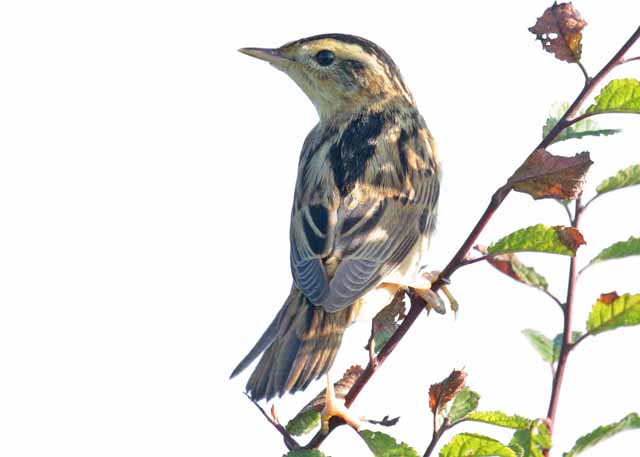 Migrant Aquatic Warblers can turn up in unexpected places, such as hedgerows, with this particular individual seen briefly out in the open along the North Wall at Pagham Harbour, West Sussex, in August 2016 (Trevor Guy).
Devon and Dorset enjoy consistent appearances from Aquatic Warblers, with Lodmoor particularly productive in the past, though habitat management at this site also has seemingly affected the number of visiting birds. Keysworth and Poole Harbour, in Dorset, and South Milton Ley, Devon, are also historically reliable. South-east England also weighs in, with Pagham Harbour, West Sussex, Titchfield Haven, Hampshire, and Dungeness RSPB, Kent, all having hosted autumn birds in the past decade. Away from the south coast, localities such as Steart Marshes, Somerset, and Slimbridge WWT, Glos, have produced multiple records since the turn of the century, and there are odd records from South Wales. Realistically, for the patch-worker, any tract of suitable habitat between Kent and Cornwall has the best potential to produce birds.
Identification
While Aquatic Warbler superficially appears very similar to Sedge Warbler, there are a number of distinct differences, making the former relatively distinctive with good views. In broad terms, the plumage tone of Aquatic is a paler buff, with a brighter yellowish undertone, though buffy juvenile Sedges can create significant misperception. As a result, a combination of key differences is vital to successful identification.
The upperparts on juvenile Aquatic stand out as they have a more heavily striped mantle which, when combined with the yellowish-buff tone, creates a 'tiger-striped' effect. Two relatively broad tramlines run down the sides of the mantle, and the buff rump is clearly streaked – the latter feature is particularly important, as juvenile Sedge shows no streaking on a slightly darker coloured rump. Another key plumage detail is the finely streaked breast of juvenile Sedge, contrasting with juvenile Aquatic, on which this feature is absent (although adult Aquatics do show significant streaking on the breast and flanks).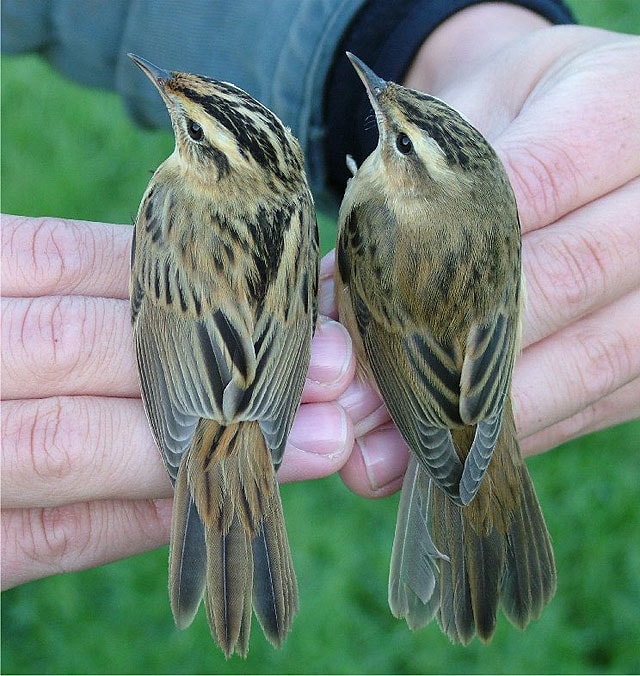 The prominent central crown stripe with buffish forecrown, streaked rump, broad tramlines on the mantle and striped upperparts are clearly visible on this juvenile Aquatic Warbler (left), with the juvenile Sedge Warbler duller in overall tone (Dawn Balmer).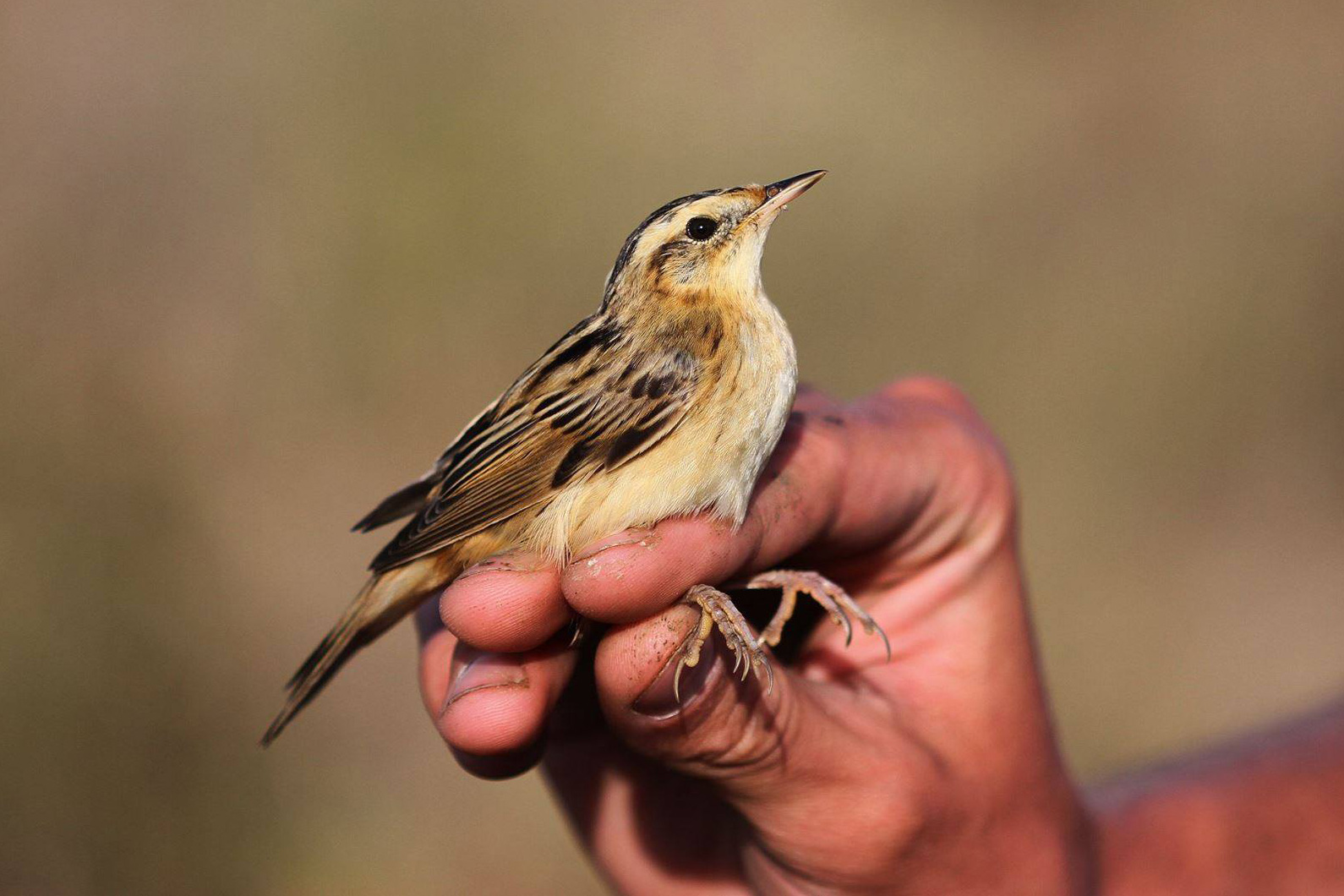 This juvenile Aquatic Warbler, photographed in France, clearly illustrates overall brighter yellowish-buff colouration, unstreaked breast and pale lores, while the 'tiger-striped' upperparts can also be seen (Hugo Touzé).
The head pattern is often cited as a lead distinguishing feature in Aquatic, but in reality, this can be hard to observe on a skulking migrant. However, a combination of features, if seen, can be crucial. Aquatics have pale, unmarked lores, with a yellowish-buff supercilium that down-curves a little. The crown stripe is particularly distinct on Aquatics, but this isn't always easy to view, especially with side-on views. Furthermore, some well-marked Sedge Warblers can have noticeable crown stripes. If seen well, a prominent pale, central stripe stands out, opening out as a buffish patch on the forecrown. Even the most well-marked of juvenile Sedge Warblers wouldn't have such a sharply defined and broad crown.
Both Aquatic and Sedge Warblers can be fairly vocal on migration, and while fairly similar sounding, the former's call is higher in pitch, more drawn out, and slightly more rolling. Both species respond fairly well to 'pishing', a technique that can be useful for drawing out such a skulking species from cover.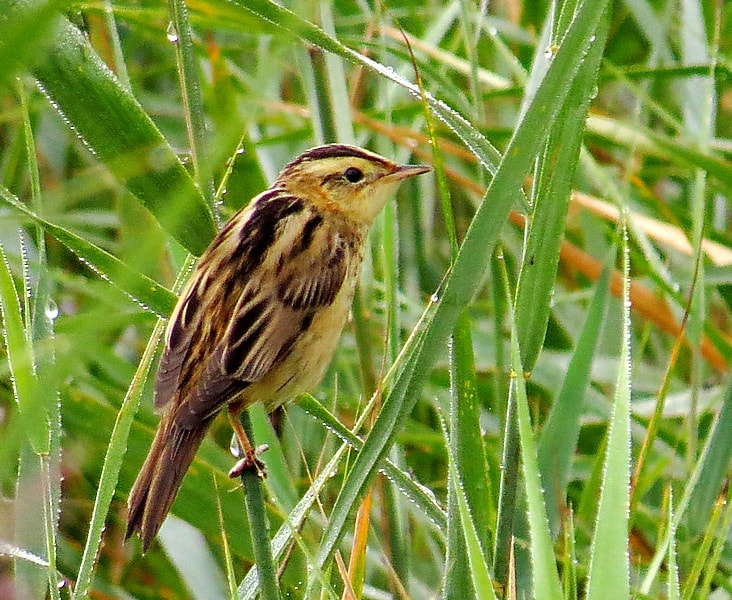 Although the central crown stripe can just about be made out here, side-on views often hide this feature. However, the streaked rump, stripy upperparts with obvious tramlines, richer buff plumage and pale lores and legs can be clearly seen (Ian Ballam).