For the last eight years a dedicated team of UK scientists, conservationists and seabird enthusiasts have contributed to a programme of research and conservation focussed on the critically endangered Balearic Shearwater and other migratory seabirds. This programme has comprised two main components: the 'SeaWatch SW' project, which involved collection of land- and boat-based data from UK waters between 2007 and 2011 (see www.seawatch-sw.org), and the ongoing 'Project Shearwater', which involves work at Balearic Shearwater breeding colonies in the Mediterranean Sea and tracking of the birds at sea throughout the year. For an overview of 2013 Project Shearwater activities, and links to reports from earlier years, see this article.
This latest article provides an update on progress in summer 2014, and hopefully illustrates the important role that 'citizen science' is playing in the conservation of this threatened seabird.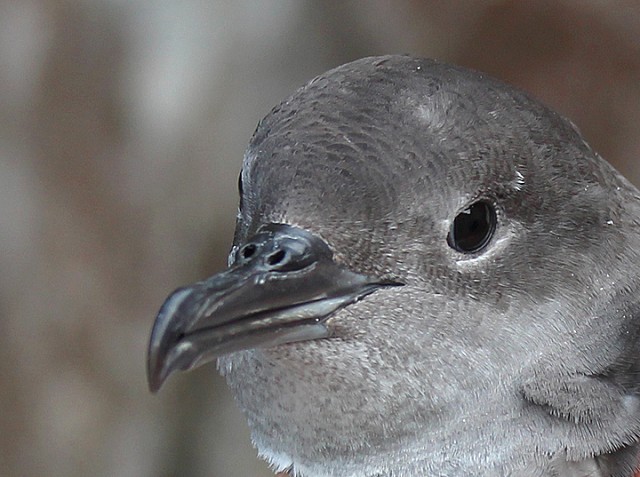 Close-up of a Balearic Shearwater on Sa Dragonera, Balearic Islands (Photo: Andrew Colenutt)
SeaWatch SW data
The field surveys and data analysis for SeaWatch SW have been underpinned by a number of postgraduate students based at the National Oceanography Centre, Southampton (NOC). The first of these, Dr Alice Jones, successfully completed her PhD at NOC in 2012 using SeaWatch SW data and is now a postdoctoral researcher at University of Adelaide in Australia. Alice's first paper has just been published in the science journal Endangered Species Research, and is entitled "Using integrated land- and boat-based surveys to inform conservation of the Critically Endangered Balearic Shearwater". The paper involves a partnership between SeaWatch SW, Marinelife and French colleagues, and leans heavily upon data collected by a large number of volunteer expert observers in the UK and France.
The study highlights the importance of the western English Channel for Balearic Shearwaters, with up to 20% of the global population regularly feeding and roosting in embayments off northwest France during the summer and autumn inter-breeding period, and up to 2% of the population sporadically visiting Lyme Bay or passing along the the south-west UK coast during this period. In addition, the intensive effort-based observations undertaken by the SeaWatch SW team off the south-west UK have provided important information on the species' migratory behaviour in the region, e.g. the timing of peak passage rates in the daily cycle, and the fact that Balearic Shearwaters often pass closer inshore than other similar species. The ESR paper is Open Access and can be downloaded for free at www.int-res.com/articles/esr_oa/n025p001.pdf.
The data included in the ESR paper are being used by JNCC and Natural England to assess potential Special Protection Areas (SPAs) for Balearic Shearwater in UK waters, particularly off the south-west UK. In addition, the SeaWatch SW survey site at Gwennap Head, Porthgwarra, looks out over the Runnelstone Reef, which has been included in the second tranche of proposed Marine Conservation Zones in English waters. Although largely focussed on benthic habitats and species, Balearic Shearwaters are listed as a supporting feature at this site. Further information can be found at the links below:
A further SeaWatch SW scientific paper, looking in more detail at seasonal and daily patterns in seabird movements around south-west England (including Balearic Shearwater) is currently being prepared. This will use the unique effort-based sightings data to highlight the importance of the south-west UK flyway for migratory seabirds. It is intended that, once this paper is completed, all of the raw SeaWatch SW seabird data will be available for download on a public archive; this will provide a valuable baseline that can be revisited in future years.
Finally, a follow-on project from SeaWatch SW has focussed on high-resolution mapping of seabird foraging aggregations in midwinter in St Ives Bay, in order to provide evidence to underpin mitigation measures for prevention of seabird bycatch in fixed fishing gears. After a successful first phase of fieldwork in winter 2012/13, a second phase was undertaken in January 2014. Small numbers of Balearic Shearwaters were again recorded at this now regular wintering site, as well as unusual midwinter records of Manx and Sooty Shearwaters. The results of this work are currently being prepared for another PhD thesis at NOC. Background to this ongoing work can be found in this BirdGuides article.
Project Shearwater data
Since spring 2010, a team of UK and Mallorcan scientists and conservationists have been undertaking annual field expeditions to the Balearic Shearwater breeding colonies on Mallorca and Menorca, in order to undertake tracking studies and find out more about the birds' at-sea movements and behaviour. This work has been supported by a number of organisations, including NERC, RSPB, Natural England and the Balearic Islands Government. In spring 2014, the 'Project Shearwater' team again spent a productive fortnight in the Balearic Islands, working at three main sites: the large cave colony at Sa Cella on Mallorca, the island natural park of Sa Dragonera, and La Mola on Menorca.
Content continues after advertisements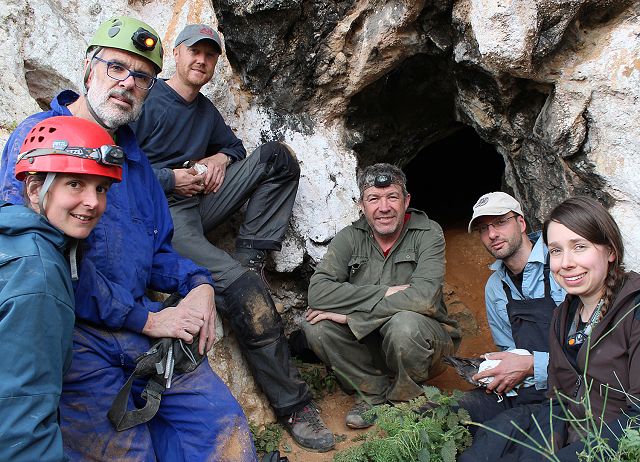 The Project Shearwater team with two tagged Balearic Shearwaters from a newly discovered cave on Sa Dragonera, Balearic Islands (Photo: Andrew Colenutt)
At Sa Cella, the team successfully collected a fourth year of geolocator and GPS tracking data from breeding birds, further underlining the pattern observed in previous years. GPS tracking has revealed that, during the incubation phase of the breeding period, the birds undertake regular foraging trips to the Catalonian coast (with some birds also feeding along the northern coasts of Mallorca and Menorca). After breeding, all adult birds migrate out of the Mediterranean and spend the late summer and autumn in Atlantic hotspots off west Iberia and northwest France. These data have been used to support identification of Important Bird Areas in Portugal, and highlight the importance of some of the IBAs recently designated in Spain — see this link.
On Sa Dragonera, the pilot tracking study started in 2013 was continued, and we are now starting to gain useful data on the movements of birds from this colony. We also continued our census work, which over the coming years will hopefully show indications of a recovery of breeding numbers following recent rat eradication on the island. In spring 2014, Greg Morgan from RSPB led the development and deployment of several Balearic Shearwater nest boxes, in the hope that these will encourage the local shearwaters to nest in more secure and accessible sites (some of the funding for these boxes was kindly provided by Thousand Islands Expeditions).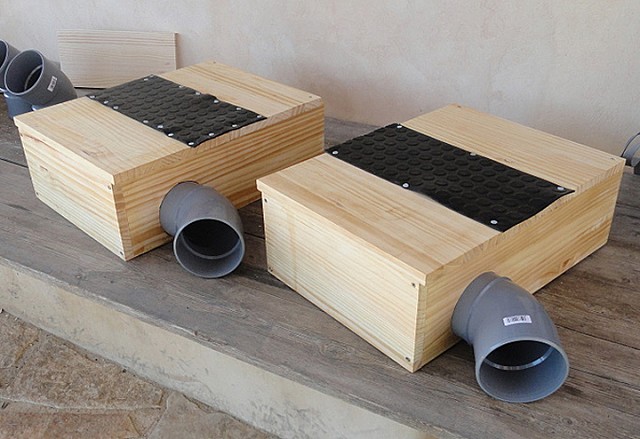 Balearic Shearwater nest boxes ready for deployment on Sa Dragonera, Balearic Islands (Photo: Greg Morgan)
A scientific paper describing the background to the census work on Sa Dragonera can now be downloaded from The Seabird Group website, in volume 26 of their journal Seabird.
At La Mola, a lot of hard graft over several years has eventually yielded ten high-quality geolocator tracks of 'Menorcan Shearwaters', providing important new information on the year-round movements of these enigmatic birds (they appear to sit taxonomically somewhere between Yelkouan and Balearic Shearwaters). The results are currently being analysed, but initial indications are that the Menorcan Shearwaters employ a different migration strategy to Balearic Shearwaters on adjacent islands, and yet are also different to Yelkouan Shearwaters tracked from French colonies. This information has been provided to BOURC to aid their assessment of the first British record of Yelkouan Shearwater, seen off Berry Head in 2008 during the SeaWatch SW project.
In the coming months a NOC PhD student, Rhiannon Meier, will be preparing a series of scientific papers based on these tracking data, some of which were presented by Rhiannon at the Seabird Group conference earlier this year at University of Oxford.
Acknowledgements
Firstly, we would like to say a big thankyou to the large number of organisations and individuals that have supported SeaWatch SW and Project Shearwater, either through direct funding or volunteering their time and resources. The Project Shearwater team are very grateful to Biel Sevilla for his continued support of fieldwork activities on Sa Dragonera in 2014. Joan Mayol Serra (Conservation Dept of the Balearic Islands Government) and Marti Mayol (Sa Dragonera National Park) again provided valuable assistance with permits and logistics, which have been essential for our fieldwork activities. The Director and staff at the Jaume Ferrer biological field station are thanked for providing accommodation at La Mola.