The week at a glance
Although this week didn't quite live up to its promise, mid-September tends to produce good birds by default — simply because it is such a dynamic time of year. And, despite the lack of any big east coast fall or significant arrival of Nearctic birds out west, there were still several great finds.
The best of these is arguably the adult male Hudsonian Godwit discovered by the Punkbirders on Inishmore, Co Galway, on 15th, though it is likely that this is the bird found by Dermot Breen at Inishdawros back in July. Just 35 km separates the two sites but the eight-week interlude meant that, before Tuesday, almost everyone had conceded that this bird was long gone. So it must've been a total shock for the finders and provides Irish listers with a very welcome second bite at the cherry. The complete lack of news from Inishmore since last October also suggests that the godwit could have been on the island since it disappeared from the mainland almost two months ago.

Hudsonian Godwit, Inishmore, Galway (Photo: Dan Brown)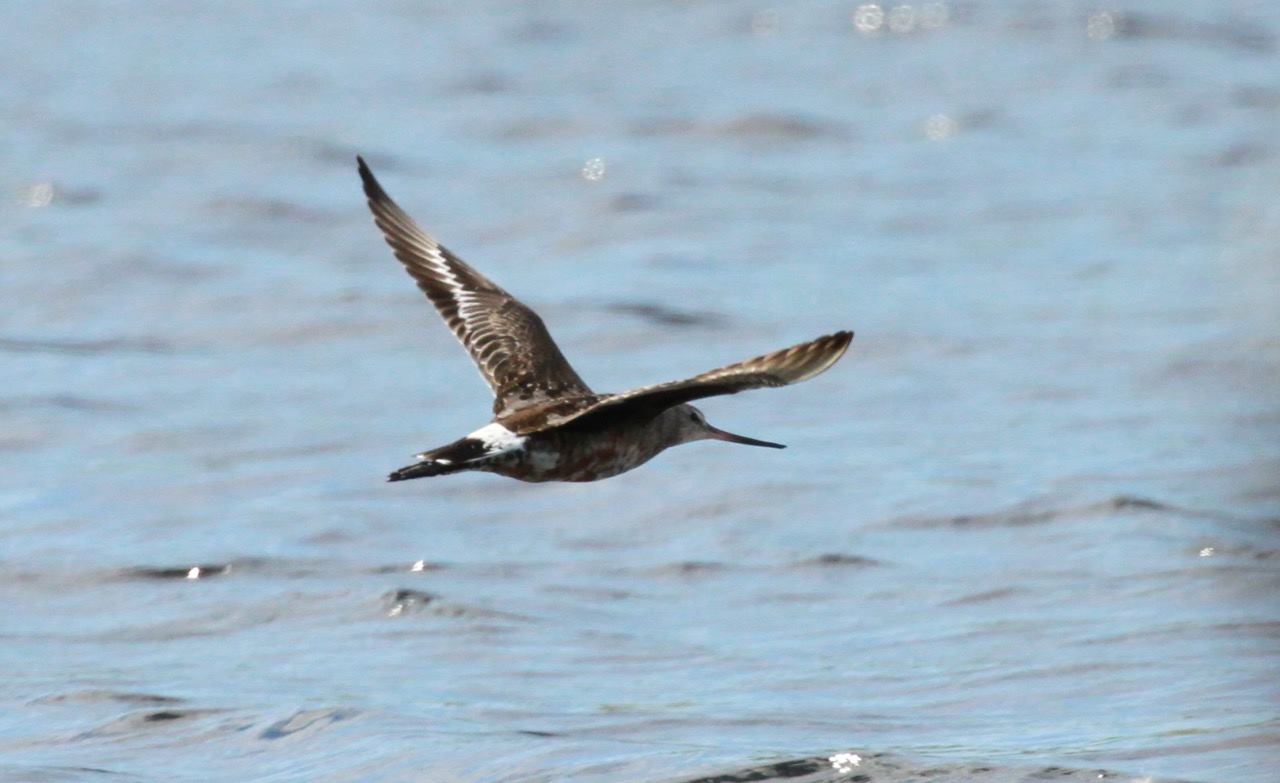 Hudsonian Godwit, Inishmore, Galway (Photo: Dan Brown)
A juvenile Short-toed Eagle was seen well over Braishfield, Hants, late in the morning on 14th but has not been seen since. This record follows several claims in Hampshire and Dorset earlier in the summer but the bird's age clearly separates it from those; many will be hoping it is found again.
The first Short-toed Treecreeper to be seen in Britain for exactly 42 months was recorded in a private garden at Dungeness, Kent, on 10th. The last, on 10 March 2012, was also in Kent and this latest individual will represent the 20th for the county (and 28th for Britain). In Essex, a probably second-summer Audouin's Gull flew up the coast past Holland Haven Country Park and Frinton-on-Sea on 13th but was not seen again.
A Fea's-type Petrel that flew north past Spurn's seawatching hide early on 9th must be the bird seen further up the coast the previous evening. Despite the hopes of many, it was not seen again. Wilson's Storm-petrels were seen from Scilly pelagics on 10th and 15th, the latter representing the latest-ever recorded in Scilly waters.

Wilson's Storm-petrel, Scilly pelagic, Isles of Scilly (Photo: Joe Pender)
The drake Lesser Scaup continues to show no desire to leave Chew Valley Lake, Somerset, and was still there on 14th, though there was no sign of the Ferruginous Duck this week. The drake American Wigeon continued at Tacumshin, Co Wexford, and another male was found on Islay, Argyll, on 14th. The only Surf Scoter reported this week was the immature drake still off Murcar Golf Course, Aberdeenshire, on 14th.
There were no Night Heron reports this week, but a juvenile Purple Heron was photographed and belatedly reported at Slimbridge, Glos, on 10th; the immature was also seen again at Ham Wall, Somerset, on 11th and 13th.Great White Egrets included three at Abberton Reservoir, Essex, on 11th and further trios still in Lancashire, Cheshire and Kent. A Cattle Egret was at Meare Heath, Somerset, on 12–13th and another flew over Preston Marshes, Kent, on 12th in addition to the Dungeness bird showing well for much of the week. The Glossy Ibis was still at Clohernagh, Co Waterford, on 11th and another was found at Meare Heath, Somerset (where else!) on 13th; the latter bird proved mobile and elusive around the Ham Wall area to 14th. With the Sussex Black Stork seemingly now departed it was a lonely vigil for the continuing French-ringed juvenile at Sunk Island, E Yorks, which showed well to 15th.

Glossy Ibis, Ham Wall RSPB, Somerset (Photo: Jeff Hazell)

Black Stork, Sunk Island, East Yorkshire (Photo: Ron Marshall)
One juvenile Pallid Harrier remained in Shetland's South Mainland area to 11th. A juvenile arrived on Fair Isle on 13th (and remained there to 15th), and two further juveniles were then found at Northdale, Unst, on 13th.

Pallid Harrier, Northdale, Unst, Shetland (Photo: Brydon Thomason)
A first-summer male Red-footed Falcon was found at Hemscott Hill, Northumberland, on 9th and lingered to the following day. A juvenile was a great find at Girdle Ness, Aberdeenshire, on 10th (though local golfers suggested it may have arrived a day or two earlier), and showed well there to 12th. What might have been the same bird then arrived on the Isle of May, Fife, on 14–15th. There was a report of an early Rough-legged Buzzard on the Isle of Sheppey, Kent, on 9th.

Red-footed Falcon, Girdle Ness, Aberdeenshire (Photo: Barry Farquharson)
Following a Spotted Crake on Skomer, Pembrokeshire, on 10–11th, another was found dead on St Mary's, Scilly, on 12th and a third (fortunately alive) was in the Ceredigion section of the Teifi Marshes reserve on 14th.
There were no reports of the Northern Irish Pacific Golden Plover this week but a probable flew over Shapwick Heath, Somerset, on 14th. The juvenile Long-billed Dowitcher continued to perform stunningly well near Burravoe, Yell, to 13th. Buff-breasted Sandpiper records came from the Butt of Lewis on 11th and 14th and others were at Loch a' Phuill, Tiree, on 14th and Tacumshin, Co Wexford, on 15th.

Long-billed Dowitcher, Burravoe, Yell, Shetland (Photo: G.Bell)
After arriving separately, two juvenile Pectoral Sandpipers found each other on St Mary's, Scilly, on 12th and remained there to the week's end. Other records came from Hickling Broad, Norfolk, on 10th, Maer Lake, Cornwall, on 12–13th, Bagmoor, Lincs, and Slimbridge, Glos, on 13th, Dawlish Warren, Devon, on 13–14th, Carrahane Strand, Co Kerry, on 15th and still at Sidlesham Ferry Pool, W Sussex, throughout.
The week's only Temminck's Stint was at Slimbridge, Glos, on 13th. A juvenile Red-necked Phalarope at Hollesley Marshes, Suffolk, from 10th was joined by a second on 12th but there was just one thereafter; another was at Minsmere from 9–11th and a further youngster was a great record inland at Stretton Sugwas Pits, Herefordshire, from 12th.

Red-necked Phalarope, Stretton Sugwas Pits, Herefordshire (Photo: John Walshe)
Inclement conditions towards the end of the week brought with them the first flush of Grey Phalarope records, with 17 reported after 12th. Among these were showy birds near Lewes, E Sussex, on 14th and Llanrhidian, Gower, Glamorgan, on 15th.

Grey Phalarope, Llanrhidian Marsh, Gower, Glamorgan (Photo: Dan Rouse)
An adult Ring-billed Gull was found on Vatersay, Outer Hebrides, on 15th; the second-winter was still at Preston, Lancs, to 14th and the adult also still at Dingwall, Highland. The Forster's Tern remained at Rogerstown Estuary, Co Dublin, to 10th. The final White-winged Black Tern report from Dungeness, Kent, came on 10th and a juvenile lingered off Gibraltar Point, Lincs, for a couple of hours during the morning of 9th. Elsewhere the Broadland juvenile relocated from Ormesby and Rollesby broads to Filby Broad on 11th, lingering there to 13th.
Though there were no further sightings around the nest site, a European Bee-eater over Warwick Bridge, Cumbria, on 9th must have been one of the breeding birds. Just one Hoopoe report this week concerned a fly-by at Portland, Dorset, in the late morning on 9th.
A Citrine Wagtail remained on North Ronaldsay, Orkney, to 9th, and Fair Isle scored a new bird on 12th (last week's bird was still there on 11th). In Norfolk one was at Waxham on 10th. The only Tawny Pipit was on Jersey on 11th. An extremely showy Bluethroat at Winterton Dunes, Norfolk, on 11–12th was one of the highlights of the week for those that saw it — its tameness had to be seen to be believed.

Bluethroat, Winterton Dunes NNR, Norfolk (Photo: David Rounce)
Shetland claimed the first Pallas's Grasshopper Warbler of the year on 11th. The bird, present at Isbister, Mainland, was still there the following day.
A Bonelli's warbler at Sumburgh Head, Shetland, on 14th was later trapped and confirmed to be a Western. It was still present on 15th, when another unassigned Bonelli's was photographed at Burrafirth, Unst. The arrival of an Arctic Warbler on Inishbofin on 13th represented the first record of this species for County Galway. It was still present the following day. Another Arctic showed well at times at Skateraw, Lothian, from 11th and a Greenish Warbler was at Marsden Quarry, Durham, on 12th.

Western Bonelli's Warbler, Sumburgh, Mainland, Shetland (Photo: Hugh Harrop)

Arctic Warbler, Inishbofin, Galway (Photo: Dermot Breen)

Arctic Warbler, Skateraw, Lothian (Photo: Jim Coyle)
There was a report of a Blyth's Reed Warbler on Stronsay, Orkney, on 13th and another was at Marsden Quarry, Durham, on 14–15th. A Booted Warbler showed well in the quarry at Sumburgh, Shetland, throughout the week after it was found on 9th. Shetland also scored with an Eastern Olivaceous Warbler on 12th. Trapped at Skaw, Whalsay, it lingered to 14th.
At least one Icterine Warbler was seen on Holy Island, Northumberland, to 11th and another was on Bryher, Scilly, from 10th. On 11th one was found at Saltfleetby, Lincs, and 12th produced birds at Landguard, Suffolk, and Buckton, E Yorks. The latter lingered until the following day, when another was seen briefly just down the coast at Flamborough Head. Melodious Warblers were on Great Saltee, Co Wexford, on 12th and St Mary's, Scilly, on 15th. Only one Marsh Warbler could be mustered: at Weybourne, Norfolk, on 11th.
After two on 8th, the forerunners of this autumn's tide of Yellow-browed Warblers began to arrive in earnest from 9th, with a peak count of 10 on Fair Isle that day — a very high count so early. By the end of the week birds had already reached the Isles of Scilly, with reports from at least 45 sites nationwide.

Yellow-browed Warbler, Kilnsea, East Yorkshire (Photo: Pete Kinsella)
Other expected drift migrant totals included at least 40 Wrynecks and around 30 Barred Warblers and 25 Red-backed Shrikes.

Wryneck, Staines Moor, Surrey (Photo: Mark Leitch)

Barred Warbler, Minsmere RSPB, Suffolk (Photo: Nick Brown)
The week's only Woodchat Shrike was a juvenile well inland at Nosterfield, N Yorks, from 13th onwards. At least two juvenile Rose-coloured Starlings remained in West Penwith but none was seen elsewhere. Red-breasted Flycatchers were at Kilnsea, E Yorks, on 10th and nearby Spurn Point the following day; another was on the Farne Islands from 11–13th and a male was in Wells-next-the-Sea, Norfolk, on 12th. There were a couple of records from Shetland, while in Ireland birds were on the Saltee Islands, Co Wexford, on 12th and at Erris Head, Co Mayo, on 14th. Once again the Northern Isles dominated occurrences of Common Rosefinch, although three were on the Isle of May, Fife, on 11th and Irish records came from Tory Island, Co Donegal, on 10th, Galley Head, Co Cork, on 11th and Inishbofin, Co Galway, on 14th.

Woodchat Shrike, Nosterfield LNR, North Yorkshire (Photo: Chris Downes)
A mobile Little Bunting was at Portland Bill on 9th and another was on Fetlar, Shetland, on 14th. Three elusive Ortolans were present on Bardsey Island, Gwynedd, on 9th, with two there on 15th. Three were also on Lundy, Devon, on 11th, with two on 12th and one on 13th. Belated news came in of a male on Rum, Highland, on 7th and others were over Cliftonville, Kent, and at Blakeney Point, Norfolk, on 9th, Portland and St Agnes, Scilly, on 10th, Spurn, E Yorks, on 11th and Galley Head, Co Cork, on 12–13th.

Ortolan Bunting, Spurn YWT, East Yorkshire (Photo: Josh Jones)
Western Palearctic news
A Baltimore Oriole caused a stir on Twitter on 10th when it landed on Sarah Outen's boat in the Atlantic some 400km north of Corvo, Azores, though it appears this was probably just outside the WP's (rather uncertain) boundaries.
Poland's second Pine Bunting was a great find at Jeziorsko Reservoir, Lódz, on 13th, while Sweden's second Pallas's Grasshopper Warbler was trapped at Ekön, Uppland, on 15th. Just a handful of WP records exist for Masked Wagtail, so a bird photographed on the coast at Burgas, Bulgaria, on 13th was most significant. Other news included an Oriental Honey Buzzard migrating over Batumi, Georgia, on 13th and the continuing Sharp-tailed Sandpiper in the Netherlands.

Pine Bunting, Poland (Photo: Marcin Faber)
Content continues after advertisements