The week at a glance
Another week passes and all of a sudden spring seems a much more imminent prospect. In contrast to last week's chilly conditions, many areas were treated to calm, bright and often pleasantly mild conditions — for example, Aberystwyth reached 16 Celsius on Sunday. With it came the first decent sprinkle of migrants of the year, including the vanguard Sand Martins in Kent on 11th (and as far north as West Yorkshire by 15th) and a scattering of Northern Wheatears as far north as Morayshire. A few White Wagtails, Ospreys and Garganey came too, but it was by no means a flood, and in general birders endured lean pickings — even if the weather was seemingly conducive to an arrival. Best bird was the first Hoopoe of the spring — as expected, in the South-West and not far from Land's End at Trethewey, Cornwall, on 11th.
Also in Cornwall the Hudsonian Whimbrel was still being reported from Marazion on 13th, but the Pacific Diver didn't featured on our news pages this week. Over in County Cork the adult Glaucous-winged Gull was still lounging around in Castletownbere harbour on 12th, while the Isle of Wight Greater Yellowlegs again resurfaced at Whippingham — the first report in almost a month.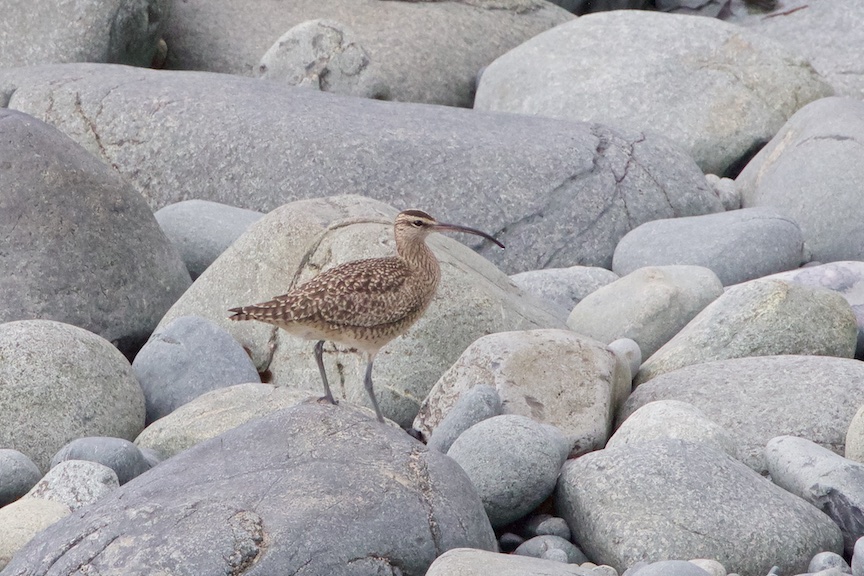 Hudsonian Whimbrel, Perranuthnoe, Cornwall (Photo: Mark Eggleton)
The annual Scottish White-billed Diver build-up is taking shape, with at least five reported: one still at Uig, Skye, on 9th, with other Highland reports from Mellon Udrigle on 10th and off the Ascrib Islands on 14th, plus a fourth off the traditional location of Port Skigersta, Lewis, on 14th, followed by two off nearby Port Nis the following day.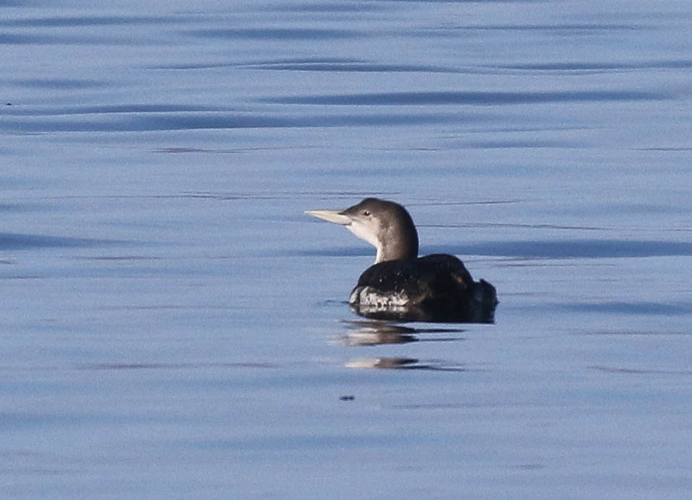 White-billed Diver, Uig, Skye, Highland (Photo: Robert McMillan)
Five Surf Scoters included the long-staying Filey bird passing the three-month anniversary of its discovery on 15th, and regular birds still in residence off Scilly, Lothian, Fife and Shetland. Another Cheshire record came from Hoylake on 11th. Female King Eiders remained in Fife and Co Wexford, while the fine drake continued off Cullumore, Co Sligo.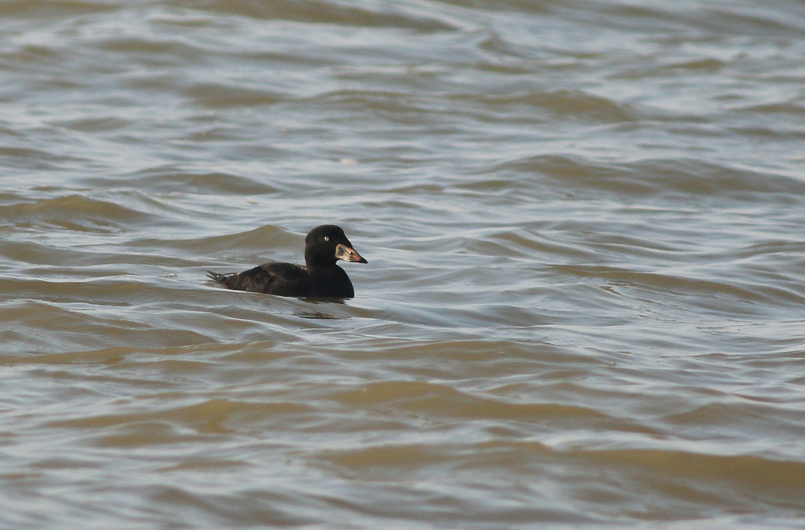 Surf Scoter, Filey, North Yorkshire (Photo: Mark Pearson)
It was much of a muchness with American Wigeon, as eight drakes were reported from seven sites nationwide, the two still together at Loch Aileodair, N Uist, on 11th and 15th the most notable report, though the N Yorkshire bird continued to show well at Scalby Mills. Green-winged Teal were recorded at 13 sites and included two males still at Caerlaverock, Dumfries & Galloway, on 11th, with a further two at Loch Flemington, Highland, on 13th (and one thereafter). New birds were found in Norfolk, North Yorkshire and Fife as well as in Counties Dublin and Wexford.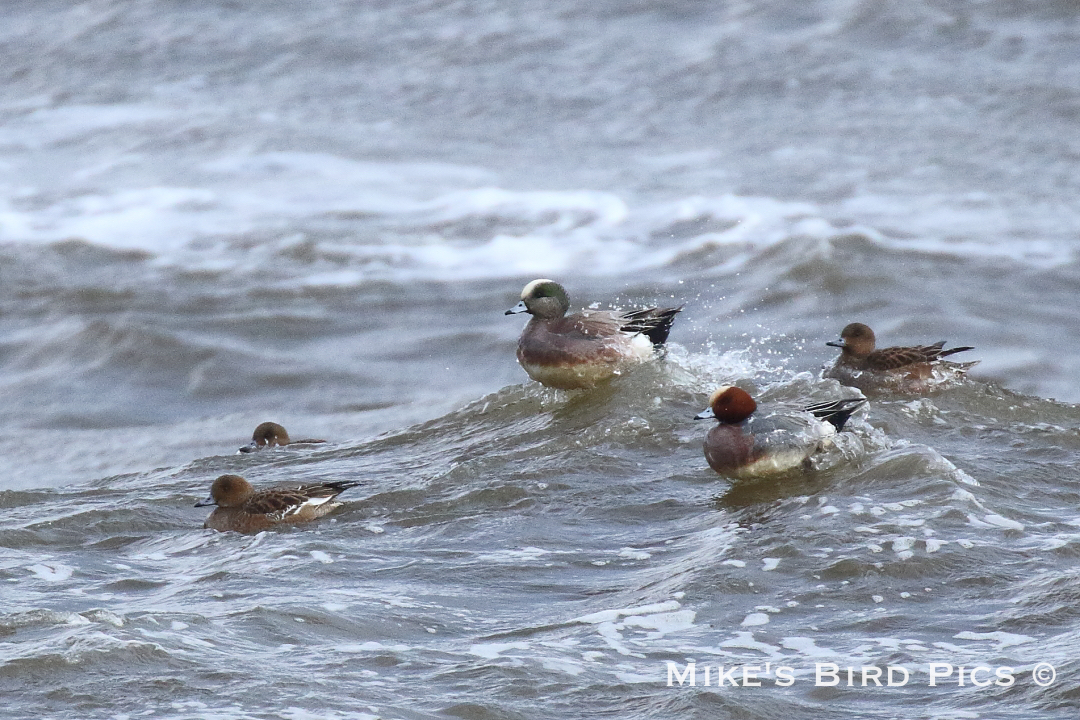 American Wigeon, Scalby Mills, North Yorkshire (Photo: Mike Robinson)
A female Hooded Merganser was on a canal near Halesowen, Staffs, on 11th and looked to be showing suspiciously well among the local Mallards — could it be the Wiltshire bird relocating? Lesser Scaup were once again restricted to those familiar old stalwarts: drakes at Dozmary Pool, Cornwall, and Cosmeston Lakes, Glamorgan. Ring-necked Ducks numbered just four, all drakes: Dumfries & Galloway records came from Milton and Carlingwark Lochs, while a male was at Inch Island Lake, Co Donegal, on 14th and the Somerset bird was at Ham Wall to 10th. The only Ferruginous Duck this week was the free-flying bird among the captives at Washington WWT, Durham — one wonders whether it'll leave when it seems so at home among its caged congeners.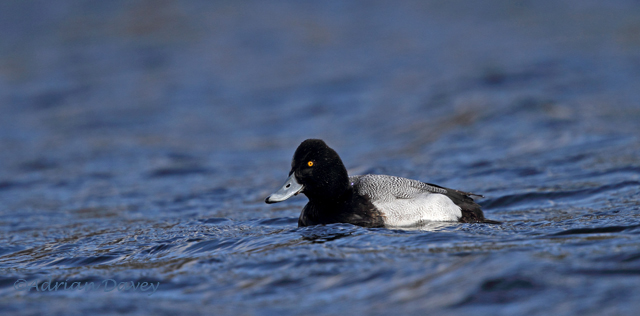 Lesser Scaup, Siblyback Reservoir, Cornwall (Photo: Adrian Davey)
A Richardson's Cackling Goose was unearthed among Pink-feet at Whitrigg, Cumbria, on 11th and remained until the following day — one wonders whether it's the bird seen in Aberdeenshire earlier in the winter. Others were reported from Islay, Argyll, and Co Sligo — the latter accompanied by the Todd's Canada Goose. A blue-morph Snow Goose was at Wigtown, Dumfries & Galloway, on 10th, while the four in Aberdeenshire were at Balmedie Country Park on 13th and one was among Greylags near Groatsetter, Orkney, on 15th. Two Lesser White-fronted Geese at Hestwall, Orkney, from 13th are birds from a Swedish reintroduction scheme. Black Brants were reported from Hampshire, Essex, Lincolnshire and East Yorkshire.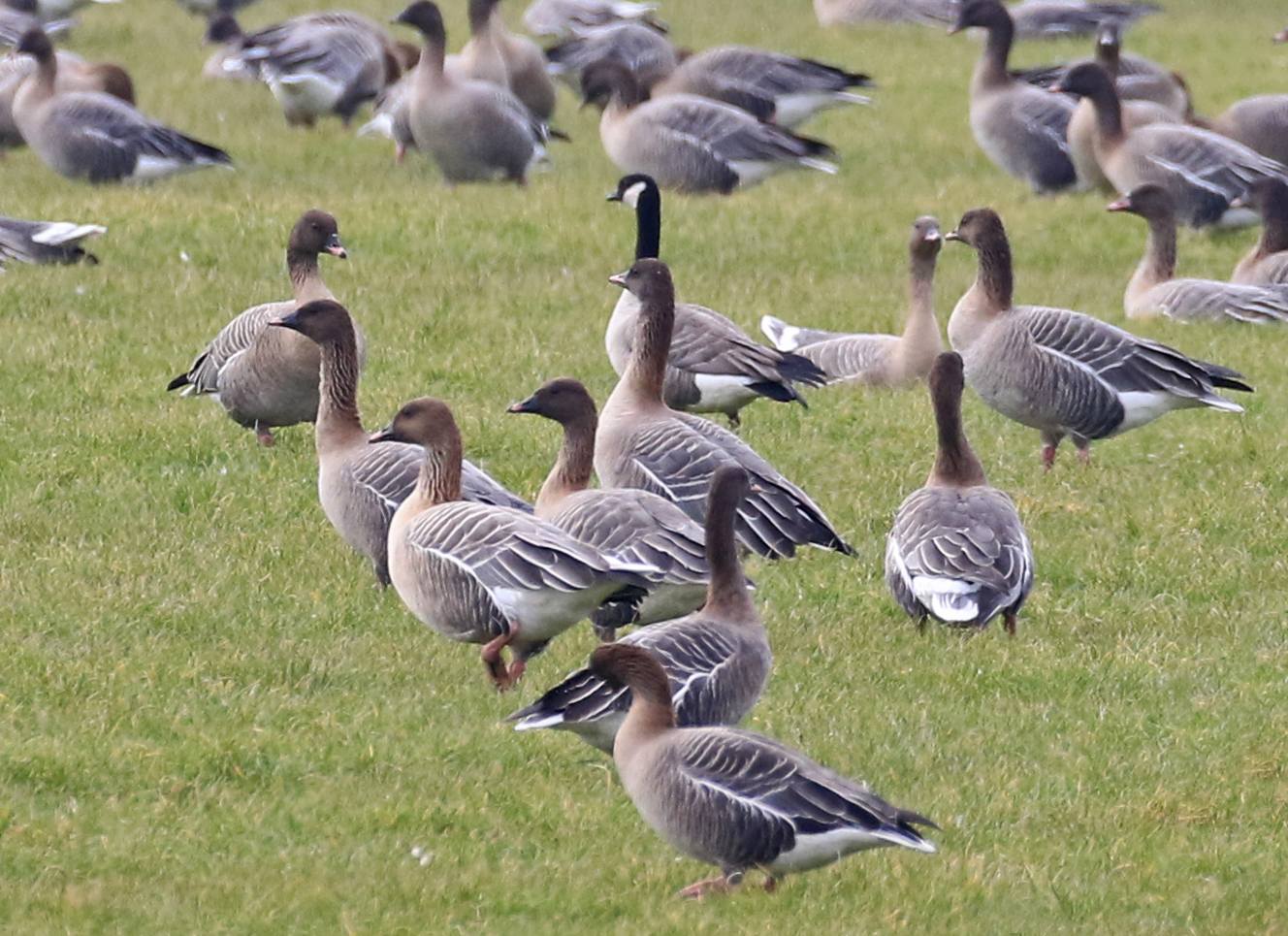 Richardson's Cackling Goose, Whitrigg, Cumbria (Photo: Judith Rogers)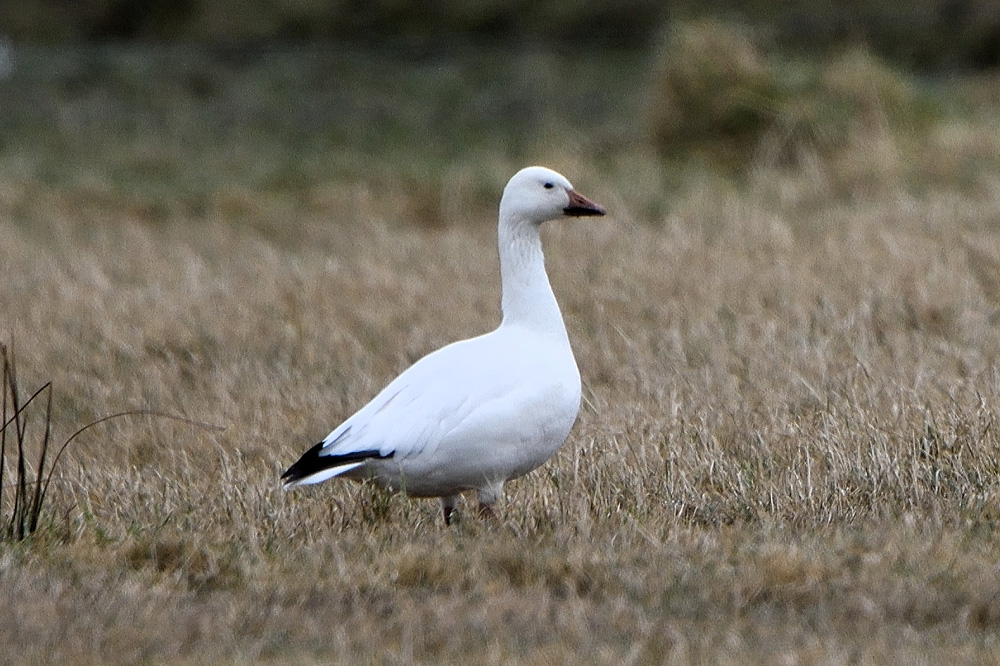 Snow Goose, Toab, Mainland, Orkney (Photo: Ian Cunningham)
Of last week's two Cattle Egrets in Suffolk, only the North Cove bird was reported this time out. Another remained in Somerset — at Tealham Moor on 14th. A slight increase in Glossy Ibis reports saw birds recorded at 13 sites, though these are likely to be lingering birds wandering around rather than fresh arrivals to the British Isles. The peak count was two at both Cahore, Co Wexford, and near Ennis, Co Clare — these were part of as many as nine seen in the Republic of Ireland. Meanwhile the green-ringed White Stork continues to tour various localities in west Norfolk.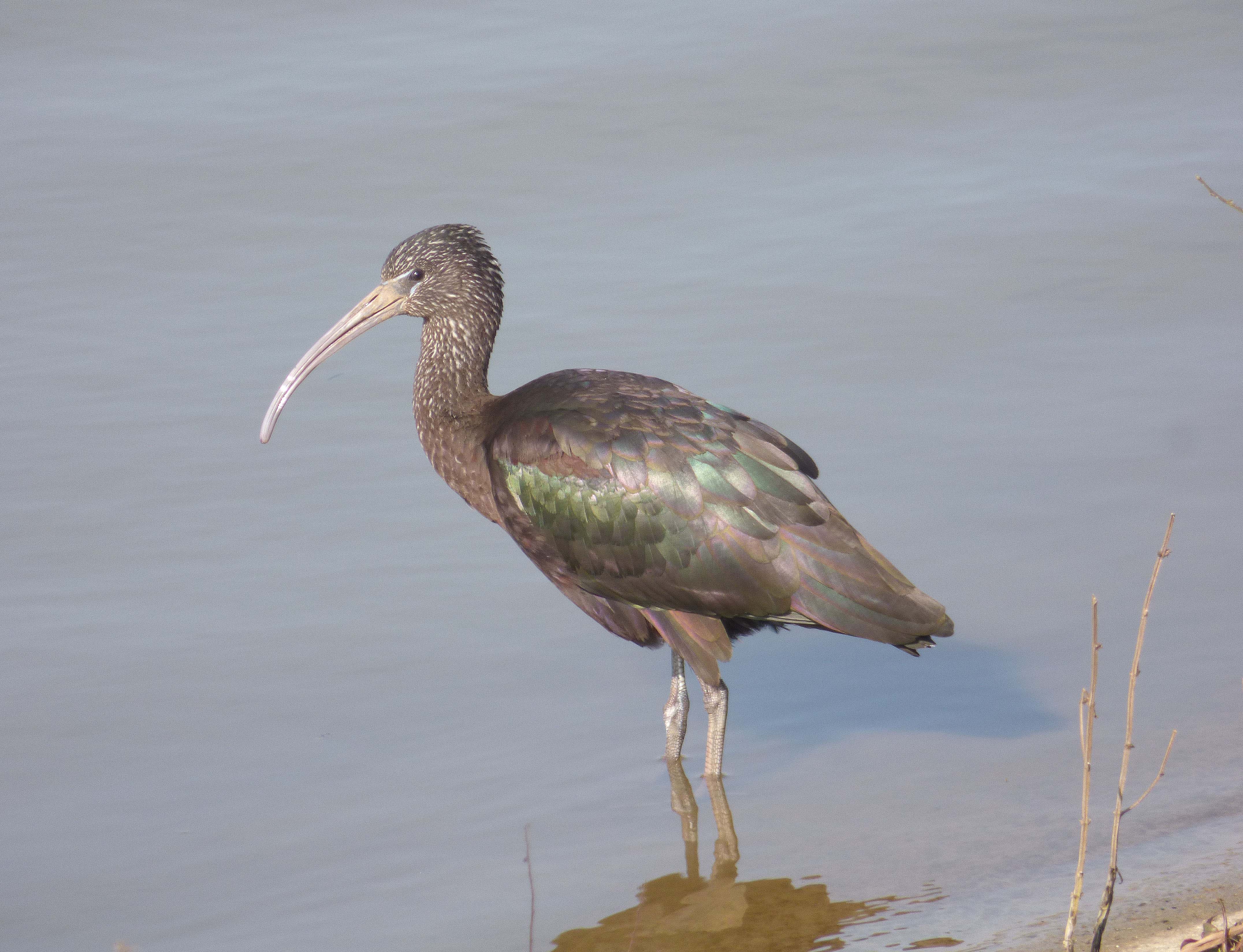 Glossy Ibis, Abberton Reservoir, Essex (Photo: Adrian Galley)
One of the stars of the week (at least for the fortunate couple of observers who saw it) was the continuing white-morph Gyr up on North Uist, which was watched and photographed feeding at point-blank range on a goose carcass at Balemore from Sunday through to Tuesday. Another was photographed near Murton, N Yorks, on 10th — it looks promising from the photos, but the likelihood of this being anything other than an escape seems low. Notable bird of prey records were otherwise limited to Rough-legged Buzzards at five well-spread sites, including a new bird just south of Inverness on 14th.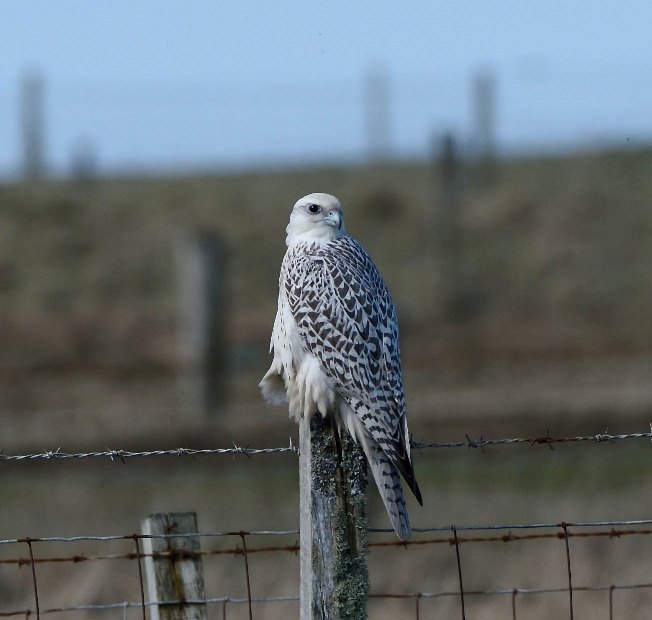 Gyrfalcon, Balemore, N.Uist, Outer Hebrides (Photo: Steve Duffield)
Once again, only the trio of Long-billed Dowitchers propped up the shorebird category: the Hampshire bird was still present on 12th, the Rutland bird on 14th and the Northumberland bird at Cresswell Pond throughout.

Long-billed Dowitcher, Cresswell Pond NWT, Northumberland (Photo: John Atkinson)
There was no sign of the Barra American Herring Gull this week, while the Cornish first-winter was seen at Drift Reservoir on 12th but continues to elude the cameras, despite being seen at least a dozen times. Another youngster showing characteristics of smithsonianus roosted at Chasewater, Staffs, on 9–10th but the record is unlikely to go any further unless the bird is seen better. Ring-billed Gulls totalled at least a dozen, including two adults at Blashford Lakes, Hants, early in the week and a report of an adult at London Wetland Centre on 13th. Over 60 Iceland Gulls included counts of five at Killybegs, Co Donegal, that site also holding four of the 50-odd Glaucous Gulls seen across the British Isles. Of the latter, the red-ringed adult seen recently in Northamptonshire was relocated at Sandbach Flashes, Cheshire, on 8th and 10th. The Forster's Tern also reappeared at Claddagh Beach, Co Galway, on 15th.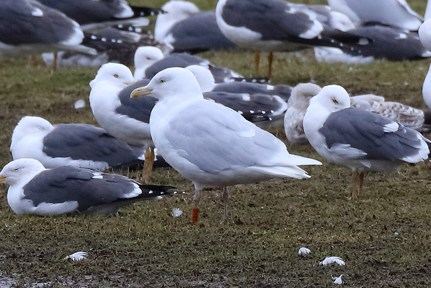 Glaucous Gull, Sandbach Flashes, Cheshire (Photo: Dave Kelsall)
The Staffordshire Hoopoe was present all week and was surprisingly joined by a Richard's Pipit at the same site on 15th. Further new Richard's Pipits were at Coverack, Cornwall, on 12th and Bunmahon, Co Waterford, on 13th, while two remained in their favoured field at Flamborough Head, E Yorks, all week. Two Shore Larks continued at Hartlepool, Cleveland, and single birds were still in Northumberland and Kent.
Yet another new Penduline Tit was reported at Ashingdon, Essex, on 13th, when it was apparently present for its seventh day; it also showed intermittently on 14–15th but seems to be an afternoon bird. Another was heard again at Strumpshaw Fen, Norfolk, on 15th, while twos remained in Hampshire, Gloucestershire and Cleveland.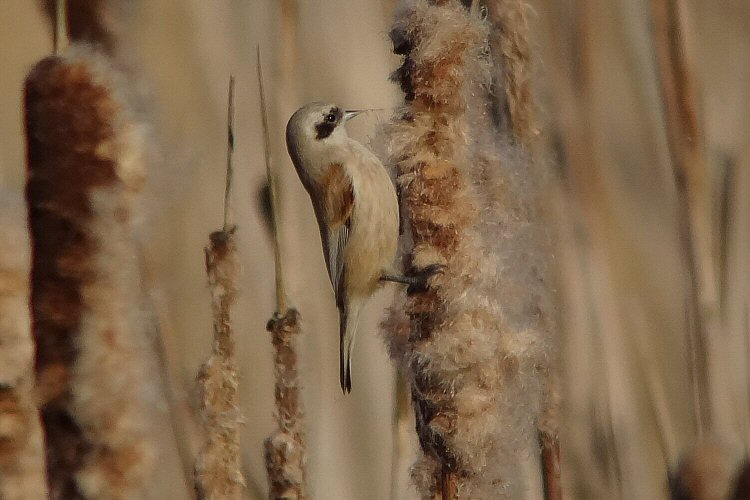 Penduline Tit, Saltholme RSPB, Cleveland (Photo: Tony Dixon)
The gorgeous Pallas's Warbler continued to show well near Portesham, Dorset, while four Yellow-browed Warblers comprised three birds in Cornwall and one in Devon. Other news included the continuing Rose-coloured Starling at Lizard, Cornwall, on 12th and a Little Bunting in Surrey — an elusive bird first reported at Pyrford on 14th but apparently present at least nine days earlier.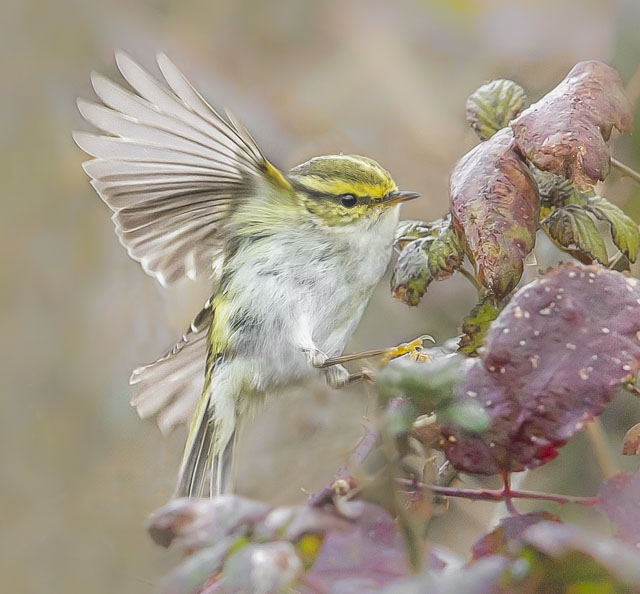 Pallas's Warbler, Portesham, Dorset (Photo: Tim White)
Western Palearctic news
Late news concerned an immature Red-footed Booby identified from photographs taken off Boa Vista, Cape Verde, on 26 February — this is the first record from the archipelago since an adult in March 2013. Croatia's first-ever Pallas's Gull — a regal adult — was at Zagreb rubbish dump on 13th (photo here).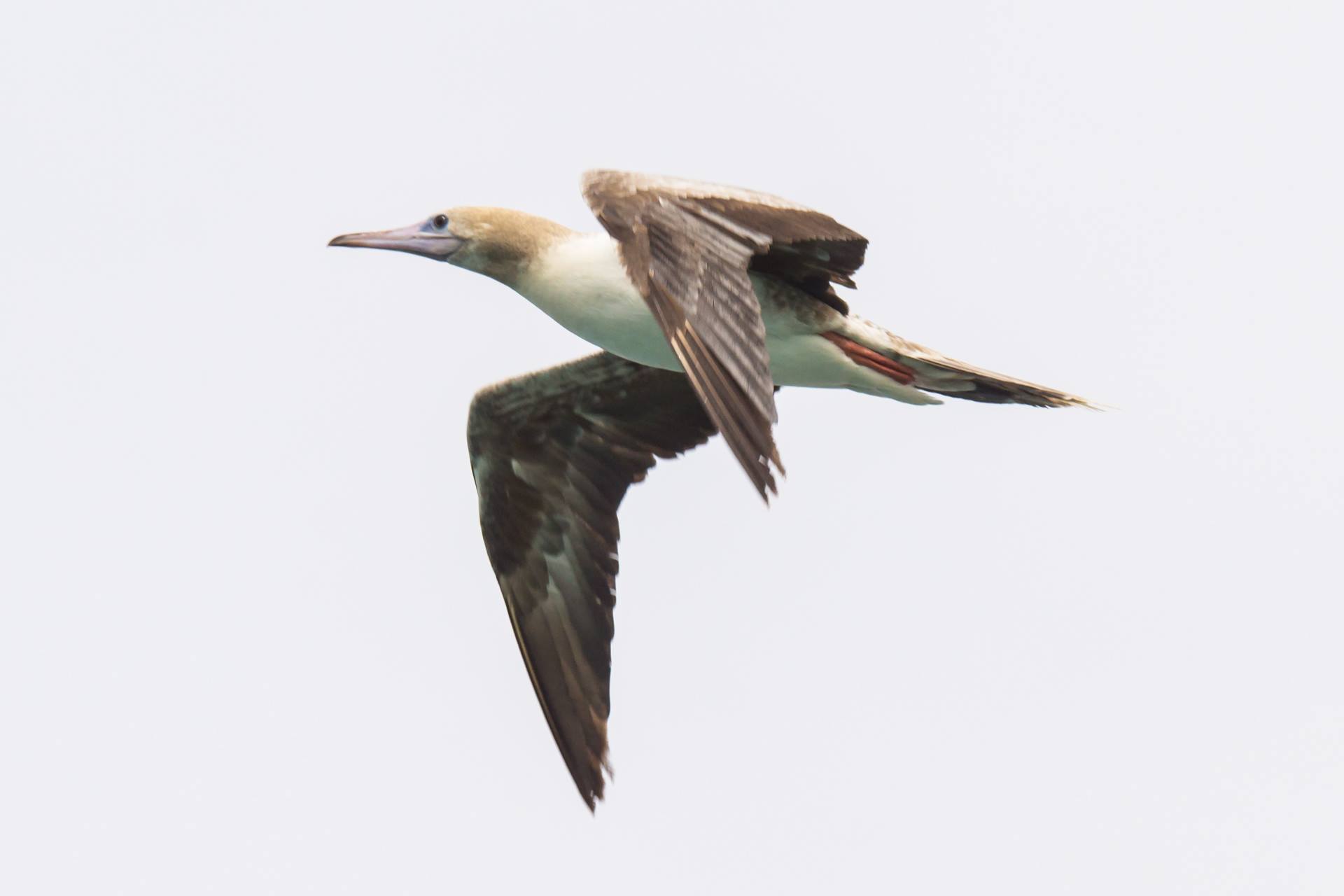 Red-footed Booby, Cape Verde (Photo: Herbert Boedendorfer)
Elsewhere highlights included the elusive Redhead again showing well on the canal near Aduard, Netherlands, on 9th and 13th as well as the Pine Bunting and Siberian Rubythroat also both still present in the country. A White-winged Scoter was seen from the causeway to Tautra island, Norway, on 14th, while the Grey-headed Gull continued at Bisceglie harbour, Italy, to at least 13th and the Solitary Sandpiper was still near Almería, Spain, on 13th.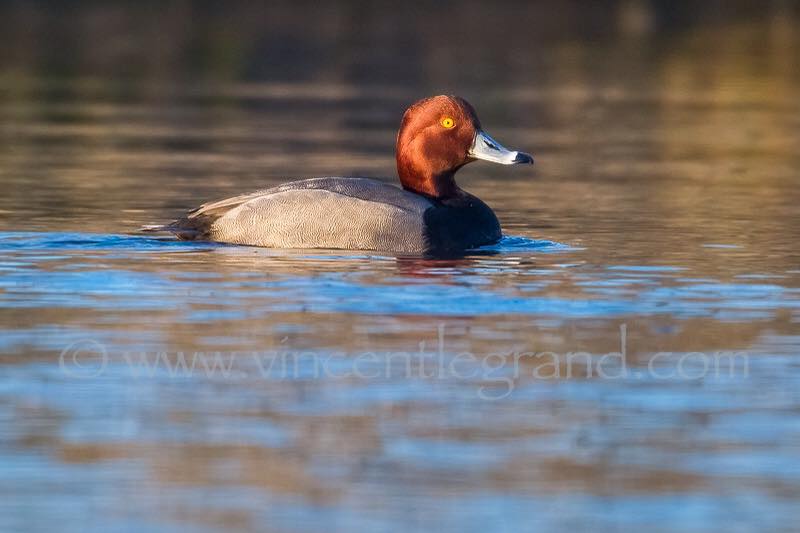 Redhead, Netherlands (Photo: Vincent Legrand)
Content continues after advertisements