The week at a glance
On paper, it was the quietest week for rare birds since August and, as the days continue to shorten and the week's highlights take an increasingly repetitive appearance, it is almost safe to say that winter is upon us. Nevertheless, the week still threw up a few surprises, the best of which came in a single garden way out west.
If rare bird finding is your thing, then there are few better places to live than on The Mullet (Mayo). In recent years, Dave Suddaby has consistently unearthed rare and scarce birds around the peninsula, including in his garden at Blacksod. Although five Red-eyed Vireos have been discovered on the peninsula since 2005, the area has otherwise suffered a notable lack of Nearctic passerine finds. Dave finally put that right this week, discovering Britain and Ireland's latest autumn Blackpoll Warbler in his garden on 9th. Although it had moved on by the following morning, the warbler was, rather incredibly, replaced by a first-winter Cedar Waxwing, which spent around ten minutes flying around the area in the early afternoon on 10th, uttering its piercing trill. Frustratingly, the waxwing also proved too brief for a twitch to materialise, and potential twitchers were left hoping that it (or another!) may be found among the hordes of Bohemian Waxwings that continue to maraud south across the British Isles.
And continue they did. By the end of the week, birds were widespread as far south as the English Midlands, East Anglia and North Wales, while small numbers had also begun to penetrate the northern half of Ireland. The largest concentration of the week came from Kyle of Lochalsh (Highland), where at least 1,000 were seen on 12th. Significant English counts included 300+ in York (N Yorks) on 13th and West Allotment (Northumberland) on 14th while smaller three-figure counts came from widespread sites. Last week's impressive message tally was also totally eclipsed this time out, with an astonishing 1,011 Waxwing reports disseminated on Bird News Extra! It's amazing to think what a quiet mid-November it would be without them...

Waxwing, undisclosed site, Derbyshire (Photo: John Starkey)
The Mayo double aside, the best find was yet another Buff-bellied Pipit for the autumn's tally: this time at Tyrella (Down) from 13th. Following the first earlier this autumn in Antrim, this represents the second for Northern Ireland. Otherwise, highlights were limited to the Eastern Olivaceous Warbler just about managing to survive in its favoured rose bushes at Kilminning (Fife) throughout the week, and an unconfirmed report of a Pine Grosbeak at Helmsdale (Highland) 'at the end of last week'. Given how many of the latter have now reached Denmark, one would hope that any sort of easterly airflow over the next fortnight might encourage one or two to make the North Sea crossing; we await them with bated breath.

Eastern Olivaceous Warbler, Kilminning, Fife (Photo: Chris Barlow)
Snow Geese this week included the returning blue morph again with Greenland White-fronts at Lower Lough MacNean (Fermanagh) on 9th, and white morphs still at Sheskinmore Lough (Donegal) on 11th and over Stromness (Orkney) with Greylags the same day. The Ross's Goose, presumably of suspect origin, was still touring East Norfolk with Pink-footed and Barnacle Geese and was last seen at Haddiscoe Marshes on 14th. Red-breasted Geese remained at Farlington Marshes (Hants) and on Islay (Argyll) throughout the week, the latter island also continuing to host four Todd's and four Richardson's Canada Geese. A 'Small Canada Goose' was on Berneray (Outer Hebrides) on 14th. Black Brants were more widespread this week, with birds noted in Lincolnshire, Essex, West Sussex, Hampshire and Dorset.

Red-breasted Goose, Farlington Marshes HWT, Hampshire (Photo: Simon Johnson)
West Sussex also held on to the first-winter female Hooded Merganser throughout the week. Declaring whether or not this bird is wild is nigh-on impossible without feathers for isotope analysis, although its credentials are decent enough despite it being quite showy...

Hooded Merganser, Pagham Harbour LNR, West Sussex (Photo: Howard Kearley)
A drake Lesser Scaup on Lough Owel (Westmeath) on 10th could be a returning bird to the county from previous winters. Another drake returned to Lough Gill (Kerry) from 9th; others were still on Lough Gash (Clare) and Chew Valley Lake (Somerset) and a possible female/juvenile was at Castle Carrock (Cumbria) on 8th. Highland also claimed two new drake Lesser Scaup on Loch Watten on 10th (although just one remained there to the week's end); a drake Ring-necked Duck was also there on 10th only. A first-winter drake Ring-necked was on Skomer (Pembrokeshire) from 8th while the drake remained at Chew Valley Lake and the female was still at Slapton Ley (Devon). Just a single Ferruginous Duck was reported: the drake again at Blashford Lakes (Hants) on 12th.

Lesser Scaup, Lough Gill, Kerry (Photo: Davey)
A new drake Green-winged Teal was found on Shapinsay (Orkney) on 12th with others still at Blanket Nook (Donegal) on 10th, Martin Mere (Lancs) on 14th and at Caerlaverock (Dumf & Gall) for much of the week. Drake American Wigeon remained at St. John's Loch (Highland) on 10th and Wintersett Reservoir (W Yorks) throughout. Surf Scoters were limited to three still off Llanddulas (Conwy), the drake still in Largo Bay (Fife) and a new female/immature off Schull (Cork) 10th. The drake King Eider was still present off Burghead (Moray/Nairn).

King Eider, Burghead, Moray & Nairn (Photo: Marcus Conway — ebirder)
County Tyrone's first Cattle Egret was near Strabane on 11th and had apparently been present for ten days. Meanwhile, the long-stayer remained at Colyford Common (Devon). Great White Egrets included up to four still at Dungeness (Kent), twos at the National Wetlands Centre (Carmarthen) and Burton Mere Wetlands (Cheshire), and notable birds in Northamptonshire and Derbyshire. The resident Glossy Ibis was still at Marloes Mere (Pembrokeshire) on 11th.
In Wexford, the Northern Harrier was still at Tacumshin on 11th, and the five Common Cranes were also still there that day. Other Cranes included a popular adult at Amberley Brooks (W Sussex) from 11th and another at Scotney Gravel Pits (W Sussex) on 9th–13th. Rough-legged Buzzards were at Frampton Marsh (Lincs) on 11th–12th and Holkham Freshmarsh (Norfolk) on 13th–14th.
A juvenile American Golden Plover was at Ball's Point (L'derry) on 10th and the Cambridgeshire individual was again at Ouse Fen that day. Lesser Yellowlegs remained at Ernesettle (Devon) and Aldcliffe Marshes (Lancs) and look set to winter, and the same could be said for remaining Long-billed Dowitchers at Long Nanny (Northumberland), Alkborough Flats (Lincs) and Slimbridge (Glos). Another Long-billed was seen on North Uist on 11th and a dowitcher sp. flew past Fingringhoe Wick (Essex) on 14th. New White-rumped Sandpipers were at Baltimore (Cork) on 11th and the Staffordshire section of Middleton Lakes from 13th.
In Devon, the adult Bonaparte's Gull continued to perform magnificently at Dawlish Warren to at least 11th, while a juvenile Kumlien's Gull on Tresco on 8th was found among a dozen each of Glaucous and Iceland Gulls across the nation. An adult Ring-billed Gull in the roost at Llys-y-Fran Reservoir (Pembrokeshire) on 8th is presumably a returning bird, while others were still in Cork, Kerry, Antrim, Down and Hampshire.

Bonaparte's Gull, Dawlish Warren NNR, Devon (Photo: Mick Southcott)
Durham's popular Bee-eater was last seen in the Seaburn area on 12th; a Hoopoe was reported from Llancadle (Glamorgan) the same day. A late Wryneck was at Chouet (Guernsey) on 11th. Around ten Richard's Pipits included twos at Flamborough Head (E Yorks) and Cowbar (Cleveland) and a cooperative individual at Covehithe (Suffolk) on 8th–11th. The Black-bellied Dipper was seen again briefly on the River Thet in Thetford (Norfolk) on 8th, although not again.

Bee-eater, Seaburn, Durham (Photo: Michael A Eccles)

Richard's Pipit, Flamborough Head, East Yorkshire (Photo: Richard Jackson)
The lightest of southeasterlies on 14th delivered a couple of new Pallas's Warblers to Dungeness (Kent) and Portland (Dorset), with the latter claiming an elusive Dusky Warbler near Portland Castle on 13th–14th. The Arctic Warbler remained at Helendale (Shetland) to 10th, and six Yellow-browed Warblers included one in Enfield (London) on 8th — others were in Lincolnshire, Dorset, Devon, Pembrokeshire and Jersey. A scattering of Siberian Chiffchaffs included at least four on St. Mary (Scilly) on 14th. The Barred Warbler remained at Kilminning (Fife) all week, while new individuals were on St. Mary's (Scilly) on 11th and at Chamber's Wall (Kent) on 14th.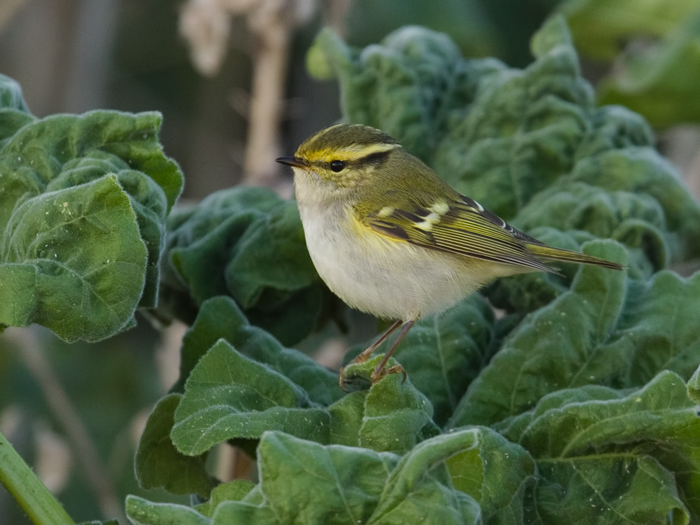 Pallas's Warbler, Dungeness NNR, Kent (Photo: Mark Tomlins)

Arctic Warbler, Helendale, Mainland, Shetland (Photo: Hugh Harrop)

Barred Warbler, Kilminning, Fife (Photo: Barry Farquharson)
A mini-arrival of Penduline Tits involved the singleton quickly becoming three at Grove Ferry (Kent) on 8th with four there on 9th; one was still there on 13th. Two were an excellent find at Marston Vale Millennium Country Park (Beds) on 10th although, in typical fashion, they did not linger long. The Dungeness bird was again heard on ARC Pit on 13th.
A late Red-backed Shrike was trapped and ringed at Weybourne (Norfolk) on 9th, while Great Grey Shrikes remained at a range of heathland sites in southern England and Wales. The Red-breasted Flycatcher was still in Cot Valley (Cornwall) on 8th with a second briefly in a garden in Cley (Norfolk) on 14th.

Red-backed Shrike, Weybourne, Norfolk (Photo: Lawrie Webb)

Great Grey Shrike, Hardy's Green, Essex (Photo: Mark Bicknell)

Red-breasted Flycatcher, Cot Valley, Cornwall (Photo: Ian Webster)
Unst continued to hold several Hornemann's Arctic Redpolls: four were at Baltasound throughout the week with five there on 9th, while two more were at Uyeasound on 11th–13th. At the opposite end of the country, a flyover Serin was noted from St. Mary's (Scilly) on 14th. The Little Bunting was again noted at the Lambton Estate (Durham) on 8th with new birds on the saltmarsh between Skeffling and Welwick (E Yorks) on 10th and inland at Seckington (Warks) on 11th, although neither was seen again.

Hornemann's Arctic Redpoll, Baltasound, Unst, Shetland (Photo: Mike Pennington)
Photo of the Week

Stonechat, undisclosed site, Shropshire (Photo: Dave Barnes)
On more than one occasion, we've acknowledged the maxim 'photographing birds is hard and photographing birds in flight is even harder'. What many people don't realise is that there's a further extension to this rule of thumb relating to the photography of small birds in flight. Even photographers who can reliably capture high-quality flight shots of herons, geese or gulls are often completely defeated by the challenge posed by smaller birds. In general, flight speeds for small passerines are similar to those of larger birds, but it's necessary to get much closer to be able to fill the frame equally, meaning angular (panning) movements have to be much more rapid to follow the birds. Add to that the erratic flight patterns of most small birds and you can appreciate the difficulty for both the camera and its operator. Undaunted by this difficulty, though, Worcestershire-based photographer Dave Barnes managed to freeze a female Stonechat in a great 'downstroke pose' against a smooth, complimentary background. Superb lighting and colours, body and head angles, eye contact and catchlight, and a slightly open bill add up to a worthy winner.
Other notable images

Sparrowhawk, Cheddleton, Staffordshire (Photo: Tony Kinder)

Bee-eater, Seaburn, Durham (Photo: Derek Bilton)

Waxwing, Lowestoft, Suffolk (Photo: Jon Evans)

Bittern, Strumpshaw Fen RSPB, Norfolk (Photo: Carl Wright)

Little Egret, Shoreham-by-Sea, West Sussex (Photo: Howard Kearley)

Little Owl, Hampton, Worcestershire (Photo: Mark Hancox)

Brambling, Ebbw Vale, Gwent (Photo: Mike Warburton)

Great Spotted Woodpecker, Laurieston, Dumfries & Galloway (Photo: Alan McFadyen)

Dartford Warbler, Hengistbury Head, Dorset (Photo: Joe)

Dipper, undisclosed site, Derbyshire (Photo: Steve Whiteley)

Pintail, Slimbridge WWT, Gloucestershire (Photo: Rob Cross)

Wren, Wayoh Reservoir, Lancashire (Photo: John Barlow)